Refugee crisis: From border controls to cash seizures, how Germany turned its back on refugees
Angela Merkel's welcoming of Syrian refugees has been followed by a series of U-turns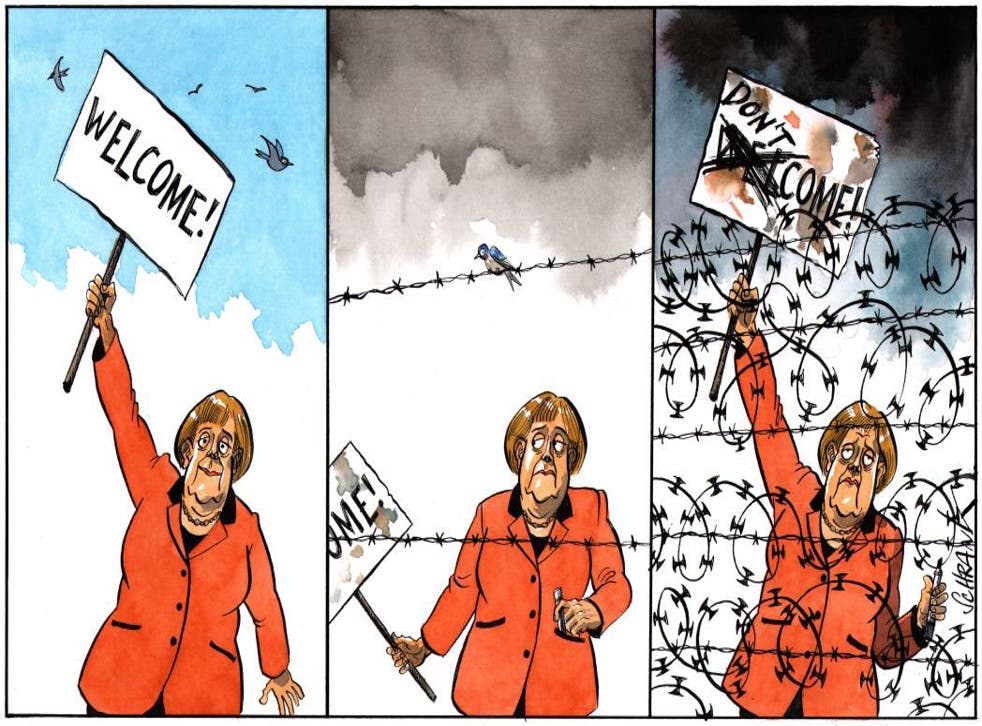 "Wir schaffen das!" was the collective cry in Germany in the summer as Angela Merkel opened the borders to all Syrian asylum seekers.
But over the coming months, "we can do this" became gradually replaced by doubt, resentment and fear as the government performed U-turn after U-turn on the policies that had distinguished it from the rest of Europe.
Here is how Germany turned its back on refugees:
Growing fury in Germany over New Year's Eve assaults on women in Cologne
Putting up border controls
There was widespread praise for Angela Merkel's opening of the border to all Syrians in August but border controls with Austria were reintroduced in mid-September and the arrival of 1.1 asylum seekers by the end of the year raised concerns about housing and infrastructure.
The Chancellor has since pledged to "drastically decrease" the number of people arriving in the country, which remains the destination for the bulk of migrants still crossing the Aegean to Europe in their thousands every day.
Germany has continued its "temporary" border controls with Austria for several months and the Welt am Sonntag reports today that it is one of a group of nations calling for an extension of the measures in the Schengen area.
Austria, Belgium, Sweden and Denmark were also said to be among those planning to raise the proposals at a meeting of EU interior ministers on Monday.
If successful, it would allow Germany to prolong its border controls, due to lapse in May, for a further one to one-and-a-half years.
It is among six Schengen members to have reinstated temporary border checks in the previously passport-free area.
Sending refugees back to Austria
Police in Austria, which is the last point of transit before Germany, say its neighbour has been turning back hundreds of would-be refugees every day.
Many of those rejected at the border have no valid documents or refuse to apply for asylum in Germany, arguing they want to travel further north to countries such as Sweden, police in the province of Upper Austria said.
"Since the New Year, it's been about 200 a day, and getting higher," a spokesperson said earlier this month.
"German politicians seem to have decided to act with more firmness. The difficult thing (for us) is to explain if a migrant asks: Why can't I travel further now if my friend could still do it last week?"
A spokesperson for police in Munich confirmed that Germany has been sending back up to 100 or so migrants a day, depending on individual cases, but did not confirm any recent increase. "We apply the valid legal rules. They haven't changed," she said.
Any asylum seekers who do not apply in Austria face a fine for illegally crossing the border but can attempt to cross to Germany once again once they have paid the fee.
Syrian refugees were still mainly being accepted because of their high chance of being granted asylum in Germany but Afghans, who make up around a fifth of the people reaching Europe to flee war and persecution, Iraqis – making up almost a tenth – and other nationalities were less likely to be let through.
Seizing cash and valuables from asylum seekers
German authorities have started confiscating jewellery, valuables and cash from refugees entering the country to make them fund their stay.
Officials in Bavaria and other southern states seeing high numbers of asylum seekers arriving from Austria are following Denmarkand Switzerland to implement the controversial practice.
Joachim Herrmann, the Bavarian interior minister, said anything worth more than €750 (£570) can legally be seized in his state.
"The practice in Bavaria and the federal rules set out in law correspond in substance with the process in Switzerland," he added.
In neighbouring Baden-Württemberg, asylum seekers can only keep money and valuables worth €350 (£265).
The average amount seized so far is "in the four figures" per person across the southern states, Bild reported.
Refugees settle in Germany

Show all 12
Rising xenophobia and attacks
Refugees arriving in Germany in the summer were met by cheering crowds at railway stations and crowds of volunteers as people gave their time, money and even their homes to the new arrivals.
Heart-warming stories of generosity spread around the world as many countries looked to Germany as an example of how Europe should be treating the migration crisis.
But six months on, support for the anti-Islam movement Pegida – once memorably dubbed as "Nazis in pinstripes" – is growing and the New Year's Eve attacks in Cologne have been followed by a wave of vigilante attacks across the country.
Public support for the current level of migration in Germany is also falling fast.
In November, just over half of respondents in a YouGov survey said they thought the number of asylum seekers in the country was too high, while 42 per cent said they were acceptable and a fifth of respondents said the country could welcome more refugees.
Now, almost two thirds of those surveyed say the number of asylum seekers is too high and only 16 per cent were comfortable with the figures.
Tightening asylum laws
In response to the mass sexual assaults and robberies in Cologne on New Year's Eve, Ms Merkel has proposed new measures to deny the right of asylum for those who have committed crimes or are on probation.
Only asylum seekers who have been sentenced to at least three years' imprisonment and will not be at risk in their countries of origin can currently be forcibly deported under German law.
But the threshold could now be lowered so theft, robbery and other offences that would fall outside that category become cause for removal.
The German cabinet will need to back the plans before a draft law is drawn up.
…but Germany is still one of the most welcoming countries in Europe
Despite the dramatic policy changes, Germany's stance is still not as hardened as other European countries.
It has welcomed up to 1.1 million refugees and thousands of Germans are still working to welcome them with voluntary language classes, house-sharing and other initiatives.
The UK, by contrast, has pledged to take only 20,000 refugees over the next five years, while some European leaders have made statements varying from unwelcoming to hostile.
Viktor Orban, the Hungarian Prime Minister, is calling for the creation of a fence along the Macedonian and Bulgarian borders with Greece to keep migrants out after claiming that his country was being "overrun" by Muslim refugees who threatened Europe's "Christian roots".
Ms Merkel said the push by Hungary and other nations to physically prevent refugees entering were "not helpful".
Speaking alongside the Turkish Prime Minister, Ahmet Davutoglu, on Friday, she pledged not only to solve the crisis but to improve conditions in refugee camps and work towards a truce in Syria.
"Unilateral solutions, each member state for itself, will not help us. Instead we need an overall European approach," she said.
"I am deeply convinced that the question of illegal immigration can only be solved when we work together toward resolving the cause of the flood."
The Chancellor has refused to put a cap on the number of migrants allowed into Germany and is focusing on working with Turkey to help slow the flow of people coming to Europe as domestic pressure continues.
"Political leaders are remembered not just for their projects, for but the humanitarian stances they take in difficult times," Mr Davutoglu said.
"The step Mrs Merkel took will go down in history. The people of Syria will never forget this humanitarian stance."
Additional reporting by agencies
Join our new commenting forum
Join thought-provoking conversations, follow other Independent readers and see their replies