Turkey coup attempt: Rebel jets had Erdogan's plane in their sights but did not fire, officials claim
'Why they didn't fire is a mystery,' former military officer says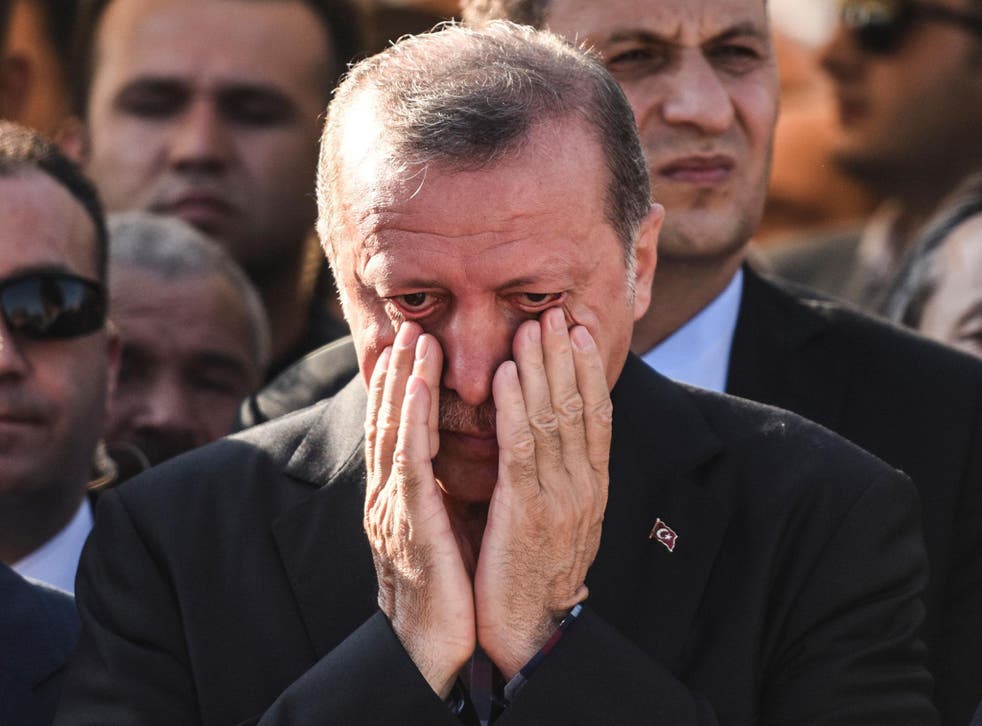 Turkish fighter jets had President Recep Tayyip Erdogan's plane in their sights at the height of the attempt to overthrow him, but they did not fire.
The Turkish president was returning to Istanbul from a holiday near the coastal resort of Marmaris after a faction in the military launched a coup attempt on Friday night.
"At least two F-16s harassed Erdogan's plane while it was in the air and en route to Istanbul," a former military officer told Reuters. "They locked their radars on his plane and on two other F-16s protecting him."
"Why they didn't fire is a mystery," he added.
A senior Turkish official confirmed to Reuters that President Erdogan's Gulfstream IV jet was harassed while flying to Istanbul by two F-16s commandeered by the coup plotters.
Another senior official also told the agency the presidential business jet had been "in trouble in the air" but gave no further details.
In pictures: Turkey coup attempt

Show all 17
Flight tracking websites showed the jet taking off from Dalaman airport, about an hour and a quarter's drive from Marmaris, around 10.40pm (GMT) on Friday.
It later circled in what appeared to be a holding pattern just south of Istanbul - around the time a Reuters witness at the airport reported still hearing bursts of gunfire - before coming in to land.
Following the failed coup, the government moved swiftly to shore up President Erdogan's power and remove those perceived as an enemy, saying on Sunday it had detained 6,000 people.
The crackdown targeted not only generals and soldiers, but a wide swathe of the judiciary that has sometimes blocked Mr Erdogan, raising concerns that the effort to oust him will push Turkey even further into authoritarian rule.
Turkey's government vows to 'cleanse' military after failed coup
Conspiracy theorists are saying the attempted military coup was faked, comparing it to the Reichstag fire - the 1933 arson attack on the German parliament building used by Hitler as an excuse to suspend civil liberties and order mass arrests of his opponents.
Some of the soldiers detained following the coup reportedly told interrogators they were not aware they were part of a coup attempt and had been told by commanders they were taking part in military manoeuvres.
The swift rounding up of judges and others allegedly involved in the coup indicated the government had prepared a list beforehand, the EU commissioner dealing with Turkey's membership bid said.
"It looks at least as if something has been prepared. The lists are available, which indicates it was prepared and to be used at a certain stage," Johannes Hahn said.
"I'm very concerned. It is exactly what we feared."
Observers said the scale of the crackdown, especially against the judiciary, indicated the government was taking the opportunity to further consolidate Mr Erdogan's power.
Additional reporting by agencies
Register for free to continue reading
Registration is a free and easy way to support our truly independent journalism
By registering, you will also enjoy limited access to Premium articles, exclusive newsletters, commenting, and virtual events with our leading journalists
Already have an account? sign in
Register for free to continue reading
Registration is a free and easy way to support our truly independent journalism
By registering, you will also enjoy limited access to Premium articles, exclusive newsletters, commenting, and virtual events with our leading journalists
Already have an account? sign in
Join our new commenting forum
Join thought-provoking conversations, follow other Independent readers and see their replies