Ukraine crisis: A timeline of the conflict from the Euromaidan protests to MH17 and civil war in the east
The crisis started when Viktor Yanukovych was deposed after pro-EU protests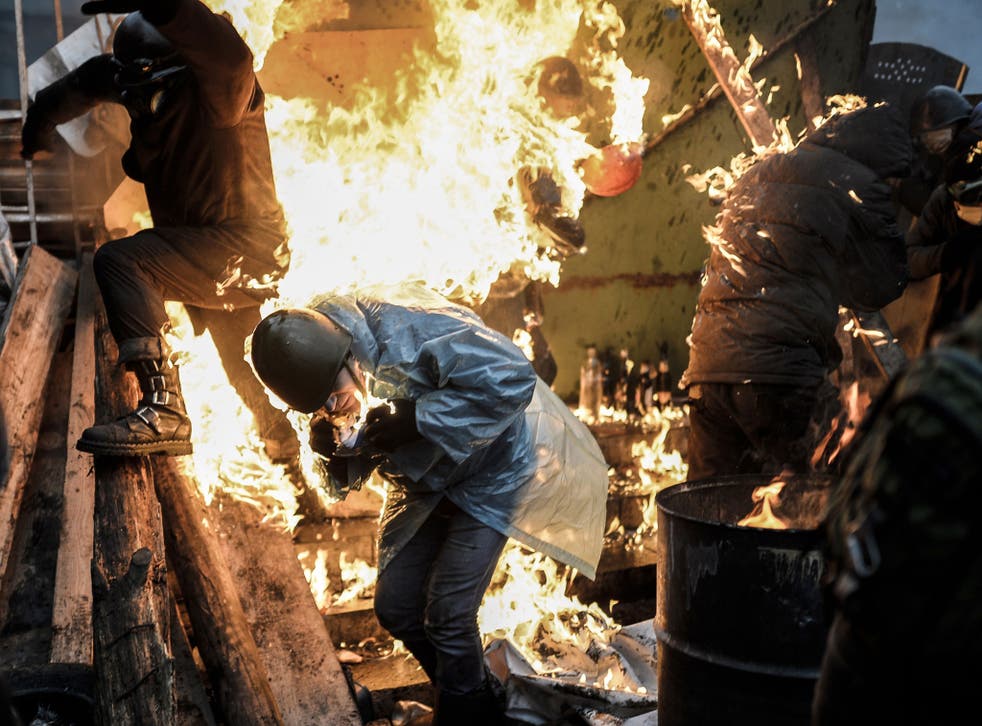 More than 2,600 people have been killed in the continuing crisis in Ukraine that shows no sign of slowing more than eight months after it began.
Pro-Russian separatists are fighting Government forces in eastern Ukraine, demanding autonomy from Kiev and in rebellion against the overthrow of President Viktor Yanukovych in February.
He fled the country after months of violent protests in the capital against his refusal to sign a deal that would have made closer ties between Ukraine and the European Union.
More than one million people have been displaced by the conflict, which has raised underlying tensions between ethnic Ukrainians, Russians and other minorities in the former Soviet republic.
Here is a timeline of the key points in the crisis so far:
30 November: Public support grows for the "Euromaidan" anti-government protesters in Kiev demonstrating against Yanukovych's refusal to sign the EU Association Agreement as images of them injured by police crackdown spread.
20 February: Kiev sees its worst day of violence for almost 70 years as at least 88 people are killed in 48 hours, with uniformed snipers shooting at protesters from rooftops.
22 February: Yanukovych flees the country after protest leaders and politicians agree to form a new government and hold elections. The imprisoned former Prime Minister, Yulia Tymoshenko, is freed from prison and protesters take control of Presidential administration buildings, including Mr Yanukovych's residence.
27 February: Pro-Russian militias seize government buildings in Crimea and the new Ukrainian government vows to prevent the country breaking up as the Crimean Parliament sets a referendum on secession from Ukraine in May.
16 March: Crimea votes overwhelmingly to secede from Ukraine and join Russia in a ballot condemned by the US and Europe as illegal. Russian troops had moved into the peninsula weeks before after pro-Russian separatists occupied buildings.
6 April: Pro-Russian rebels seize government buildings in the eastern cities of Donetsk, Luhansk and Kharkiv, calling for a referendum on independence and claiming independent republic. Ukraine authorities regain control of Kharkiv buildings on 8 April after launching an "anti-terror operation" but the rest remain out of their control.
7 June:

Petro Poroshenko is sworn in as Ukraine's president, calling on separatists to lay down their arms and end the fighting and later orders the creation of humanitarian corridors, since violated, to allow civilians to flee war zones.
27 June: The EU signs an association agreement with Ukraine, along with Georgia and Moldova, eight months after protests over the abandonment of the deal sparked the crisis.
17 July: Malaysian Airlines flight MH17 is shot down over eastern Ukraine, killing all 298 people on board. Ukrainian intelligence officials claim it was hit by rebels using a Buk surface-to-air launcher in an apparent accident.
22 August: A Russian aid convoy of more than 100 lorries enters eastern Ukraine and makes drop in rebel-controlled Luhansk without Government permission, sparking allegations of a "direct violation of international law".
29 August:

Nato releases satellite images appearing to show Russian soldiers, artillery and armoured vehicles engaged in military operations in eastern Ukraine.
Russia's alleged military involvement backing the rebels has been seen as a major escalation in the crisis, which has been described as a full-blown civil war.
Vladimir Putin has been accused of hostility towards Kiev, telling the outgoing president of the European Commission that he could take the city "in two weeks" if he wanted.
As tension increases in the region, Nato has said they will form a 4,000 strong force able go into action in 48 hours in response to any Russian aggression in Ukraine, although civilians and peacekeepers hope it will not be needed.
Join our new commenting forum
Join thought-provoking conversations, follow other Independent readers and see their replies