Rescuers in Aleppo 'run out of bodybags' after intense day of bombardment where hospital is attacked
At least 27 people, including children, have been killed in the latest attack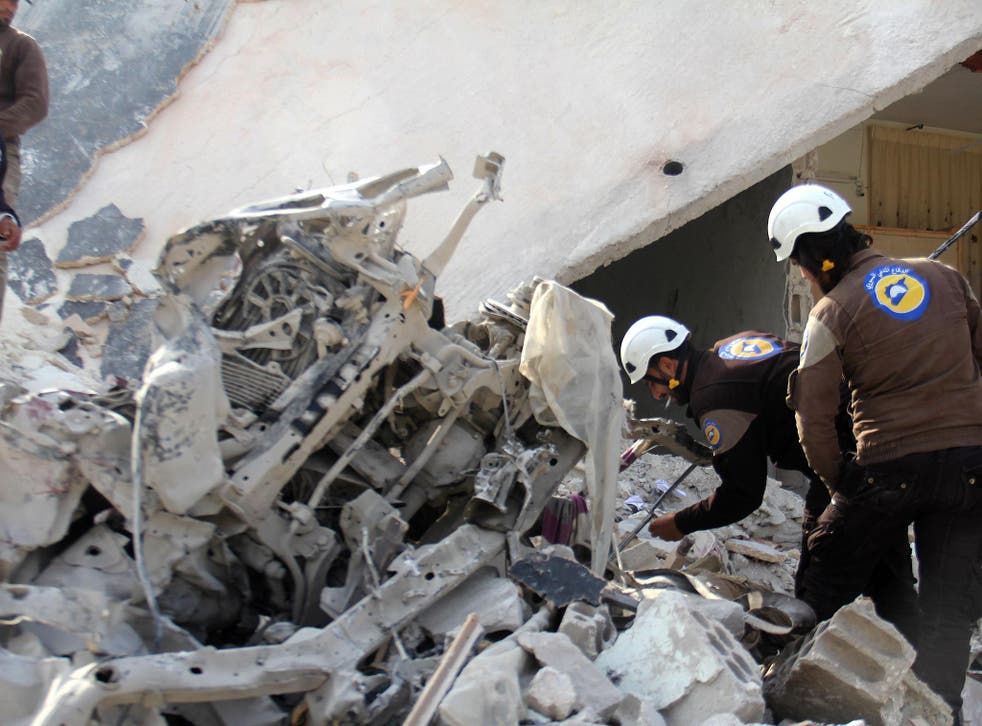 Rescue workers in Aleppo say they have run out of body bags after a "catastrophic" day of air strikes knocks out the last remaining medical facilities in the city.
The air assault on the Omar Bin Abdul Aziz Hospital means every single hospital in the eastern parts of the city still under rebel control have been hit by Syrian and Russian air strikes since the summer.
The White Helmets, the volunteer rescue force who help civilians caught in the crossfire, said "It is a catastrophic day in besieged Aleppo with unprecedented bombardment with every type of weapon".
The Syrian Observatory for Human Rights said barrel bombs, mortar rounds and air strikes fell upon the rebel districts throughout the night with the charity's chief Rami Abdel Rahman saying "People went to sleep to the sound of bombardment and awoke to the sound of bombardment".
The World Health Organisation confirmed all the hospitals in the area would be unusable for several days following the attack which was condemned by the US and the UN.
At least 27 people, including children, were killed in the attack and a photograph passed to The Independent showed babies being removed from incubators during the attack.
There are unconfirmed reports that two doctors were among the dead.
The attack is the latest in a renewed campaign against Aleppo after the Syrian government texted every person still inside the rebel-controlled areas to "get out within 24 hours" last week.
Dahiyet al-Assad - Aleppo

Show all 16
Last week the UN warned that Aleppo had exhausted all its food rations and are facing the prospect of starvation if aid does not reach them before winter sets in.
Aid has not been able to reach the city since a major supply line was cut off by Assad's forces in July and aid convoys were suspended after one was bombed in September.
Pictures sent by activists in East Aleppo show markets are nearly bare but locals are said to be attempting to cope with the situation as best they can.
City farms on rooftops and in courtyards have sprung up offering vegetables such as spinach, parsley and radishes – though they remain expensive to buy for most families.
Fruit and vegetables are at least five times more expensive than they were before the war and sugar is ten times the price.
Meanwhile, vital supplies for children have already run out with the city losing its supply of formula milk a month ago.
The assault is another setback for the people of East Aleppo after they loss control of all the territory they gained in the city and its surrounding villages during Russia's "humanitarian pause" earlier this month.
Last week the Observatory said the government had recaptured the western district of Dahiyat al-Assad and the village of Minyan just outside the city right before the fresh bombardment began.
Additional reporting by agencies
Join our new commenting forum
Join thought-provoking conversations, follow other Independent readers and see their replies