Pacquiao vs Ugas LIVE result: Stream, latest updates, how to watch online and undercard results
The legendary Filipino faces the Cuban for the WBA welterweight world title after Errol Spence Jr's eye injury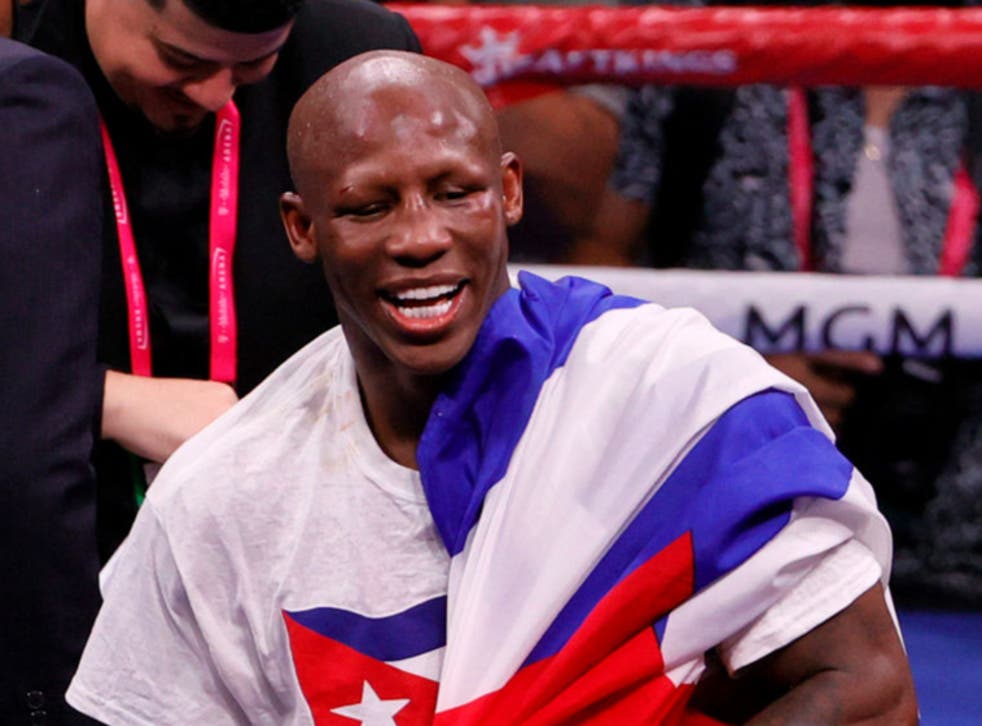 Manny Pacquiao battles Yordenis Ugas in Las Vegas for the WBA 'super' welterweight title with both the Filipino and Cuban weighing in under the 147-pound limit.
The 42-year-old, who has hinted this could be his final fight, tipped the scales at 146lbs, while Ugas was on the very limit at 147lbs, with Pacquiao eager to produce a scintillating display to generate momentum ahead of what fans hope will be a rescheduled fight with Errol Spence Jr. The American, who holds the IBF and WBC world titles, was ruled out of the fight with Pacquiao due to an eye injury, with Terence Crawford the other champion in the division in possession of the WBO strap.
Pacquiao stunned Keith Thurman in 2019 but the WBA stripped him of the WBA belt due to inactivity with Ugas promoted to 'super' champion, which is fuelling the former five-weight world champion here, despite the short notice to adapt his game plan to a new opponent: "I never take this fight lightly," said Pacquiao. Of course I don't want to be over confident for this fight, but I want to make sure that tomorrow night, we're going to have the victory and the fans will be happy. Tomorrow night I will do my best. I'll give my best to the fans and of course for my country. This fight will be dedicated to the Philippine people."
While Ugas is pumped to mix it with such a decorated fighter, admitting he will be "very emotional": "Being in the ring with a legend like Manny Pacquiao, I have a lot of respect for him, so I'm very excited. But all respect is finished after we get in the ring tomorrow. I'm definitely very emotional and very excited for this opportunity, and I have the belt. Whoever wins tomorrow, gets the belt, but right now I'm the champion and I'm ready."
Follow live round-by-round updates from the main event, plus undercard results:
1629615024
Pacquiao vs Ugas: Fight report
Thank you very much for joining our live coverage as Yordenis Ugas produced a brilliant performance to defeat Manny Pacquiao via unanimous decision in Las Vegas. If this is to be farewell, there was no shame in defeat for the 42-year-old Filipino, who will bow out as one of the greatest boxers in history. Here is our fight report:
The 42-year-old was beaten via unanimous decision but defeat will do nothing to harm to his iconic legacy
Tom Kershaw
22 August 2021 07:50
1629611921
Pacquiao vs Ugas: Punch stats
Tom Kershaw
22 August 2021 06:58
1629609911
Pacquiao to wait before deciding future
At 42 years old, Pacquiao is immediately asked in the ring about whether he will retire. He admits he's unsure and will wait to digest tonight's defeat first. Long before tonight, though, the Filipino had nothing left to prove. An eight-weight world champion who already boasts such a supreme list of achievements, if this is to be the final chapter, it will do nothing to detract from his immense legacy.
Tom Kershaw
22 August 2021 06:25
1629608829
Ugas defeats Pacquiao via unanimous decision
There's no controversy on the scorecards. Ugas gets the nod on all three judges scorecards: 115-113 116-112 116-112!
Tom Kershaw
22 August 2021 06:07
1629608660
Pacquiao vs Ugas: Round twelve
A strong final round from Ugas, who lands a great one-two early on and maintains pressure until the final bell. Pacquiao attempts to muster a last charge but it seems as though there's little left in the tank. Age clearly caught up to the Filipino but that is hardly a surprise at 42 years old. Ugas lifts his arms in the air. He believes he's done enough and he deserves this victory, but the fight was still close and nothing is guaranteed when it comes to the scorecards, especially against a superstar of Pacquiao's stature.
Tom Kershaw
22 August 2021 06:04
1629608333
Pacquiao vs Ugas: Round eleven
Another round that's very hard to separate. Pacquiao dominates the first half of it and lands good shots to the head, but Ugas responds excellently, too, and dishes out a series of big right hands of his own. Although the Cuban has been the superior boxer, it feels as though he could have increased his volume to avoid any doubt on the scorecards. We head into the final round and it's certainly close.
Tom Kershaw
22 August 2021 05:58
1629608089
Pacquiao vs Ugas: Round ten
Pacquiao starts the round brightly but Ugas comes on strong at the end of the tenth. He's winging in looping right hands and, although they're not landing clean, they're still connecting and are surely having an effect on Pacquiao. Can the Filipino muster a big final charge?
Tom Kershaw
22 August 2021 05:54
1629607869
Pacquiao vs Ugas: Round nine
That's better from Pacquiao, whose combinations land in the ninth. They don't hurt Ugas, or even deter him, but they're certainly scoring shots and help to revive the somewhat muted atmosphere in the T-Mobile Arena, who desperately want to see the Filipino triumph. We're heading into the championship rounds!
Tom Kershaw
22 August 2021 05:51
1629607725
Pacquiao vs Ugas: Round eight
Pacquiao is throwing more punches but very few are landing, let alone making a telling impact. Ugas is landing heavy right hands that are a lot more effective, even if they aren't as eye-catching. He's slowed the pace of the fight down to a tempo that suits him and Pacquiao doesn't seem to have the same number of gears to go through as we're so used to seeing. It's a very close fight but Ugas is ahead on our card.
Tom Kershaw
22 August 2021 05:48
Join our new commenting forum
Join thought-provoking conversations, follow other Independent readers and see their replies