Newcastle vs Tottenham LIVE: Premier League latest score, goals and updates from fixture today
Steve Bruce takes charge of the Magpies' first match since the takeover
Michael Jones
Sunday 17 October 2021 18:58 Comments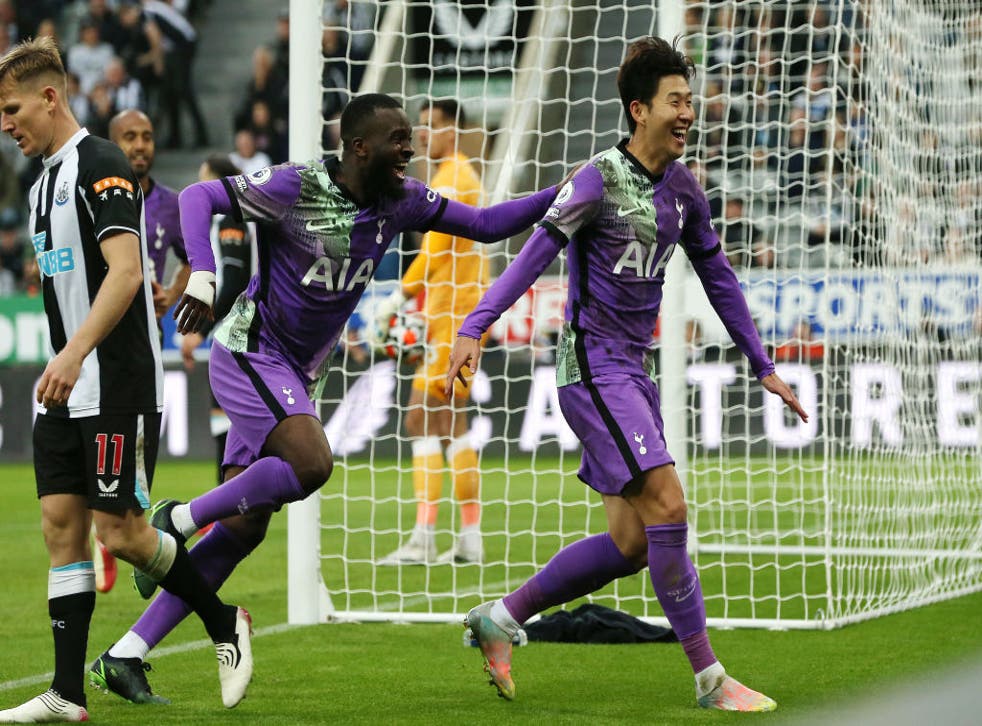 Newcastle United's new era of expected riches and Saudi-fuelled optimism starts on Sunday afternoon as they host Tottenham Hotspur at St. James' Park.
The P.I.F. consortium finally purchased the club from previous owner Mike Ashley during the international break, leading to delirious scenes outside St. James' Park and human rights groups including Amnesty International raising concerns about links to the Saudi Arabian government. Steve Bruce remains in the dugout, for now, and will take charge of his 1000th match as a manager, as his side faces a Spurs team which defeated Aston Villa last time out to end a run of three consecutive losses.
Newcastle remain without a win in the Premier League this season and Bruce will desperate to make a positive first impression with his new employers, who have been linked with a glut of managers around Europe as potential replacements for the 61-year-old. The Magpies are currently 18th in the table, ahead only of the equally winless Burnley and Norwich City, while Spurs sit ninth, having scored only six goals in their opening seven matches.
Follow all the action live as Newcastle United take on Tottenham Hotspur:
1634490684
Newcastle 1 - 3 Tottenham
57 mins: Kane flicks a pass over the Newcastle defence and Son manages to keep it in play. He's marshalled out wide and has to pass the ball back into midfield or else risk losing possession.
Spurs regroup and shift the ball over to the right wing where Ndombele has drifted wide. He whips a cross into the middle but Lascelles gets in front of Son and heads it clear.
Michael Jones
17 October 2021 18:11
1634490489
Newcastle 1 - 3 Tottenham
54 mins: Clark's in the action again. Spurs clear their lines and the ball comes up to Kane. He outmuscles Clark and sets off towards goal with the ball. A frustrated Clark chases after him and hacks the Tottenham forward to the ground to stop the attack. He picks up a yellow card.
Michael Jones
17 October 2021 18:08
1634490340
Newcastle 1 - 3 Tottenham
51 mins: Newcastle are cut apart again. This time with Skipp winning the ball and knocking it to Ndombele. He finds Moura who cuts into the middle, takes the ball round a defender and then plays Son into the box. Son chases the ball down but is beaten to the ball by a sliding Ciaran Clark.
Michael Jones
17 October 2021 18:05
1634490146
Newcastle 1 - 3 Tottenham
48 mins: Cheeky from Reguilon. A free kick is sent over to him and he brings the ball under control before driving into the box. He weaves the ball away from Manquillo and carries it into the box. Kane is up with him and but a backheel from Reguilon comes to Lascelles who clears the danger for Newcastle.
Michael Jones
17 October 2021 18:02
1634489884
Second half: Newcastle 1 - 3 Tottenham
Kick off: Newcastle restart the match. They've got a difficult task ahead of them if they want to get back into this game. They have to score the next goal. If the concede again that should be curtains.
Michael Jones
17 October 2021 17:58
1634489577
Kane vs Newcastle
Harry Kane likes a goal against Newcastle. They were the perfect opponents to kick his season into gear:
Michael Jones
17 October 2021 17:52
1634489370
First half talking points
Lots to discuss from the first 45 minutes. Callum Wilson sent Newcastle in front with less than two minutes on the board. Tanguy Ndombele then equalised with a beautiful finish before VAR confirmed Harry Kane's first goal of the season.
A medical emergency in the crowd then suspended the match but the players reacted quickly to ensure the person involved was seen to quickly by the medical teams and they are now on the way to hospital.
An awkward seven minute spell concluded the first half and Son Heung-min found the back of the net to add to Newcastle's woes.
Michael Jones
17 October 2021 17:49
1634488978
Half-time: Newcastle 1 - 3 Tottenham
45+8 mins: Royal is fine. He gets a drink and a check over by the medics. The whistle then goes for half-time. Tottenham have a commanding lead at the official break in play.
Michael Jones
17 October 2021 17:42
1634488887
Newcastle 1 - 3 Tottenham
45+6 mins: Allan Saint-Maximin flies down the left side but is stopped on his way into the box. Emerson Royal is down after coming together with one of the Newcastle players.
Michael Jones
17 October 2021 17:41
1634488662
GOAL! Newcastle 1 - 3 Tottenham (Son, 45+3)⚽️
45+3 mins: Spurs score again! Newcastle give the ball away and it comes to Lucas Moura. He shifts the ball clear of a defender and probs a fine through ball into the box for Kane. Knae stays onside, draws out Darlow and then squares it to Son for a tap-in.
Michael Jones
17 October 2021 17:37
Register for free to continue reading
Registration is a free and easy way to support our truly independent journalism
By registering, you will also enjoy limited access to Premium articles, exclusive newsletters, commenting, and virtual events with our leading journalists
Already have an account? sign in
Join our new commenting forum
Join thought-provoking conversations, follow other Independent readers and see their replies