Newcastle vs Tottenham LIVE: Premier League latest score, goals and updates from fixture today
Steve Bruce takes charge of the Magpies' first match since the takeover
Michael Jones
Sunday 17 October 2021 18:58 Comments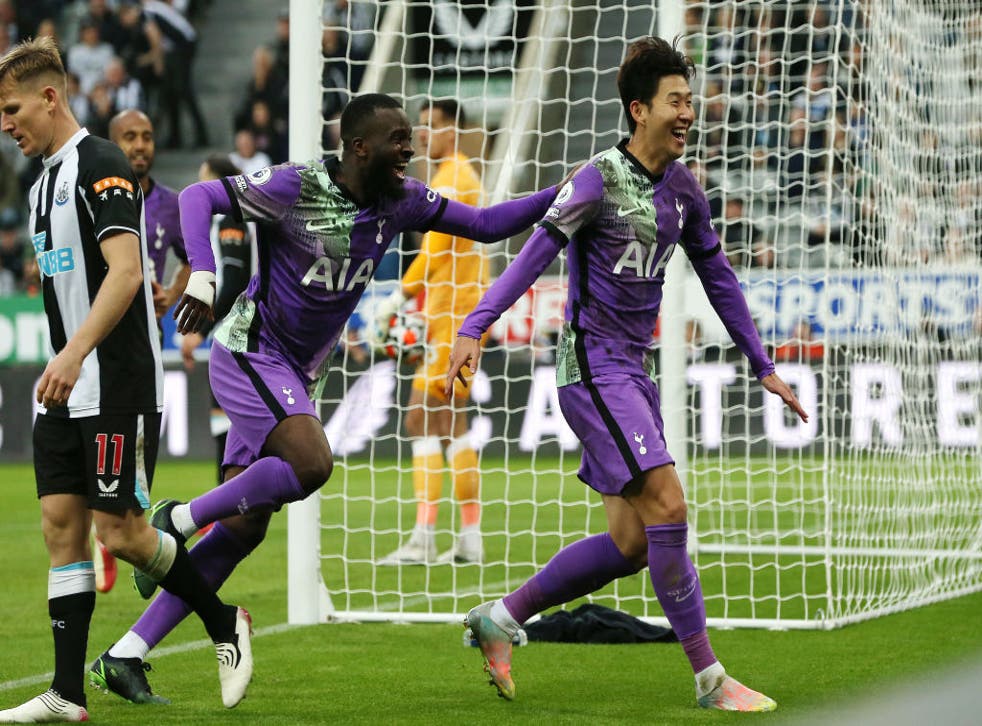 Newcastle United's new era of expected riches and Saudi-fuelled optimism starts on Sunday afternoon as they host Tottenham Hotspur at St. James' Park.
The P.I.F. consortium finally purchased the club from previous owner Mike Ashley during the international break, leading to delirious scenes outside St. James' Park and human rights groups including Amnesty International raising concerns about links to the Saudi Arabian government. Steve Bruce remains in the dugout, for now, and will take charge of his 1000th match as a manager, as his side faces a Spurs team which defeated Aston Villa last time out to end a run of three consecutive losses.
Newcastle remain without a win in the Premier League this season and Bruce will desperate to make a positive first impression with his new employers, who have been linked with a glut of managers around Europe as potential replacements for the 61-year-old. The Magpies are currently 18th in the table, ahead only of the equally winless Burnley and Norwich City, while Spurs sit ninth, having scored only six goals in their opening seven matches.
Follow all the action live as Newcastle United take on Tottenham Hotspur:
1634486839
Newcastle 1 - 2 Tottenham
36 mins: Willock tries to find a way into the box from the left but Emerson Royal doesn't give him room. Willock leaves the ball to Ritchie who's forward on the overlap but his cross into the middle is too close to Lloris who plucks it out of the air.
Michael Jones
17 October 2021 17:07
1634486659
Newcastle 1 - 2 Tottenham
33 mins: Newcastle's early momentum has been zapped out of them but they're fighting hard to wrestle it back. Mainly through Allan Saint-Maximin who has a run down the right side stopped by Skipp.
Tottenham work the ball over to their right side and let Lucas Moura fly forward. He just into full stride before Sean Longstaff hits with a late tackle and picks up a yellow card.
Michael Jones
17 October 2021 17:04
1634486459
Newcastle 1 - 2 Tottenham
30 mins: Allan Saint-Maximin goes on a fine run through the middle, evading two or three defenders before attempting to set up Wilson. He squares the ball but Oliver Skipp sprints back and intercepts the pass with a sliding challenge.
Michael Jones
17 October 2021 17:00
1634486348
Newcastle 1 - 2 Tottenham
28 mins: Son swings a Spurs corner into the penalty area. He aims for Dier and Kane towards the front post but the ball goes over them and bounces out for a Newcastle goal kick.
Michael Jones
17 October 2021 16:59
1634486269
Newcastle 1 - 2 Tottenham
25 mins: Tottenham have turned this around but credit to the Newcastle fans who are still making their presence known. On the pitch Newcastle send a diagonal ball up to Joelinton who mis-controls it and fouls Emerson Royal trying to win back possession.
Michael Jones
17 October 2021 16:57
1634486001
GOAL! Newcastle 1 - 2 Tottenham (Kane, 22')⚽️
22 mins: GOAL! VAR comes to the rescue for Tottenham! The ball comes to Hojbjerg in the middle of the pitch. He turns towards goal and chips a lovely ball into the box over Newcastle's high back line. Harry Kane gets back onside before sprinting in behind to catch the ball. Darlow thinks Kane is offside and is in no-man's land. Kane flicks the ball over the goalkeeper and it finishes in the back of the net.
VAR takes a look and sees that Javier Manquillo is playing him onside. Kane finally gets his goal!
Michael Jones
17 October 2021 16:53
1634485957
Newcastle 1 - 1 Tottenham
22 mins: Kane scores! But he's offside. VAR will take a look at it, this one looks close...
Michael Jones
17 October 2021 16:52
1634485858
Newcastle 1 - 1 Tottenham
20 mins: Chance! Newcastle win a corner that Ritchie delivers. It's an outswinger that finds the run of Jamaal Lascelles who jumps at the right time but sends his headed effort over the crossbar.
Michael Jones
17 October 2021 16:50
1634485685
GOAL! Newcastle 1 - 1 Tottenham (Ndombele, 17')⚽️
17 mins: Is the party over already? A simple long ball comes up the pitch to Sergio Reguilon on the left wing. He isn't closed down and Newcastle allow him to pass it into the Ndombele just inside the box. He's wide open as well and takes his time to place his shot into the far corner. Great finish.
Michael Jones
17 October 2021 16:48
1634485575
Newcastle 1 - 0 Tottenham
15 mins: Eric Dier threads a lovely forward pass up to Ndombele who spins and lays the ball out to Moura on the right side of the box. He takes a touch to set himself for an accurate cross but miscues it badly and scuffs the ball out for a Newcastle throw in.
Michael Jones
17 October 2021 16:46
Register for free to continue reading
Registration is a free and easy way to support our truly independent journalism
By registering, you will also enjoy limited access to Premium articles, exclusive newsletters, commenting, and virtual events with our leading journalists
Already have an account? sign in
Join our new commenting forum
Join thought-provoking conversations, follow other Independent readers and see their replies