Manchester City 0 Chelsea 1: Deficiencies of Martin Demichelis ruthlessly exposed by Chelsea attack
For Demichelis -  pony-tailed and gloved - the job was to stop Chelsea's rapier thrusts
Ian Herbert
Tuesday 04 February 2014 02:00 Comments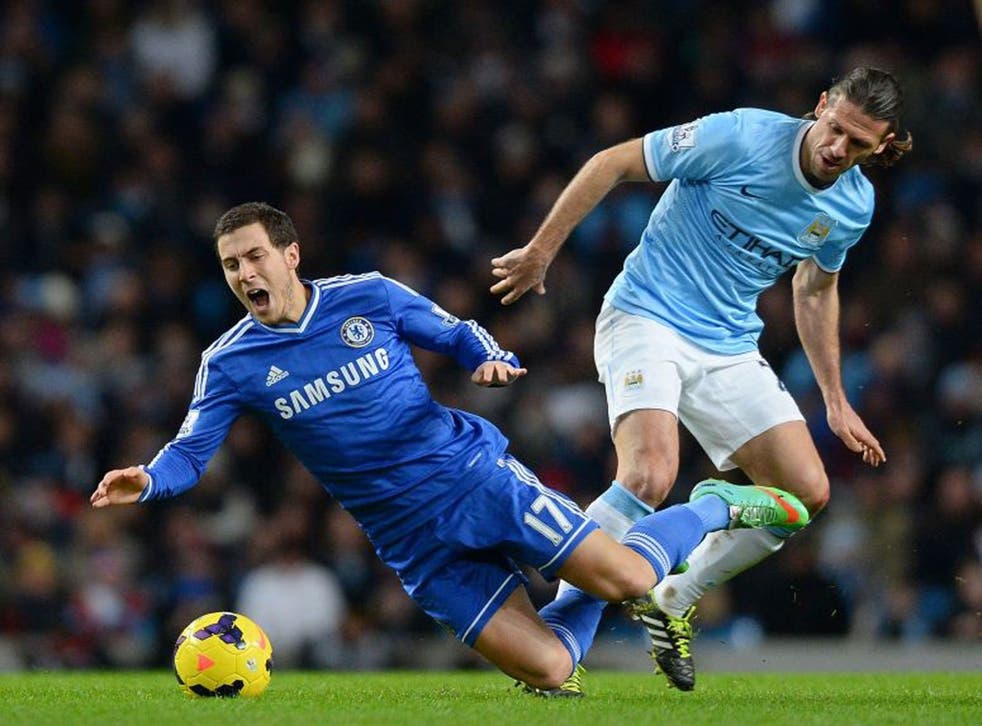 Martin Demichelis has not paraded any inhibitions about having what it takes to be a part of the squad with more lustre than all others in the Premier League. His confidence comes from his place in the La Liga team of the year last season, a position he owed to winning more tackles for Malaga than every player but one in Spain. His wife's near legendary observation after they had arrived in Britain that "women with footballers must always hire ugly" reinforces the view that they know what they're about in that household.
But the anxiety clung to the Etihad like a cold fog when the team sheet revealed on Monday night that the 33-year-old in whom Manuel Pellegrini shares the same unerring faith was the man selected to help hold central midfield. Fernandinho, the player we had been invited to speak to before the game, has been one of the reasons why 4-4-2 has not been old fashioned at Manchester City; an individual with the power and muscularity to get up and down the field. Pellegrini lost his linchpin but kept his system, all the same.
The manager's belief that there was a job for Demichelis there had its foundations in the fact that he had done it for him before this season, though the massed ranks of Watford and the Tottenham team that crumbled in the face of City's force last month was hardly a proving ground for a match like this.
The central area was always going to be the one in which this game was won and lost; that Jose Mourinho knew as much was evident from the cluster of players billeted to swarm around Yaya Touré each time he gathered possession in the middle. For Demichelis – gloved, pony-tailed – the task was to halt the rapier thrusts with which Chelsea would seek to burst out of their own ranks.
Manchester City 0 Chelsea 1: Player ratings from the Etihad

Show all 23
It did not immediately look beyond him, in the way that the factors which dictate a match like this are not always black and white. He advanced to time a solid block on Ramires before the half hour, as the Brazilian threatened to race away from Chelsea's own rearguard. "My first role is at centre-back," he said before this game. "But I played for six years at Bayern Munich as a holding midfielder so I feel comfortable in both positions."
Yet City required something more than "comfortable". As David Luiz and Nemanja Matic locked off the game, seizing possession and squeezing the space each time the ball broke in their direction, the Argentine struggled to command so much.
He was not helped by his own man, Alvaro Negredo, just before the half hour, whose loose ball left him reaching desperately to collect ahead of Ramires, succeeding only in blocking it to Matic, whose easy 20-yard pass sent Willian running free in a four-on-one predicament for City, which required Joe Hart's smart save to prevent them falling behind.
The winning goal – more significant than ever on occasions like this – came shortly afterwards, altering the dynamics of the match immensely and letting Chelsea compress the space even more. It was not only Demichelis' struggle to keep up with the pace of the match – in the next 20 minutes either side of the break – though there was a time in that period when any challenge he attempted was askew. (It did not ease City's anxiety that Eden Hazard looked as free as a bird at that time, as confidence coursed through him.)
No, it was the absence of the extra attacking presence that Fernandino brings which also told. The Brazilian spoke before the game of balancing duties of attack and defence, as if his advance upfield was a guilty secret. Demichelis loitered deep, in front of his own defence, placing a challenge on Willian in one of Chelsea's sortees but nothing else; nothing exceptional.
That one man's absence made such a difference in the central areas told most as the game entered its last five minutes, when a ball cleared towards Oscar left Matija Nastasic clinging onto the shirt of the Chelsea substitute as he threatened to race away and earned him the yellow card which should have been a red.
City were spared, of course, but as they poured men forward again, Demichelis was the solitary one left behind. A tactical masterpiece from Mourinho. But a night, also, when City discovered that one missing man can do for a team.
Register for free to continue reading
Registration is a free and easy way to support our truly independent journalism
By registering, you will also enjoy limited access to Premium articles, exclusive newsletters, commenting, and virtual events with our leading journalists
Already have an account? sign in
Join our new commenting forum
Join thought-provoking conversations, follow other Independent readers and see their replies