Jose Mourinho turns focus on Arsenal but maintains Chelsea are not Premier League title contenders but just a 'nice' little horse that 'needs milk and to learn how to jump'
Mourinho claims both City and Arsenal have a better chance at winning the Premier League even though he masterminded a first league defeat at home for Manuel Pellegrini's side this season
Ian Herbert
Tuesday 04 February 2014 13:35 Comments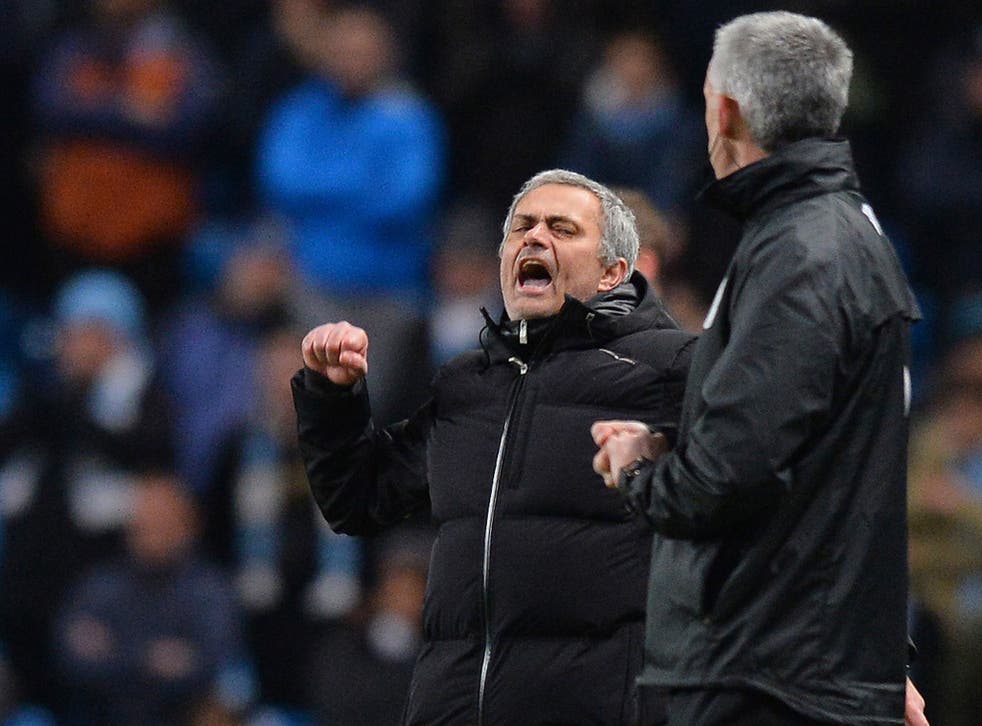 Chelsea manager Jose Mourinho played down his title prospects in quintessential fashion last night, declaring after inflicting defeat on Manchester City that the three-horse title race was between "two horses and a little horse that still needs milk and to learn how to jump." It is "a nice horse," Mourinho said of himself, with a clicking noise. "A horse that next season we can race."
Mourinho's insistence that Arsenal - still leaders last night - remain title favourites diverted the pressure onto them. "Maybe Arsenal deserve it more than us. They are top of the league and they are the favourites," he said. His attempt to play down a victory which brought an end to a 62-game run since Manchester City last failed to score at home in a Premier League game extended to suggesting that he had not spoken to his players since midday and had left the teamtalk to his club masseur. The notion that the masseur, Billy McCulloch, was the mastermind who inflicted a seventh victory over Pellegrini in nine games rubbed it in for the Chilean.
"I didn't speak. It was Billy the masseur that spoke to the team. He was screaming so much in his Scottish I didn't understand him. Grr, grr, grr. I am serious. But the players were clapping [and was saying] 'that was good- yah, yah, yah.. It was Billy's team-talk. I mean it."
Mourinho said that it was "up to Roy [Hodgson]" whether the outstanding performances of Gary Cahill and John Terry should mean they are selected for England's World Cup squad this summer.
"It is up to Roy and to John. It is not with me," he said. "I think [Phil] Jagielka did a very good job but John is playing amazingly well but now it is up to the FA, to Roy and to John. The decision they make is the decision I accept."
For Pellegrini, defeat was compounded by the disturbing news that Fernandinho, who was missing with a groin injury sustained in training, could be out for a month, which would see him miss City's FA Cup Fifth Round tie with Chelsea, Champions League round of 16 match at home to Barcelona and the League Cup Final against Sunderland.
Pellegrini blamed a mounting injury crisis for his team's defeat, saying that he had been unable to play James Milner, Javi Garcia or Jack Rodwell in place of Fernandinho against Chelsea because both were only just returning from injury.
But Mourinho insisted that Fernandinho's absence had not affected his own plans. "It didn't - no," he said. "I don't even know what happened, if he was ill, injured, what happened. When we changed the teams I knew he was not playing and I was doubting between Demichelis and [Matija] Nastasic in midfield. Demichelis did it with Pellegrino (sic) in Malaga and I knew that but I thought maybe keep him at the back and play Nastasic in midfield." The mispronunciation of Pellegrini's name seemed like a another dig at the Chilean.
So did Mourinho's apparent comments about Manchester United. "We love the big games and maybe when you love it you are extra motivated for it," he said. "I keep saying, the best thing for the evolution of this team is not to play Europa League, not to be 15-20 points behind the leader but with pressure to be there, to be close to the leaders."
Pellegrini said that Rodwell was a month away from fitness, with Nasri also at least a fortnight from return and Sergio Aguero a third player who is unlikely to be fit for the Barcelona game. Alvaro Negredo was "not 100 per cent" fit ether, Pellegrini said. That was "too much advantage for an important team like Chelsea. We lost against a good team that played very well. It was a very close game and they had the luck to do it," Pellegrini said.
He sought to play down the significance of this result for Mourinho. "For Chelsea it was a decisive game, not for us. If we win, we were six points ahead of them. Now we are two points behind Arsenal. We have 39 points to play for," he said.
Manchester City 0 Chelsea 1: Player ratings from the Etihad

Show all 23
PA
Register for free to continue reading
Registration is a free and easy way to support our truly independent journalism
By registering, you will also enjoy limited access to Premium articles, exclusive newsletters, commenting, and virtual events with our leading journalists
Already have an account? sign in
Join our new commenting forum
Join thought-provoking conversations, follow other Independent readers and see their replies