Josh Warrington vs Mauricio Lara 2 LIVE: Result, latest updates, reaction after cut forces technical draw
The Leeds Warrior was denied a chance at redemption after the Mexican suffered a severe cut inside two rounds
Jack Rathborn
,
Tom Kershaw
Saturday 04 September 2021 23:44 Comments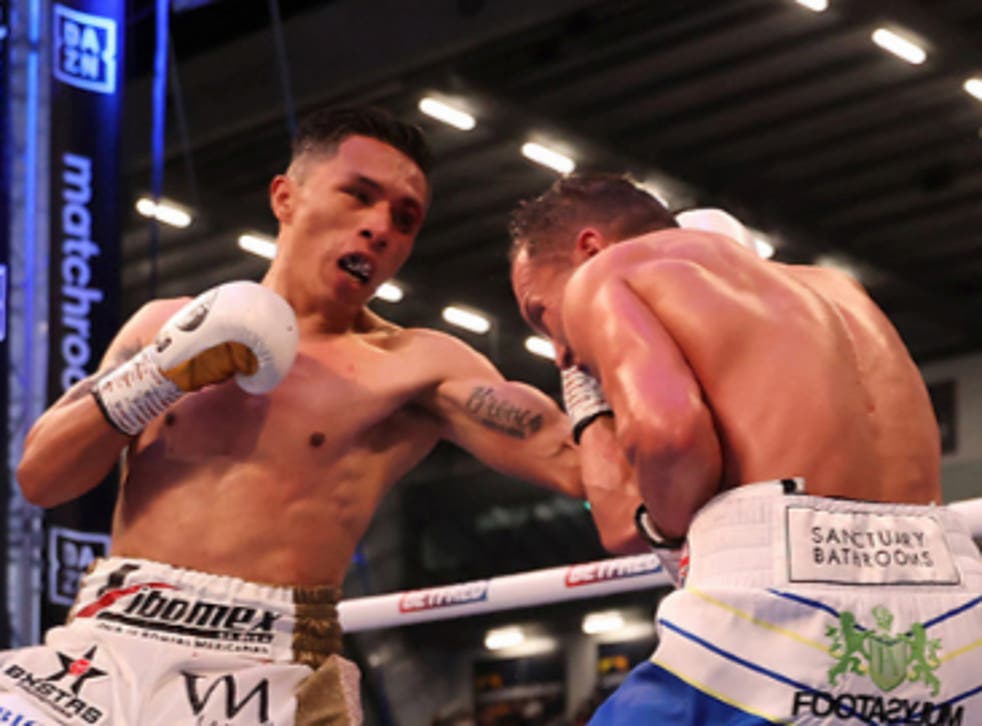 Josh Warrington's big Headingley comeback fell flat as his fight against Mauricio Lara was declared a technical draw after two rounds.
Warrington opened an injury around Lara's left eye via an accidental head-butt, and the Mexican was deemed unfit to continue by the ringside doctor.
The news was greeted with groans by the 20,000-capacity crowd at the home of Leeds Rhinos who had turned up in the hope that Warrington would gain revenge for his knockout defeat by the same fighter in May.
The rules stipulate that with less than four rounds completed, the officials have no option but to declare a draw rather than go to the scorecards.
It proved an enormous anti-climax for Warrington, who had headed into the rematch in the knowledge that another defeat would effectively scupper his hopes of some day shining on the other side of the Atlantic, if not end his career itself.
But for all his insistence he would not make the mistake of overlooking Lara a second time, his pre-fight media commitments were still peppered with Stateside ambitions and dismissals of his domestic featherweight rivals.
Whilst it was admirable of Warrington to agree to step straight back in against an opponent who vanquished him so comprehensively seven months ago, it was also an engagement borne of necessity in the context of those future plans.
Warrington's previous reversal to Lara was no lucky punch, but a loss that required plenty of soul-searching and a completely revised game-plan prior to his high-profile reappearance in front of his adoring home city fans.
Having surrendered his unbeaten record behind closed doors at promoter Eddie Hearn's Fight Camp, Warrington's hope to glean extra motivation from his thousands of raucous supporters also heaped additional pressure on such a crucial career assignment.
Warrington started well, landing much the cleaner work in the opener, although his best shots had no discernible effect on his opponent, and suggested a worrying willingness to trade.
Lara was already complaining about Warrington's use of the head prior to a pivotal moment midway through the second, when a clash left Lara reeling with blood around his left eye and requiring extra time to recover in his corner.
The Leeds man was warned about his use of the head in an equally action-packed second, which ended with the ringside doctor taking a long look and instructing the official to call the contest off.
1630794382
REPORT: Warrington deflated as chance of redemption snatched by Lara cut
Amid a haze of strewn pints and the swirling boos of his 20,000 supporters, Josh Warrington's pursuit of redemption succumbed to the most unsatisfactory ending as an accidental clash of heads meant his long-anticipated rematch with Mauricio Lara was ruled a two-round technical draw.
After the distressing nature of Warrington's defeat against Lara last April, when his body broke and betrayed him long before his pride had shattered, this was a cruel and unforgiving conclusion that leaves so many unanswered questions and will fail to alleviate those scars.
His astonishing bravery on that fateful night in Wembley did little to soothe doubts over what spirit remained towards the end of Warrington's decorated career. In the end, he was denied the opportunity to prove those doubters wrong. But then, boxing is a brutal business, and there are no sympathies reserved even for its icons, and safety is always paramount.
That will not console the months of preparation and the psychological demons that still need to be conquered, though. A night when Headingley was supposed to be the pedestal that resurrected or razed Warrington's career has instead left him in a disappointing limbo.
The Leeds Warrior started well before an accidental clash of heads opened up a deep cut on the Mexican's eye
Jack Rathborn
4 September 2021 23:26
1630793385
Bellew: Taylor is the perfect role model
"She's the perfect role model, we've got the best pound for pound female fighter right here," Tony Bellew said of Taylor after her emphatic win tonight.
"Girls watching, learn from her, because she's the perfect role model."
Thomas Fenton
4 September 2021 23:09
1630793206
Jack Rathborn
4 September 2021 23:06
1630793067
Jack Rathborn
4 September 2021 23:04
1630793066
Hearn: Does Galahad even want the Warrington rematch?
"Does Kid Galahad even want to give him (Warrington) the opportunity? He'll be out in Sheffield in November," Hearn added.
"He's been a featherweight for a long time, could he move up? I still think he'll want the Lara fight. I want to see him back out and active. There's no reason he should have to wait until early next year."
Thomas Fenton
4 September 2021 23:04
1630792889
Shane McGuigan's take on the cut
Thomas Fenton
4 September 2021 23:01
1630792782
Hearn: There are other fights for Josh Warrington
"I don't think the cut was that bad at first, I actually thought Lara was looking for a way out," promoter Eddie Hearn told DAZN.
"That's never happened to me before, I'm gutted for josh. (Josh said) that I cant believe he beat me (in the first fight). I thought he looked really fresh, I still believe he would have won (the fight)."
"There are other fights for Josh Warrington. Lara will be out for six months, I'd like to see Josh back in the ring."
Thomas Fenton
4 September 2021 22:59
1630792198
Warrington: I'm absolutely gutted
"All these people wanted to see me get redemption tonight," Warrington told DAZN.
"I thought I opened him up with a punch in the first round, but a clash of styles, my head hit him.
Thomas Fenton
4 September 2021 22:49
1630791991
MAJORITY DRAW - Fight ends after two rounds
A majority draw is announced by Michael Buffer.
Lara's cut was simply too bad to continue, giving the referee no choice but to wave the fight off.
A third fight is surely going to happen now, as neither man looks happy with the outcome.
Frustratingly, the bout was just heating up at the time of the stoppage.
Thomas Fenton
4 September 2021 22:46
1630791805
The fight is waved off!
The fight has been waved off after the cut to the eye of Lara!
Unbelievable...we're just waiting for confirmation of that it is indeed a technical draw.
Thomas Fenton
4 September 2021 22:43
Register for free to continue reading
Registration is a free and easy way to support our truly independent journalism
By registering, you will also enjoy limited access to Premium articles, exclusive newsletters, commenting, and virtual events with our leading journalists
Already have an account? sign in
Join our new commenting forum
Join thought-provoking conversations, follow other Independent readers and see their replies