Olympics 2021 schedule: Today's events and start times in Tokyo
Dina Asher-Smith begins her 100m campaign as the athletics gets under way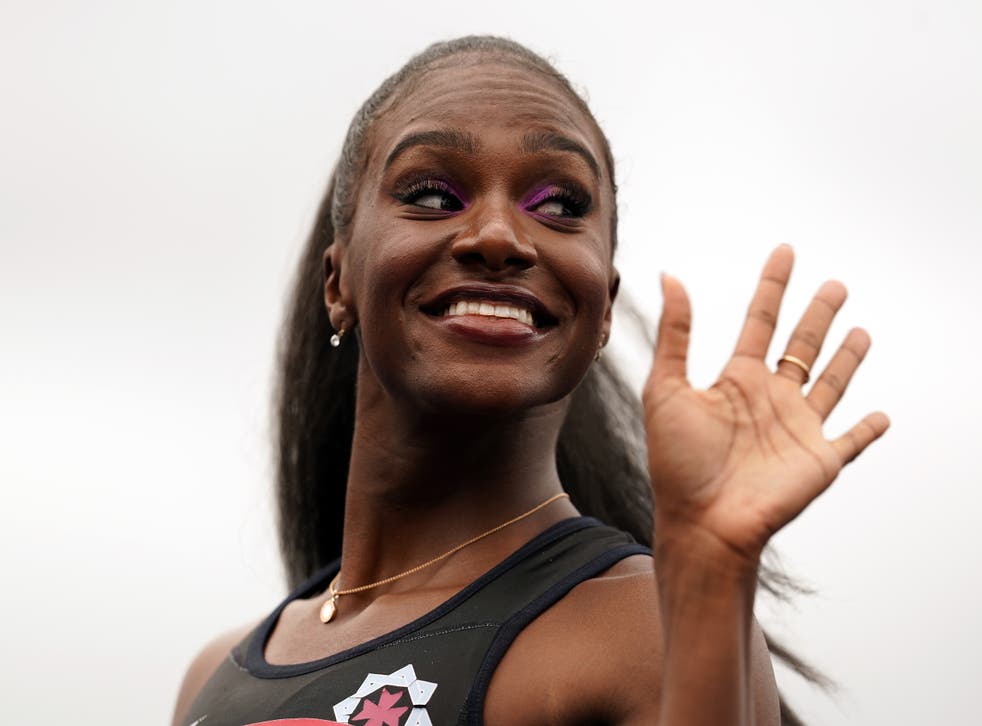 Day seven of the Tokyo Olympic Games is under way as the athletics programme kicks off at the New National Stadium.
Dina Asher-Smith gets her 100m campaign under way in the heats (from 2am BST), while Duncan Scott attempts to win a third medal in men's 200m medley final (swimming from 1am BST). Team GB are back on the football pitch against Australia (10am BST) while Pat McCormck fights in the welterweight quarter-finals (2.30am BST).
Rowing, swimming, tennis, canoeing and much more is on the agenda.
FOLLOW LIVE: Latest updates from the Olympics
Medals on the line
Archery (women's individual), athletics (men's 10,000m), badminton (mixed doubles), canoe slalom (men's K1), cycling (women's BMX racing, men's BMX racing), fencing (men's team epee), judo (women's +78kg, men's +100kg), rowing (women's single sculls, men's single sculls, women's eight, men's eight), shooting (women's 25m pistol), swimming (women's 200m breast, men's 200m back, women's 100m free, men's 200m medley), table tennis (men's singles), tennis (men's doubles), trampoline (women's final).
Schedules
Women's gymnastics schedule – when is Simone Biles performing?
Men's gymnastics schedule – when is Max Whitlock performing?
Skateboarding – when is Sky Brown performing?
Today's full Olympic schedule
All times BST
23:30 Golf Men's Individual Stroke Play Round 2
23:45 Rowing Men's Single Sculls Final F
23:55 Rowing Women's Single Sculls Final F
00:05 Rowing Men's Single Sculls Final E
00:15 Rowing Women's Single Sculls Final E
00:25 Rowing Women's Single Sculls Final D
00:30 Equestrian Eventing Dressage Team and Individual Day 1 - Session 1
00:35 Rowing Men's Single Sculls Final D
00:45 Rowing Women's Single Sculls Final C
00:55 Rowing Men's Single Sculls Final C
01:00 Athletics Women's 100m Preliminary Round
01:00 Athletics Women's 100m Preliminary Round - Heat 1
01:00 Badminton Men's Singles Round of 16, Men's Doubles QF, Women's Doubles QF matches
01:00 Trampoline Gymnastics Podium Training
01:00 Handball Men's Preliminary Round Group A
01:00 Rugby Sevens Women's Pool B
01:00 Shooting 25m Pistol Women's Qualification Rapid
01:00 Shooting Trap Mixed Team Pre-Event Training
01:00 Beach Volleyball Women's Preliminary - Pool B
01:00 Volleyball Men's Preliminary Round - Pool A
01:05 Rowing Women's Single Sculls Final B
01:07 Athletics Women's 100m Preliminary Round - Heat 2
01:14 Athletics Women's 100m Preliminary Round - Heat 3
01:15 Athletics Men's High Jump Qualification
01:15 Athletics Men's High Jump Qualification - Group A
01:15 Athletics Men's High Jump Qualification - Group B
01:15 Rowing Men's Single Sculls Final B
01:30 Archery Women's Individual 1/8 Eliminations
01:30 Athletics Men's 3000m Steeplechase Round 1
01:30 Athletics Men's 3000m Steeplechase Round 1 - Heat 1
01:30 Hockey Women's Pool A
01:30 Rugby Sevens Women's Pool B
01:33 Rowing Women's Single Sculls Final A gold
01:43 Archery Women's Individual 1/8 Eliminations
01:45 Athletics Men's Discus Throw Qualification
01:45 Athletics Men's Discus Throw Qualification - Group A
01:45 Rowing Men's Single Sculls Final A gold
01:47 Athletics Men's 3000m Steeplechase Round 1 - Heat 2
01:56 Archery Women's Individual 1/8 Eliminations
01:57 Rowing Women's Single Sculls Victory Ceremony
02:00 Basketball Women's Preliminary Round Group C
02:00 Cycling BMX Racing Men, Semifinals Run 1
02:00 Fencing Men's Epee Team Table of 16
02:00 Fencing Men's Epee Team Table of 16
02:00 Hockey Men's Pool A
02:00 Rugby Sevens Women's Pool C
02:00 Beach Volleyball Men's Preliminary - Pool C
02:03 Cycling BMX Racing Men, Semifinals Heat 1 (all Runs)
02:04 Athletics Men's 3000m Steeplechase Round 1 - Heat 3
02:05 Rowing Women's Eight Final A gold
02:06 Cycling BMX Racing Men, Semifinals Heat 2 (all Runs)
02:09 Archery Women's Individual 1/8 Eliminations
02:15 Cycling BMX Racing Women, Semifinals Run 1
02:17 Rowing Men's Single Sculls Victory Ceremony
02:18 Cycling BMX Racing Women, Semifinals Heat 1 (all Runs)
02:21 Cycling BMX Racing Women, Semifinals Heat 2 (all Runs)
02:22 Archery Women's Individual 1/8 Eliminations
02:25 Athletics Women's 800m Round 1
02:25 Athletics Women's 800m Round 1 - Heat 1
02:25 Rowing Men's Eight Final A gold
02:30 Rugby Sevens Women's Pool C
02:30 Swimming Men's 100m Butterfly Semifinals
02:30 Swimming Men's 100m Butterfly Semifinal 1
02:31 Cycling BMX Racing Men, Semifinals Run 2
02:33 Athletics Women's 800m Round 1 - Heat 2
02:35 Archery Women's Individual 1/8 Eliminations
02:35 Swimming Men's 100m Butterfly Semifinal 2
02:37 Rowing Women's Eight Victory Ceremony
02:41 Athletics Women's 800m Round 1 - Heat 3
02:41 Swimming Women's 200m Breaststroke Final
02:41 Swimming Women's 200m Breaststroke Final gold
02:45 Rowing Men's Eight Victory Ceremony
02:46 Cycling BMX Racing Women, Semifinals Run 2
02:48 Archery Women's Individual 1/8 Eliminations
02:49 Athletics Women's 800m Round 1 - Heat 4
02:50 Swimming Men's 200m Backstroke Final
02:50 Swimming Men's 200m Backstroke Final gold
02:57 Athletics Women's 800m Round 1 - Heat 5
02:59 Swimming Women's 100m Freestyle Final
02:59 Swimming Women's 100m Freestyle Final gold
03:00 Boxing Women's Light (57-60kg) - Preliminaries - Round of 16
03:00 Handball Men's Preliminary Round Group B
03:00 Judo Men +100 kg Elimination Round of 32
03:00 Judo Men +100 kg Elimination Round of 32
03:00 Judo Men +100 kg Elimination Round of 32
03:00 Judo Men +100 kg Elimination Round of 32
03:00 Judo Men +100 kg Elimination Round of 32
03:00 Judo Men +100 kg Elimination Round of 32
03:00 Judo Men +100 kg Elimination Round of 32
03:00 Judo Men +100 kg Elimination Round of 32
03:00 Judo Men +100 kg Elimination Round of 32
03:00 Judo Men +100 kg Elimination Round of 32
03:00 Judo Men +100 kg Elimination Round of 32
03:00 Judo Men +100 kg Elimination Round of 64
03:00 Judo Men +100 kg Elimination Round of 64
03:00 Judo Men +100 kg Elimination Round of 64
03:00 Judo Men +100 kg Elimination Round of 64
03:00 Judo Men +100 kg Elimination Round of 64
03:00 Judo Men +100 kg Elimination Round of 64
03:00 Judo Men +100 kg Elimination Round of 64
03:00 Judo Men +100 kg Elimination Round of 64
03:00 Judo Men +100 kg Elimination Round of 64
03:00 Judo Men +100 kg Elimination Round of 64
03:00 Judo Men +100 kg Elimination Round of 64
03:00 Judo Men +100 kg Elimination Round of 64
03:00 Judo Men +100 kg Elimination Round of 64
03:00 Judo Men +100 kg Elimination Round of 64
03:00 Judo Men +100 kg Elimination Round of 64
03:00 Judo Men +100 kg Elimination Round of 64
03:00 Judo Men +100 kg Elimination Round of 64
03:00 Judo Men +100 kg Elimination Round of 64
03:00 Judo Men +100 kg Elimination Round of 64
03:00 Judo Men +100 kg Elimination Round of 64
03:00 Judo Men +100 kg Elimination Round of 64
03:00 Judo Men +100 kg Elimination Round of 64
03:00 Judo Men +100 kg Elimination Round of 64
03:00 Judo Men +100 kg Elimination Round of 64
03:00 Judo Men +100 kg Elimination Round of 64
03:00 Judo Men +100 kg Elimination Round of 64
03:00 Judo Men +100 kg Elimination Round of 64
03:00 Judo Men +100 kg Elimination Round of 64
03:00 Judo Men +100 kg Elimination Round of 64
03:00 Judo Men +100 kg Elimination Round of 64
03:00 Judo Men +100 kg Elimination Round of 64
03:00 Judo Men +100 kg Elimination Round of 64
03:00 Judo Women +78 kg Elimination Round of 32
03:00 Judo Women +78 kg Elimination Round of 32
03:00 Judo Women +78 kg Elimination Round of 32
03:00 Judo Women +78 kg Elimination Round of 32
03:00 Judo Women +78 kg Elimination Round of 32
03:00 Judo Women +78 kg Elimination Round of 32
03:00 Judo Women +78 kg Elimination Round of 64
03:00 Judo Women +78 kg Elimination Round of 64
03:00 Judo Women +78 kg Elimination Round of 64
03:00 Judo Women +78 kg Elimination Round of 64
03:00 Judo Women +78 kg Elimination Round of 64
03:00 Judo Women +78 kg Elimination Round of 64
03:00 Judo Women +78 kg Elimination Round of 64
03:00 Judo Women +78 kg Elimination Round of 64
03:00 Judo Women +78 kg Elimination Round of 64
03:00 Judo Women +78 kg Elimination Round of 64
03:00 Judo Women +78 kg Elimination Round of 64
03:00 Judo Women +78 kg Elimination Round of 64
03:00 Judo Women +78 kg Elimination Round of 64
03:00 Judo Women +78 kg Elimination Round of 64
03:00 Judo Women +78 kg Elimination Round of 64
03:00 Judo Women +78 kg Elimination Round of 64
03:00 Judo Women +78 kg Elimination Round of 64
03:00 Judo Women +78 kg Elimination Round of 64
03:00 Judo Women +78 kg Elimination Round of 64
03:00 Judo Women +78 kg Elimination Round of 64
03:00 Judo Women +78 kg Elimination Round of 64
03:00 Judo Women +78 kg Elimination Round of 64
03:00 Judo Women +78 kg Elimination Round of 64
03:00 Judo Women +78 kg Elimination Round of 64
03:00 Judo Women +78 kg Elimination Round of 64
03:00 Judo Women +78 kg Elimination Round of 64
03:00 Judo Women +78 kg Elimination Round of 64
03:00 Judo Women +78 kg Elimination Round of 64
03:00 Judo Women +78 kg Elimination Round of 64
03:00 Judo Women +78 kg Elimination Round of 64
03:00 Judo Women +78 kg Elimination Round of 64
03:00 Judo Women +78 kg Elimination Round of 64
03:00 Rugby Sevens Women's Pool A
03:00 Beach Volleyball Men's Preliminary - Pool E
03:01 Archery Women's Individual 1/8 Eliminations
03:02 Cycling BMX Racing Men, Semifinals Run 3
03:05 Athletics Women's 800m Round 1 - Heat 6
03:05 Volleyball Men's Preliminary Round - Pool B
03:06 Judo Men +100 kg Elimination Round of 32
03:06 Judo Women +78 kg Elimination Round of 32
03:06 Swimming Women's 200m Breaststroke Victory Ceremony
03:12 Judo Men +100 kg Elimination Round of 32
03:12 Judo Women +78 kg Elimination Round of 32
03:15 Boxing Women's Light (57-60kg) - Preliminaries - Round of 16
03:16 Swimming Men's 200m Individual Medley Final
03:16 Swimming Men's 200m Individual Medley Final gold
03:17 Cycling BMX Racing Women, Semifinals Run 3
03:18 Judo Men +100 kg Elimination Round of 32
03:18 Judo Women +78 kg Elimination Round of 32
03:20 Athletics Men's Discus Throw Qualification - Group B
03:24 Judo Men +100 kg Elimination Round of 32
03:24 Judo Women +78 kg Elimination Round of 32
03:25 Athletics Men's 400m Hurdles Round 1
03:25 Athletics Men's 400m Hurdles Round 1 - Heat 1
03:25 Fencing Men's Epee Team Quarterfinals
03:25 Fencing Men's Epee Team Quarterfinal 1
03:25 Fencing Men's Epee Team Quarterfinal 2
03:25 Fencing Men's Epee Team Quarterfinal 3
03:25 Fencing Men's Epee Team Quarterfinal 4
03:25 Swimming Men's 200m Backstroke Victory Ceremony
03:30 Boxing Women's Light (57-60kg) - Preliminaries - Round of 16
03:30 Judo Men +100 kg Elimination Round of 32
03:30 Judo Women +78 kg Elimination Round of 32
03:30 Rugby Sevens Women's Pool A
03:33 Athletics Men's 400m Hurdles Round 1 - Heat 2
03:35 Swimming Women's 200m Backstroke Semifinals
03:35 Swimming Women's 200m Backstroke Semifinal 1
03:36 Judo Men +100 kg Elimination Round of 16
03:36 Judo Women +78 kg Elimination Round of 32
03:40 Cycling BMX Racing Men, Final gold
03:41 Athletics Men's 400m Hurdles Round 1 - Heat 3
03:42 Judo Men +100 kg Elimination Round of 16
03:42 Judo Women +78 kg Elimination Round of 32
03:42 Swimming Women's 200m Backstroke Semifinal 2
03:45 Hockey Women's Pool A
03:48 Boxing Women's Light (57-60kg) - Preliminaries - Round of 16
03:48 Judo Men +100 kg Elimination Round of 16
03:48 Judo Women +78 kg Elimination Round of 32
03:49 Athletics Men's 400m Hurdles Round 1 - Heat 4
03:49 Swimming Women's 100m Freestyle Victory Ceremony
03:50 Cycling BMX Racing Women, Final gold
03:54 Judo Men +100 kg Elimination Round of 16
03:54 Judo Women +78 kg Elimination Round of 32
03:57 Athletics Men's 400m Hurdles Round 1 - Heat 5
03:59 Swimming Men's 200m Individual Medley Victory Ceremony
04:00 Cycling BMX Racing Men, Victory Ceremony
04:00 Baseball/Softball Baseball Opening Round Group A
04:00 Judo Men +100 kg Elimination Round of 16
04:00 Judo Women +78 kg Elimination Round of 32
04:00 Tennis Order of play available evening before
04:03 Boxing Women's Welter (64-69kg) Quarterfinal 1
04:05 Sailing Men's Two Person Dinghy - 470 - Race 05
04:05 Sailing Men's Skiff - 49er - Race 07
04:05 Sailing Women's One Person Dinghy - Laser Radial - Race 09
04:06 Judo Men +100 kg Elimination Round of 16
04:06 Judo Women +78 kg Elimination Round of 16
04:10 Cycling BMX Racing Women, Victory Ceremony
04:12 Judo Men +100 kg Elimination Round of 16
04:12 Judo Women +78 kg Elimination Round of 16
04:15 Athletics Women's 100m Round 1
04:15 Athletics Women's 100m Round 1 - Heat 1
04:15 Hockey Men's Pool B
04:15 Sailing Women's Two Person Dinghy - 470 - Race 05
04:18 Boxing Women's Welter (64-69kg) Quarterfinal 2
04:18 Judo Men +100 kg Elimination Round of 16
04:18 Judo Women +78 kg Elimination Round of 16
04:23 Athletics Women's 100m Round 1 - Heat 2
04:24 Judo Men +100 kg Quarterfinal
04:24 Judo Women +78 kg Elimination Round of 16
04:30 Judo Men +100 kg Quarterfinal
04:30 Judo Women +78 kg Elimination Round of 16
04:30 Shooting 50m Rifle 3 Positions Women's Pre-Event Training
04:31 Athletics Women's 100m Round 1 - Heat 3
04:36 Boxing Men's Welter (63-69kg) Quarterfinal 1
04:36 Judo Men +100 kg Quarterfinal
04:36 Judo Women +78 kg Elimination Round of 16
04:39 Athletics Women's 100m Round 1 - Heat 4
04:42 Judo Men +100 kg Quarterfinal
04:42 Judo Women +78 kg Elimination Round of 16
04:45 Fencing Men's Epee Team Classifications 5-8
04:45 Fencing Men's Epee Team Classifications 5-8
04:45 Fencing Men's Epee Team Classifications 5-8
04:47 Athletics Women's 100m Round 1 - Heat 5
04:48 Judo Women +78 kg Elimination Round of 16
04:51 Boxing Men's Welter (63-69kg) Quarterfinal 2
04:54 Judo Women +78 kg Quarterfinal
04:55 Athletics Women's 100m Round 1 - Heat 6
05:00 Trampoline Gymnastics Women's Qualification
05:00 Judo Women +78 kg Quarterfinal
05:00 Sailing Men's Skiff - 49er - Race 08
05:03 Athletics Women's 100m Round 1 - Heat 7
05:06 Boxing Men's Light Heavy (75-81kg) Quarterfinal 1
05:06 Judo Women +78 kg Quarterfinal
05:12 Judo Women +78 kg Quarterfinal
05:20 Sailing Men's Two Person Dinghy - 470 - Race 06
05:20 Sailing Women's One Person Dinghy - Laser Radial - Race 10
05:24 Boxing Men's Light Heavy (75-81kg) Quarterfinal 2
05:30 Sailing Women's Two Person Dinghy - 470 - Race 06
05:39 Boxing Men's Heavy (81-91kg) Quarterfinal 1
05:40 Basketball Women's Preliminary Round Group B
05:40 Fencing Men's Epee Team Semifinals
05:40 Fencing Men's Epee Team Semifinal 1
05:40 Fencing Men's Epee Team Semifinal 2
05:54 Boxing Men's Heavy (81-91kg) Quarterfinal 2
05:55 Sailing Men's Skiff - 49er - Race 09
06:00 Canoe Slalom Men's Kayak Semi-final
06:00 Canoe Slalom Men's Kayak Semi-final
06:00 Shooting 25m Pistol Women's Final gold
06:00 Water Polo Women's Preliminary Round - Group A
06:15 Handball Men's Preliminary Round Group A
06:20 Volleyball Men's Preliminary Round - Pool A
06:30 Fencing Men's Epee Team Placement 5-6
06:30 Fencing Men's Epee Team Placement 7-8
06:35 Sailing Men's One Person Dinghy - Laser - Race 09
06:45 Archery Women's Individual Quarterfinal
06:50 Trampoline Gymnastics Women's Final gold
06:50 Sailing Women's Skiff - 49er FX - Race 07
07:00 Archery Women's Individual Quarterfinal
07:00 Diving Women's 3m Springboard Preliminary
07:00 Beach Volleyball Women's Preliminary - Pool E
07:15 Archery Women's Individual Quarterfinal
07:19 Trampoline Gymnastics Women's Victory Ceremony
07:30 Archery Women's Individual Quarterfinal
07:30 Badminton Men's Singles Round of 16, Women's Singles Round of 16, Mixed Doubles SF matches
07:30 Shooting 25m Rapid Fire Pistol Men's Official Training
07:30 Shooting 25m Pistol Women's Victory Ceremony
07:30 Water Polo Women's Preliminary Round - Group B
07:45 Archery Women's Individual Semifinal
07:45 Sailing Women's Skiff - 49er FX - Race 08
07:50 Sailing Men's One Person Dinghy - Laser - Race 10
08:00 Archery Women's Individual Semifinal
08:00 Canoe Slalom Men's Kayak Final
08:00 Canoe Slalom Men's Kayak Final gold
08:00 Judo Team Managers Meeting
08:00 Beach Volleyball Men's Preliminary - Pool F
08:15 Handball Men's Preliminary Round Group B
08:25 Volleyball Men's Preliminary Round - Pool B
08:30 Archery Women's Individual Bronze Medal Match
08:30 Rugby Sevens Women's Placing 9-12
08:40 Sailing Women's Skiff - 49er FX - Race 09
08:45 Archery Women's Individual Gold Medal Match gold
08:47 Canoe Slalom Men's Kayak Victory Ceremony
09:00 Boxing Women's Light (57-60kg) - Preliminaries - Round of 16
09:00 Football Women's Quarter-final
09:00 Judo Women +78 kg Repechage contest
09:00 Rugby Sevens Women's Placing 9-12
09:00 Beach Volleyball Women's Preliminary - Pool B
09:05 Archery Women's Individual Victory Ceremony
09:08 Judo Women +78 kg Repechage contest
09:15 Boxing Women's Light (57-60kg) - Preliminaries - Round of 16
09:17 Judo Women +78 kg Semifinal of Table B
09:20 Basketball Women's Preliminary Round Group B
09:25 Judo Women +78 kg Semifinal of Table A
09:30 Boxing Women's Light (57-60kg) - Preliminaries - Round of 16
09:30 Equestrian Eventing Dressage Team and Individual Day 1 - Session 2
09:30 Rugby Sevens Women's Quarter-final
09:34 Judo Men +100 kg Repechage contest
09:42 Judo Men +100 kg Repechage contest
09:48 Boxing Women's Light (57-60kg) - Preliminaries - Round of 16
09:51 Judo Men +100 kg Semifinal of Table B
09:59 Judo Men +100 kg Semifinal of Table A
10:00 Football Women's Quarter-final
10:00 Rugby Sevens Women's Quarter-final
10:03 Boxing Women's Welter (64-69kg) Quarterfinal 3
10:08 Judo Women +78 kg Contest for Bronze Medal A
10:16 Judo Women +78 kg Contest for Bronze Medal B
10:18 Boxing Women's Welter (64-69kg) Quarterfinal 4
10:20 Water Polo Women's Preliminary Round - Group B
10:25 Judo Women +78 kg Final gold
10:30 Fencing Men's Epee Team Finals
10:30 Fencing Men's Epee Team Bronze Medal Match
10:30 Hockey Men's Pool A
10:30 Rugby Sevens Women's Quarter-final
10:33 Judo Men +100 kg Contest for Bronze Medal A
10:36 Boxing Men's Welter (63-69kg) Quarterfinal 3
10:42 Judo Men +100 kg Contest for Bronze Medal B
10:50 Judo Men +100 kg Final gold
10:51 Boxing Men's Welter (63-69kg) Quarterfinal 4
11:00 Athletics Women's 5000m Round 1
11:00 Athletics Women's 5000m Round 1 - Heat 1
11:00 Baseball/Softball Baseball Opening Round Group B
11:00 Football Women's Quarter-final
11:00 Hockey Men's Pool A
11:00 Rugby Sevens Women's Quarter-final
11:00 Swimming Men's 50m Freestyle - Heats
11:00 Swimming Men's 50m Freestyle - Heat 1
11:04 Swimming Men's 50m Freestyle - Heat 2
11:05 Athletics Women's Triple Jump Qualification
11:05 Athletics Women's Triple Jump Qualification - Group A
11:05 Athletics Women's Triple Jump Qualification - Group B
11:06 Boxing Men's Light Heavy (75-81kg) Quarterfinal 3
11:06 Swimming Men's 50m Freestyle - Heat 3
11:08 Swimming Men's 50m Freestyle - Heat 4
11:10 Swimming Men's 50m Freestyle - Heat 5
11:12 Swimming Men's 50m Freestyle - Heat 6
11:14 Swimming Men's 50m Freestyle - Heat 7
11:16 Swimming Men's 50m Freestyle - Heat 8
11:18 Swimming Men's 50m Freestyle - Heat 9
11:20 Swimming Men's 50m Freestyle - Heat 10
11:22 Swimming Men's 50m Freestyle - Heat 11
11:23 Swimming Women's 50m Freestyle - Heats
11:23 Swimming Women's 50m Freestyle - Heat 1
11:24 Boxing Men's Light Heavy (75-81kg) Quarterfinal 4
11:25 Athletics Women's Shot Put Qualification
11:25 Athletics Women's Shot Put Qualification - Group A
11:25 Athletics Women's Shot Put Qualification - Group B
11:26 Athletics Women's 5000m Round 1 - Heat 2
11:26 Swimming Women's 50m Freestyle - Heat 2
11:28 Swimming Women's 50m Freestyle - Heat 3
11:30 Fencing Men's Epee Team Gold Medal Match gold
11:30 Handball Men's Preliminary Round Group B
11:30 Judo Women +78 kg Victory Ceremony
11:30 Swimming Women's 50m Freestyle - Heat 4
11:32 Swimming Women's 50m Freestyle - Heat 5
11:34 Swimming Women's 50m Freestyle - Heat 6
11:36 Swimming Women's 50m Freestyle - Heat 7
11:38 Swimming Women's 50m Freestyle - Heat 8
11:39 Boxing Men's Heavy (81-91kg) Quarterfinal 3
11:40 Judo Men +100 kg Victory Ceremony
11:40 Volleyball Men's Preliminary Round - Pool A
11:41 Swimming Women's 50m Freestyle - Heat 9
11:43 Swimming Women's 50m Freestyle - Heat 10
11:45 Swimming Women's 50m Freestyle - Heat 11
11:46 Swimming Women's 50m Freestyle - Heat 12
11:48 Swimming Men's 1500m Freestyle - Heats
11:48 Swimming Men's 1500m Freestyle - Heat 1
11:50 Water Polo Women's Preliminary Round - Group A
11:54 Boxing Men's Heavy (81-91kg) Quarterfinal 4
12:00 Athletics 4 x 400m Relay Mixed Round 1
12:00 Athletics 4 x 400m Relay Mixed Round 1 - Heat 1
12:00 Football Women's Quarter-final
12:00 Tennis Men's Doubles Victory Ceremony
12:00 Table Tennis Men's Singles Bronze Medal Match
12:00 Beach Volleyball Women's Preliminary - Pool E
12:06 Swimming Men's 1500m Freestyle - Heat 2
12:12 Athletics 4 x 400m Relay Mixed Round 1 - Heat 2
12:23 Swimming Men's 1500m Freestyle - Heat 3
12:30 Athletics Men's 10,000m Final gold
12:30 Fencing Men's Epee Team Victory Ceremony
12:40 Swimming Men's 1500m Freestyle - Heat 4
12:45 Hockey Men's Pool B
12:57 Swimming Women's 4 x 100m Medley Relay - Heats
12:57 Swimming Women's 4 x 100m Medley Relay - Heat 1
13:00 Basketball Women's Preliminary Round Group C
13:00 Swimming Men's 1500m Freestyle - Heat 5
13:00 Table Tennis Men's Singles Gold Medal Match gold
13:00 Beach Volleyball Men's Preliminary - Pool E
13:03 Swimming Women's 4 x 100m Medley Relay - Heat 2
13:10 Swimming Men's 4 x 100m Medley Relay - Heats
13:10 Swimming Men's 4 x 100m Medley Relay - Heat 1
13:15 Hockey Men's Pool B
13:15 Swimming Men's 4 x 100m Medley Relay - Heat 2
13:18 Swimming Men's 1500m Freestyle - Heat 6
13:30 Badminton Mixed Doubles Victory Ceremony
13:30 Handball Men's Preliminary Round Group A
13:45 Volleyball Men's Preliminary Round - Pool B
14:00 Table Tennis Men's Singles Victory Ceremony
14:00 Beach Volleyball Men's Preliminary - Pool C
14:10 Swimming Men's 4 x 100m Medley Relay - Heat 3
Join our new commenting forum
Join thought-provoking conversations, follow other Independent readers and see their replies