Novak Djokovic vs Lorenzo Musetti LIVE: Tennis result in Dubai plus Andy Murray score
The Serbian was playing for the first time since being deported from Australia ahead of the 2022 Australian Open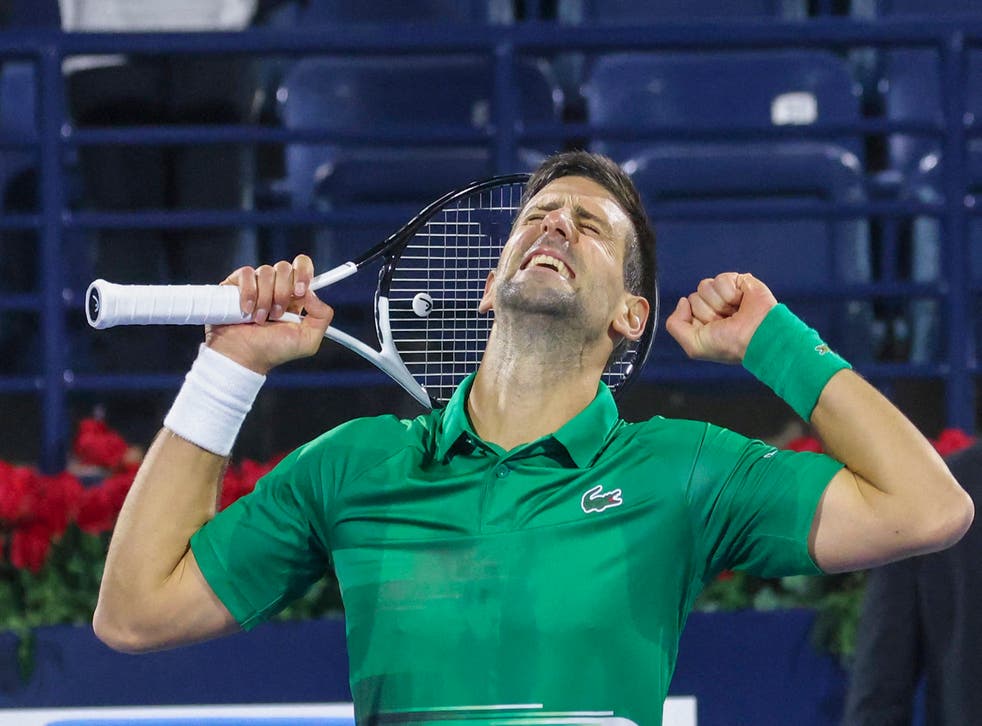 Novak Djokovic made a winning return to tennis in his first match since being deported from Australia as the men's world No 1 defeated Lorenzo Musetti in straight sets at the Dubai Duty Free Championships.
Djokovic, who was cheered on by a supportive crowd in Dubai, made light work of the 19-year-old Musetti to seal a 6-3 6-3 win in what was his first match in three months following the controversy that surrounded his Covid-19 vaccination status at the Australian Open last month.
The Serbian missed the opening grand slam of the year amid a battle in the Australian courts over his exemption for the vaccine that ultimately saw him deported from the country ahead of the tournament on "health and safety" grounds.
Djokovic, who remains unvaccinated, has said he is prepared to miss future grand slams over his stance but was able to enter the tournament in Dubai, a tournament where he is a five-time champion.
The world No 1 was welcomed onto the court and the crowd chanted 'Novak, Novak!' upon the 20-time major champion taking the opening break of serve midway through the first set.
Djokovic had not played a competitive match since the Davis Cup finals in early December of last year but it did not take long for the Serbian to get back up to speed as he swiftly saw off the challenge of the highly-rated Musetti.
Follow live reaction from Djokovic vs Musetti - after Andy Murray outlasted Chris O'Connell in three sets
1645472537
Djokovic 6-3 6-3 Musetti - Game, set and match
After the win, there's the trademark celebration. There are certainly plenty of Djokovic fans in the crowd tonight.
Asked if he enjoyed himself on his return to the court, Djokovic replies: "Very much so.
"I couldn't ask for a better reception. It's been a while since my last match but I couldn't have picked a better place to kick-start the season. It was the best possible experience tonight. Thank you for your reception and for welcoming me on the court in the way you did.
"All in all, it's a straight-sets win so I have to be satisfied with my performance. After not playing for three months, of course there were moments where I played great, moments where I made a couple of unforced errors in a row, uncharacteristically.
"But it's normal to expect that, first match after a while. But I'm glad I could finish off the match against a talented player."
Jamie Braidwood
21 February 2022 19:42
1645472261
Djokovic 6-3 6-3 Musetti - Game, set and match
Djokovic could finish it here - and he does! Musetti sends a shot long as Djokovic seals the break. Emphatic stuff from the Serbian.
Jamie Braidwood
21 February 2022 19:37
1645472081
Djokovic 6-3 5-3 Musetti*
Djokovic is almost there. His latest hold was much more straight forward than his previous one. Musetti finds the net before Djokovic plays a super backhand pass off the Italian's return. Musetti then drags a shot wide after Djokovic clips the net cord, as he holds to love.
Jamie Braidwood
21 February 2022 19:34
1645471670
Djokovic 6-3 4-2 Musetti*
Djokovic finds himself 15-30 down his serve after sticking an overhead into the net, before a double fault sets up a break point for Musetti at 30-40.
Djokovic turns to the serve and volley to get back to deuce, but a loose backhand drifts wide to set up another chance for Musetti to break back.
And there was a chance for Musetti, after Djokovic approached the net and left a lob open, but the Italian sends the shot long of the baseline.
Another error from Djokovic sets up another chance for Musetti, but there's nothing the Italian can do about an ace down the middle, as Djokovic turns to roar at his box.
Djokovic screams again as Musetti goes long - before he claims the hold with a wicked forehand that Musetti can't keep in play.
Jamie Braidwood
21 February 2022 19:27
1645470956
Djokovic 6-3 3-1 Musetti*
Too good from Djokovic. After taking a 0-40 lead on the Musetti serve, Djokovic slams a backhand winner down the line to claim the first break of the second set.
It's quickly consolidated as Djokovic continues to impress on his serve.
Jamie Braidwood
21 February 2022 19:15
1645470542
Djokovic 6-3 1-1 Musetti*
The wind is picking up a little in Dubai as Djokovic faces an awkward point at 30-30. But Djokovic finds the first serve and follows it up with the backhand down the line, as Musetti sends the return long.
Jamie Braidwood
21 February 2022 19:09
1645470019
Djokovic 6-3 Musetti*
A flick of the wrist from Djokovic sees him set up three set points with a backhand down the line, and the opening set is quickly secured as Musetti goes long.
It didn't take long, but Djokovic looks back to speed.
Jamie Braidwood
21 February 2022 19:00
1645469650
Djokovic 5-2 Musetti*
It feels like Djokovic has hit his stride now. The Serbian holds to love in impressive fashion to move a game away from the opening set.
Jamie Braidwood
21 February 2022 18:54
1645469240
Djokovic 4-1 Musetti*
Where did this come from? Musetti threatens to hit straight back as he builds on an early winner at the net to set up 0-40 on Djokovic's serve.
Djokovic finds three first serves in a row, though, and Musetti can't respond or gain control of the points as the Serbian gets back to deuce.
Djokovic then seals the hold with a flying volley. Simple.
Jamie Braidwood
21 February 2022 18:47
1645468934
*Djokovic 3-1 Musetti - Djokovic breaks
Shot of the match so far from Djokovic. After a comfortable hold of serve, the world No 1 races to pick up a Musetti drop shot and find the angle to move to 0-30.
Musetti hits back with an ace and another good first serve moves him back to 30-30, but the Italian then frames a second serve to hand Djokovic a break point.
On a second serve, Djokovic goes long as Musetti holds on. Musetti is then able to blast his way past Djokovic at the net, but Djokovic comes back to set up another break point.
And this time he gets through, as Musetti sees a backhand drift wide.
'Novak, Novak!' cry the crowd.
Jamie Braidwood
21 February 2022 18:42
Register for free to continue reading
Registration is a free and easy way to support our truly independent journalism
By registering, you will also enjoy limited access to Premium articles, exclusive newsletters, commenting, and virtual events with our leading journalists
Already have an account? sign in
Register for free to continue reading
Registration is a free and easy way to support our truly independent journalism
By registering, you will also enjoy limited access to Premium articles, exclusive newsletters, commenting, and virtual events with our leading journalists
Already have an account? sign in
Join our new commenting forum
Join thought-provoking conversations, follow other Independent readers and see their replies