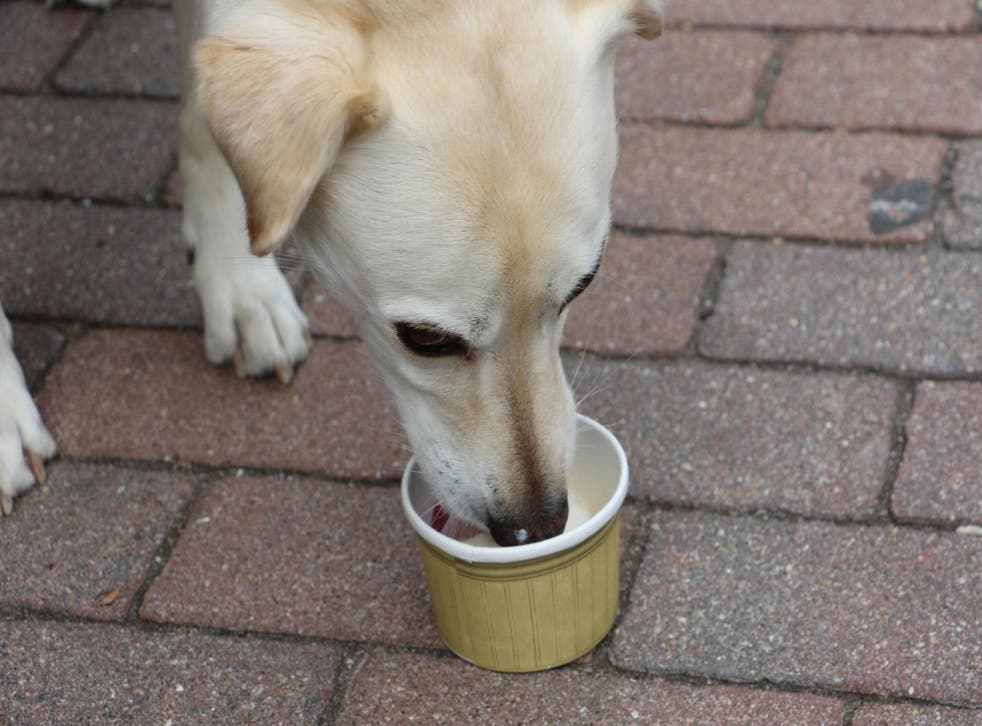 Kennebunkport: The Maine town so mad about dogs there's a food tour designed especially for them
This tour of the most dog-mad town in Maine is aimed at the four-legged, with their owners just along for the ride
Before the sniffing of bums, before the peeing on lamp posts, and before the salivating on the pavement, Dennis Duprey stands at the corner of Ocean Avenue in Kennebunkport, Maine, with a weird confidence for a man about to begin a food tour for five howling mutts. "Captain, you don't need to sniff everything, boy," the tour guide shouts, gently tugging the scraggy-white bichon frise by the lead. "There's plenty to eat – but, seriously buddy, who's walking who?" In a country that does nuttily bonkers better than anyone, you soon learn lunchtime in Kennebunkport is best enjoyed with a pack of hungry pooches leading the way.
Most major cities have some sort of food tour these days, typically themed around a fad or located in a neighbourhood where burgers come in ramen buns and craft beers taste of pumpkin. But the town of Kennebunkport on the New England coast of Maine has a much better gimmick. In addition to the seaside destination's already popular culinary walking tour (around eight stops for lobster, clam chowder, and the rest), Dennis helps run a dedicated street-food tour for dogs. Say what you will about America, but quirky doesn't even come close.
The first sign things are about to go to the dogs appears on the main road driving south from Portland, Maine's largest city. Turning off Interstate 95, I spot The Snazzy Pet Bed and Biscuit, a luxury boarding kennel club; by the time I've reached Kennebunkport's pedestrian-friendly centre the holidays-for-hounds situation has snowballed. There is a Scalawags (selling this 'n' that souvenirs for cats and dogs), a Digs, Divots and Dogs (gifts for dog lovers and golfers), and a number of restaurants displaying dogs welcome signs. Lap bowls sit in front of every store, while window-shoppers hover outside with poodles dressed in powder-pink jackets. I later learn there is a strut-your-mutt parade every summer. Not screwy enough for you? Consider The Colony Hotel, a historic landmark on the Kennebunk River with a season-ending weekend when man's best friend is allowed to eat in the dining room and swim in the beach club pool. Needless to say, in a town like this, every dog has its day and it's a sell out.
This particular afternoon in mid-June I'm in the company of Maine Foodie Tour's Dennis and Captain, as well as Addie (an Australian sheepdog from Rhode Island), Ellie (a local rescue mongrel), Tillman (a mixed-breed hound from Maine) and Georgia (a Scottish terrier from New Hampshire). Together, with their owners, we're set for a doggy whistle-stop tour of Kennebunkport's greatest eats, and on the menu is grub and grog for dog lovers, plus modified treats for the mutts.
Our first stop is Federal Jack's Restaurant and Brew Pub, the home of Maine's Shipyard Brewing Company, and a faux mariner's tavern on the site of a historic 19th-century shipyard. While I uncover several crucial Maine food tips, ("The key to a lobster roll is one from a soft shell – it makes it more salty," Dennis tells me), it's also a chance for dog owners to share stories, grooming tips and chew the bone with like-minded souls on vacation. "Did you know you can use milk as a remedy for constipation, unless your dog's gluten-free?" one says, while snacking on a pretzel with mustard. "Just add a cup of milk to their bathwater." Throughout, the owners drink craft brews while the dogs chew on soft-centre peanut butter biscuits under the table.
For all the screwiness of the tour, Kennebunkport itself is far more cookie-cutter, an idealised version of middle-class American suburban life with cutesy B&Bs, "Wisteria Lanes" and clapboard Queen Anne houses. Most have wraparound porches, manicured lawns and fresh-licked Tom Sawyer fences. It's easy to see lemonade stands and crab shacks fitting the picture, too, as well as hokey souvenir shops selling Reagan Bush '84 T-shirts. At times, it's so American-as-apple-pie, it makes you want to cringe.
We next move to HB Provisions, an old-fashioned general store, for a hockey puck-shaped whoopee pie and scoop of vanilla ice cream – served with a biscuit bone for the pups. While Dennis tells us about the history of America's favourite chocolate-frosted sandwich (it's an Amish tradition, I learn, brought upstate from Pennsylvania, but also the official state treat of Maine), the dogs make a mess of the pavement. "It's ice cream for dogs," says a passerby, as my tour group slobbers ice cream down their droopy jowls. "Sooooo cute."
By this point, I've grown rather fond of my four-legged companions and the attention our mobile puppy convention triggers is really quite distracting. But while the dogs continue to circle with delight, backed by a chorus of wolf howls, I learn the food tour has a more serious side. The booking fee directly supports the community's dog shelter, Dennis explains, and – better still – plans are potentially afoot to let rescue dogs join for free next summer.
As we get dragged along – past rows of flower boxes, or as Dennis calls them, "manna from heaven for peeing dogs" – we detour via The Candyman for chewy saltwater taffy (a New England tradition made with corn syrup and molasses), before finishing at Scalawags, New England's ultimate pet emporium, which sells everything from bow ties to squeaky toes. Here, Captain and his pals wolf down coconut and cranberry granola clusters, then white cheddar bark pops (like cheesy Wotsits, I'm told), while I'm distracted by wall-to-wall doggy treats lining the shelves. There are lobster roll-flavoured biscuits, grain-free pork and bean snacks, and boxes of maple-bacon ice cream mix, while under a glass cloche sits a selection of home-baked cookies. In truth, it's enough to put me off my dinner.
A food tour like this may be ungraspable for many, but park your cynicism for a moment and you'll see the owners and their dogs lapping it up – and in Kennebunkport there's a lot of pride in that. Afterwards, on the way out of town, I roll the window down and stick my head out. My tongue isn't lolling, but you get the gist.
Travel essentials
Getting there
Norwegian (norwegian.com) flies from London Gatwick, Edinburgh and Belfast to Providence/Boston-TF Green, from £142 one-way. Kennebunkport is a two hour and 30 minute drive north via I-95.
Staying there
The Captain Jefferds Inn (captainjefferdsinn.com) is so crazy about dogs it has five pet friendly rooms and offers personalised dog treats, dog bowls, doggy towels and sheets, and "as many pick-up bags as your dog can fill". For humans, this four-star boasts individually decorated rooms and a three-course breakfast. Doubles from $179 (£138), B&B; an extra charge of $30 is added on per dog, per day. Dog sitters can also be hired for $10 an hour.
More information
Maine Foodie Tours' Doggy and Me tour (mainefoodietours.com) runs every Saturday at 3pm for £25.
Register for free to continue reading
Registration is a free and easy way to support our truly independent journalism
By registering, you will also enjoy limited access to Premium articles, exclusive newsletters, commenting, and virtual events with our leading journalists
Already have an account? sign in
Register for free to continue reading
Registration is a free and easy way to support our truly independent journalism
By registering, you will also enjoy limited access to Premium articles, exclusive newsletters, commenting, and virtual events with our leading journalists
Already have an account? sign in
Join our new commenting forum
Join thought-provoking conversations, follow other Independent readers and see their replies