The Independent's journalism is supported by our readers. When you purchase through links on our site, we may earn commission.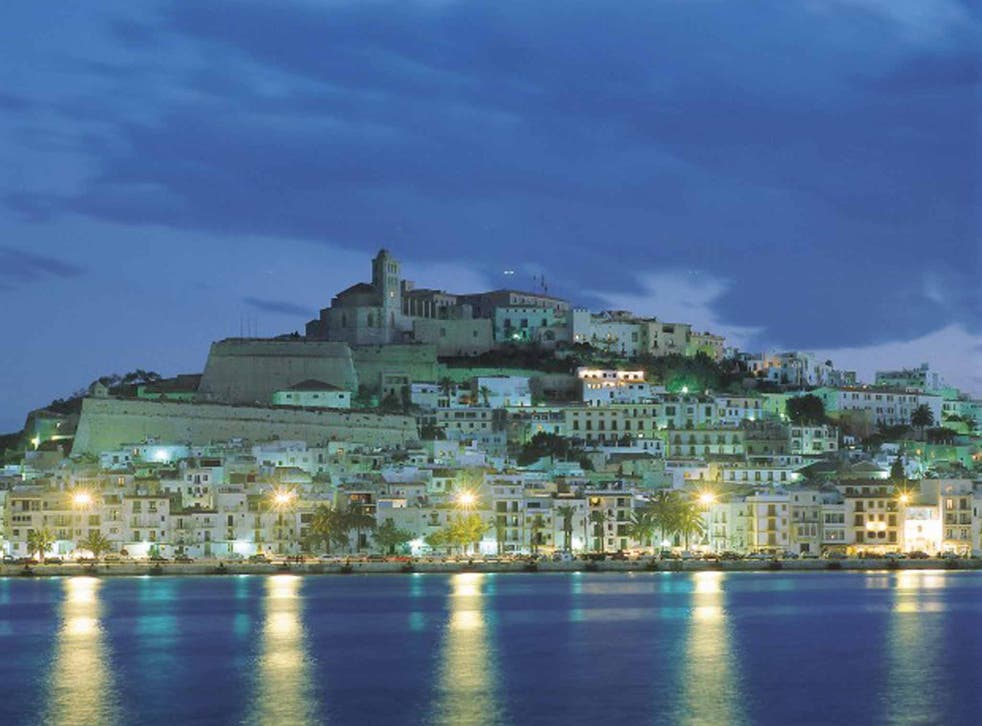 Ibiza Town: Away from the clubs, the island charms all year round
Chris Leadbeater enjoys a calm space of museums, churches, and historic landmarks
Climbing the cobbled slope that leads from Placa de la Constitucio to the Ses Taules Gate, I can see the centuries passing me in the other direction. It is not that the square I have just left is vastly modern – framed by whitewashed houses, it is classically Spanish. It is more that, as I cut through the most northerly portal in its medieval walls, I know I am entering the original core of Ibiza – both the island, and the town that shares its name.
Ibiza Town (or "Eivissa", to use its more romantic Catalan title) can scarcely be called a hidden secret of Europe – pitched, as it is, on the south shore of a fêted Balearic outcrop which attracts six million tourists a year. But it is still a shock to walk into this citadel and realise how removed it is from west-coast Sant Antoni and its mega-nightclubs. Here is a calm space of museums, churches, and historic landmarks – where you can explore narrow alleys without ever having to consider which DJ is playing which venue tonight.
Not that you should forget the rest of the island. Even if 5am dance-floor fun is not your thing, it would be remiss to ignore the sands of Ibiza Town's beach neighbour, Platja d'en Bossa, or the beauty of the Ses Salines salt flats. But as summer fades, the capital, more than ever, draws into itself as an alternative side to life in this Mediterranean escape zone.
Founded in 654BC by Phoenician navigators, this was always meant to be a settlement set apart, a defensive bastion whose attitude changed little over the centuries, even as its rulers did – Carthaginians, Romans, the Moorish incomers who landed in 990, the Aragonese "reconquerors" who claimed the island for the future Spain in 1235. The Madina Yabisa Interpretation Centre (bit.ly/MadinaYabisa) delves into the island's Moorish past. Stand outside the enormous 13th-century cathedral (00 34 971 399 232; obispadodeibiza.es), or on the wall's sturdy ramparts, and you might think you are visiting a fortress. You are. The joy is that, in 2015, Ibiza Town is as good at beckoning people in as it once was at keeping them out.
Unpack
In a town where most of the buildings are crammed on to a steep little hill, hotels compete to offer the best views. The elegant La Torre del Canonigo (00 34 971 303 884; latorredelcanonigo.com) makes a virtue of this via a rooftop terrace with a pool. Doubles from €198 (£146) a night, room only.
Slightly lower in elevation, but also with great views, El Corsario (00 34 971 301 248; elcorsario-ibiza.com) has doubles decorated with bright modern art. From €187 (£138), room only.
Think local
Ibiza Town's charm is discernible in the houses that offer vistas every bit as grand as the hotels. Casa Broner (00 34 971 399 232; mace.eivissa.es; entry free), was the home of Erwin Broner, a German-Jewish architect who fled to the isle in 1934 to escape Nazism. The property that he built is a glorious mixture of Bauhaus and Mediterranean styles, with wide windows facing the ocean.
Eat
Within the walls, the slanting street of Carrer la Santa Creu is a nest of restaurants – such as La Oliva, at No 2 (00 34 971 305 752; laolivaibiza.com), a popular stalwart which places an emphasis on seafood with dishes such as grilled squid in pesto for €12 (£8.90).
Outside the walls you'll find Sa Brisa (00 34 971 090 649; sabrisagastrobar.com), a stylish, upmarket affair which proffers Segovia suckling pig with pickles for €12 (£9), and a splendid ceviche that merges scallops, sea bass and shrimp for €11 (£8) – all this complemented by a range of Ibizan wines.
For something a little more off the wall, try Heart (00 34 971 93 37 77; heartibiza.com), a new collaboration between Ferran Adrià, of elBulli fame, and Cirque Du Soleil. The Supper Club combines dining, art and performance, while the Terrace is home to a "street-food roof party".
Drink
Although not reliant on the pounding beats and light shows deployed in Sant Antoni, Ibiza Town can still offer after-dark merriment. Teatro Pereyra (00 34 971 304 432; teatropereyra.com) is a former theatre, dating to 1898, which lives on as a watering hole, with band performances and beers for €3 (£2.20).
La Mezcaleria offers a hint of Latin swing (00 34 971 090 218; lamezcaleria.com), serving cocktails loaded with Mexico's "other" potent spirit – such as El Perfume, which adds mezcal to pears marinated in an essence of cloves and vanilla (€13/£9.60).
Spend
Ibiza Town thrives outside its walls – a case in point being the Mercat Vell, a covered market (open daily until the end of September, sporadic weekends after that) where you can buy island salt and olive oil from the groves of its interior.
Nearby on the broad square of Passeig de Vara de Rey, Galeria Blanca (00 34 971 394 252; facebook.com/galeriablancaibiza) deals in quirky paintings and Pollock-esque splatters of colour. Back in the Dalt Vila (Old Town) at Placa de Vila 17, Boutique Divina (00 34 971 300 815; divinashop.steinweb.net) specialises in floaty fabrics ideal for a holiday on the White Isle.
Don't miss
Ibiza Town's highbrow edge is most apparent in the Museu d'Art Contemporani d'Eivissa (00 34 971 302 723; mace.eivissa.es; entry free) – which holds a raft of intriguing creative moments.
There are further flashes of culture at the Museu Puget (00 34 971 392 137; eivissa.es; free) – which presents the works of Nargiso Puget Vinas and Nargiso Puget Riquer, a father and son who sketched 20th-century Ibizan landscapes.
Getting there
Airlines serving Ibiza from the UK include British Airways (0844 493 0787; ba.com), Ryanair (0871 246 0000; ryanair.com), Norwegian (0330 828 0854; norwegian.com), Jet2 (0800 408 1350; jet2.com) and easyJet (0330 365 5000; easyjet.com). The airport is 7km south of Ibiza Town. Frequent buses (00 34 971 340 382; ibizabus.com) run from outside the terminal to Ibiza Town and San Antonio. The fare to Ibiza Town is about €12, rising to €40 to the furthest point of the island.
More information
Register for free to continue reading
Registration is a free and easy way to support our truly independent journalism
By registering, you will also enjoy limited access to Premium articles, exclusive newsletters, commenting, and virtual events with our leading journalists
Already have an account? sign in
Register for free to continue reading
Registration is a free and easy way to support our truly independent journalism
By registering, you will also enjoy limited access to Premium articles, exclusive newsletters, commenting, and virtual events with our leading journalists
Already have an account? sign in
Join our new commenting forum
Join thought-provoking conversations, follow other Independent readers and see their replies