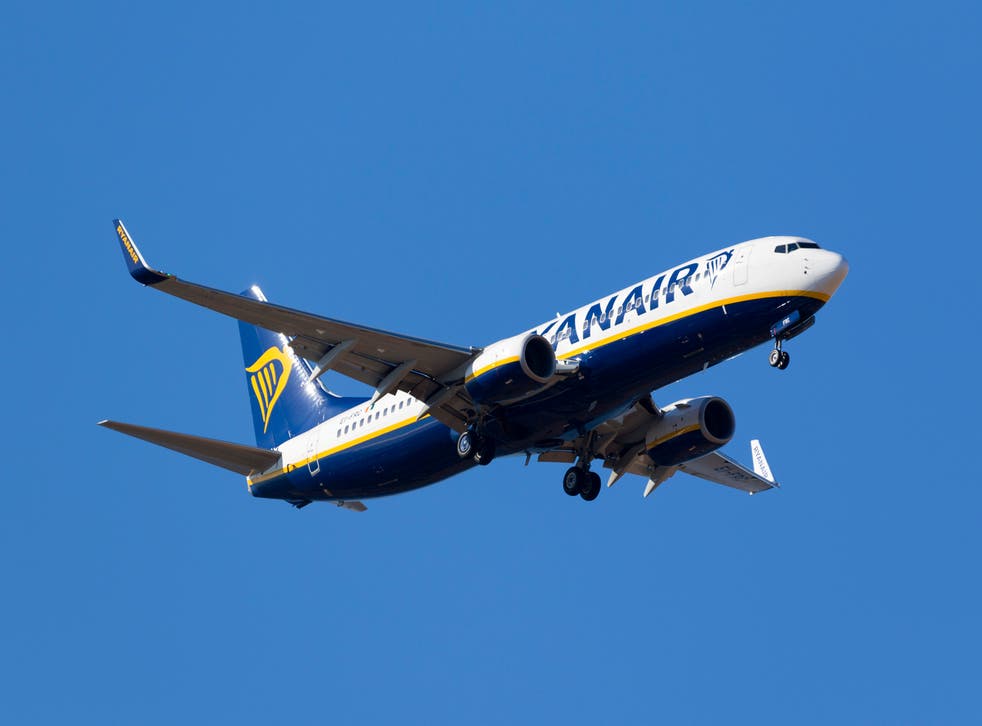 Ryanair cancelled flights: The complete list
The budget airline has announced between 38 and 54 cancellations a day over the next six weeks
Helen Coffey
Wednesday 04 October 2017 11:36 Comments
Ryanair has published a full list of all 1,616 flights that have been cancelled between now and 28 October.
The budget airline has come under fire for scrapping 2 per cent of flights over the next six weeks due to "messing up in the planning of pilot holidays".
The saga started at the weekend, when around 160 flights were grounded at short notice. Since then, a further 164 flights have been canned between Monday and Wednesday, affecting around 30,000 passengers.
The airline has listed all flight cancellations on its website, with some of the worst affected routes being London Stansted to Rome, Berlin, Warsaw, Sofia and Oslo.
Full list of cancelled flights
Monday: 25 September and 2, 9, 16 and 23 October
FR6341 Barcelona - Rome F
FR6342 Rome F - Barcelona
FR9045 Barcelona - London S
FR9044 London S - Barcelona
FR4545 Barcelona - Porto
FR4546 Porto - Barcelona
FR8495 Milan B - Brindisi
FR8496 Brindisi - Milan B
FR5392 Milan B - Lamezia
FR5393 Lamezia - Milan B
FR4113 Milan B - Naples
FR4114 Naples - Milan B
FR4197 Milan B - London S
FR4198 London S - Milan B
FR4522 Brussels C - Milan B
FR4523 Milan B - Brussels C
FR1055 Brussels C - Warsaw M
FR1056 Warsaw M - Brussels C
FR3239 Brussels C - Manchester
FR3238 Manchester - Brussels C
FR201 Brussels C - Copenhagen
FR200 Copenhagen - Brussels C
FR672 Dublin - Birmingham
FR673 Birmingham - Dublin
FR26 Dublin - Paris B
FR29 Paris B - Dublin
FR9428 Dublin - Milan B
FR9429 Milan B - Dublin
FR7000 Rome F - Brussels
FR7010 Brussels - Rome F
FR4891 Rome F - Catania
FR4892 Catania - Rome F
FR7060 Rome F - Barcelona
FR7070 Barcelona - Rome F
FR1885 Lisbon - London S
FR1884 London S - Lisbon
FR2096 Lisbon - Porto
FR2095 Porto - Lisbon
FR5993 Madrid - London S
FR5994 London S - Madrid
FR8344 Porto - London S
FR8343 London S - Porto
FR8542 London S - Berlin
FR8543 Berlin - London S
FR2498 London S - Bratislava
FR2499 Bratislava - London S
FR2283 London S - Warsaw M
FR2284 Warsaw M - London S
FR2672 London S - Rome C
FR2673 Rome C - London S
Tuesday: 26 September and 3, 10, 17 and 24 October
FR6341 Barcelona - Rome F
FR6342 Rome F - Barcelona
FR9045 Barcelona London S
FR9044 London S - Barcelona
FR8495 Milan B - Brindisi
FR8496 Brindisi - Milan B
FR4113 Milan B - Naples
FR4114 Naples - Milan B
FR4197 Milan B - London S
FR4198 London S - Milan B
FR201 Brussels C - Copenhagen
FR200 Copenhagen - Brussels C
FR6316 Brussels C - Marseille
FR6315 Marseille - Brussels C
FR26 Dublin - Paris B
FR29 Paris B - Dublin
FR9428 Dublin - Milan B
FR9429 Milan B - Dublin
FR211 Dublin - London S
FR212 London S - Dublin
FR7000 Rome F - Brussels
FR7010 Brussels - Rome F
FR4891 Rome F - Catania
FR4892 Catania - Rome F
FR7060 Rome F - Barcelona
FR7070 Barcelona - Rome F
FR1885 Lisbon - London S
FR1884 London S - Lisbon
FR5993 Madrid - London S
FR1884 London S - Madrid
FR5317 Madrid - Santiago
FR5318 Santiago de Compostela - Madrid
FR8344 Porto - London S
FR8343 London S Porto
FR7474 Porto - Paris B
FR7475 Paris B Porto
FR2672 London S - Rome C
FR2673 Rome C - London S
FR972 London S - Genoa
FR973 Genoa - London S
FR1374 London S - Prague
FR1375 Prague - London S
Wednesday: 27 September and 4, 11, 18 and 25 October
FR9045 Barcelona - London S
FR9044 London S - Barcelona
FR8495 Milan B - Brindisi
FR8496 Brindisi - Milan B
FR5192 Milan B - Lamezia
​FR5193 Lamezia - Milan B
FR2105 Brussels C - Toulouse
FR2106 Toulouse - Brussels C
FR9428 Dublin - Milan B
FR9429 Milan B - Dublin
FR506 Dublin - Bristol
FR507 Bristol - Dublin
FR7000 Rome F - Brussels
FR7010 Brussels - Rome F
FR4891 Rome F - Catania
FR4892 Catania - Rome F
FR7060 Rome F - Barcelona
FR7070 Barcelona - Rome F
FR1885 Lisbon - London S
FR1884 London S - Lisbon
FR2932 Lisbon - Brussels
FR2931 Brussels - Lisbon
FR5993 Madrid - London S
FR5994 London S - Madrid
FR2528 Madrid - Berlin
FR2529 Berlin - Madrid
FR8344 Porto - London S
FR8343 London S - Porto
FR4586 Porto - Barcelona
FR4587 Barcelona - Porto
FR8542 London S - Berlin
FR8543 Berlin - London S
FR2283 London S - Warsaw M
FR2284 Warsaw M - London S
FR2672 London S - Rome C
FR2673 Rome C - London S
FR3717 London S - Budapest
FR3718 Budapest - London S
Thursday: 28 September and 5, 12, 19 and 26 October
FR6341 Barcelona - Rome F
FR6342 Rome F - Barcelona
FR9045 Barcelona - London S
FR9044 London S - Barcelona
FR9162 Barcelona - Birmingham
FR9163 Birmingham - Barcelona
FR8495 Milan B - Brindisi
FR8496 Brindisi - Milan B
FR2990 Milan B - Copenhagen
FR2989 Copenhagen - Milan B
FR4199 Milan B - London S
FR4194 London S - Milan B
FR1055 Brussels C - Warsaw M
FR1056 Warsaw M - Brussels C
FR6055 Brussels C - Venice
FR6056 Venice - Brussels C
FR26 Dublin - Paris B
FR29 Paris B - Dublin
FR46 Dublin - Brussels C
FR47 Brussels C - Dublin
FR3978 Dublin - Madrid
FR3979 Madrid - Dublin
FR7000 Rome F - Brussels Z
FR7010 Brussels Z - Rome F
FR4891 Rome F - Catania
FR4892 Catania - Rome F
FR7060 Rome F - Barcelona
FR7070 Barcelona - Rome F
FR1885 Lisbon - London S
FR1884 London S - Lisbon
FR2096 Lisbon - Porto
FR2095 Porto - Lisbon
FR5993 Madrid - London S
FR5994 London S - Madrid
FR5317 Madrid - Santiago
FR5318 Santiago - Madrid
FR9135 Porto - Paris B
FR9134 Paris B - Porto
FR8348 Porto - London S
FR8347 London S - Porto
FR8542 London S - Berlin
FR8543 Berlin - London S
FR2672 London S - Rome C
FR2673 Rome C - London S
FR9967 London S - Sofia
FR9968 Sofia - London S
FR5062 London S - Poznan
FR5063 Poznan - London S
Friday: 29 September and 6, 13, 20 and 27 October
FR6341 Barcelona - Rome F
FR6342 Rome F - Barcelona
FR9045 Barcelona - London S
FR9044 London S - Barcelona
FR3976 Barcelona - Dublin
FR3977 Dublin - Barcelona
FR8495 Milan B - Brindisi
FR8496 Brindisi - Milan B
FR4197 Milan B - London S
FR4198 London S - Milan B
FR5551 Milan B - Cologne
FR5550 Cologne - Milan B
FR1055 Brussels C - Warsaw M
FR1056 Warsaw M - Brussels C
FR3239 Brussels C - Manchester
FR3238 Manchester - Brussels C
FR201 Brussels C - Copenhagen
FR200 Copenhagen - Brussels C
FR22 Dublin - Paris B
FR23 Paris B - Dublin
FR664 Dublin - Birmingham
FR665 Birmingham - Dublin
FR7156 Dublin - Madrid
FR7157 Madrid - Dublin
FR4891 Rome F - Catania
FR4892 Catania - Rome F
FR7060 Rome F - Barcelona
FR7070 Barcelona - Rome F
FR1885 Lisbon - London S
FR1884 London S - Lisbon
FR2932 Lisbon - Brussels
FR2931 Brussels - Lisbon
FR1671 Lisbon - Porto
FR1672 Porto - Lisbon
FR5993 Madrid - London S
FR5994 London S - Madrid
FR5983 Madrid - Milan B
FR5984 Milan B - Madrid
FR4584 Porto - Barcelona
FR4585 Barcelona - Porto
FR7478 Porto - Paris B
FR7479 Paris B - Porto
FR8348 Porto - London S
FR8347 London S - Porto
FR8542 London S - Berlin
FR8543 Berlin - London S
FR2283 London S - Warsaw M
FR2284 Warsaw M - London S
FR2672 London S - Rome C
FR2673 Rome C - London S
FR1396 London S - Oslo
FR1397 Oslo - London S
FR2352 London S - Cologne
FR2353 Cologne - London S
Saturday: 30 September and 7, 14, 21 and 28 October
FR6341 Barcelona - Rome F
FR6342 Rome F - Barcelona
FR9045 Barcelona - London S
FR9044 London S - Barcelona
FR4545 Barcelona - Porto
FR4546 Porto - Barcelona
FR5292 Milan B - Lamezia
FR5293 Lamezia - Milan B
FR4111 Milan B - Naples
FR4112 Naples - Milan B
FR5505 Milan B - Nuremberg
FR5506 Nuremberg - Milan B
FR8795 Milan B - Brindisi
FR8796 Brindisi - Milan B
FR201 Brussels C - Copenhagen
FR200 Copenhagen - Brussels C
FR6105 Brussels C - Rome C
FR6106 Rome C - Brussels C
FR4526 Brussels C - Milan B
FR4527 Milan B - Brussels C
FR7156 Dublin - Madrid
FR7157 Madrid - Dublin
FR552 Dublin - Manchester
FR553 Manchester - Dublin
FR7000 Rome F - Brussels
FR7010 Brussels - Rome F
FR9795 Rome F - Marseille
FR9796 Marseille - Rome F
FR7075 Rome F - Bari
FR7076 Bari - Rome F
FR1885 Lisbon - London S
FR1884 London S - Lisbon
FR2096 Lisbon - Porto
FR2095 Porto - Lisbon
FR5993 Madrid - London S
FR5994 London S - Madrid
FR7474 Porto - Paris B
FR7475 Paris B - Porto
FR4703 Porto - Milan B
FR4702 Milan B - Porto
FR2672 London S - Rome C
FR2673 Rome C - London S
FR9967 London S - Sofia
FR9968 Sofia - London S
FR281 London S - Toulouse
FR282 Toulouse - London S
FR2134 London S - Rzeszow
FR2135 Rzeszow - London S
Sunday: 1, 8 15 and 22 October
FR6341 Barcelona - Rome F
FR6342 Rome F - Barcelona
FR9045 Barcelona - London S
FR9044 London S - Barcelona
FR1135 Barcelona - Berlin
FR1134 Berlin - Barcelona
FR8885 Milan B - Brindisi
FR8886 Brindisi - Milan B
FR7951 Milan B - Catania
FR7952 Catania - Milan B
FR3772 Milan B - Bucharest
FR3773 Bucharest - Milan B
FR3745 Brussels C - Pisa
FR3746 Pisa - Brussels C
FR1057 Brussels C - Warsaw M
FR1058 Warsaw M - Brussels C
FR7156 Dublin - Madrid
FR7157 Madrid - Dublin
FR202 Dublin - London S
FR205 London S - Dublin
FR1452 Dublin - Brussels
FR1453 Brussels - Dublin
FR7000 Rome F - Brussels
FR7010 Brussels - Rome F
FR4891 Rome F - Catania
FR4892 Catania - Rome F
FR7060 Rome F - Barcelona
FR7070 Barcelona - Rome F
FR1885 Lisbon - London S
FR1884 London S - Lisbon
FR2096 Lisbon - Porto
FR2095 Porto Lisbon
FR6066 Lisbon - Terceira
FR6067 Terceira Lisbon
FR2017 Madrid - Lanzarote
FR2018 Lanzarote - Madrid
FR5995 Madrid - London S
FR5996 London S - Madrid
FR5484 Madrid - Porto
FR5485 Porto Madrid
FR8344 Porto - London S
FR8343 London S Porto
FR4584 Porto - Barcelona
FR4585 Paris B Porto
FR2862 Porto - Luxembourg
FR2863 Luxembourg Porto
FR8542 London S - Berlin
FR8543 Berlin - London S
FR2283 London S - Warsaw M
FR2284 Warsaw M - London S
FR2672 London S - Rome C
FR2673 Rome C - London S
FR1394 London S - Oslo
FR1395 Oslo - London S
Register for free to continue reading
Registration is a free and easy way to support our truly independent journalism
By registering, you will also enjoy limited access to Premium articles, exclusive newsletters, commenting, and virtual events with our leading journalists
Already have an account? sign in
Join our new commenting forum
Join thought-provoking conversations, follow other Independent readers and see their replies