Venice tourists could be fined €500 for sitting down
The controversial new rule will be voted on in October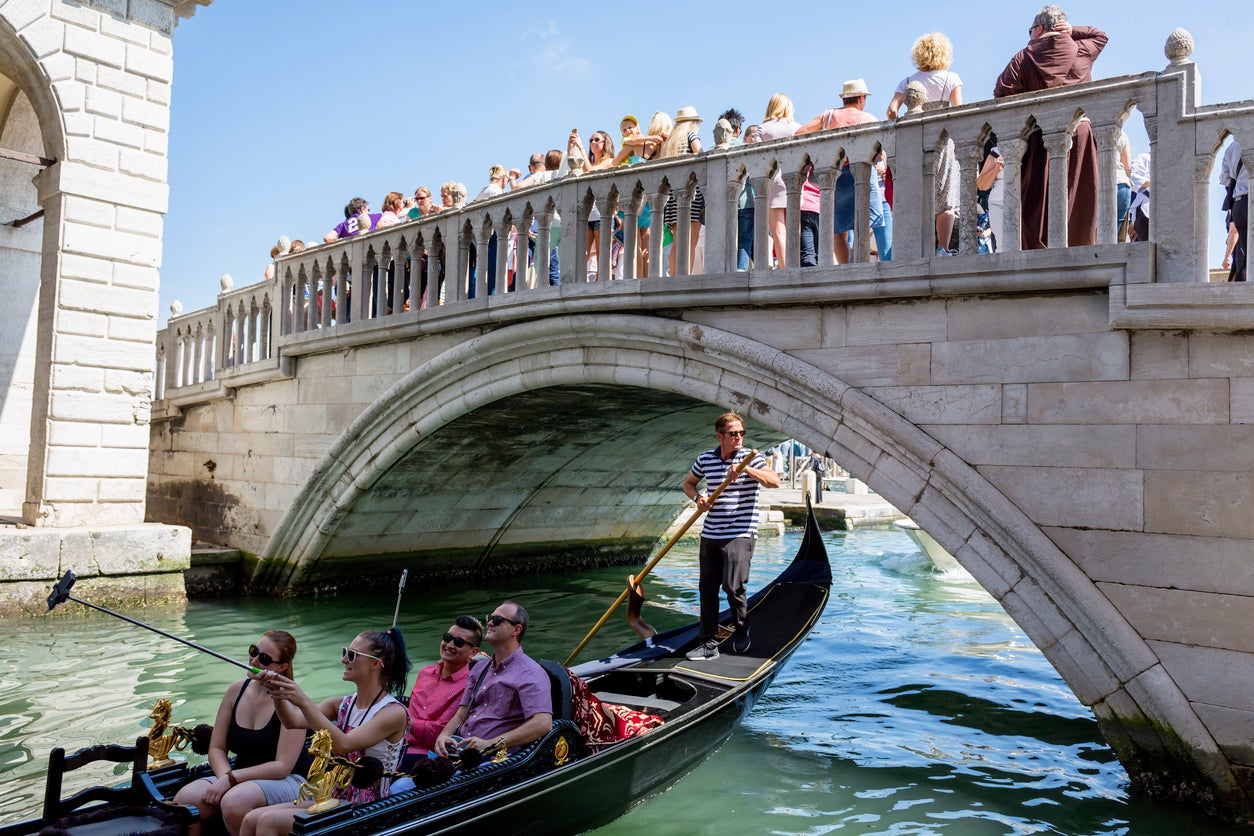 Visitors to Venice could be fined up to €500 (£440) for sitting in undesignated spots, after the mayor suggested a new ban as part of wider efforts to crack down on undesirable tourist behaviour.
The idea, hatched by Mayor Luigi Brugnaro, will be voted on by the city council in October.
If the proposal is successful, tourists could be told to move on and fined from €50 to €500 for sitting somewhere they shouldn't.
It's just the latest in a long list of measures designed to deal with the city's overwhelming popularity as a tourist destination.
In May, the mayor announced there would be no new takeaway outlets permitted to open in the city for the next three years; earlier the same month, city officials came under fire for segregating tourists and locals over the May Day weekend, one of the busiest times of the year.
Turnstiles were erected with the aim of dispersing footfall, which local protesters tore down in frustration.
"Venice is dying," said protestor Marco Baravalle at the time. "The mayor putting in the turnstiles is demonstrating that he is giving up. He wants Venice to become a city with no inhabitants."
Last year the city announced all large cruise ships (over 55,000 tons) would be banned from docking by 2021.
Meanwhile, Venice's #EnjoyRespectVenezia campaign, which launched in the summer of 2017, dictates that tourists are welcome – but only if they play by the rules.
Barriers installed in Venice, Italy ahead of day of segregation of tourists and residents
Visitors are instructed not to swim in canals, make picnic stops out of public areas, pause too long on bridges, drop litter, ride or wheel bikes, stand or lie on benches, busk or make art without a permit, attach "love locks" to monuments and bridges, climb on trees, buildings and monuments, get changed in public, feed birds or sightsee topless or in swimwear. Making too much noise, whether at night or during siesta time (1-3pm), is also forbidden.
The consequence of flouting the rules is a hefty fine of up to €450.
"The message we have to get through is that we're not joking," said Paola Mar, the councillor responsible for tourism.
"If it gets about that people who do this kind of thing are fined, as well as it being flagged to their respective embassies, perhaps we'll be able to stop others copying."
The mayor added: "The aim is to create more of a deterrent to people who think they can come to the city of Venice and do what they want, not respecting the city, urban decorum, and public safety."
Sitting in certain parts of Venice, such as St Mark's Square and on the steps of Rialto Bridge, is already prohibited, but the new proposal would take things a step further.
Campaigner Tommaso Cacciari told The Telegraph: "It's not a problem of respect if a young person doesn't have much money and eats a sandwich on the steps. To respect Venice you should put a limit on the apartments and the flats that you can put on the tourist market.
"#EnjoyRespectVenezia is just a propaganda campaign."
Join our commenting forum
Join thought-provoking conversations, follow other Independent readers and see their replies