We're focusing on the wrong thing in the Joe Jonas and Sophie Turner saga
News just in: Husband parents his own children while his wife is away at work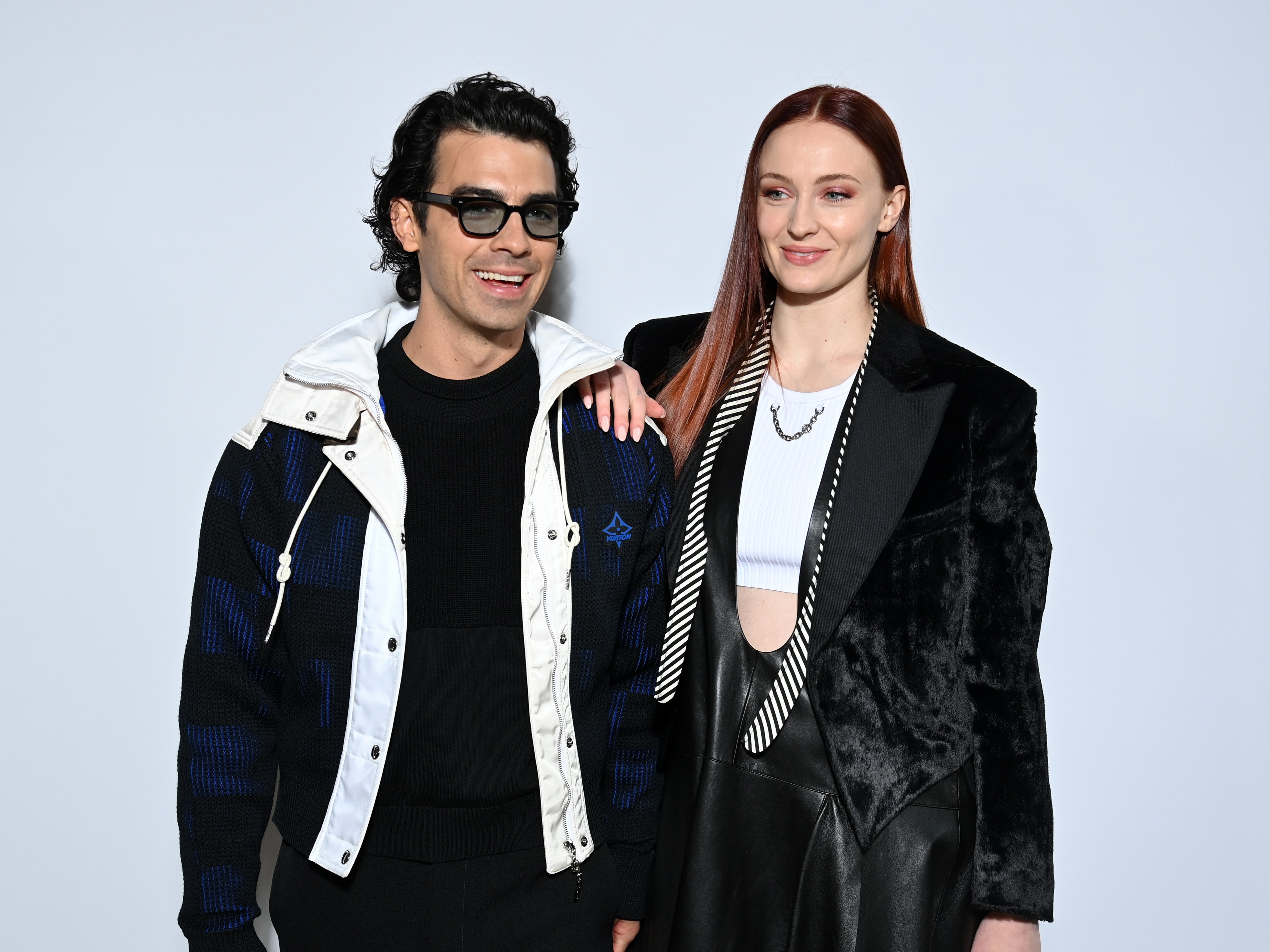 The summer of celebrity breakups has certainly been busy. Britney Spears and Sam Asghari, Reese Witherspoon and Jim Toth, Sofia Vergara and Joe Manganiello, and even Canadian Prime Minister Justin Trudeau and his wife Sophie Grégoire Trudeau all announced their breakups, separations, divorces, or conscious uncouplings this year. But no celebrity drama has hit fans quite as hard as Joe Jonas and Sophie Turner's divorce.
On 5 September, it was confirmed that the Jonas Brothers frontman - who rose to fame playing a variety of emo-haired pop-punk rockers on the Disney Channel - had filed for divorce from the Game of Thrones star after four years of marriage. Rumours began to swirl about their relationship after photos of Jonas, sans wedding ring, circulated online.
However, if a missing wedding ring was any indication of a looming divorce, then Jonas appeared to squash rumours of a split when he stealthily showed off his wedding band in a recent Instagram post. He also performed an emotional rendition of a "love letter" song he wrote for his wife at a Jonas Brothers concert on Sunday, the same concert where an unidentified woman - who bore a striking resemblance to Turner - was spotted watching the Jo-Bros perform on stage.
The former couple has since issued a statement about their breakup, noting that there's been "many speculative narratives" about the reason for their divorce. Indeed, it's the news cycle narrative pushed by so-called sources that has been particularly bizarre.
Turner - who got her start on the HBO medieval drama series Game of Thrones in 2011 - has recently been filming a British TV series, Joan, in the United Kingdom. According to TMZ, Jonas has been caring for their two young children "pretty much all of the time" over the last three months, bringing them on his US tour while Turner is away on location.
So, you mean doing his job as a father?
Of course, fans of the British actor (and women, in general) didn't mince their words in their distaste at this sentiment. "Sophie Turner shelved her career for a few years to be the doting wife and a stay-at-home mother," wrote one person on Elon Musk's Twitter, aka X. "That is pretty much the job description of being a father, yes," said another fan.
For those who are unaware, let's run through a brief relationship timeline. Like many modern romances, Jonas and Turner began their flirt-tationship when the Camp Rock star sent her a direct message on Instagram in 2016. Jonas, then 27, invited Turner, who was 20 at the time, to go on a date at a London bar. They began dating shortly, announced their engagement in October 2017, and were married by 2019.
At the time, Turner was 23 and Jonas was 30. She gave birth to their first child, a baby girl named Willa in 2020, and welcomed their second daughter two years later, all under the age of 27. Despite her financial and career success, becoming a mother of two when your prefrontal cortex hasn't even fully developed is no easy task. That's why so many people took issue when it was reported that Jonas, now 34, was taking care of their two children amid their separation. Hold for applause.
There's no escaping gender roles, even when it comes to celebrities. By claiming that Jonas is caring for their daughters "pretty much all of the time" while Turner is away on location, it comes across as an obvious attempt to paint a young mother in a bad light, while simply praising a father for doing what he's supposed to do.
Then, there's the unnamed source who claimed to TMZ that a difference in the pair's lifestyles, and Turner's apparent affinity for "partying", had been a reason behind Jonas making the decision to file for divorce. "[Turner] likes to party, [Jonas] likes to stay at home. They have very different lifestyles," they claimed.
It begs the question that, if Turner had been caring for their two children for the last three months while her husband was embarking on a nationwide tour, then it wouldn't be a story at all. Perhaps she'd have been 'lucky' enough to be labelled as one of those I Don't Know How She Does It women that has it all, with a successful career, children, a partner, but even that hasn't always been the case.
In a resurfaced interview with Elle UK last year, Turner revealed how much she missed her home in the UK and that she tried to convince her husband to relocate. "I miss England so much. The people, the attitude, everything. I'm slowly dragging my husband back," Turner told the publication in May 2022. "I really love living in America but, for my mental health, I have to be around my friends and my family. And also for my daughter - I would love her to get the education and school life that I was so lucky to have. England would ideally be the final destination, but [Joe] might take quite a bit of convincing!"
The fact that people still feel the need to come out in their droves to say a mother deserves the right to follow her own career pursuits may not be surprising, but is still shocking.
If the rumours are true, then it's safe to say I'm team Mom.
Join our commenting forum
Join thought-provoking conversations, follow other Independent readers and see their replies