These days it just isn't enough to go for the clean shave. The days wherein the bald-faced man ruled are gone. This is the age of the groomed stubble. To achieve the airbrushed stubble look we so often see on the faces of Gosling, Franco et al, you will need a trimmer. 
So what do we need to look for in a trimmer? The main features we used to sort the wheat from the chaff are: personalisation, clean, cut and comfort. How personal can you get with your trim? How hard is the trimmer to clean? How accurate is the cut? How comfortable is the job? We're looking for trimmers with an edge (both literal and metaphorical). Which have that bit extra to make your experience easier – lasers? A vacuum? 
With this in mind, we picked out the most effective trimmers on the market and turn you from Brian Blessed to David Beckham.
1. Panasonic ER-GB80: £79.99, Argos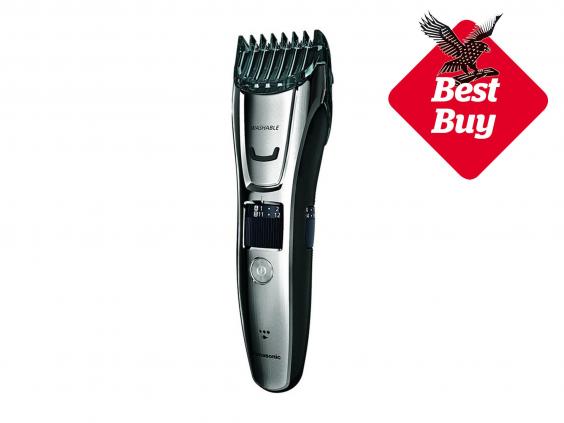 The Michael Phelps of beard trimmers, this trimmer excels in every category and won't pack up on you in a hurry. The trimmer is designed for top-to-toe grooming, engineered to trim as comfortably on your face as your shoulders, legs and groin. Three length attachments provide extensive personalisation: there are wider blades to suit heavy usage as well as narrow blades for precision and a downright copious 40 adjustment settings between 1 and 20mm. The tool also boasts waterproofing, cordless operation and an extended battery life of 50 minutes from an hour's charge – great when you consider you only need it for a moment in the morning. While other trimmers on the list may have these features, none of them have them all in one. 
2. Philips BT7202/13 Beardtrimmer Series 7000 Vacuum Beard Trimmer: £79.99, John Lewis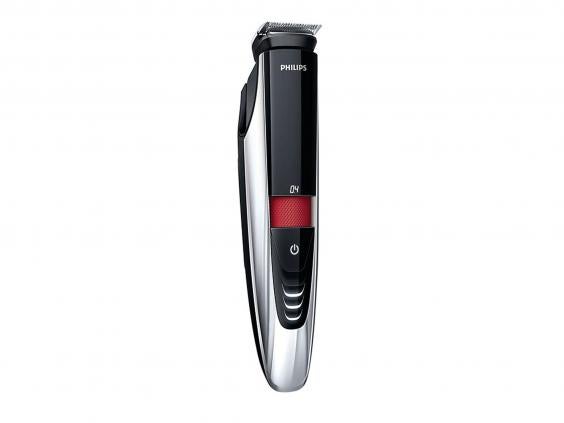 We love to be lazy so we love this trimmer for its vacuuming capabilities. It claims to capture 90 per cent of hairs as you trim, much easier for the clean-up than other trimmers on the list. The vacuum also cuts your partner's nagging down by 90 per cent. There are questions over the longevity of the multi-length attachments which feel rather flimsy, but with 20 lock-in lengths from 0.5-10mm, we aren't grumbling. The battery can run for almost an hour but takes about 25 per cent longer to charge than the Panasonic.  
3. Remington MB4560: £37.49, Amazon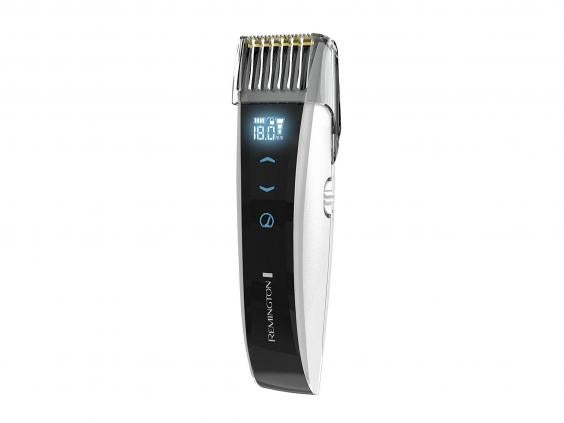 Touch screen… Ooh. The second most space-agey of our trimmers comes with touch screen technology, allowing you to adjust your length from 0.4-18mm in 1mm increments and feel like you are in Blade Runner in the process. The blades are incredibly durable due to the titanium coating and a lithium-powered battery gives you about an hour's life, though you'd need some serious beard to get through that. This is the kind of trimmer you would find Harvey from Suits using, however, he may be a tad let down by the accuracy.
4. Babyliss Super Stubble XTP: £64.99, Argos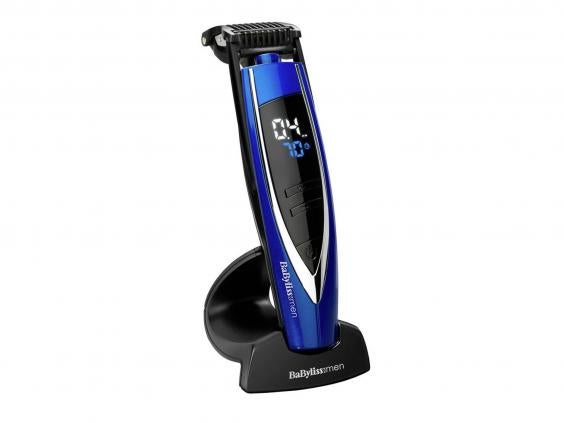 The premium model in Babyliss' beard trimmer range does a lot of jobs very well. Perhaps the most useful feature is the floating contouring head which matches your facial curves to give a much more comfortable trim with less snags - in fact, we think this is the most comfortable trimmer in the list. The battery life is one of the most impressive on the list with an 80-minute charge, affording you around a fortnight of five-minute trims. The trimmer also comes with a three-year guarantee.
5. Philips BT9280/33 Beard Trimmer: £99.99, John Lewis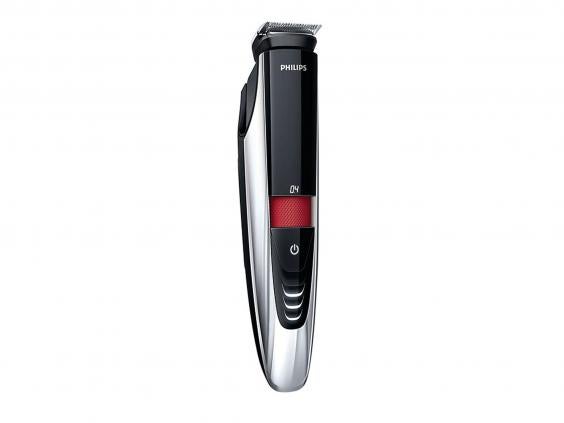 The foremost space-agey trimmer on the market is the Philips Series 9000 – because it has lasers. As you go about your business, lasers shoot from either side of the blade to give you the most symmetrical trim possible. The lasers are incredibly useful and not just a novelty, they provide an invaluable guide for the trim and ensure no wonky lines. Gone are the days when you had to do gymnastics with a spirit level meter to make sure your beard was even (or is that just us?) before a big date. The adjustable settings from 0.4-7mm offer a precise and personal trim with the dual-sided reversible trimmer adding that bit of extra versatility.
6. Diva 5-in-1: £39.99, Look Fantastic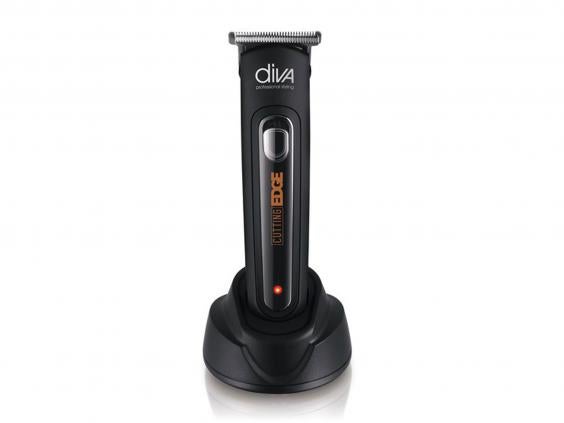 A trimmer so quiet that James Bond uses it to silence his pistols. The motor is high-powered and comes with five different trimming attachments for varied lengths and purposes – want a precise edge? No problem. Trimming those ears? Go for it. Got a thicket of beard to get through? Sorted. The numerous trimming attachments allow for in-depth personalisation. The main selling point for us is the impressive rechargeable battery, which will see you through a fortnight's worth of quick morning trims from a half-hour charge. 
7. Braun Multi-Groomer: £25.99, Amazon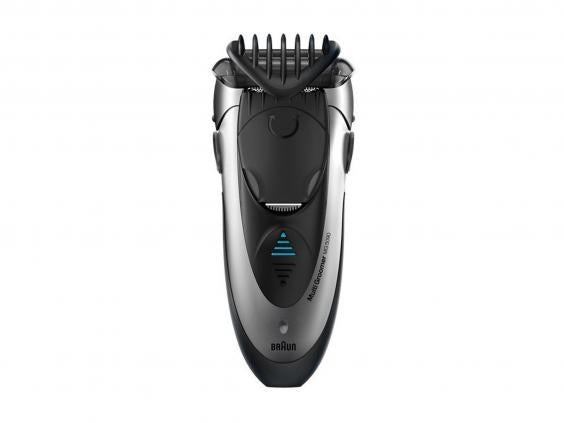 Simple and effective. The Braun multi-groomer allows for shaving, styling and trimming thanks to its three attachments. An extra wide shaver head armed with flexible SmartFoil catches hairs growing in different directions for a much quicker and accurate shave. You can opt for the twistable trimmer option with its wide side for trimming and narrow side for styling. The adjustable beard comb attachment has four painfully precise lengths of 1.2mm, 2.8mm, 4.4mm and 6mm. A major bonus is that 20 minutes plugged in should last you long enough for those days when you're rushing out to an important meeting you forgot about. The ability to wash under running water is also a big plus.  
8. Gillette ProGlide Styler: £13, Amazon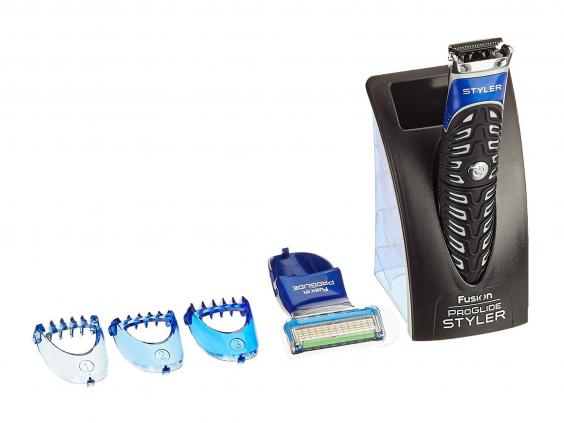 The Gillette ProGlide Styler was the first 3-in-1 grooming tool on the market, before being joined by the Braun featured above. The trimmer motor is Braun-designed, which gives us a lot of confidence (German engineering and all that), and is supplemented by Gillette Fusion ProGlide technology (a fancy way of saying they've coated the blades to give a smooth and less snaggy cut). The result of this technological marriage is an incredibly even and accurate trim. Our favourite feature is the Snowplow Comfort Guard which helps maintain maximum blade contact.
The Verdict: Beard trimmers
For our money, you can't beat the Panasonic ER-GB80. Although the trimmer comes towards the top of the market price-wise, this is a no brainer for us as it excels in each category we look for, although other trimmers may better it for battery life or accuracy, this trimmer has a much better rounded performance than its rivals. The trim is comfortable, the battery is easy and quick to charge, the motor is powerful and it is incredibly easy to clean. The versatility and plentiful length settings are just the cherries on the cake.
IndyBest product reviews are unbiased, independent advice you can trust. On some occasions, we earn revenue if you click the links and buy the products, but we never allow this to bias our coverage. The reviews are compiled through a mix of expert opinion and real-world testing