While plenty of pubs now sell a wide variety of fruit ciders, of differing quality, finding a fruit beer on sale in the fridge behind a bar is pretty rare. Even on supermarket shelves, they can be hard to find. But look in a good off licence or online beer retailer and you'll find just as big a range of flavours of fruit beers as the fruit cider market – and a wider spectrum of styles too, from the very sweet to the tart and bitter. Most of the bigger brands hail from Belgium, along with a few from England, and they all make for ideal drinks on a summer evening.
1. Samuel Smith Apricot, 5.1%: £2.39 for 355ml, Beers of Europe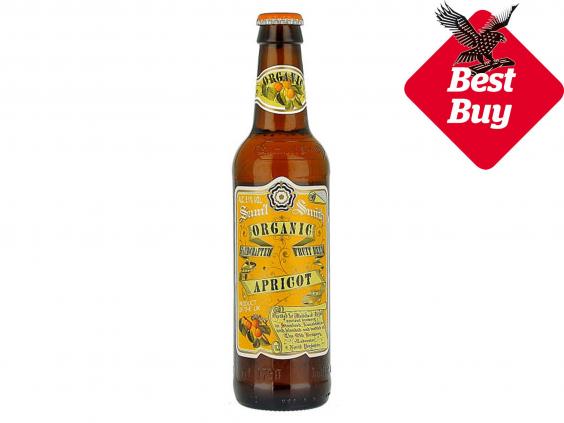 Now here's a traditional English fruit beer. With a distinct honey aroma and cheerful yellow hue, the apricot beer evokes images of a hot summer's day in the countryside sun before you've even taken a sip. It's lightly sparkling, and the sweet taste of real apricot juice gives way to a slightly more bitter edge a moment after your sip. Samuel Smith is based in Tadcaster, north Yorkshire, but its fruit beers are made at the small All Saints brewery in Stamford, Lincolnshire – where traditional hand-operated machinery is still in use for the brewing process. Both the barley and the fruit juice are organic. The brewery also makes a strawberry variety, as well as cherry and raspberry flavours that offer a rather more sour edge. You can usually find them on sale in any Sam Smith pub.
2. Fruli Strawberry, 4.1%: £2 for 330ml, Beer Merchants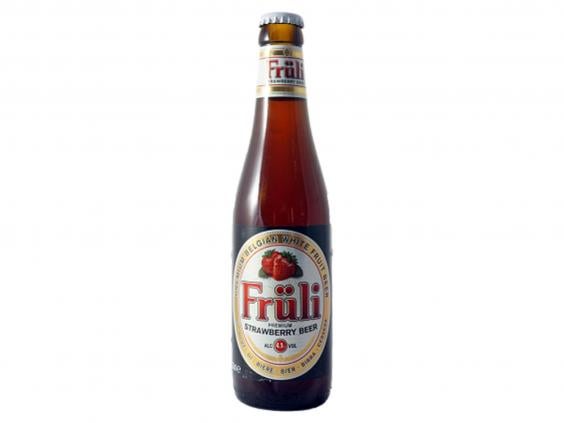 Brits are probably more familiar with Fruli than any other fruit beer. You're more likely to find it behind the bar of a pub than most of its rivals, with some bars serving it on draft as well as in bottles. This Belgian White beer comes in just one flavour, strawberry, and is made with real juice by the 300-year-old craft brewery in Melle, near Ghent. There's no denying the flavour, beneath a reasonably thick white head, is sweet. In fact, it's sufficiently thick and creamy to be a good alternative to a dessert – and tasty enough too. Even the official website says the drink is often "likened to a smoothie with bite with a touch of yoghurt or ice cream". It still has the distinctive qualities of a wheat beer, however, and is well balanced at 4.1 per cent.
3. Floris Passion Fruit, 3.6%: £2 for 330ml, Beer Merchants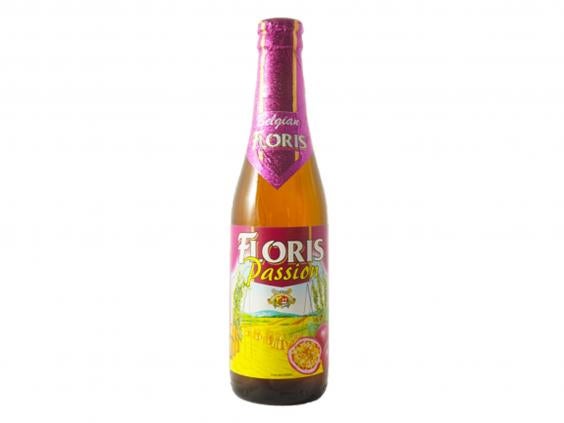 For the most original range of fruit beer flavours, look to the Floris range, produced in the Belgian town of Molles. As well as passion fruit, there is mango, apple, and honey – alongside more usual varieties of raspberry, cherry and strawberry. It offers a combination if you can't decide – Ninkeberry mixes the juices of peach, mango, apricot and passion fruit. You might expect all this fruitiness to make you recoil from the sheer sugariness of it all, but the Floris varieties aren't overpoweringly sweet. The passion fruit bottle, for example, has a tropical twang to it, but you can still taste the underlying beer. Nor is it thick like the Fruli, and at 3.6 per cent, it's one of the lighter brands on the list, making it all the more refreshing on a hot summer's day.
4. Bacchus Framboise Raspberry, 5%: £2.50 for 375ml, Sainsbury's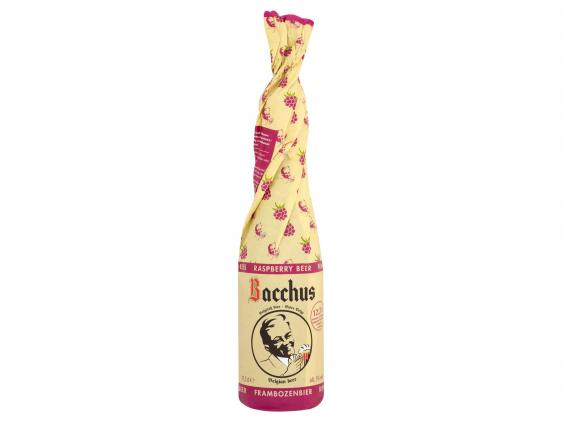 Bacchus, which comes in raspberry and cherry flavours, is rather more tart than sweet. It pours flat, with a decent white head above a full body that's the darkest of reds, looking brown or almost black until it's held to the light. Produced by the Van Honsebrouck brewery in Belgium, it's matured in oak casks and has a grown-up character. Its bottles are also distinctive, being wrapped in brown paper – bringing inevitable questions of 'what's that?' from curious friends if opened in company.
5. Lindemans Pecheresse Peach, 2.5%: £3.29 for 375ml, Beer Hawk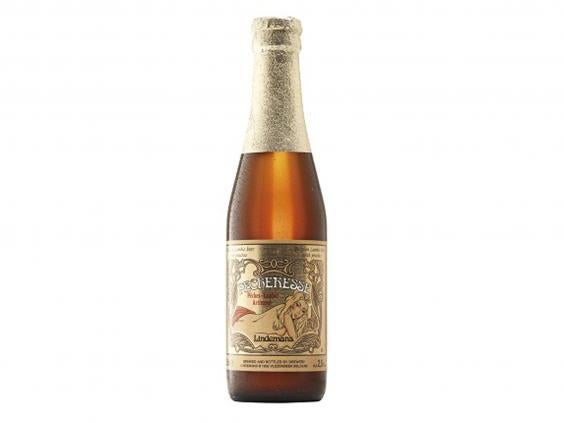 You might not necessarily spot this is a fruit beer from the packaging, unless you can speak Flemish. You'll certainly realise it's a fruit beer on removing the cork, however. The orangey-yellow lambic beer is surprisingly sweet, with a pleasingly warm peach flavour. You might not notice that it's a mere 2.5 per cent in strength, given that strong and full-bodied taste. It's made by Lindemans, the family brewer in Vlezenbeek, southwest of Brussels, which also offers cherry and raspberry flavours, with more conventional fruit beer labelling, and which have more of a sour edge to them.
6. Kopparberg Lemon and Lime Fruit Lager, 5%: £1.99 for 500ml, Tesco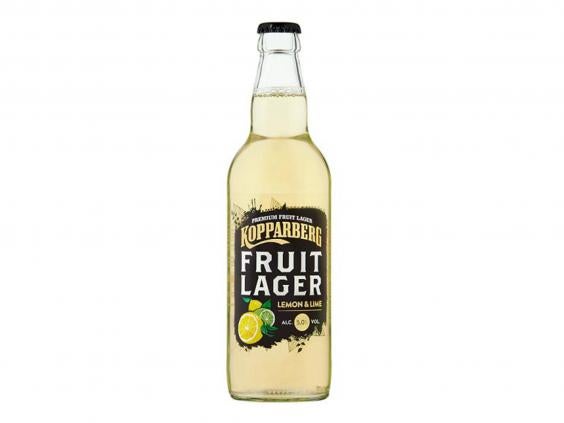 Purists may not approve of this being included in our list. The Scandinavian fruit lager is new to the market this year, following Koppaberg's runaway success in the fruit cider sector over the past decade. Its pear cider is dismissed as a mere alcopop by aficionados, but it's undeniably refreshing – and this fruit lager serves the same purpose. Naturally it has a very different character to the other beers on this list, being a lager rather than an ale, with a lighter body. But dare you be seen adding ice?
7. Kasteel Rouge Cherry, 8%: £2.99 for 330ml, Beer Hawk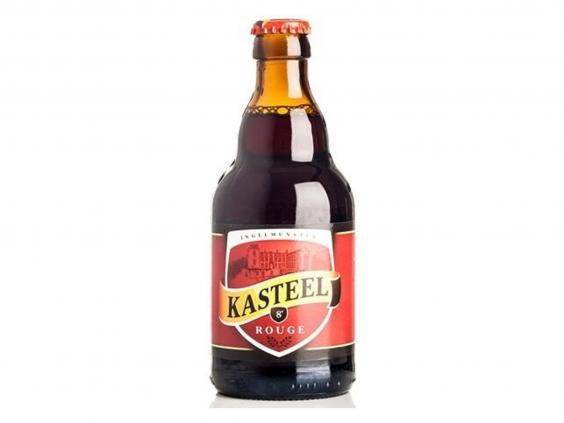 The Belgian brewer, Xavier Van Honsebrouck, calls this drink a "fruity" beer rather than an out-and-out fruit beer. But that's because of the manufacturing process – blending the raw beer with a cherry liqueur – rather than due to any lack of fruit flavour. And its alcoholic strength of 8 per cent gives it a stronger punch still.
8. Mongozo Coconut, 3.5%: £2.10 for 330ml bottle, Beer Merchants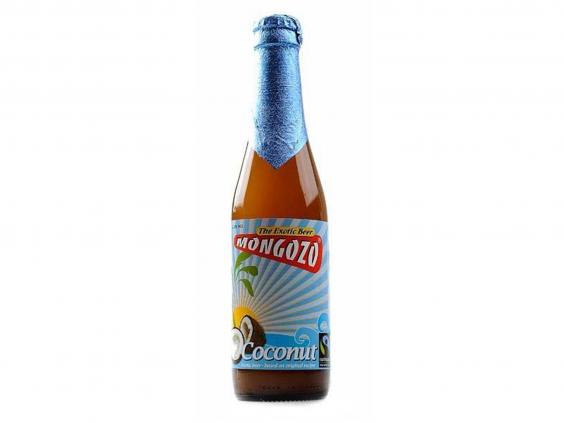 You'll feel like you've just drunk milk fresh from a coconut that's only just fallen off a palm tree after a few sips of this, such is the authenticity of the taste, especially a few seconds after a sip if you take a moment to savour it. The creamy aroma is inviting, and the lightly sparkling drink is as refreshing and exotic as a dip in the Caribbean. While it's brewed in Belgium, the word Mongozo is taken from the language of the Chokwe people of Africa rather than Flemish, and it means 'cheers!' Mongozo also offers banana and mango varieties. 
9. Beavertown Bloody 'Ell Blood Orange, 7.2%: £2.70 for 330ml, Beer Merchants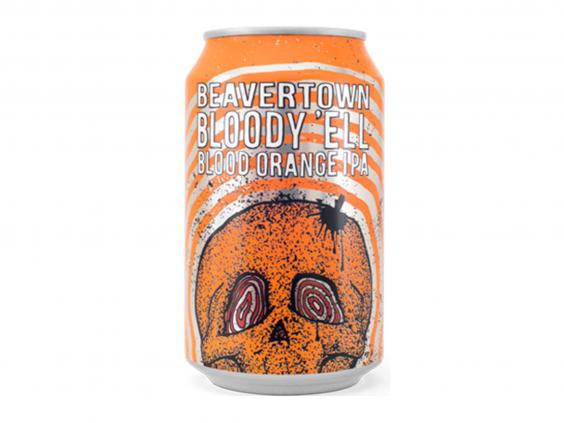 This India Pale Ale brewed in east London is probably the most conventional-tasting beer on the list, with the most nuanced of fruit flavourings – although the slightly overpowering 7.2 per cent alcohol strength may have something to do with that. Perhaps that's also why the cans in which it's sold, with snazzy skull graphic, are smaller than usual beer cans. The aroma is sweet, if thankfully nowhere near Tango-esque, but the citrus taste on your tongue from this orange and lightly sparkling beer is rather more bitter than sweet.
10. Banana Bread Beer, 5.2%: £1.79 for 500ml, Tesco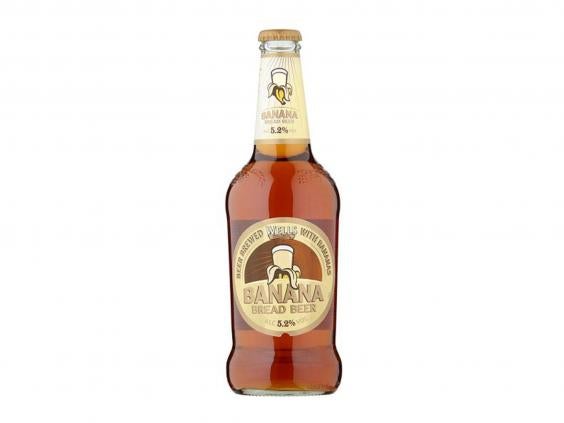 The smell of bananas will catch you as soon as you pull the cap off this bottle. But don't worry, this will not seem like a beer version of those foam banana pick 'n' mix sweets – the taste is subtler than the aroma. Like the blood orange, the traditional beer taste is stronger than the fruit flavour, which is generated through real fairtrade bananas, and it pours a rich amber with a frothy head. It's made by the Charles Wells brewery in Bedford.
Verdict
The Mongozo coconut very nearly won us over, but the juiciness of the English apricots and that lovely honey aroma makes the Samuel Smith our favourite.
IndyBest product reviews are unbiased, independent advice you can trust. On some occasions, we earn revenue if you click the links and buy the products, but we never allow this to bias our coverage. The reviews are compiled through a mix of expert opinion and real-world testing
Reuse content