The Independent's journalism is supported by our readers. When you purchase through links on our site, we may earn commission.
10 best organic beers
Good for both the environment and your taste buds, it's time to go organic with your tipple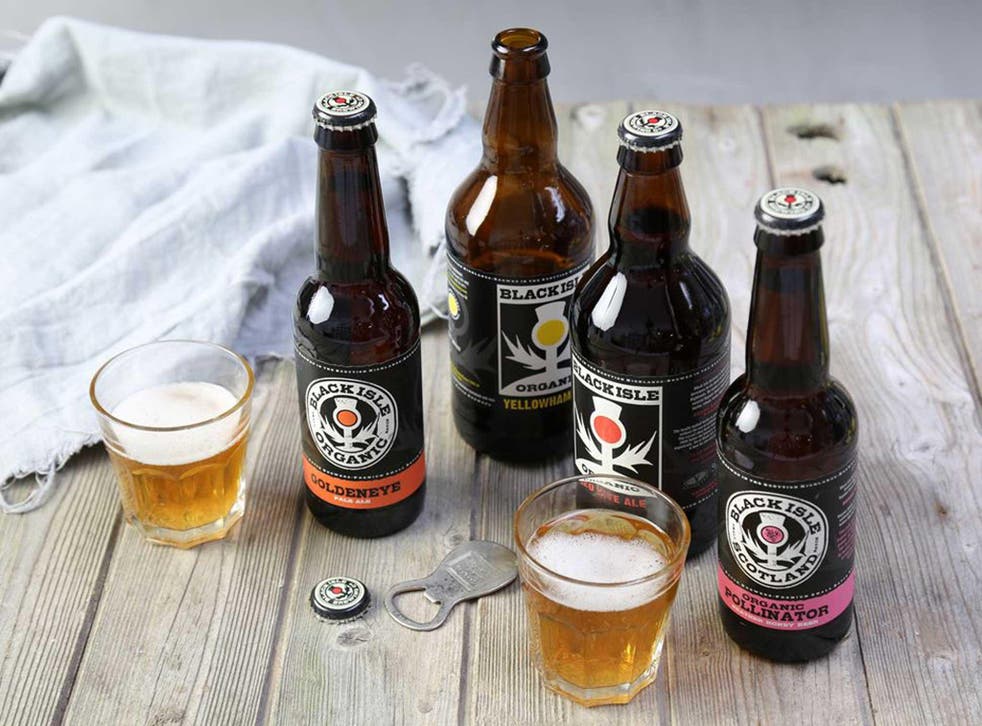 If you've ever wondered why a good range of organic beers can be hard to find, then it's less due to the will of breweries and more about the availability of organic ingredients. Getting that all important certification can be a rigorous process, as Jonathan Watts, senior certification officer at Soil Association Certification, explains: "All the organic raw materials including malt, hops, and yeast, must be non-GM and grown without reliance on pesticides, herbicides or insecticides. Soil Association organic standards prohibit the use of unnecessary and potentially controversial additives and processing aids, including non-naturally occurring sulphites."
Getting hold of a reliable supply of organic hops can be particularly challenging, especially for breweries who want the full range of varieties for modern tastes, and even when those ingredients have been sourced, there's a bit of extra work involved for a beer to achieve organic certification, as Watts points out: "In addition to undergoing at least one annual physical inspection from a Soil Association Certification expert, a brewery must maintain records of all the ingredients and raw materials they buy, how they use them, and what and how they sell to demonstrate that their beer is truly organic."
Reaching organic status is a tough task for growers and breweries but Watts believes the efforts are worth it. "The ecologically responsible production of raw materials used in organic beer contributes to the environmentally sustainable management of land and the natural environment. Soil Association organic standards promote sustainable brewing practises which target efficient processing and the use of renewable resources and recycling. For example, brewing can have a large energy footprint so it's commonplace for breweries to re-cycle energy generated, such as reusing the heat produced when boiling and cooling wort."
The result of the limited ingredients and extra effort required means that most organic beers are produced by small breweries in limited batches, but although many of these don't get distributed beyond their local patches, we've noticed that an increasing number are becoming more readily available and our list contains beers that you're more likely to be able to track down. To these you can add, among others, Exeter Brewery's Avocet, which made our 10 best South West beers list, and Liverpool Organic, which produces a wide range of beer styles.
A decent choice of organic beers from other brewing nations is even harder to find in the UK, hence us sticking with home-grown brews for this list. That said, fans of Belgian ales can find a few organic imports on Beers of Europe, including the excellent La Binchoise Organic Bio Triple.
Dip into these 10 beers and you'll discover that all the extra effort breweries put in really pays off. We're hoping growers are soon able to increase the supply of ingredients and more breweries can add at least one organic beer to their range.
Black Isle Goldeneye, 5.6%: £2.30 for 330ml, Abel & Cole
The Black Isle brewery in Inverness owns its own land, upon which it grows the organic barley that goes into making its beers. Its wide range of styles has more modern hop flavours than many in our list, with this pale ale containing hints of mango that brighten up some deeper, herby, bitter flavours. It has a caramel sweetness, dry finish and the malt is quite savoury throughout – we think it would pair well with some spicy bangers and mash – or, to honour its Scottish origin, a hearty plate of haggis.
Stroud Brewery Tom Long, 3.8%: £2.85 for 500ml, Real Ale Warehouse
Stroud Brewery has one of the most impressive ranges of organic beers, which are consistently well-crafted. It has a few unusual numbers in its range, including the popular alederflower (yes, it's infused with elderflowers) but we've chosen Tom Long for this list – an amber bitter, brewed at a sessionable strength and named after a mythical local highwayman. It's a bitter that might seem a little simple on the first sip – slightly sweetened by caramel malts and with an unimposing bitterness – but stick with it and you soon begin to appreciate its uniqueness. As the malts develop a bit more richness, you should start to notice the emergence of subtle flavours of citrus and spice provided by the addition of orange and coriander. This is a Sunday afternoon kind of pint: it'll help to ease you through the rest of the weekend and, at under 4 per cent, shouldn't give you hungover regrets when Monday morning arrives.
St Peter's Organic Best Bitter, 4.1%: £1.85 for 500ml, Waitrose
St Peter's Brewery likes to cater for all drinkers – its range of traditional and modern ales includes gluten-free, alcohol-free and organic options. In the latter category are a pale ale and this bitter, a proper English brown brew that instantly hits you with malty and bitter hop flavours. There's a touch of sweetness and a few floral notes, and when that pronounced bitterness fades you notice some fruity berry flavours that accentuate the smooth malt body.
Samuel Smith Organic Raspberry Fruit Beer, 5.1%: £2.39 for 355ml, Drink Supermarket
Samuel Smith has a good track record of organic brewing with a pale ale, lager and wheat beer among the range. But to give this list some variety we've chosen its raspberry beer. It's brewed at Melbourn Bros in Lincolnshire before heading to Tadcaster to be blended with organic raspberry juice and more beer. It's very fruity – sweet, tart and jammy – with the malt and hops steadily easing their way into the picture to give it an earthier backbone and a dry finish. It's a fruity treat for beer drinkers and, if you enjoy it, there are organic cherry, strawberry and apricot versions to try.
Atlantic Brewery Earl Grey PA, 4.5%: £2.50 for 330ml, Wadebridge Wines
For modern organic beer experimentation, Newquay's Atlantic Brewery is worth exploring, in particular this murky looking brew flavoured with earl grey tea. The recipe hasn't scrimped on the tea leaves – from the highly aromatic first sniff through to the floral flavours and bitter finish, you're aware you're drinking something that's related to a decent cuppa. That bitterness reaches quite high levels, with the hops also pulling their weight in that department, while the combination of wheat and barley boosts the body's viscosity, enhances the crisp, dry tea flavours and gives it that murky tea appearance.
Freedom Organic Helles Lager, 4.8%: £19.99 for 12 x 330ml, Freedom
Quality organic options for lager drinkers are more limited than their ale counterparts, with Freedom's Munich-style Helles being one of the few you're likely to stumble across. Fortunately it ticks all the right lager boxes, offering a clean, crisp drinking experience when served chilled. The fizz is tight and the traditional Bavarian Hallertau hops pepper it with enough spice to add interest without overpowering the full-bodied malt flavours.
Untapped Brewing Co UPA, 4.5%: £27.50 for 12 x 500ml, Untapped Brewing Co
Welsh brewery Untapped produces two organic beers: Monnow, a best bitter, and this pale ale. It's a lovely golden beer with a decent amount of flavour that has been brewed with a soft, light touch that leans towards the dry side of life. There's a fair amount of bitterness to the hops but, unlike many modern pale ales, their flavours subtly develop on the palette rather than show off from the outset. You might detect some peppery spice, perhaps some summery straw tones and almost certainly a few floral notes. A highly satisfying pint.
Hepworth Prospect, 4.5%: £2.95 for 500ml, Real Ale Warehouse
This Sussex pale bitter is bottle conditioned and will get real ale buffs supping with satisfaction, particularly if they swig it with a salty snack. It's a soft-bodied brew and has such a lovely and light malt body, full of fresh grain flavours, it almost tastes like a health drink. There's a flickering of straw bitterness and a few zesty lemon notes that help make it a highly gluggable, refreshing brew.
Fullers Honey Dew, 5%: £1.78 for 500ml, Morrisons
Fullers' legions of bees have all passed their organic exams in order to plunder honey for the UK's best-selling organic beer (honey fans might also be interested to discover Arkell's organic honey ale). That honey is evident on the nose, along with a yeast and damp grain aroma that is distinctive to most of Fullers' beers. In the mouth it's dry and has quite a prickly fizz, while some lemony refreshment joins the husky grain flavours, soothing with touches of toasty bitterness and sweetness.
Little Valley Tod's Blonde, 5%: £1.65 for 500ml, Morrisons
Little Valley is a small brewery whose organic beers have received a nationwide distribution through several supermarket chains, with Tod's Blonde being the most widely available. It's brewed with soft water sourced from the Pennines which, along with its pale malt body, gives it a light, almost lager-like taste and appearance when served cold. It has a spicy, straw bitterness that helps pick out some cereal flavours from the malt and a refreshing fizz from the bottle conditioning.
The Verdict: Organic beers
Stroud Brewery is a master of organic and sustainable brewing, but we think Black Isle's Goldeneye will have an appeal for a wide range of new and old beer drinkers.
Register for free to continue reading
Registration is a free and easy way to support our truly independent journalism
By registering, you will also enjoy limited access to Premium articles, exclusive newsletters, commenting, and virtual events with our leading journalists
Already have an account? sign in
Register for free to continue reading
Registration is a free and easy way to support our truly independent journalism
By registering, you will also enjoy limited access to Premium articles, exclusive newsletters, commenting, and virtual events with our leading journalists
Already have an account? sign in