Just as television images have become stronger, richer and more high resolution, TV audio has become less persuasive. No surprise, since TVs are now so thin that there's little room for powerful speakers. 
However, poor audio can be resolved by the addition of a soundbar – a wide, long speaker that sits beneath the TV or can be mounted on the wall either above or below it. Some connect by cable to your TV, while many additionally have Bluetooth and/or wi-fi connectivity, too. 
Multiple speakers within the soundbar shoot the audio in different directions to create a more immersive sound. Few sound as persuasively all-encompassing as a proper surround sound system with speakers behind the viewer, but by bouncing the audio off walls, you can achieve an impressive effect without having extra speakers and cables stretched round the room. Some speakers do come with separate subwoofers as part of the package, beefing up the bass, while others have one built in.
One of the latest technologies is Dolby Atmos – used by a number of soundbars on our list – which tries to make the audio seem properly enveloping through upward-pointing speakers designed to bounce sound off the ceiling. 
1. Sonos Playbar: £569, Sonos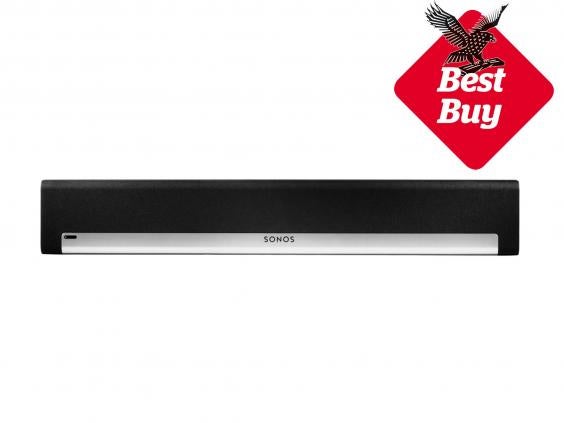 The Sonos Playbar connects to your TV using an optical cable, feeding into the optical digital out socket which most, though not all TVs have. It is easy to set up and delivers great audio. So great, in fact, that you can use the Playbar as a proper stereo instead of a dedicated system. Some soundbars lose clarity in the voice channel but this is sharp and punchy. You can add a subwoofer for extra power and this being Sonos, it also works as part of a multi-room system. Although it doesn't feel like surround sound, it has a wide audio stage and plenty of power. The Sonos logo looks the same both ways up so you can rest the Playbar whichever way you like – it can also be mounted.
2. Orbitsound Bar A70: £499.95, Orbitsound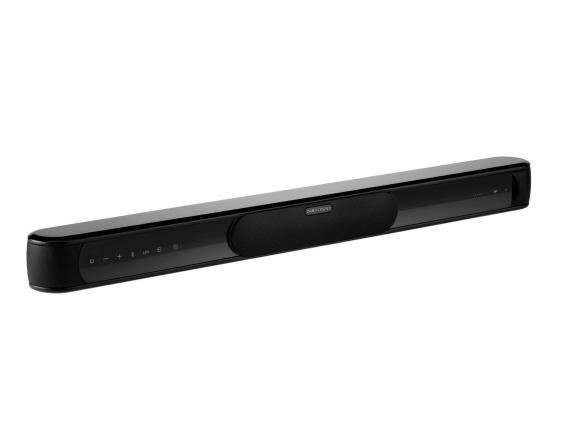 The Orbitsound comes with a subwoofer which delivers bass. Since our ears can't detect which direction bass is coming from, you can place the subwoofer where you like, even out of sight. The well-built A70 looks good and has a reasonably wide stage thanks to speakers firing to the sides. These are featured in a proprietary system called airSOUND, designed to provide the same quality audio wherever you are in the room. Like the Sonos, it uses a single optical cable to connect to the TV. It's smaller than some soundbars (75cm wide) so could be dwarfed by a 55-inch TV, which only matters because it makes it look a bit puny by comparison. 
3. Bose SoundTouch 300: £599, Currys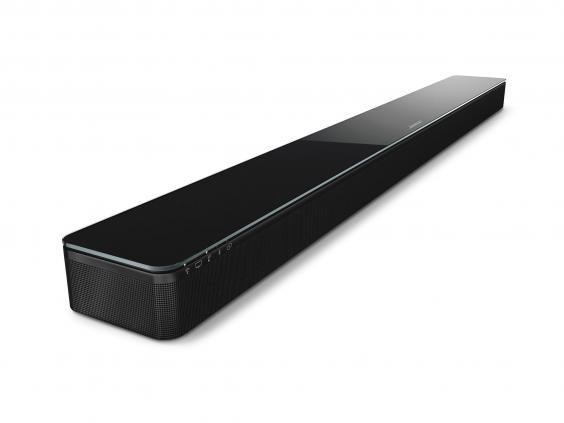 Bose is often top of the tree for slick, beautifully crafted, great-sounding audio products. And that includes this one. Set-up includes a room calibration system which uses a microphone to listen to how your room responds to sounds it makes and adjusts output accordingly. Vocals sound strong and come from the centre – which is where you want them – and the audio stage is impressively wide. It connects by optical cable but the results are smoother with HDMI, though be aware that you need a TV which is HDMI ARC-equipped (check your TV manual).
4. Philips Fidelio B8: £899, Richer Sounds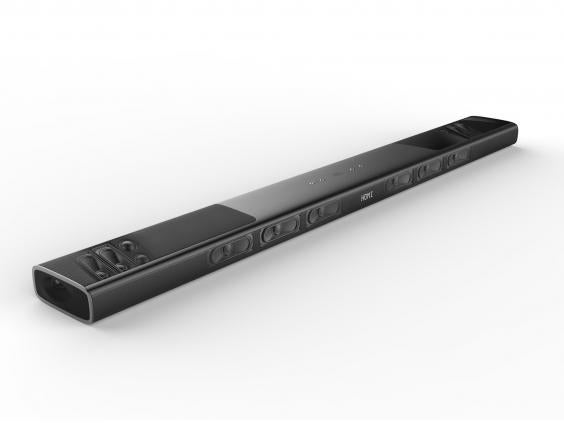 This is a Dolby Atmos speaker which has upward-firing speakers to create a 3D sound effect, so a helicopter above and lapping stream below come from different directions. It's based on the system Dolby uses in the cinema. It's pretty great, adding an extra dimension and creating an immersive experience. There are 18 speakers inside in total, including one midrange driver that is dedicated to the centre channel for voice. It's great value for Dolby Atmos and the price includes a subwoofer. Connects via HDMI and also offers Bluetooth music streaming. 
5. Yamaha YSP-5600: £1,599, Sevenoaks Sound and Vision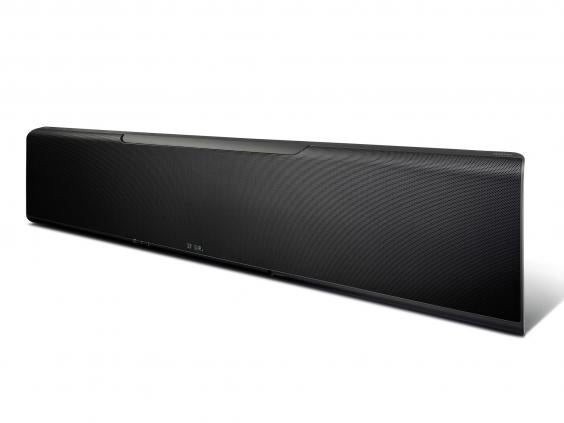 This is another Dolby Atmos machine. It's pricier than the Philips not least because it has 46 speakers on board, with delays calculated on an individual basis so that the sound arrives in perfect sync. There are six speakers angled upwards at each end, for that ceiling-bouncing effect. As a result of all this tech, this is a big machine, so it won't suit every space. Still, the subwoofer is built in, so that's a bit of living room real estate saved. You can buy a separate subwoofer as well, but the YSP-5600 on its own had strong, solid, detailed sound. Like the Bose, it connects by optical cable or HDMI that supports ARC.
6. Panasonic ALL70T: £379.99, Very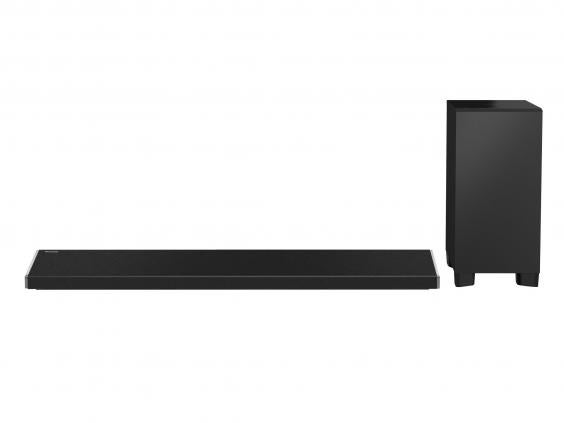 The Panasonic looks neat and is pleasingly low-slung so it won't protrude in front of your TV's remote control sensor. It has a wireless subwoofer to provide strong bass. The connections mean you can pass an image from a Blu-ray player to your TV through the soundbar, in full 4K resolution. If you have multiroom audio plans, this is a good place to start as it connects simply to other Panasonic speakers. So you could add a couple of wireless speakers for full surround sound effect. Even without that, this system sounds very good, with effective voice channel, detailed musical fidelity and deep bass.
7. Samsung HW-K850: £899.95, John Lewis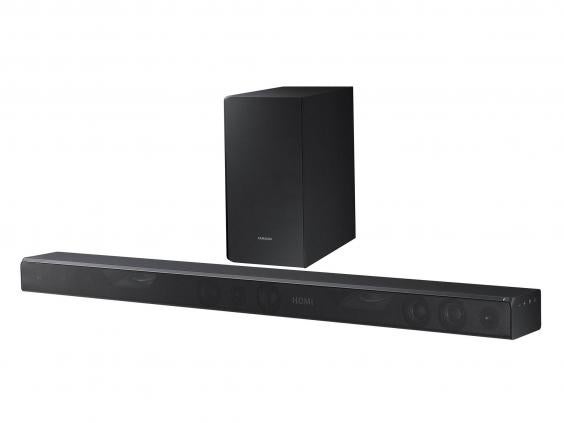 Dolby Atmos is on this soundbar, too, and while it doesn't match the precise sound output of the Yamaha, this is a powerful machine which can fill a room. There is lots of bass and decent mid-range notes. It has Spotify Connect built in, a more versatile way to play music from the Spotify catalogue easily on the soundbar (you need to be a Spotify Premium subscriber). Presets like Clear Voice mean vocals come through loud and clear. The overhead effect from the upward-firing drivers is good, though not as convincing as the Yamaha or Philips speakers. It connects by optical cable or HDMI that supports ARC.
8. Samsung HW-J6500/1R: £449, John Lewis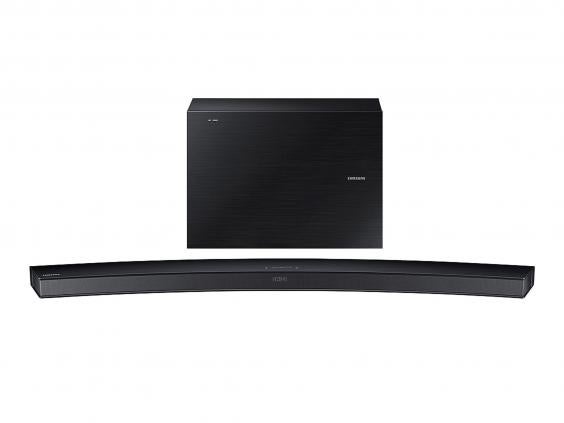 Samsung is the leading maker of curved TVs, designed to eliminate distortion by matching the curvature of the human eye. If you have one of those, you'll like a curved soundbar to match it – like this one which especially suits TVs sized around 48 inches. There are bigger models for larger TVs. It looks good even without a curved TV. And it sounds great, with punchy bass, clear detail and voices. And the curve gives a wide soundstage. It comes with a subwoofer that's wireless, apart from the mains connection. Connects to your TV via HDMI.
9. Samsung HW-K550/1: £279.99, John Lewis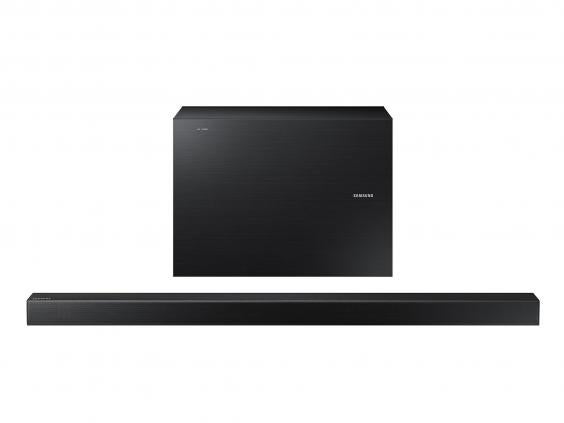 Another Samsung here, and one that's cheaper not least because it's not curved. It has a wireless subwoofer which can be tucked away out of sight and still deliver strong bass. Note that though you can connect a Blu-ray player to the soundbar which will pass the picture to the TV, it handles HD but not 4K pictures. Still, this is good value and has excellent sound that's lively and powerful.
10. LG SH5: £199.95, John Lewis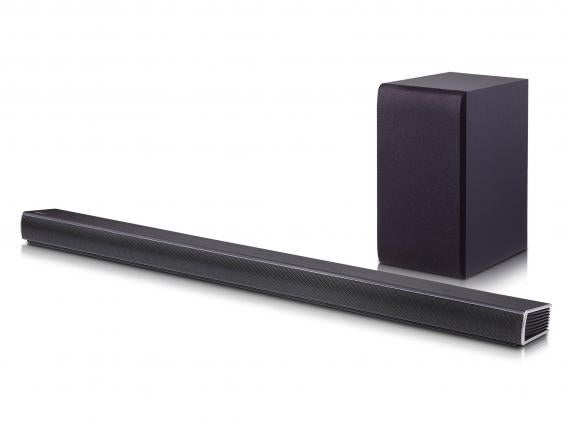 This soundbar is excellent value – it even includes a subwoofer for the price. It's not as premium-looking as rivals here, but it's certainly not unattractive either. Settings include one which adjusts bass levels, for instance, to ensure they don't drown out dialogue. There's also a cinema mode which gives clearer voices. It's strong in all kinds of sound, not least because the subwoofer takes care of the bass.
The Verdict: Soundbars
A soundbar is a big investment both in money and living room real estate. Do you need a subwoofer? Yes, if you want the best possible effect. Does it need to be part of a multi-room system? If so, it's worth planning the brand you're going to stick with. Of the models here, Dolby Atmos is the most exciting innovation and is enormous fun, especially on Yamaha's pricey machine. Still, the flexibility and strong sound quality of the Sonos sees it winning our Best Buy. And Panasonic's model set-up is the best balance of audio and price. Finally, Bose's system ticks a lot of boxes and looks as good as it sounds.
IndyBest product reviews are unbiased, independent advice you can trust. On some occasions, we earn revenue if you click the links and buy the products, but we never allow this to bias our coverage. The reviews are compiled through a mix of expert opinion and real-world testing
Reuse content