The warm weather is finally here, which means that people will be flocking into the wild to roast meats over flames and feast on burgers and sausages, and all manner of other meaty (and veggie) treats.
With that in mind, we thought it wise to road test a few of the best charcoal barbecues on offer, ranging from gigantic steel beasts that look more like upcycled industrial sculptures, to portable barbies that you can take to the beach or park. We did a lot of cooking to bring you a range of efficient and effective grills that suit a whole host of different needs. 
1. Weber Mastertouch: £269, John Lewis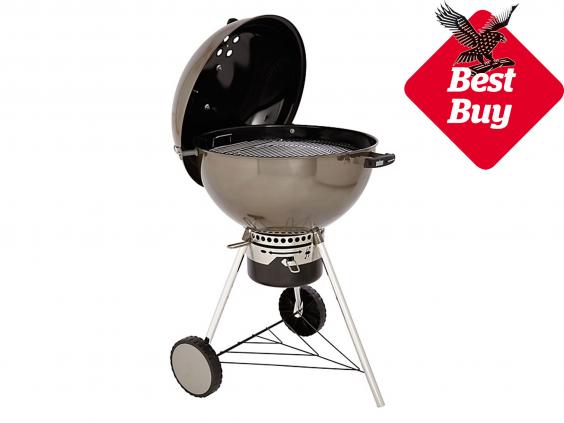 The Rolls Royce of charcoal grills, ask any aficionado, they'll tell you to get a Weber, the original kettle barbecue. There's so much to admire – the iconic design, the way the lid is sturdy on its hinges, the sheer amount of cooking space you have, which, in this case, heartily fed a good ten people. There's a handy built-in thermometer, it's easy it is to maintain and keep clean, and, as seems to be the rule with lidded barbecues, much of the cooking happens in secret, so there's not too much poking at things with tongs to be done. Your job is to patiently wait while it works its magic. 
2. Big Green Egg MiniMax: £600, John Lewis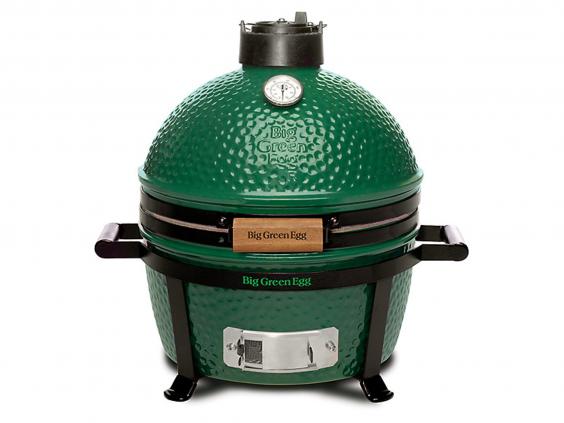 This is the barbecue of choice among top chefs and it's easy to see why. Based on an ancient Japanese ceramic Kamado oven, it looks great, and even this mini "portable" version is sturdy and weighty – you'd need a couple of people to position it into place. Once you've mastered the simple heating and cooling technique, using the air vents, you can blaze this up to unbelievable heats, and even use it as a pizza oven. Brilliant, but not cheap, especially in the bigger sizes.
3. Kikkerland Stainless Steel Portable BBQ Suitcase: £64, amazon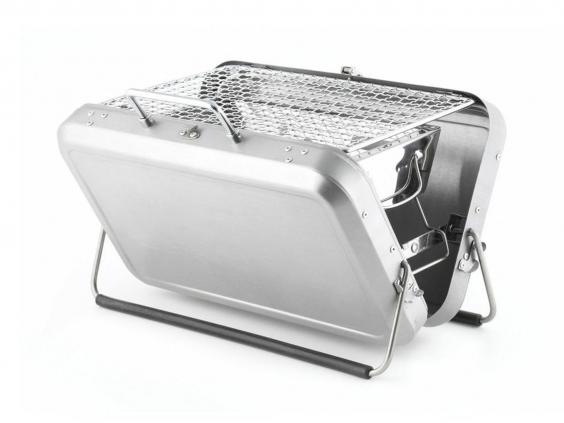 You could imagine this being demonstrated to 007 in one of the earlier Bond films, because it looks precisely like a spy's briefcase. But a deft lift of the lid, and ta-dah! You've got a grill big enough for a decent lunch for two. There's a nice little tray for your charcoal, and space for a couple of steaks, although the downside is that you have to crouch down quite a lot during cooking. Great fun though. 
4. Original Jerk 1/4 cut classic full drum: £500, Original Jerk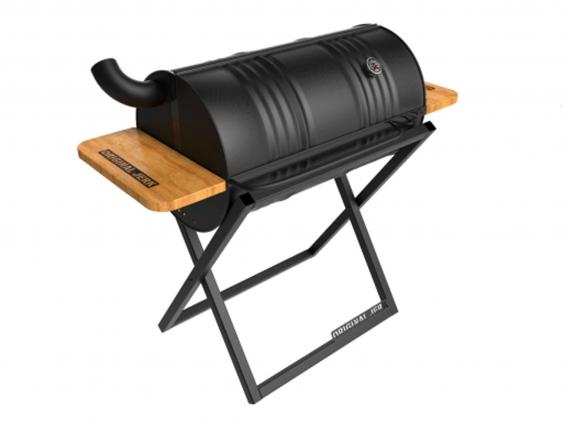 In terms of how it looks and the sheer joy of barbecuing on it, this is the best of the lot. It's a big oil drum sliced in half and turned into a grill, with nifty accessories like a thermometer and a little chimney coming out of the side. Made by professional blacksmiths, you can have these customized to suit your needs, which means they can be made to order (so you may need to wait two or three weeks for it to get to you). Perfect for big family celebrations. 
5. Prakti Charcoal Stove: £65, The Charcoal Burner Company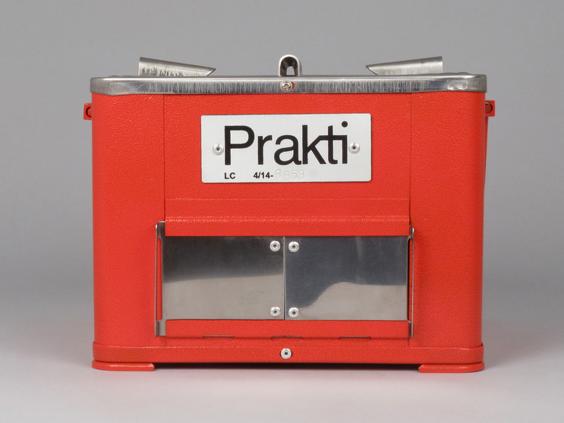 If Wes Anderson invented a barbecue, it'd probably look a little something like this. A square contraption in a choice of bold colours, it's easy to ignite, thanks to a mini-hatch for firelighters, and is bound to be a big hit with travelling hipsters doing the festival circuit this year. Just don't expect to feed the five thousand – more like two. 
6. La Hacienda 58106 Camping Firebowl with Grill: £38, amazon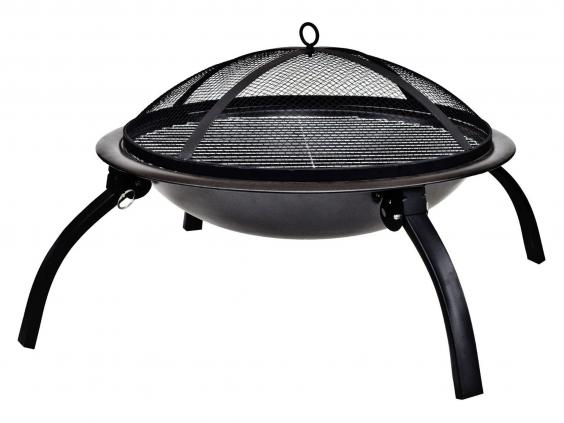 Not to be confused with the legendary Manchester club, this is a reasonably priced portable barbecue that's ideal for camping trips. The legs are short, sturdy and they fold away, and it's really light so you can pack it into a little bag without too much bother. When fully assembled, it sits fairly close to the ground and has ample room for a few burgers or sausages. 
7. Tesco Portable Charcoal Bucket BBQ: £8, Tesco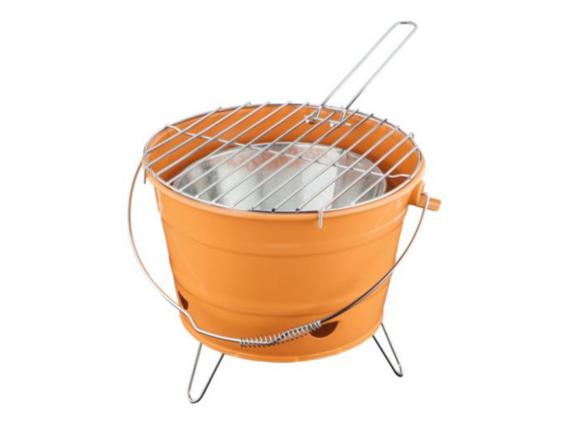 Very much a case of it doing exactly what it says on the tin, you fill the little bucket with charcoal, light it up, and then grill a few bangers. It won't win any major awards in the outdoor cooking community, but for simplicity and because it'll give you change from a tenner, it's a decent choice.
8. Barbecook Optima Charcoal Grill: £129, John Lewis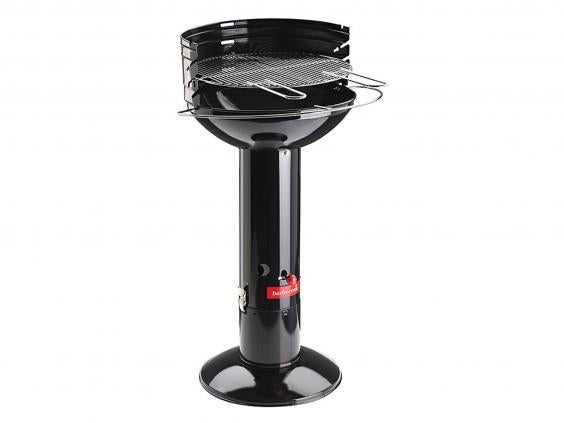 Standing just above waist-height like a mini-lectern, you could happily deliver a short speech while sizzling some steaks. This is a really clever lidless barbecue, with a hassle-free lighting system, which finds you putting lit bits of old newspaper into a tube in the stand, and letting the rest take care of itself. You can also add water to the base for extra stability, which is great when you're prodding bits of meat and shifting them around the grill. A solid open-top barbecue in a closed barbecue world – it was nice to actually see the meat cooking.
9. The Flaming Coals Cyprus Spit Deluxe: £280, The American BBQ Company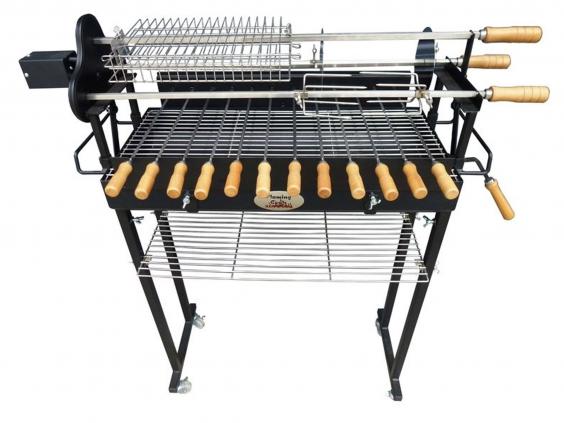 This is a next level, futuristic barbecue that you could imagine dazzling Tomorrow's World viewers with back in the 1980s. A simple, almost desk-like design, once it's up and running –it's an elaborate but uncomplicated piece to put together – there are kebab skewers run by a battery motor that rotate above the coals for an even cook (the more ambitious carnivore could even attempt an entire rotisserie chicken). When it's in full flow, there's something beautifully hypnotic about watching lovingly assembled skewers slowly turning in unison.
10. Landmann 43.5cm Kettle Charcoal Barbecue: £27, amazon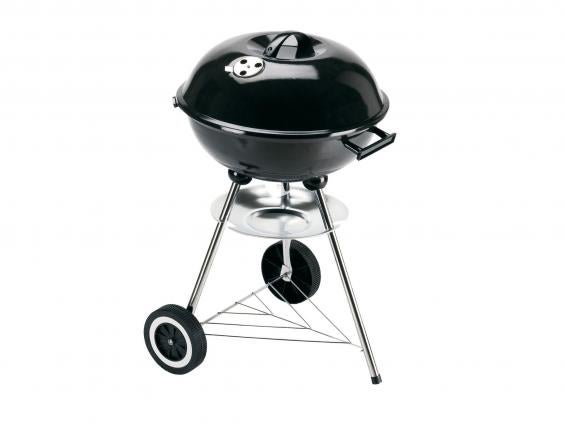 Essentially a decent budget version of the classic kettle barbecue design, this is reliable and big enough to feed a small hungry family, but that's about it. It wouldn't be suited to enormous outdoor feasts, but if you're in the market for something cheap and cheerful to wheel out of the shed a handful of times a year, you could do a lot worse.
Verdict
There's something out there for everyone, from decent budget barbecues, to top of the range Big Green Eggs. Just for the sheer enjoyment of having it, you can't beat the drum from Original Jerk, but for a simple long-term investment, the aficionados are right, Weber is probably the way to go.
IndyBest product reviews are unbiased, independent advice you can trust. On some occasions, we earn revenue if you click the links and buy the products, but we never allow this to bias our coverage. The reviews are compiled through a mix of expert opinion and real-world testing