The Independent's journalism is supported by our readers. When you purchase through links on our site, we may earn commission.
8 best non-stick frying pans you need in your kitchen
Which pan is best for sizzling good value? We put a range to the test
Qin Xie
Wednesday 19 January 2022 16:09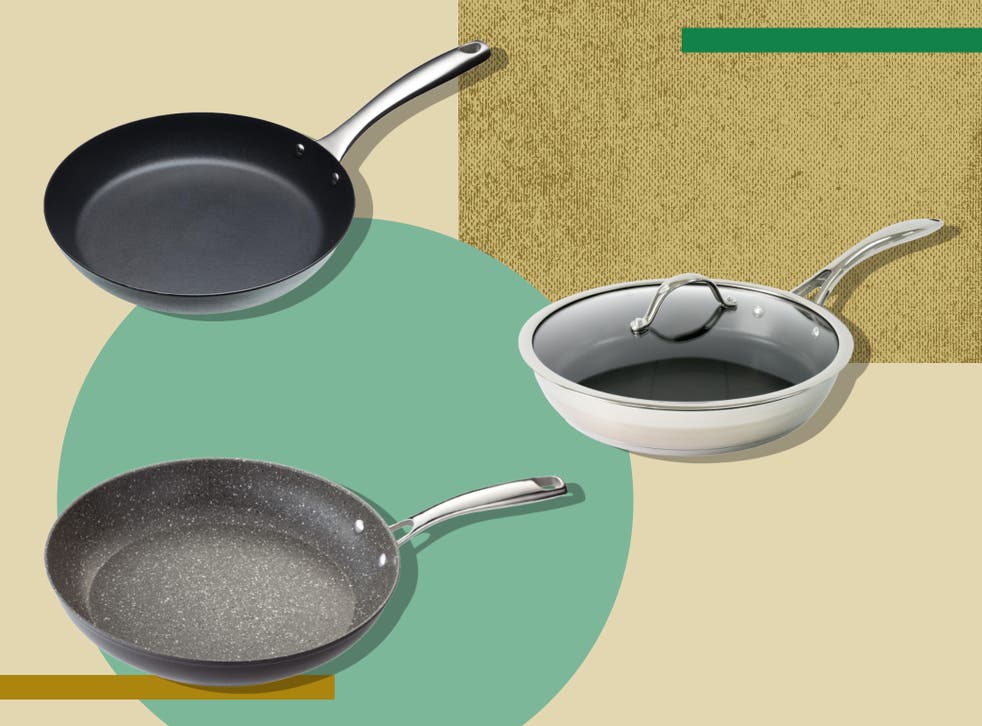 The humble non-stick frying pan is one of the most underrated vessels in the kitchen. You might associate it with a greasy fry up, but it can be used to make everything from a quick frittata to a deliciously moreish apple tarte tatin. Pick the right pan and you might even be able to substitute it for a baking tray to make a sumptuous lasagne, without the extra washing up.
The perfect pan needs to have a flat base with a relatively large cooking surface so you can shallow fry a few items at the same time. It also needs to have a curved edge, so when you're cooking something like an omelette, it can slip out with ease. A frying pan is even more versatile if it's oven-safe, so you can finish cooking under a grill if needed.
For our selection, we've opted for non-stick frying pans that are suitable for induction hobs. And for price comparison, they're all of a similar size.
How we tested
To test each of these, we started out with a household favourite – the humble fry up. We then moved onto other recipes, including French toast, pancakes and skin-on salmon, so we could get a sense of how the pans would perform under different conditions and on different food groups.
In assessing each of the pans, we looked for style, balance, and how well its non-stick surfaces worked. We also looked for how quickly each heated up, how well it retained heat, and of course, how the food turned out. Here are our favourites.
Read more:
The best non-stick frying pans in 2022 are:
Non-stick frying pan FAQs
How to care for your non-stick frying pan
Not all non-stick frying pans are made equal, so before you commit to buying one, check to see if it's safe to put in a dishwasher.
If it's not you'll need to hand wash it to keep it clean, using mild soap with a brush or sponge and warm water to gently clean the surface.
Avoid using scouring pads which can scratch and remove the non-stick coating, rendering it useless. Harsh detergent and water that's boiling can cause the coating to deteriorate, too.
Why are my non-stick pans sticking?
The non-stick coating of your pan may, well, stick for numerous reasons including the use of high heat and aerosol cooking sprays which can cause food build-up and damage. You can preserve the non-stick coating by using medium heat to cook, using olive oil, peanut oil or other non-aerosol oils to cook, as well as using warm soapy water after every use so food residue won't build up.
Are non-stick pans safe?
Generally, non-stick cookware has been coated with a material called polytetrafluoroethylene (PTFE), commonly known as Teflon. First made in the 1930s, Teflon provides a nonstick, nonreactive, low-friction surface, making it easy to use and easy to clean. Teflon, back then, was made with a chemical called perfluorooctanoic acid (PFOA), which has since been linked with types of cancer and health concerns.
However, today, all Teflon products are PFOA-free, so it's fine to get cooking!
The verdict: Non-stick frying pan
We were very impressed by the Robert Welch campden non-stick frying pan on first use and it's stylish enough for us to want to have on display. For a more affordable alternative, it's hard to beat ProCook's professional anodised frying pan – it's a real workhorse that should last for years to come.
Voucher codes
For the latest home appliance discounts, try the links below:
For satisfying chargrill lines and succulent dishes, look to our review of the best grill pans
Register for free to continue reading
Registration is a free and easy way to support our truly independent journalism
By registering, you will also enjoy limited access to Premium articles, exclusive newsletters, commenting, and virtual events with our leading journalists
Already have an account? sign in
Register for free to continue reading
Registration is a free and easy way to support our truly independent journalism
By registering, you will also enjoy limited access to Premium articles, exclusive newsletters, commenting, and virtual events with our leading journalists
Already have an account? sign in