The Independent's journalism is supported by our readers. When you purchase through links on our site, we may earn commission.
10 best reusable water bottles: Good for hydration and the planet
Help turn the tide on plastic pollution and quench your thirst with one of these eco-friendly choices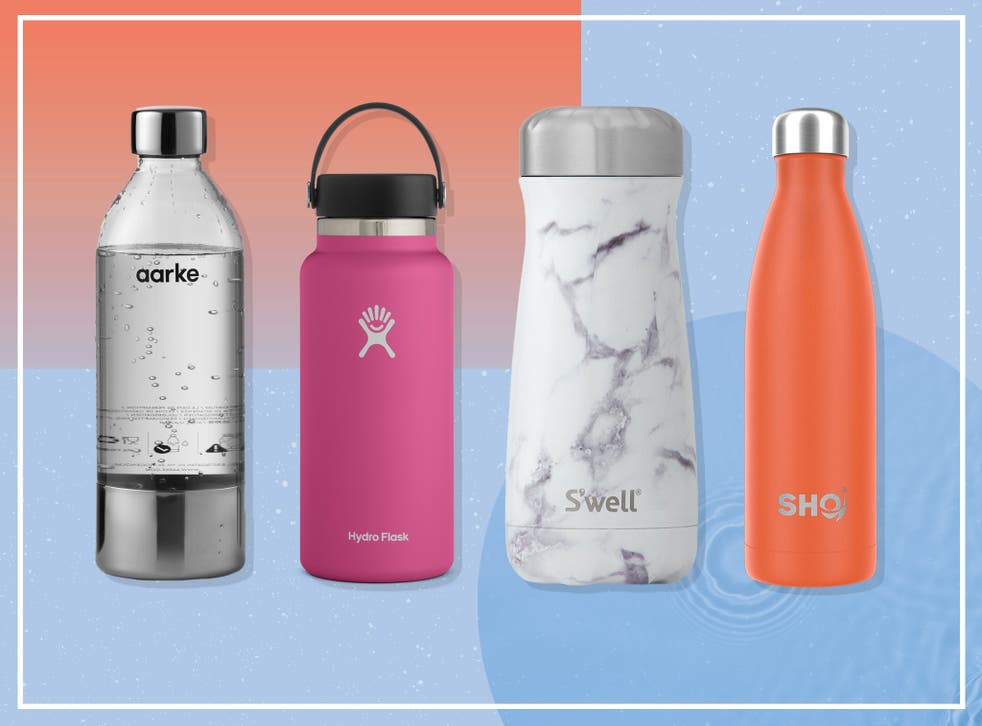 Our plastic problem has hit a tipping point, and while we are getting better at recycling, single-use plastics are still an issue. A new roadmap report from the British Plastics Federation (BPF) found that the UK could recycle three times as much plastic by 2030 as we do today. But to achieve that goal, we all need to make some significant changes in how we purchase and consume items like water.
If your goal in 2022 is to drink more water, but you don't want to add to the plastic pollution problem, a reusable water bottle is an ideal solution.
Reusable bottles are becoming a more popular sight, with brands such as Chilly's and S'well turning these eco-savvy solutions into must-have fashion accessories. They are a great way to monitor your water intake and can even save you money in the long run. Plus, it can help remind you to drink while you're out and about, and some water bottles also give you visual prompts when its time to take your next drink.
You also don't need to worry about running out as there's now an extensive network of water fountains popping up in towns, cities and parks across the UK. The Refill app is an excellent way of finding out where to find free drinking water in your area. Download the app on Android or the Apple app store, and it'll direct you to your nearest refill station.
We've taken a look at some of the best reusable water bottles on the market today to help you ditch the plastic and hit your daily water intake goals.
Read more:
How we tested
Each bottle has been tried and tested by going through a range of everyday activities such as walking the dog, working out and working from home to make sure it ticks all the right boxes.
We were looking for easy-to-use bottles that kept our drinks chilled, were leakproof, and looked good.
The best reusable water bottles for 2022 are:
Reusable water bottle FAQS
How much plastic is saved by using a reusable water bottle?
According to Water UK, 7.7 billion plastic water bottles are used in the UK each year, with the average person now using 150 plastic water bottles every year – that's around three a week.
The organisation states that if just one in 10 Brits used a refillable water bottle just once a week, around 340 million plastic bottles would be saved each a year.
How much water should I be drinking each day?
While each individual's needs are unique and dependent on health, age, height and weight, the NHS's Eatwell Guide recommends drinking 2l (between six to eight glasses) of fluid a day, including water, lower-fat milks, sugar-free drinks, tea and coffee. Dehydration can cause both mental and physical fatigue, as well as headaches, while a healthy water intake is thought to boost mood and mental wellbeing.
The verdict: Reusable water bottles
More of us than ever before are turning our backs on single-use plastics, so it's no surprise that there is a wide range of options for reusable water bottles, but we found that the HydroFlask 32oz was an outright winner. Whether you're working from home, out on a walk or working out, this water bottle is the ideal companion. The wide mouth made it suitable for adding ice to our water, and it also works well for hot liquids such as soup and coffee. The flexible carry strap made this water bottle easy to carry around. It's also a reasonable price for a premium water bottle, and the design is a classic that won't feel out of date any time soon.
The Chilly's refill X is also an excellent buy. The smaller capacity and sleek design make it ideal for when you need water on the go, such as the daily commute or while out on a walk.
We also have to mention the Lifestraw go; the combination of integrated straw and carbon filter meant that the water was easy to drink, especially when working out, and tasted a lot better than consumed directly out of the tap.
Voucher codes
For offers on kitchenware, try our discount code pages:
Now the whole family can enjoy eco-friendly beverages with the best kids' water bottles that are leak-proof and perfect for school
Register for free to continue reading
Registration is a free and easy way to support our truly independent journalism
By registering, you will also enjoy limited access to Premium articles, exclusive newsletters, commenting, and virtual events with our leading journalists
Already have an account? sign in
Register for free to continue reading
Registration is a free and easy way to support our truly independent journalism
By registering, you will also enjoy limited access to Premium articles, exclusive newsletters, commenting, and virtual events with our leading journalists
Already have an account? sign in