If, like us, your kitchen drawers are stuffed full of recipes you've torn from magazines, printed out, or that family members have lovingly written out for you, then it's time to get your house in order. What you need is a dedicated book or file to order them and protect them from splashes and spills, and – crucially for cooks on a time schedule – so you always know where to find them (no more half-hour searches for your Grandma's famous lasagne recipe).
Before choosing, you'll need to work out what you want it most for. Do you want to write your favourite recipes yourself, or are you looking for somewhere just to stick other people's? Or both? Some have pre-defined, fixed sections; others are left blank for you to fill in or add to if it's a ring-binder (ideal if you have loads of cakes in your repertoire but no starters, say).
We've picked these ones for their user-friendly layouts that actually work for cooks, extra features that make them really useful (from conversion charts to meat cooking guides), how practical they are and, finally, what they look like on the shelf. Happy cooking.
1. Saucepans Recipe File: £15, paperchase.co.uk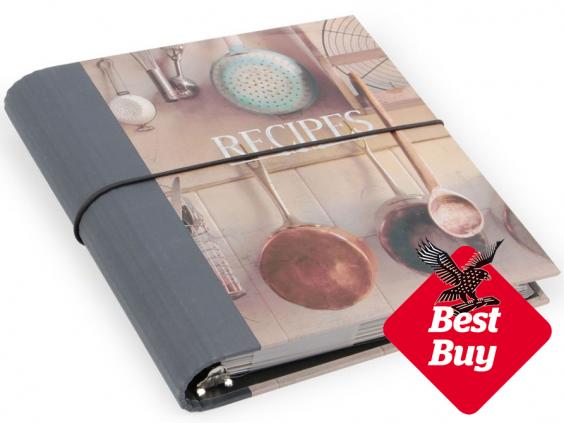 Paperchase makes three different styles of recipe files. This versatile one, which comes in two designs, is our pick for keen chefs who have a wider repertoire. The ring-binder format and blank tabs mean you can really tailor it to your needs (with the included stickers or you could write your own sections). It comes with a mix of recipe sheets to fill-in with your old family favourites and pockets to stash any tear-outs or print-offs. Added extras include a dinner party planning section and there's a useful conversion chart at the front – we just wish the cover was made from a wipe-clean material. 
2. Posh Totty Designs My Recipe Organiser: £19.99, notonthehighstreet.com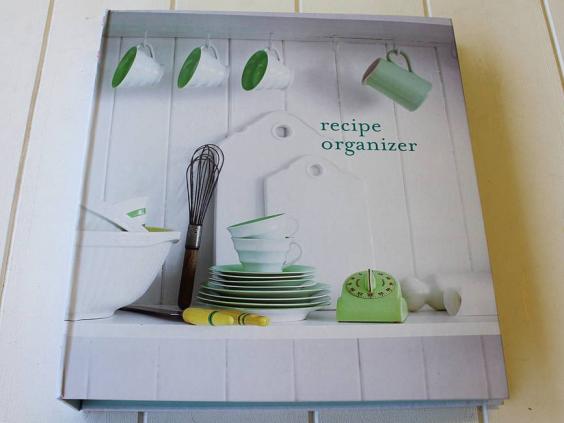 You'll need space for this large file but in return you get 128 pages to write down your favourite recipes. There is a mix of full-page and half-page layouts so there's somewhere to accommodate the likes of those curry recipes with tens of different ingredients. There are tabbed dividers (which come blank so can be marked with the included stickers or your own idea) with pockets designed to store  any loose sheets – as it's a ring-binder you could just add plastic wallets for those extra bits of paper. Unlike some on the list, the cover's wipe-clean so it you'll be able to sort any kitchen spills.
3. Moleskine Passions Recipe Journal: £16.50, johnlewis.com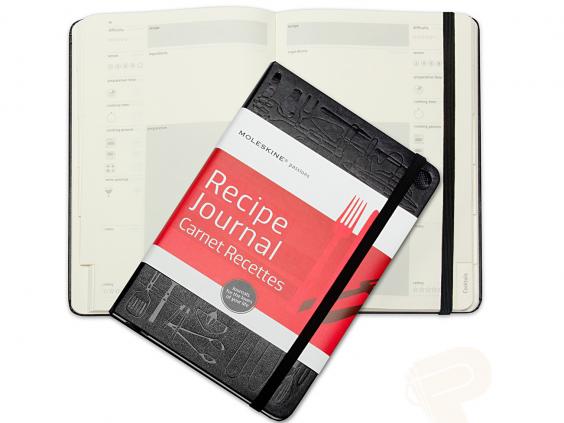 The brand famous for its notebooks also makes a smart little foodie version that cooks who are passionate about cataloguing their recipes – and accompanying booze – will love. The leather cover, embossed with a kitchen utensil print, sets it apart from more whimsical designs. Inside there are two tabbed sections: the first follows the traditional dinner party courses (including side dishes and a cocktail section), the second lot are blank for you to customise. Pages are laid out with templates that allow for lots of info about the dishes, including a difficulty-rating and wine pairings. You get a set of emoji-style stickers – like chilli icons to note spiciness – to really customise each listing, too. At just smaller than A5, you'll need to write small to fit all the info in and there isn't loads of space to stick in cuttings, but if you do have a few loose papers you want to tuck in, the elastic strap will keep everything together.
4. Suck UK My Family Cookbook: £12, amazon.co.uk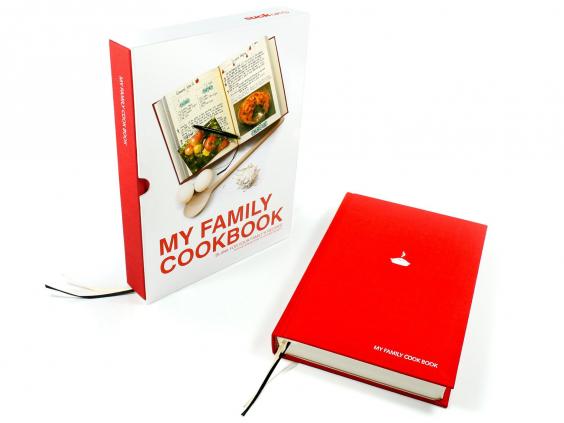 We love the little pie design on the front of the red hardcover book that has the potential to become a family kitchen heirloom. There is space for 80 recipes, including photos of each. Unlike some flimsier books, the paper is heavy-duty enough to cope with glue so you can stick tears-out in if you can't be bothered to write them out. There are also some useful tables we haven't seen elsewhere including a vegetable cooking guide and, our favourite, diagrams of the finger test for cooking steak. If you have the time to spend to fill it in, one of these books would make a wonderful present, perhaps for a child going off to uni.
5. BusyB Recipe File: £14.99, busyb.co.uk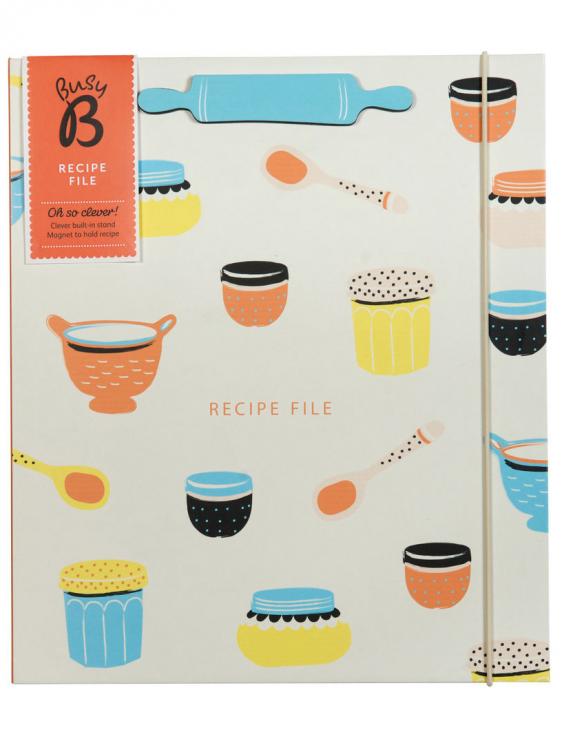 If you hoard recipes torn from magazines or printed out from websites, here's a well-designed place to put them. It's a folder with a built-in stand and rolling pin-shaped magnetic clip on the front. You keep your favourites in the plastic pockets and when you want to whip up a lasagne, say, you take that one out and clip it to the front. The ring-binder format means you can move around the tabbed sections (with contents page) and add lots of new plastic wallets if you need. There are also some A5 recipe cards if you do feel the urge to write a few out. This one doesn't feel as sturdy as some of the books on the list but it's an innovative, practical way to stash your cuttings.
6. Meri Meri Sweet Treats Recipe File: £14.99, thepaperparlour.co.uk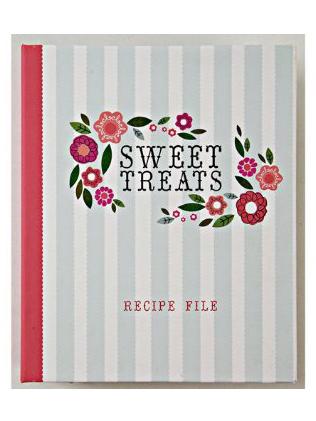 Sometimes one pudding section just isn't enough. This file by the LA-based stationery brand is one for cooks inclined towards sweet creations. There are dividers and pockets for cakes, cupcakes, pastries, cookies (this is American, remember), bread and seasonal treats. The dividers have pockets to keep your clippings in and then there are 25 pages (double-sided) to write your own recipes but the because it's a ring-binder, you can add more as you go. This one is bigger than A5 so there is plenty of writing room.
Verdict:
For a versatile, comprehensive folder, we like Paperchase's offering. It works best for anyone who wants to mainly write out their recipes and cooks can customise the sections to suit their repertoire. For a paper hoarder, BusyB's is a practical choice that will keep a stash organised and it doubles-up as a handy recipe holder (Paperchase also makes a similar, good-quality one). Anyone buying for a loved one should consider Suck UK's book – start off the recipe collection for them and it will make a really special gift.
IndyBest product reviews are unbiased, independent advice you can trust. On some occasions, we earn revenue if you click the links and buy the products, but we never allow this to bias our coverage. The reviews are compiled through a mix of expert opinion and real-world testing
Reuse content