Misty, Bush Theatre, London, review: A tremendous performance by Arinze Kene
The playwright and actor Kene stars in his own play that blends gig theatre, comedy, spoken work, live art and rap 
Kaleem Aftab
Friday 30 March 2018 18:13 Comments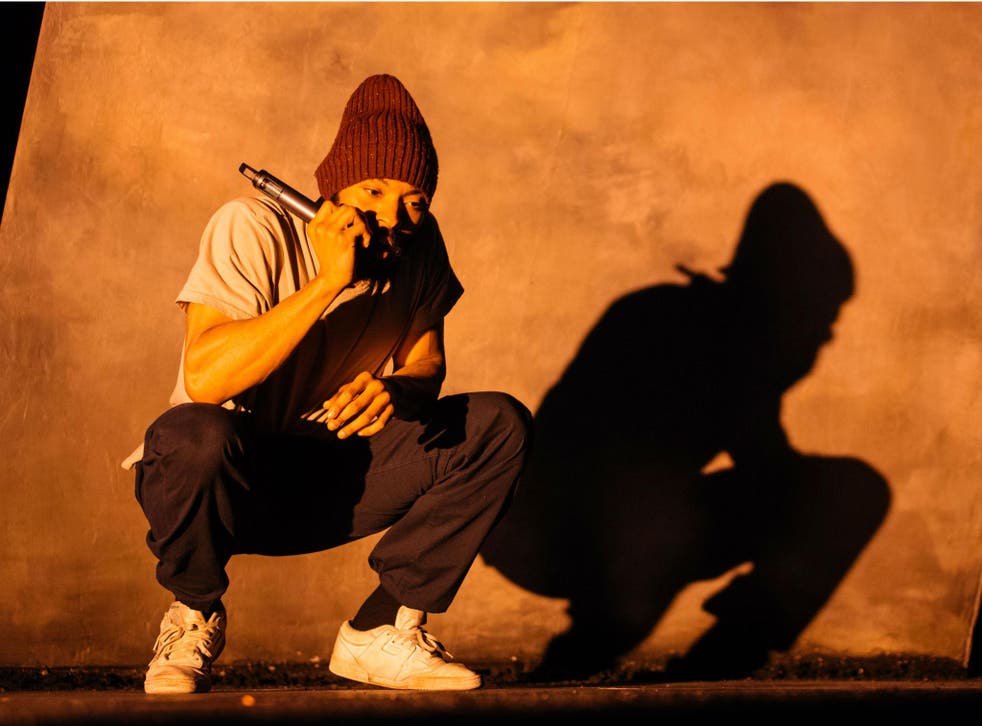 Has Arinze Kene written a "nigga play?" That's the conundrum being posed in Misty, where the term is explained as being a production that is acclaimed by white audiences but leaves the black community decrying it as a sell-out, a modern minstrel show.
It's not an accusation that can be levied at Misty itself, a pulsating modernist stage drama in which Kene takes a leaf out of Federico Fellini's surrealist comedy drama 8 ½ to tell a story revolving around the creative process.
Whereas Fellini stand-in Marcello Mastroianni was concerned with the creative block that results from success, Kene wants a success in which he can be true to his own experience without creating another archetypal tale of black urban woe. The trouble is the story he's currently regurgitating is of a black youth who gets into a fight on a night bus.
The production revolves around a tremendous performance by Kene himself that blends comedy and drama, rap alongside reggae, signifying with authenticity, spoken word against visual images, and love versus hate. There are two worlds in the play – one is the fictional world that he creates for the entertainment of others that is recounted in verse.
In performing this part Kene demonstrates that as well as being a Charlie Kaufman-esque playwright he also has the voice of a pop star. Often Misty feels more like a night in an intimate club than an evening at the theatre. The other more realistic world, told mainly with spoken dialogue, much of it comedic, depicts Kene the artist in strife, but it's a broken reality where nothing is quite what it seems, for one thing, why the Dali is this protagonist's older sister played by a little girl (Rene Powell)?
Kene is on centre-stage throughout, accompanied by two huge cinema screens sat ajar to one another. On a couple of occasions, the two musicians – Shiloh Coke and Adrian McLeod, positioned either side of the stage providing an awesome percussion score – will enter behind the main backlit screen to play his friends, a chef and school teacher, who disapprove of Kene's latest production and worry he is becoming another artistic who only works in the black trauma niche, successful only because it's palatable to the white mainstream. Intriguingly we never see the presumably white characters in person, such as the hotshot producer and agent; we only hear their voices which has the effect of making them both godlike and immaterial. But which are they to Kene?
Credit must go to director Omar Elerian and designer Rajha Shakiry for creating the impression that we are inside the mind of Kene aided by great use of blood coloured balloons. If this play alienates any group, it's those with globophobia. Kene's influences and doubts result in a type of theatrical Cubism, a mix of African traditional cultural language style with Western methods that have merged to become abstract, absurdist and enthralling.
Until 21 April (bushtheatre.co.uk)
Register for free to continue reading
Registration is a free and easy way to support our truly independent journalism
By registering, you will also enjoy limited access to Premium articles, exclusive newsletters, commenting, and virtual events with our leading journalists
Already have an account? sign in
Join our new commenting forum
Join thought-provoking conversations, follow other Independent readers and see their replies