The Independent's journalism is supported by our readers. When you purchase through links on our site, we may earn commission.
10 best hybrid smartwatches
Get the best of both worlds with some wristwear that's smart and stylish in equal measure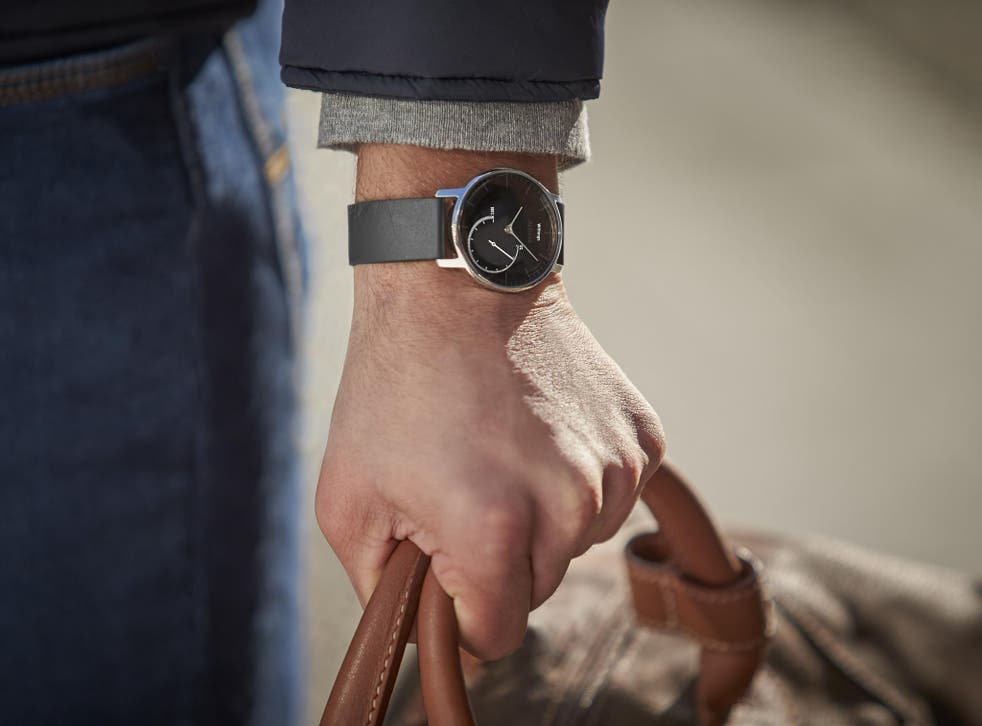 Not everything Silicon Valley throws as us is lapped up eagerly by consumers. Take the smartwatch, for example – didn't quite capture anyone's imagination. Tech companies have infused their best gadgetry with fashion and sports labels in recent years to attempt to offer a more style-conscious smartwatch (see the Apple Watch Nike+ and the Tag Heuer Connected). These, however, are let down by a simple fact: having a blank screen on your wrist remains a hard style-sell. An loud smartwatch still raises eyebrows as to why you're wearing one.
Enter the hybrid smartwatch, its discrete cousin.
These devices offer a traditional watch face with hands moving around a dial, with some smartwatch features hidden away. They'll either track your fitness and activity, or send push notifications to your wrist, or both via Bluetooth connection to your mobile phone, but with a fashionably light touch.
There's a range of options on the market at various prices, ranging from Swiss watchmakers' offerings to fashion label concepts to tech company styles. If you like the idea of a smartwatch but still want your timepiece to tick, then these may be for you.
Alpina Seastrong Horological smartwatch: £575, Jura
The Alpina is a wonderful mix of everything you want a horological smartwatch to do. Firstly, it looks bold but beautiful – with a striking yet simplistic face, it's chunky on the wrist but not cumbersome.
The watch runs on a battery, which lasts longer than most hybrid smartwatches (around four years with no charging necessary) and features an MMT-282-1 movement. The watch syncs with your device manually through a push of the crown (a slight drawback, but it means you'll check your stats frequently) and sets the time from whatever it is on your phone through the connected app MMT-365. This app allows you to set-up other time zones and notification preferences, and also track your fitness with a SwissConnect Gym app (although if you wish you can also track your active minutes and steps through the MMT-365 app).
The dial window of the watch is scratchproof sapphire crystal glass, and the rubber strap is durable – it will also track your sleep. You can set a number of sleep cycle alarms, gently beeping you awake at the most appropriate time of the cycle, while making sure you're awake when you need to be (you can set this time). We found it made waking up much less of a struggle.
The notification system is simple and effective – when you get a text or a call, the Alpina hands will gently vibrate once and turn to the relevant symbol at either 10 or 2 on the watch face (6 and 8 are for activity and sleep alerts). This system is clever and effective – no flashing lights or huge attention drawn.
It's a wonderful mix of everything you could want from a hybrid smartwatch. Comes with a two-year warranty.
Nokia Steel: £120, John Lewis
The Nokia Steel (formerly Withings Steel) offers activity and sleep tracking and alarms in a surprisingly punchy little package for just under £120 – the cheaper end of the hybrid scale.
This quartz movement watch tracks activity through the Health Mate app, which is very detailed and easy to use. You can log nutrition through the connected MyFitnessPal app. You can also log different types of activity, such as swimming (it's water-resistant up to 50m).
The Nokia looks very sleek and smart on any wrist, and the black rubber sports strap it comes with is ideal for exercise, if not quite spectacular for more formal occasions. (But worry not, a range of available straps at £45 a piece.)
One small drawback is that the double-domed glass dial window isn't completely scratchproof, so you may want to be careful with the device and there is no heart-rate monitor.
You can set sleep alarms to wake you, although there are no push notification systems. The battery will last you eight months.
Mondaine Helvetica 1: £650, John Lewis
The Mondaine Helvetica 1 smartwatch offers activity tracking on a watch that feels luxury, what with the soft, comfortable leather strap and the anti-reflective sapphire crystal glass dial. It feels no heavier or bulkier than a regular "dumb" watch, which is a plus.
The quartz mechanism watch comes in a range of colours and styles but what it does not offer is an expansive range of functionality. Unlike competitors, no effort is made to provide notification services via vibrations, moving hands or a chyron on the watch face, this opts out of giving you any notifications whatsoever. Given our phone is always in our pocket, we didn't miss them, however we know they are important to some and can be found on similarly priced competitors.
It will, however, track your activity and does so very well. It distinguished between a gentle walk and moderate exercise easily and syncing with the app was relatively painless – simply a press of the crown as you check your stats.
You can adjust what you want the second dial to display through the app (we opted for the date and activity progress) and also set up a second time zone to check up on with a triple press of the crown.
The sleep cycle alarm was also a huge selling point, probably the best of those we reviewed – it always woke us at a natural point in our cycle.
The main drawback is the price. You'll have to pay over £600 to own one. Made in Geneva to a luxury specification, it's certainly for larger budgets, but in a market filled with smartwatches that promise a world of features that rarely come off as planned, it's so refreshing to see one that excels at everything it claims to.
Fossil Q Accomplice: £115, Zalando
The Fossil offering packs a lot of tech into a sleek, stylish watch at a reasonable price.
Notifications arrive to your wrist with a gentle buzz and your physical activity is tracked in steps, distance and estimated calories – but not in active minutes and heart rate as some competing devices offer.
The Q app interface is simple to use and syncs data automatically. It also offers a range of different features from your wrist – you can use the watch as a remote shutter for your camera to take selfies from distance. You can call your lost phone with the touch of a button. You can control your music or other connected devices. You can set lifestyle targets, such as trying a certain amounts of new recipes per week, and allocate a button to adding one achievement to your tally. In practical terms we didn't see the use of the specific goals listed, but the option to customise lets you set your own scope. Tapping for the amount of times we went to the gym was a basic weekly reminder of frequency, tracked automatically through the app.
These need to be allocated to buttons and set up through the app, but they are neat and thoughtful additions. You can also choose to set a profile and link social media accounts if you wish to shout about your achievements online. You can also connect the app to the Google, Jawbone and Under Armour fitness app, if it is one of a number of devices you use to track health.
Battery life lasts four months with no charging required and the Quartz-movement watch comes with a two year warranty. The glass is not scratchproof, so you will need to be gentle with it, and the watch is waterproof to 3 ATM – effectively meaning it is splash-proof.
There are a range of different options in men's, women's and unisex styles.
Frédérique Constant Notify: £650, John Lewis
We sampled a version of the Notify range for women, which was beautifully crafted (it's also available for men).
The stainless steel strap (gym-goers may opt for the leather or rubber versions available) of this watch holds a decidedly elegant watchface in place, which is shielded by scratchproof sapphire crystal glass, waterproof to 3 atmospheres.
The watch offers activity and sleep tracking, sleep alarms, and notifications. The notification system works exactly the same as Alpina's – a gentle buzz as the hands point to the correct symbol, operating through the MMT-365 app, which boasts all the same fitness insights, dynamic coaching and personal messaging system (should your contacts also boast a MMT-365 connected watch). While the fitness tracking software will log active minutes, there is no heart-rate sensor (an admittedly non-existent feature in most).
We never experienced any problems with connectivity and with the app, made by MotionX. This is a beautifully crafted watch, as you'd expect from that price tag.
The MMT-281 Connected movement will run on a battery for an impressive 25 months, no charging required.
Misfit Phase: from £125, Misft
This is a very pretty device. It's not too bulky for exercise or dressing up, and there's nothing offensive about the design. The case is made of quality materials – satin aluminum and stainless steel – and is waterproof to 5 ATM, meaning you can take it underwater.
And the exercise features are where this device shines. It'll track your steps and distance and you can swim in the pool with it. You can choose between a range of activity types to add in your minutes manually, or simply tap a button to activate activity mode and begin tracking with the accelerometer. It won't track your heart rate, sadly, but that's a big ask for the replaceable CR2430 coin cell battery, which you can expect to last up to six months.
Another tap of the same button can call your phone, take a selfie, play and pause music or control other smart devices in your home, depending on the mode you choose in the app. It's a bit flashy and a bit much, but it's a quirky and endearing addition.
You can set alarms as you'd expect, or sleep cycle alarms which effectively work to "wake you up on the right side", as Misfit puts it.
Notifications and alerts arrive with a colour-coded vibration – a handy feature so you can tell your WhatsApps from your texts. It takes a little while to get used to a rotating colour wheel instead of an LED, but it's more subtle and, we think, more pleasant.
If you're looking for an activity-oriented device with notification capabitilies for under £150, without having to charge it every night, this is the device for you.
The Phase also comes in a range of styles and straps (individually £15, multipack £50). The rubber strap the device we tested arrived with was certainly comfortable for exercise.
Garmin Vivomove: £140, Garmin
This is an activity-oriented hybrid smartwatch and, as you'd expect from Garmin, it's got a lot of metrics for you to peruse.
You're greeted by two bars on the watch face, behind chemically strengthened glass. The left one fills as you progress in your daily activity, while the red one fills as you remain inactive, reminding you to get on your feet. The bar will only deplete if you walk around for a few minutes. It's useful, but can also turn into a condemnation of your sedentary office job, especially if you can't find an excuse to leave the desk.
A nice feature about the step-counting activity tracker (albeit with no heart rate monitor) is that it can automatically set and adjust your goals. The Garmin Connect app can also link to popular calorie counting apps like MyFitnessPal and input your activity automatically, meaning you don't have to guess how long you've been running or calculate your KCal output. There's an almost dizzying array of metrics available following a manual sync, but they're all tracked by the device automatically. You can also link up up other Garmin devices through the app.
The Vivomove also monitors your sleep, tracking total sleep and periods of restful sleep or fidgeting. However, a major oversight is that you cannot set a sleep alarm. Or, in fact, any kind of alarm.
The build quality of the device is sound and while the sport version we reviewed (£139.99) came with a silicone strap ideal for activity, you can also order a classic version with a leather strap (£179.99) or a premium version with a stainless steel case (£239.99), all of which are waterproof to 5 ATM. The battery will run for around a year.
Tommy Hilfiger TH 24/7: from £182.22, Amazon
If you're buying a Tommy Hilfiger watch, chances are it's for brand value and style, which comes in buckets. The face is bold and chunky, but not overbearing, while the leather strap is wide, comfortable and durable, with a lovely branded detail sewn on the end. The dial window is made of glass, which looks good but may be prone to scratches.
There's no heart-rate tracking, but there is a basic step count tracker, and notifications arrive with a buzz, including calls and messages. You can cycle through messages, deleting with one button and reading with another. Via the on-face chyron, you not only see the person messaging, but the whole text too. It's a system that works well. The app also lets you customise notification vibrations for different apps. When not active, this screen discreetly blends with the rest of the face.
There is no sleep tracking and no syncing with other health apps, which were definite limitations for a £200 smartwatch. But if you're happy paying in that region for a fashion statement with a decent notification system and step counter, then this a great option. There are a few different styles available presently, however you'll be stuck with the stock straps and men's styles only.
The quartz movement watch is waterproof to 5 atmospheres (ATM) and comes with a two-year warranty. You will have to charge this gadget via a USB link, and can probably expect a full charge to last you three to five days.
Timex IQ+ Move: £150, Timex
The plus sides to this watch are immediately apparent – if you're after a watch with looks, it's gorgeous. The face is sleek and the activity scale looks like a traditionally embedded chronograph in the watchface. The leather strap version we used felt a little squeaky but sat comfortably on the wrist during both rest and exercise. The brass case feels light but not insubstantial. The dial window is made from mineral glass, but isn't scratchproof, which is a slight disappointment.
A push of the crown button activates a backlight, which is useful in the dark. Holding it for a few seconds with the app open (until you hear beeps) starts the data transfer. This is a bit elaborate for this kind of process and could do with being simpler. The app itself gives a functional display of your sleep and step data. You don't get as much detail as with, say, Garmin's, but it does what it needs to well. Timex should get credit for building its own app, too.
The step counting is accurate and the distance counting can adjust for your height and stride manually in the app, while the sleep tracking also felt pretty accurate. You won't get active minutes or heart rate data, sadly. You can also set alarms and timers through the app, requiring a sync, but they aren't sleep cycle-based. They beep you awake as there's no vibration function. There's also no notifications function, which may be a deal-breaker for some who want a smarter hybrid watch.
And that's pretty much the toss-up – it looks gorgeous and feels authentic. However, those looking for a smarter experience in the same price bracket would probably lend themselves to the Nokia – as long as they're willing to part with the designer aesthetics.
The IQ+ range is also large, there's a range of styles for different tastes and a formidable strap collection in metal, silicon, fabric – you name it – ranging from £15 to £25. The watch is water resistant up to 50 metres.
Hugo Boss smart classic: £349, Hugo Boss
The Hugo Boss Smart Classic is a beautiful men's hybrid smartwatch. If you're buying it, that's probably a fair chunk of, if not the entire reason for the purchase.
The OLED screen blends well and you wouldn't notice it at a glance, only up close. The stainless steel, tinted rose-gold case sits nicely on your wrist. The leather strap feels durable and comfortable, and the case is waterproof to 3 ATM or 30 metres (you may damage the leather, though).
The quartz movement is adjustable via the crown on the side, not through the app, and again, the glass is not invulnerable to scratches which, at £350, is a slight disappointment.
A HP and Movado collaboration, the Boss watch excels at giving notifications that you can customise in the app. While the step tracking is basic, the custom options for things like calendar alerts and favourite contacts are impressive and the most varied we experienced. You can customise vibrations and read texts on the go, as per the Hilfiger option.
However, like the Hilfiger, this watch needs charging and does not sync with other prominent health apps. The automatic syncing itself worked well, though.
Unlike many of the others on the list, Hugo Boss doesn't offer any other design options.
The Verdict
It really comes down to personal taste, as with all things horological. If you want a high-end option, the Alpina, Mondaine and Frédérique Constant offer quality in spades, with the only separating significance being style and notification preferences. If you don't want to pay too much, then the Nokia offering is a tremendous all-rounder, while other fashionable options perform similar functions in the same price bracket. But for our preferences and the money, the Alpina was the best value option in a device that'd serve you well for years.
Register for free to continue reading
Registration is a free and easy way to support our truly independent journalism
By registering, you will also enjoy limited access to Premium articles, exclusive newsletters, commenting, and virtual events with our leading journalists
Already have an account? sign in
Register for free to continue reading
Registration is a free and easy way to support our truly independent journalism
By registering, you will also enjoy limited access to Premium articles, exclusive newsletters, commenting, and virtual events with our leading journalists
Already have an account? sign in