The Independent's journalism is supported by our readers. When you purchase through links on our site, we may earn commission.
8 best running watches for GPS, fitness tracking, music and more
For feature-packed tech that'll keep up, look to Garmin, Fitbit and more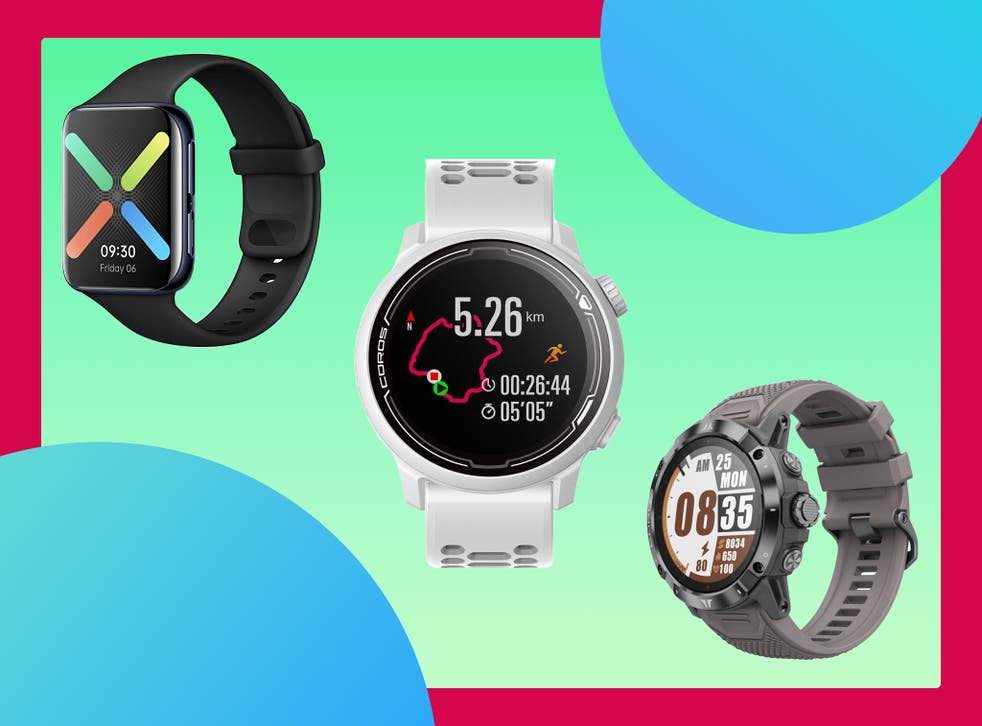 By its very nature, running is about progressive, incremental improvements, and there aren't many better ways to track your outdoor activity than a good smartwatch.
There are a few ways running watches differ, however, from what you may understand to be smartwatches.
Firstly, they are focussed on health and activity tracking more than they are on productivity, messaging and calls.
They also tend to have their own specific apps, and aside from the Apple watch and the Oppo watch we've featured, largely concentrate on keeping physically fit, with heart rate monitors, oxygen level sensors and GPS tracking as their primary features.
They also tend to concentrate on features such as long battery life and wearability whilst running, so are quite lightweight as well as well designed to be comfortable during physical activity.
Read more:
How we tested
We tested these watches over a period of two weeks running our normal road routes, with perhaps a weekend of trail running thrown in for good measure. We also tested in general use on days we weren't running or doing another sport like hiking, for example, to see how they fared away from exercise.
GPS tracking, physical measuring and battery life were all taken into consideration, as well as how comfortable the watches were to wear over long periods of time. Here are our favourites.
The best running watches for 2022 are:
Running watches FAQs
How to choose the best running watch for you
Size is one of the factors to consider first. Some of the bigger GPS adventure watches that also track running can be quite large, so we've included some smaller options in our round-up list here.
Also, consider the type of running you'll be doing. If it's road running or casual running around the park, most of the affordable options will be perfectly adequate for you. But if you want to get into trail running or venture into the world of competitive running, we suggest going for a running watch that provides you with a few more statistics on which to measure yourself against.
What is the best watch for running?
Overall, we found that it largely comes down to personal preference in terms of size, weight and wearability, but our favourite and the best in test was the Coros pace 2 (£179.99, Decathlon.co.uk).
There are two main reasons for this – firstly the low weight means it's comfortable to wear for long periods, and secondly the price is very affordable for something that provides excellent accurate tracking (as good as some of the more premium watches).
It's a shame it doesn't really feature any navigation, but it doubles up as an excellent triathlon watch too, should you need it, which again is a great feature for the money.
Are running watches worth it?
Although some of the better running watches out there are a considerable investment, there are some excellent budget and value for money options that do most of the basic things the premium models do.
If you're dedicated to running as your primary mode of exercise, we would strongly recommend a running watch. They allow you not only to track your progress, but often give you considerable insight into your overall health, how you can improve your cadence, for example, and how fast you're likely to run a certain distance so you can see how you're improving over time. For fitness fans, we think it's one of the first purchases to make.
What is the most accurate GPS running watch?
In our testing we found that the most accurate running watches tended to be the models that were marketed more towards adventure and travel. They had pinpoint accuracy, no latency when it came to updating your position and found accurate GPS satellite signals quickly. That being said, these devices do also tend to be bigger and more expensive, so it's worth trying a few to see what kind of compromise you're happy to accept.
What do running watches do?
As we've already mentioned, running watches measure physical performance and activity primarily. They include features like heart rate monitoring, stride length, GPS tracking and oxygen level sensors to ensure you're tracking your running progress. Where they differ from smartwatches is that they are less inclined to be focused on taking calls, messaging and social media, and instead look at providing updates on running performance to help you get the most out of your exercise sessions.
Can I leave my phone at home and use my running watch?
Yes – you can absolutely leave your phone at home, and when you're back from your run, the Bluetooth on the watch will connect itself back up again and sync your data to the watch's app on your phone. This tends to happen on most devices pretty automatically, and on many watches, you can also sync up music and wire-free headphones, which means you've got a pre-made running playlist stored in the memory of your running watch. Very useful!
The verdict: Running watches
For the balance of price, weight, comfort and its ability to successfully track runs with accuracy, our best in test was the Coros pace 2. It may not appeal to everyone, but we particularly liked the dimming of the backlight to extend battery life, and Coros's trademark GPS ability, which we found was incredibly accurate on this model and the vertix 2.0 also included in this list.
For pure value for money, we rated the Fitbit charge 5 fitness tracker for running. While for more premium, adventure or competition-style trail running, climbing or off-the-beaten track activity our money would probably be on the Garmin fenix 7 for the brand's history and attention to detail.
Voucher codes
For the latest discounts on smartwatches and fitness tech, try the links below:
To keep your running gear in tip-top shape check out our choice of the best running shoes for women
Register for free to continue reading
Registration is a free and easy way to support our truly independent journalism
By registering, you will also enjoy limited access to Premium articles, exclusive newsletters, commenting, and virtual events with our leading journalists
Already have an account? sign in