The Independent's journalism is supported by our readers. When you purchase through links on our site, we may earn commission.
Wines of the week
The Christmas wine gifts you should send this year
From robust reds to sparkling oddities, Terry Kirby provides some much needed festive cheer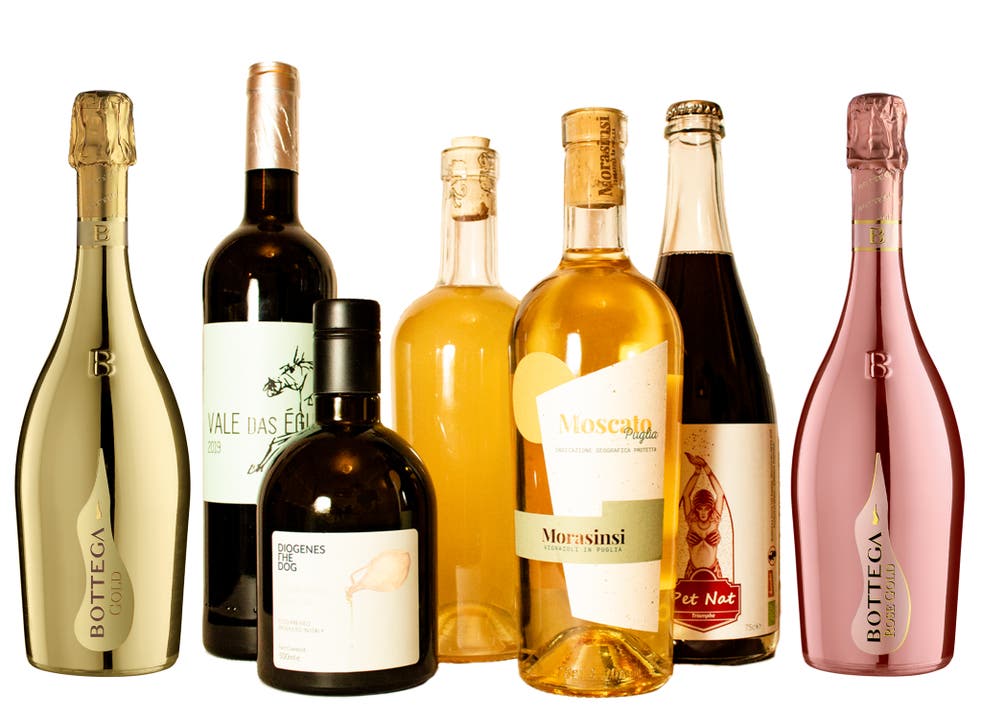 Christmas is going to be a bit weird this year isn't it? Much of our shopping for gifts is going to be online, by choice or circumstance and whether and how we will be able to meet up with family and friends to share presents, food and perhaps some fine wines, remains deeply uncertain.
Buying gifts for wine lovers is, however, one of the things we can do well and the wine trade is highly geared up for ordering online and delivering. Although as we get closer to Christmas itself, there will be an inevitable last-minute rush ahead of last-order deadlines and you may find some outlets run out of your favourite wines. So, with early orders in mind, what gorgeous gifts are available for wine lovers?
As in in previous years, I'm very happy to recommend the £40 lifetime membership of the brilliant Wine Society, a one-off payment which give access to an extraordinary range of wines as well as their benchmark Society and Exhibition ranges,  fine examples of classic styles from around the world. There is also a good range of gift packages and specially put together cases, such as their Wine Champions of 2020 (£99 for 12 bottles, thewinesociety.com) which would also be a great standby case for Christmas and includes lovely bottles such as the exceptionally good value Portuguese red, the Crasto Douro 2018 (£9.95 winesociety.com) an excellent all purpose robust red.  
Almost all the online wine companies, such as Laithwaites and Virgin and the high street retailers like Waitrose and Marks & Spencer have their own ranges of gifts and special offers at Christmas, usually glossily packaged with glasses, chocolates etc. But a simple good bottle in a nice wooden box can also work very well and among their various gifts, Tanners have a boxed magnum of Rioja Vega Crianza (£25 tanners-wines.co.uk) a lovely, smooth, velvety, vanilla-inflected traditional Rioja from a very reputable producer that would match any roasted meats or game over the festive season, while the large magnum helps to make a meal a little bit more special.  
While the toll on the hospitality trade has been truly terrible, one of the fringe benefits of restrictions since March for stay at home wine drinkers has been the moves by largely on-trade suppliers like Jascots and some restaurants such as Hakkasan to make their wines available to the public. Now television chef and fish expert Rick Stein, forced to close his Cornish restaurants during the current lockdown is having a "clear the cellar sale" of cases of wines curated by his son Charlie Stein; details can be found at rickstein.com and they would make a great festive present, particularly for someone who may have enjoyed some of these wines in one of Stein's restaurants. They include wines such as the lovely benchmark, plummy fresh black fruits of the Kaiken Classico Malbec 2018 (£12.50 rickstein.com).
If you are looking for something a little more cutting edge, then hip south London wine bar, deli and shop Diogenes the Dog (no, I don't know why it's called that either…) is now also making its quirky individual wines available for delivery nationwide. An £85 gift pack includes a terrifically punchy but relatively conventional red from Portugal and an orange Moscato from Puglia in southern Italy, which is also the source of a decidedly cloudy, unlabelled and very natural Harvest1 Field Blend (£14 diogenesthedog.co.uk): an unknown mix of grapes, grapefruit and lemon flavours and a touch of spice – exotic, delightful and easily drinkable; and then there is the remarkable Pet Nat Triomph/Pinot Noir (£20.40 diogenesthedog.co.uk) a lightly sparkling, very dry biodynamic red from the wonderful Ancre Hill Estates in south Wales, which I wrote about a year ago here, which is a lovely and unconventional aperitif. And the gift package, which includes some olive oil, would make a great introduction to orange and natural wines for the uninitiated.  
Talking of sparkling wines, we all need a little sparkle in our lives these days and there are, of course zillions of gift packs out there, often with champagne glasses and truffles included. So, here are two slightly more off the wall choices, guaranteed to be talking points, whether it's going to be over Zoom or in person.
So firstly, a sparkling wine whose USP is that it is made and stored entirely in the dark – about which one might raise an eyebrow if it were not for the fact that there is some evidence to suggest that wines stored in the dark can sometimes taste better than those treated in conventional ways – certainly a literally blind tasting I did in a cave in France last year did support some of that theory – and the Radgonske Gorice Untouched by Light (£83.33 glassofbubbly.com) is certainly an interesting experiment. Made in Slovenia – where they do make lovely wines and by a company with a long history of sparkling production – using chardonnay grapes picked at night and bottled and stored in complete darkness in a deep cave, with everyone involved using night vision glasses. 
The wine is bottled in a black lightproof bottle and sold in a sealed vacuum packed bag, keeping out light and air. It is recommended that you drink it in the total dark, which, based in my experience in French cave can be a bit, er, tricky. Does this extraordinary effort yield results?
Well, yes, it's a lovely creamy, intensely citrus wine, light and bready, with bags of individuality. And it's certainly a more interesting present than a bottle of standard label champers bought in your local high street.
Now from black to bling with the golden bottled Bottega Gold Prosecco (£17.99 simplywinesdirect.uk;£20.95 thewhiskyexchange.com); or the bright pink spumante rose version Bottega Rose Gold (£20.85 masterofmalt.com; thewhiskyexchange.com) both, which are also available in gift sets with glasses, are perfectly fine sparklers: fresh and enervating and with the fun factor ratcheted up by the packaging and a perfect present for prosecco addicts. I'm not going to be cynical or snide here – it's Christmas after all. Trust me, some of you will be listening to your Mariah Carey albums and what could be more Mariah than a Gold prosecco bottle. And folks, do we need some fun…
Register for free to continue reading
Registration is a free and easy way to support our truly independent journalism
By registering, you will also enjoy limited access to Premium articles, exclusive newsletters, commenting, and virtual events with our leading journalists
Already have an account? sign in
Register for free to continue reading
Registration is a free and easy way to support our truly independent journalism
By registering, you will also enjoy limited access to Premium articles, exclusive newsletters, commenting, and virtual events with our leading journalists
Already have an account? sign in
Join our new commenting forum
Join thought-provoking conversations, follow other Independent readers and see their replies