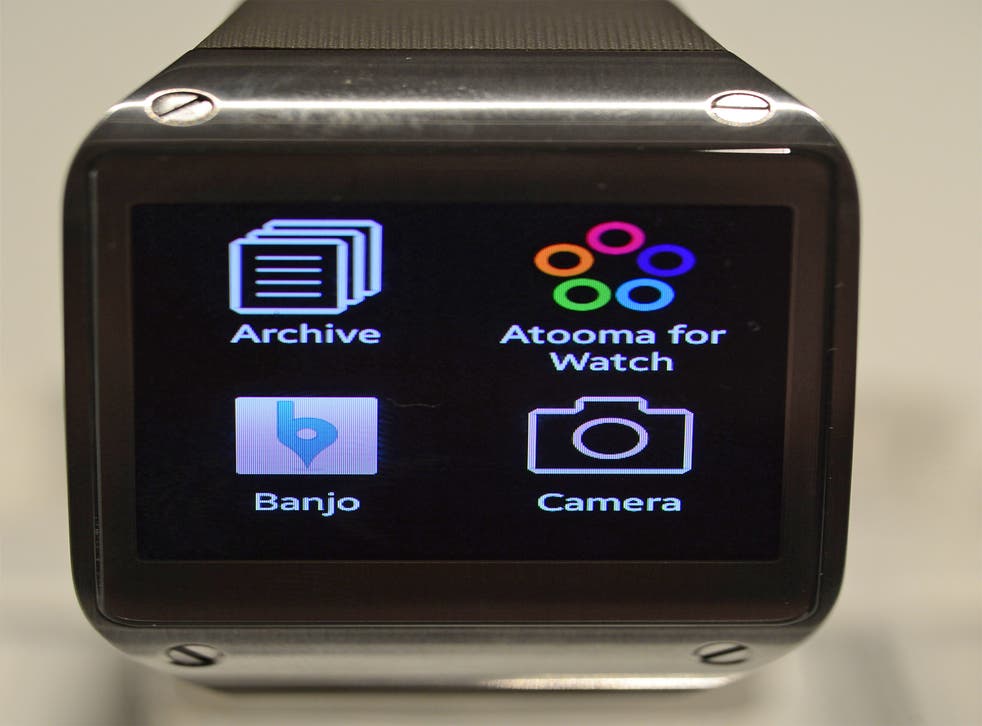 Galaxy Gear: Samsung unveils new smartwatch
The company believes its new invention will set a new trend in wearable tech
Smartphones, with their big screens and accurate clocks, have been blamed for the failing sales of wristwatches. But on Wednesday in Berlin, Samsung announced a gadget that, it hopes, will soon be decking those currently empty wrists - a smart watch.
Modern, appealing wearable tech took a step closer to reality when Samsung announced the Galaxy Gear. And the Korean manufacturer will hope it is paving the way for a whole new category of gadget with this invention.
Nobody puts on a show quite like Samsung. A hidden orchestra played highly effective background music, giant screens showed images of new products and, suddenly, black cloths fell away to double the screen size. JK Shin, Samsung's president and CEO, revealed this highly secret product in the most sideways of fashions: when talking about another phone, the screen showed an image of the smart watch as if by accident, proving it can put text message alerts and reminders on your wrist.
So far, the buzzphrase of wearable tech has been mostly limited to gadgets that are not on widespread sale, like the Google Glass headset that is turning out to be the most Marmitey of gizmos, inspiring strong reactions even from people who have never even seen one. Or the Apple iWatch which remains nothing more than rumour at present.
Smart watches could be a more palatable bit of kit than a glasses headset. There are already smart wrist bands like the Nike+ FuelBand which monitors your every step to encourage you to get fitter, but the new breed of smart watch will do much more and will work in conjunction with your smartphone or tablet.
Since big-screen phones like the Sony Xperia Z Ultra with its gigantic 6.4 inch display can be unwieldy, a smart watch will let you see who is calling without retrieving the glass slab from your bag. In fact, Sony is already working on this and releases its second smart watch this month after the first one failed to take off. Samsung will hope for better sales with its model.
The Galaxy Gear is a watch with a 1.63-inch bright touchscreen display and slick stainless steel frame. It allows you to make and receive calls (think Dick Tracy but with a brighter watch strap – actually there are six straps to choose from). Other smart watches do not do this and Samsung sees it as a real game changer. Whether anyone really wants to make a phone call by shouting into their wrist without donning a trenchcoat and trilby is uncertain.
With the Gear, the speaker and microphone are embedded in the strap so you hold your hand to your ear to make calls – though Samsung says you can move your hand wherever you like during a call.
The Gear cannot do any of this unless you have a Samsung smartphone that links it to the mobile phone network. When it is connected it can show incoming texts and messages, or remind you of upcoming appointments. It also uses S Voice – Samsung's voice-control app similar to Apple's Siri – so you can set an alarm, check the weather and more using voice commands.
A camera in the strap will take a photo when you swipe the screen. And the Gear has apps which add extra functionality to make sharing photos and messages easier still. A motion sensor means you can use it as a pedometer to monitor your activity. Samsung says it will change how we interact with each other.
There is no doubt that Samsung is now one of the most innovative and influential companies in the world, in any field, showing that it can execute advanced products faster than rivals and at lower prices.
Samsung has done what Apple likes to do: taken a barely established product category and made it approachable, attractive and even desirable. But how many people really want the innovations it so effortlessly delivers remains to be seen.
Hands-on verdict
For all the gimmickry of the presentation announcement, when you get your hands on the Gear, it's pretty persuasive. Light, sleek and highly tactile, the touchscreen is super-responsive. The camera is nimble and effective. When you're wearing it, it suddenly makes sense: it is alluring, comfortable and enjoyable. Will it storm the barricades? Maybe. And if it does not, it is clear that wearable tech is about to become mainstream.
The Gear will be launched on 25 September, no price has been confirmed.
Join our new commenting forum
Join thought-provoking conversations, follow other Independent readers and see their replies