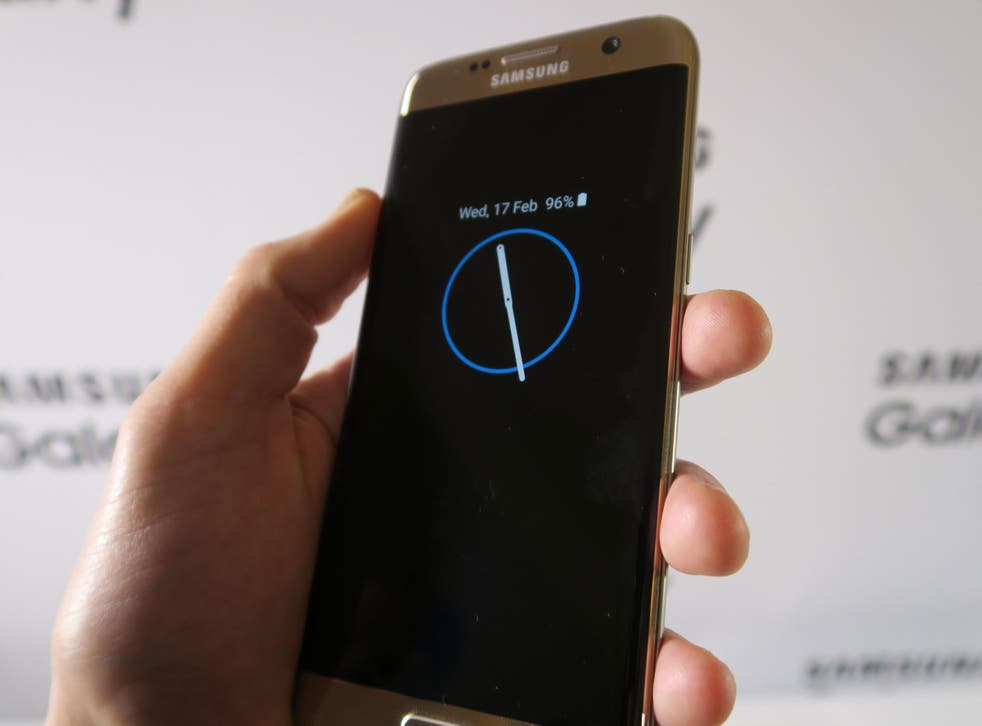 First impressions of Samsung's new Galaxy S7 and Gear 360 camera
The unveiling of the Galaxy S7 was the main event, but Samsung's 360-degree camera could be a game-changer
A few minutes ago in Barcelona, on the eve of the annual trade show Mobile World Congress, electronics manufacturer Samsung revealed its latest smartphones, which it really needs to be big hits this year. But the show stealer was the Gear 360, a golf-ball-like camera that could change how we make home videos.
The latest phones, called the Galaxy S7 and Galaxy S7 edge, follow last year's S6 series, which were the first Samsung smartphones with high-end materials and finishes, aimed at taking on Apple's iPhone.
Reviews were strong, but sales weren't quite good enough – even though the company still sold more phones than its rivals. This year's phones follow the same design language including the distinctive sloping-edged screen that gives the edge its name, this time improved so even the large screen (5.5 inches) on the S7 edge feels comfortable in the hand. The S7 has a smaller, 5.1-inch, screen.
Both have significantly but subtly improved their designs, with a more confident feel and softer-angle corners.
Both phones introduce handy features like an always-on screen that displays a clock so you don't need to wake the handset to see the time.
Since we all turn our phones on scores or hundreds of times each day to check the time, this is important. Samsung's screens are attractive, ranging from analogue to digital clocks and decorative effects. It won't affect battery life more than 1 per cent per hour. Samsung's South Korean competitor LG announced a similar feature on its new flagship, the G5.
Even so, the battery in each Samsung handset is bigger than last year's S6 counterparts and charges quickly (from flat to 50 per cent in 10 minutes). Wireless charging is still available, too, and though this is not a fast as a wired connection, Samsung promises it's speeding this up, too.
The phones have 12-megapixel cameras which boast very nippy autofocus and strong low-light capabilities. The pixel count, you may notice, is down from last year's 16 megapixels. However, Samsung points out that this time the sensor is bigger and so the individual pixels are bigger, too, and better at sucking in more light. Up to 56 per cent more than last year, Samsung says. Autofocus has been substantially sped up, too, looking near instantaneous in the brief tests I did.
And the new phones are waterproof. These are strong returns to form for Samsung and balance useful advances with pristine design.
Samsung also announced that it will launch its wireless payment system, Samsung Pay, in the UK and in Spain this year. Though no date was given, soon seems likely. It's already live in the USA and South Korea.
Samsung's system differs from Apple's because it works with any credit card terminal, not just contactless-enabled ones. Samsung Pay transmits a signal so non-contactless machines are spoofed into believing a card is being swiped though the system works with contactless machines too.
Meanwhile, there was the modest-looking Gear 360 camera. This is a small, spherical Virtual Reality (VR) video camera with a standard screw fit for tripods, though it has a mini tripod with it too.
It has two fisheye lenses facing in opposite directions. The idea is you can shoot your own VR movies. The two lenses capture video simultaneously which is then transmitted wirelessly to the S7 or S7 edge where software knits the two feeds together into one wrap-around movie.
You can view it on the phone (swiping across the screen to turn the viewpoint to reveal what's going on offscreen) or drop the phone into the Samsung Gear VR headset where the phone becomes the screen and you can view what's going on just by turning your head.
The headset is a clever accessory: some VR systems, like the soon-to-be-released Oculus Rift, require a high-end computer attached by wires but the Samsung headset eradicates this by relying on the Galaxy phone for the computing grunt, and high-resolution screen quality, to make it work.
The Gear 360, Samsung hopes, will revolutionise the burgeoning VR industry so that content is not limited to games and professionally-created movies. Holiday videos become more appealing if you can see the sea behind you and the beach in front just by turning your head.
The company showed the tech off with spectacular, if vertiginous, footage of skiing – offering the choice of scanning the terrain ahead or the sportsman preparing to set off. Recording wildlife was also radically changed by seeming to be surrounded by giraffes on safari.
Closer to home, it will be straightforward to shoot a cycle ride with more coverage than a GoPro can currently offer, or film a gig and really feel you're in the audience – assuming you're close enough to the stage.
And regular holiday videos would be transformed by the extra vantage points though, please note, this does not give carte blanche for recording long, tedious home movies. Nothing could make those acceptable.
This year it's expected that VR will take off, and Samsung's camera can only help with that, though it will need to be priced affordably to succeed. Virtual reality video at its best is completely immersive, almost overwhelming, so the prospect of more personalised content is appealing.
Rival LG yesterday announced its own VR camera, the LG 360 Cam, which offers a smooth way of uploading results to Google Street View. Expect more to follow suit – Apple CEO Tim Cook's recent hint that VR was exciting may mean Apple will be among them.
Join our new commenting forum
Join thought-provoking conversations, follow other Independent readers and see their replies