Tory Leadership race: Boris Johnson's hopes for top job come crashing down as Michael Gove plants the knife
Conservative Party in turmoil as head of Vote Leave campaign ends bid to be next Prime Minister and former ally makes shock late entry into race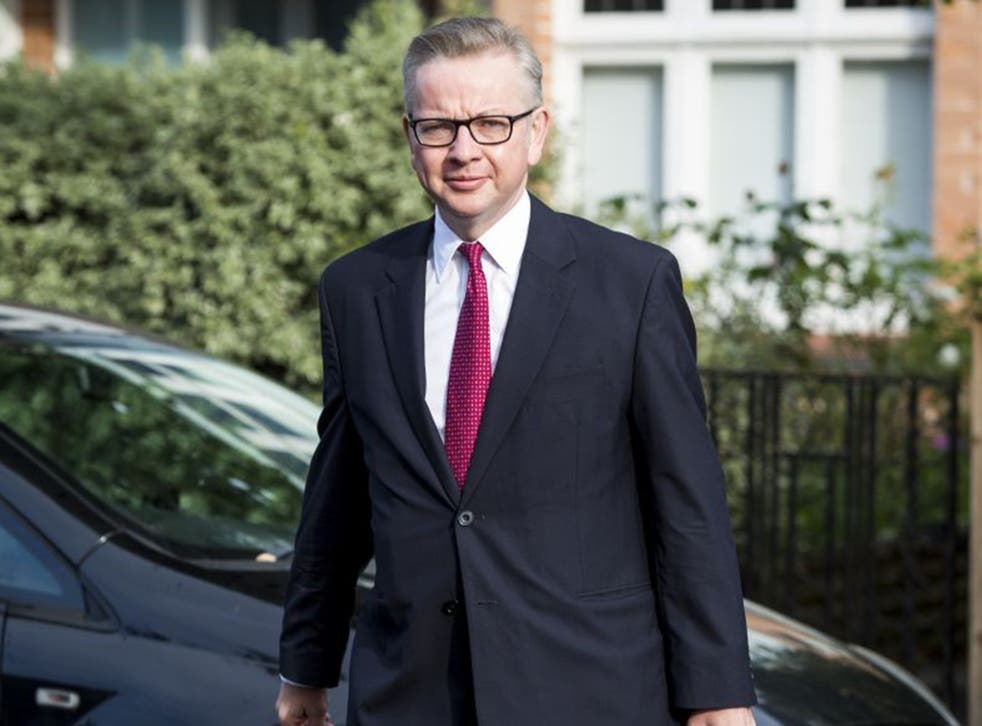 The race to Downing Street has been blown wide open, and the Conservative Party plunged into bitter infighting, as Michael Gove sensationally entered the Tory leadership contest, in the process disowning and denouncing his ally and fellow architect of Brexit, Boris Johnson.
In the latest day of astonishing political drama, the former London Mayor shocked the country by withdrawing from the Tory leadership race with minutes to go before the midday deadline for nominations. It followed Mr Gove's bombshell decision to run against him, announced just hours earlier.
Mr Johnson faced bitter recriminations for spearheading the campaign to take Britain out of Europe, only to abandon his longstanding ambition to succeed David Cameron – leaving another candidate to steer the country through the turbulent times ahead.
Mr Gove meanwhile, attracted the furious ire of some Conservative MPs for turning on Mr Johnson, whose campaign he had been expected to run.
The dramatic reversal leaves Theresa May the odds on favourite to become Prime Minister. Launching her campaign on Thursday morning, the Home Secretary said she was not a "showy" politician, that politics was not a "game" and pledged to be a Prime Minister "ready and able to do the job from day one".
Ms May backed remaining in the EU during the referendum campaign, but pledged not to go against the people's decision to leave. Saying "Brexit is Brexit", she committed to seek a deal that would end the free movement of EU citizens into the UK while retaining access to the single market for British goods and services – an ambitious combination that Brussels has already said will not be possible.
Setting out his own pitch on Friday, Mr Gove will pledge to seek a similarly ambitious settlement for Britain outside the EU.
Explaining his dramatic decision to enter the leadership race, Mr Gove said that he had concluded that Mr Johnson was not able to build a strong leadership team or create the unity in the party and the country required to be Prime Minister
"In the last four days I had a chance to see up close and personal how Boris dealt with some of the decisions we needed to make in order to take this country forward," he said.
"During that period I had hoped that Boris would rise to the occasion because inevitably when you have a leadership election, people are tested, questions are asked of them, tests are set. Boris has formidable qualities but I saw him seek to meet and not pass those tests.
"As someone who had argued consistently that we should leave the European Union, and as someone who is experienced at the highest levels in the Cabinet, I felt it had to fall to me," he added.
Mr Johnson, who despite being the favourite for Downing Street 24 hours ago, must now face up to a potentially fatal blow to his political ambitions, had been due to launch his leadership bid on Thursday morning.
But his stump speech at the luxury St Ermin's Hotel in Westminster turned into a shock withdrawal from the race. Pointedly referencing Shakespeare's Julius Caesar, he proceeded to set out a pitch for leadership only to conclude: "That is the agenda for the next Prime Minister of this country. But I have to tell you my friends, you who have waited faithfully for the punchline of this speech, that having consulted colleagues and in view of the circumstances in Parliament, I have concluded that person cannot be me."
His decision shocked even close allies. Speculation in Westminster was rife that, without Mr Gove's backing, Mr Johnson was not confident of attracting sufficient support from MPs or influential media backers to guarantee victory.
The drama led to fierce recriminations within the party. Former Deputy Prime Minister Lord Heseltine, who campaigned firmly for a Remain vote in the referendum, likened Mr Johnson – who first entered Parliament as MP for his old seat of Henley – to a general who abandoned the battlefield at the first sight of trouble.
Michael Heseltine lays into Boris Johnson
"There will be a profound sense of dismay and, frankly, contempt. He has ripped the party apart. He has created the greatest constitutional crisis in modern times. He has knocked billions off the value of the nation's savings," he told BBC 5 Live.
"He is like a general who led his army to the sound of guns and at the sight of the battlefield abandoned the field to the claims of his adjutant who said he wasn't up to the job in the first place. I have never seen such a contemptible and irresponsible situation. He must live with the shame of what he has done."
Mr Gove also came in for fierce criticism. Rossendale and Darwen MP, and Johnson supporter, Jake Berry tweeted: "There is a very deep pit reserved in Hell for such as he. #Gove".
While Mr Gove will stand on the same Leave campaign ticket as Mr Johnson planned to, there is no guarantee he can count on the support of the 100 or more MPs who had been expected to back Mr Johnson. One senior MP told The Independent that Ms May, or the other leadership candidates Andrea Leadsom, Liam Fox, and Stephen Crabb, would be beneficiaries as Mr Johnson's supporters "scrambled for lifeboats".
Register for free to continue reading
Registration is a free and easy way to support our truly independent journalism
By registering, you will also enjoy limited access to Premium articles, exclusive newsletters, commenting, and virtual events with our leading journalists
Already have an account? sign in
Register for free to continue reading
Registration is a free and easy way to support our truly independent journalism
By registering, you will also enjoy limited access to Premium articles, exclusive newsletters, commenting, and virtual events with our leading journalists
Already have an account? sign in
Join our new commenting forum
Join thought-provoking conversations, follow other Independent readers and see their replies