Manchester City 0 Chelsea 1 - five things we learnt including Eden Hazard is now 'top player' and Martin Demichelis could cost Manuel Pellegrini dear
Matic was even able to step up to Yaya Touré and match him for strength, speed and skill
Jack Pitt-Brooke
Tuesday 04 February 2014 02:00 Comments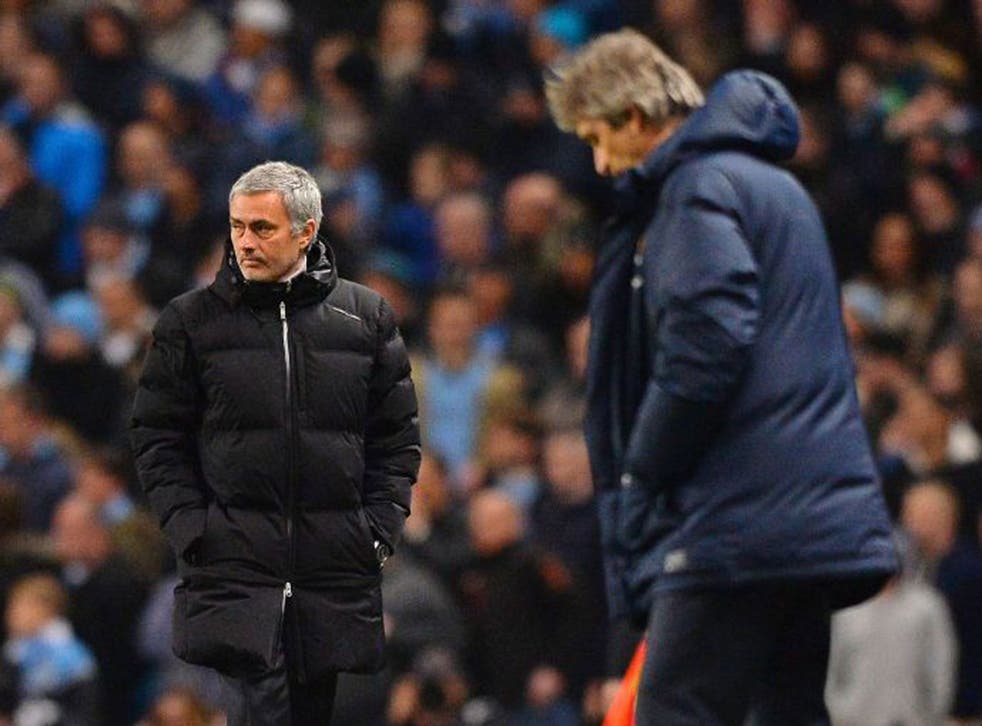 Hazard is now 'top player' Mourinho asked him to be
The two best players this season have been Luis Suarez and Sergio Aguero, but if Eden Hazard were to finish with a Premier League winner's medal, no one could possibly complain.
He must have been – with all due respect to Aaron Ramsey – the next best player in the league this season. Back in August, Jose Mourinho challenged Hazard to go from a "top talent" to a "top player", one who applied himself throughout 90 minutes and who embraced his defensive duties as well as enjoying having the ball at his feet.
Hazard did all of these things and more yesterday, devastating City with his movement from the left. He gave Pablo Zabaleta, arguably the best right-back in the country, his hardest game of the season. There are a few other players who have Hazard's pace but no one who can maintain such perfect control at the same time. He made the move for the first, cutting inside, running across the line and dragging City along with him.
Having to rely on Demichelis could cost Pellegrini dear
If it felt slightly gluttonous on deadline day for Manchester City to pursue Porto holding midfielder Fernando, it made perfect sense last night as City's dependence on Fernandinho was made desperately clear. Up until last night, Fernandinho and Yaya Touré had shown that a central midfield pair can still work in the Premier League if they have enough mobility, skill and intelligence.
Taking Fernandinho out of that pair, though, and replacing him with Martin Demichelis – desperately inferior in all three of those areas – undermined Manuel Pellegrini's plan. He was slightly unfortunate to be without Javi Garcia, who has dovetailed with Touré well this season, but did have Jack Rodwell and James Milner on the bench.
Rodwell is a risk but Milner, surely, would have been a better option than Demichelis. But it was Fernando whom City wanted last week and while it might not have felt important at the time, they could have done with him last night.
Manchester City 0 Chelsea 1: Player ratings from the Etihad

Show all 23
Matic looks a class act in the centre of the park
If this was an ominous sign of the future quality of Chelsea teams, with Hazard and Willian storming forward, it was just as true further back, with the rangy control of Nemanja Matic. The 25-year-old, preferred to Jon Obi Mikel and Frank Lampard, two veterans of Mourinho's first Chelsea team, was exceptional in central midfield. He was strong enough to win the ball back whenever City had it and stuck very tightly to David Silva, as City's creativity was stifled.
Matic was even able to step up to Touré and try to match him for strength, speed and skill – something that Marouane Fellaini tried and emphatically failed to do earlier in the season. He nearly put Chelsea two up when he clipped the post from distance in the second half. Whether David Luiz, his impressive partner last night, will be trusted by Mourinho in the future remains to be seen.
Preference for power and pace explains Mata's exit
Never has it been clearer why Mourinho decided to dispense with the very obvious talents of Juan Mata. Brilliant as Mata is, he is a gentle, delicate creator and this is a team built on the rather different qualities of the fast, muscular counter-attack.
In his band of three playing behind Samuel Eto'o, Mourinho chose three far superior athletes to Mata: the stamina of Ramires on the right, the strength of Willian in the middle and then the surges of Hazard on the left. Their plan, was to break quickly and get in behind. Even Oscar – far closer, with his scurrying speed, to what Mourinho wants than Mata – did not get on until the 83rd minute.
Chelsea are very much in the running for this title
For all of Jose Mourinho's suggestions that this was not a team built to challenge for the title, that second would be a real achievement for them this year and that they are only here to improve, this was a performance of the utmost credibility from Chelsea.
The last time City failed to score in a home league game was November 2010, during their worst run of a season in which they finished third. There can be no doubting the achievement of this victory in itself, never mind in the context of the title race, which is now in the balance.
Register for free to continue reading
Registration is a free and easy way to support our truly independent journalism
By registering, you will also enjoy limited access to Premium articles, exclusive newsletters, commenting, and virtual events with our leading journalists
Already have an account? sign in
Join our new commenting forum
Join thought-provoking conversations, follow other Independent readers and see their replies