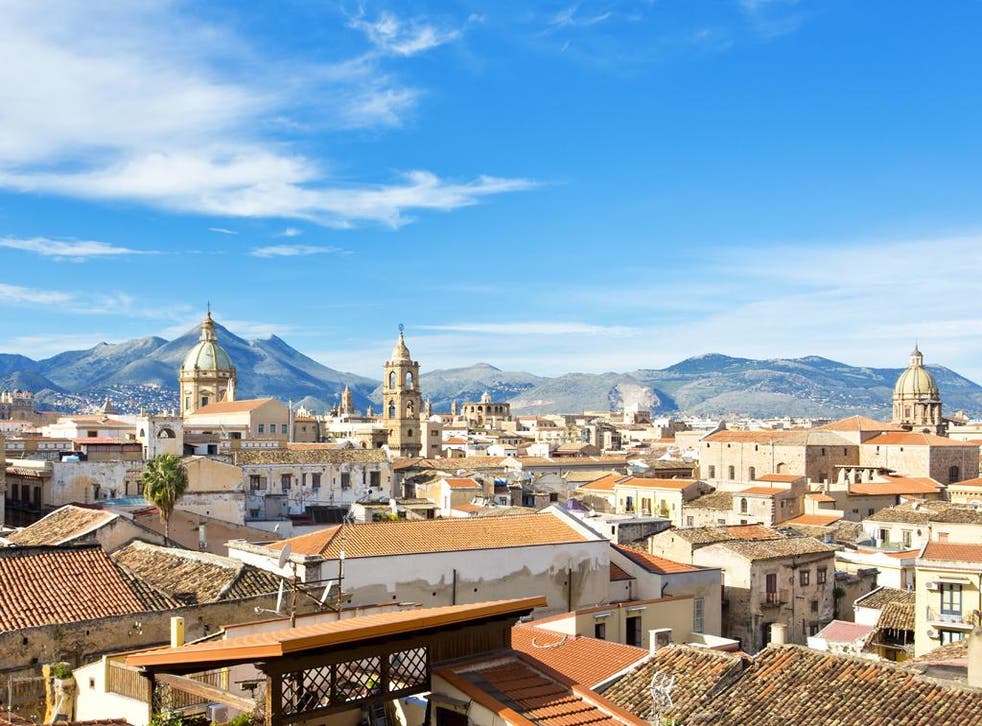 Sicily: a darkly romantic island
The Italian outpost has been influenced by a variety of cultures - no less complex than its history is its beauty
With no regard for safety and scant respect for convention, let alone the law, an unlit Vespa carrying three people roared towards us up a dark Palermo alley. Since the big trials of the Eighties and Nineties, The Mafia, they say, has been emasculated and trivialised. However, certain pirate habits of mind persist in Sicily.
Everything here is more deeply etched than the mainland. The Baroque is more Baroque, the wines are stronger, the volcanoes more active, the people more charming, the dolci more sweet, the despair more profound, the food better.
Sicily's greatest writer was Giuseppe de Lampedusa, a Shakespeare scholar who spoke English with an exquisite Oxford accent, but who never visited England. Lampedusa spoke of the violence of the landscape, the cruelty of the climate and the continuous tensions in everything. Worst? The terrifying insularity of mind.
Yet Sicily has been extraordinarily cosmopolitan. Muslims, Byzantines, English, Germans and Italians have all been colonisers, leaving a culture as rich as ricotta-stuffed cannoli. And this is what perturbed Lampedusa: Sicilians did not create that much of their own marvellous island. What the ancient gods started, Pythagoras, Hohenstaufens and the Royal Navy continued. During the Napoleonic Wars, Sicily almost became a British colony. Once, Attic Greek and Arabic coexisted here.
Personally, I have always been disappointed by the weather. I have been disappointed by Sicilian weather on every visit. "Experience shows that what happens is always the thing against which one has not made provision in advance" according to JM Keynes. On this latest trip to Sicily, it poured, it hailed, it thundered, it erupted. I swore because I was in shorts. We drove past sections of autostrada – in the Valley of the Artichokes – that had been washed away. But this was exactly as it had been on earlier visits and still I found the place enchanting.
Sicily is a huge, complicated island with iffy communications and it's scarcely possible to get a grip on its variety in a single visit, although Lampedusa's darkly romantic The Leopard should be compulsory reading for those, like me, who believe in ghosts and like to meet them whenever possible. Other preparatory must-reads are The Honoured Society (1964) by Norman Lewis, whose family imported the Leica into Britain and who virtually invented travel photo-journalism all by himself. Then there is Peter Robb's Midnight in Sicily (1996) – fitting its subject, it is splendidly Baroque and a little overwrought in places.
Between them, Lampedusa, Lewis and Robb, not to mention Mario Puzo, have given us an impression of Sicily where beauty, treachery, tragedy, death, corruption, guns, gardens, feasts and fleshy delights all battle for attention. This can be confirmed with a visit to Villa Tasca in Palermo, one of Sicily's great houses. Originally a hunting lodge, by the time Richard Wagner came to stay in 1881, it has evolved through layers of architectural accretion into a magnificent palazzo with an intense Gattopardo vibe. Inspired, Wagner wrote the third act of Parsifal here.
The property belongs to the Counts of Tasca d'Almerita, who are rightly proud of its extraordinary garden. Today's Beppe Tasca describes this as "English" but to English eyes it looks swarmingly exotic, with its dense planting of palms, aurucaria columnalis and the largest ficus in Sicily. In the grounds, there are little wrecked temples by Francesco Paolo Palazzotto. Concerts, you imagine, were played here, picnics enjoyed, seductions completed.
In the house, Baroque splendour and spectacular, melancholic grandeur. In several of these rooms it is possible to stay as a paying guest and a butler will serve you, making Villa Tasca the most exuberantly grand and glorious B&B imaginable. In our bedroom, while horizontal, I stared at a ceiling that was a superlative architectural trompe l'oeil fantasia, while Alex, the butler, tinkered with the prima colazione next door.
The Tasca family once made wine, but that declined as Palermo urbanised and encroached. Wine production moved to Regaleali, in the centre of the island about two hours' drive away from Palermo, mostly on very slow roads with potholes to swallow a truck. Here in the Casa Vecchia there is a cookery school and in the nearby Casa Grande there are other rooms where wine pilgrims can stay. The remoteness here is tangible, the silence ineffable and the romance intense. Rooms are off a rustic cortile dense with camomile in between the cobbles. You meet for an aperitivo and eat robustly in a solemn dining room.
And then the viniturismo offered by the Tasca family extends to the beautiful estate of Capofaro, Lighthouse Cape, on Salina. This is one of the Aeolian islands which includes Lipari and Vulcano, an hour and three-quarters' hydrofoil ride from Milazzo on Sicily's north-east coast, near Messina. A precipitous five-minute, don't-look-down drive from the undistinguished port of Santa Marina Salina brings you to the lighthouse.
Capofaro is part Malvasia wine estate, part resort.
The rooms are silently beautiful in the monastic-modern manner and Ludovico De Vivo's cooking is exceptional. I doubt I will ever eat anything more enjoyable than tartare de vacca modicana con uova di lumache madonita, crema di latter e capperi (Modican beef tartare with snail caviar, milk sauce and capers) or his polipo, carciofi, prezzemolo e panella soffiata (octopus with artichoke, parlsey and chickpea flower tortilla). Then there were the gamberi rossi crudi (raw red prawns) pasta with black "badda" beans and then... the wind got up.
The Tascas are developing the tiny island of Mozia, off the west coast near Trapani. Mozia was known to the Phoenicians, was once a part of Magna Graecia and is dense with precious debris: even today, you trip over shards of classical pottery not yet disturbed by archaeologists. And there are more ghosts: Dionysius of Syracuse destroyed the settlement in 397BC.
The strange little island sits in a tranquil lagoon called Stagnone, lined with windmills and salt pans and reached by a phut-phut boat of very ancient aspect and questionable reliability. But these are calm waters: until the Seventies, donkeys brought the Grillo grapes cultivated on Mozia through the knee-deep waters of the lagoon. Admiring the vineyard, we directed some Americans to the Necropolis, almost certainly condemning them to miss the last boat, took a moment to marvel at the Giovane di Mozia, a superb 5th-century kouros recently excavated, and returned to the landside for a bottle of lush Lamuri, Sicilian dialect for "love". The Tascas will soon have guest accommodation on Mozia too.
The wind god Aeolus having exercised his prerogatives, we left Capofaro two days early, since the hydrofoil services for the rest of the week were at risk. We had wanted to see the famous sunsets from Pollara, but Aeolus had other ideas. Still, there was time for a rushed lunch of crudo di pesce with several glasses of Malvasia. But this brought an advantage of finding two surprisingly excellent hotels.
The first was Shalai, Sicilian dialect for "joy". This was in Linguaglossa, the tourist centre for Etna visitors and a town of volcanic gloom. While I am normally diffident about the concept of the "designer" hotel, Shalai's optimistic brightness was a welcome contrast to the surrounding rain-lashed greyness. Fragments of frescos juxtapose generic spa-style modernismo, but we were not disappointed. We drank the Ciuri white from Etna and ate more raw red prawns and an astonishing dish of calamari cooked in a carapace of crushed fava beans.
Just outside the charming fishing village of Riposto we found Zash, an invented word meant to suggest I am not certain what, but suspect it tends to positivity. It is an old winery, artfully eviscerated by architects Antonio Iraci and Carla Maugeri. You are halfway between Etna and Taormina, with enchanting views of mountain and sea. The artfully neglected ochre exterior contrasts wonderfully with the re-purposed arches and vaults inside, with beautiful, intensely white bedrooms of lush minimalism. The pool house reminded me ever so slightly of Mies van der Rohe's Barcelona Pavilion.
So here I am, making these notes in a hut on the slopes of Etna where the charming agronomist from another Tasca estate, Domenico Dantoni, is explaining the vintages of his Tascante and Ghiaia Nera wines, each made from the nerello mascalese grape at Randazzo on Etna's slopes. Soon, there will be rustic guest rooms here too. We sipped and considered the luscious wine. "Is not Coca-Cola" he said. "It's delicous" I countered. "Essato" he agreed. Sicily, you see, is not a Coca-Cola island.
Travel essentials
Getting there
Palermo is served by easyJet (0843 104 5000; easyJet.com), British Airways (0344 493 0787; ba.com) and Ryanair (0871 246 0000; ryanair.com).
Staying there
Villa Tasca, 399 viale Regione Siciliana, Palermo (00 39 091 657 4305; villatasca.com).
Contrada Regaleali, Sclafani Bagni (00 39 092 154 4911; tascadalmerita.it).
Capofaro, 3 via Faro, Salina (00 39 090 98 443 301; capofaro.it).
Shalai Resort, 25 via Guglielmo Marconi, Linguaglossa (00 39 39 095 643 128; shalai.it).
Zash, 670 Strada Privinciale 2/1-11, Archi (00 39 095 782 8932; zash.it).
More information
Join our new commenting forum
Join thought-provoking conversations, follow other Independent readers and see their replies