The Independent's journalism is supported by our readers. When you purchase through links on our site, we may earn commission.
Best campsites in England 2023 for luxury and budget camping trips
Caroline Mills picks the best sites for pitching up in England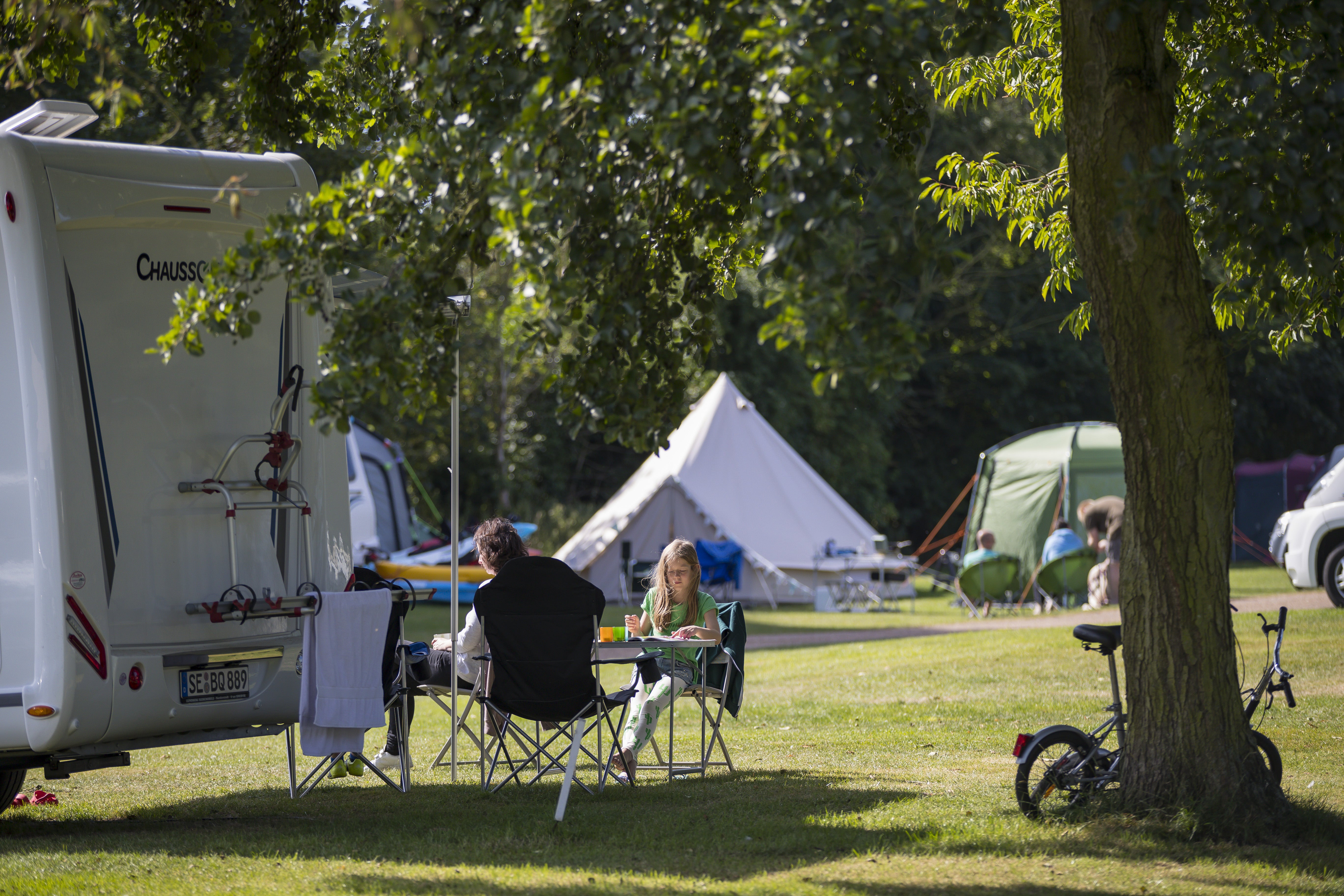 Staycations are here to, well, stay, and with temperatures in the UK set to hit above 30C this summer, a good old-fashioned camping trip is the ideal getaway for many, especially those travelling with family and friends.
After all, few other holiday experiences bring people together like camping. Maybe it's the teamwork needed for pitching up and getting organised, heightened by the freshness of being in the big ol' outdoors. Whatever the reason, there's no doubt that bonding with your nearest and dearest is best done beside a crackling campfire, beneath a star-dotted night sky, with a cold beer in hand.
The great news is we're spoilt for choice when it comes to camping in England, with rugged coastlines, woodlands and numerous Areas of Outstanding Natural Beauty all providing an idyllic backdrop to a camping trip.
Whether you're after cheap and cheerful or prefer to holiday in the lap of luxury, there's a wealth of open-air experiences on offer. From the far-southern coast of Cornwall and rolling hills of the Midlands, up to the lakes of Northumberland, here's our pick of the best campsites to pitch up at this summer and beyond.
The 10 best campsites in England are:
Best campsites in North England:
Location: Kielder, Northumberland
Few man-made attractions match up to nature's ability to create the finest features. Kielder Water and Forest Park are different. Nature has grabbed the opportunity and made this entirely manufactured landscape one of its own.
This forest campsite sits close to the northwest tip of a lake, and is three miles shy of the Scottish border. It's enclosed by trees, yes, but there are still glimpses of moorland. Within the Northumberland International Dark Sky Park, night views are of another world.
Location: Cumbrian Fells, Lake District
For a decent campsite view, it doesn't get much better than Castlerigg Farm near Keswick.
Tucked amid sheltering stone walls, the campsite sits on a Cumbrian fell, overlooking Derwentwater – and what feels like every other Cumbrian fell there is to see in the Lake District.
Location: Ripon, Yorkshire
You don't have to be mad keen on canoeing to stay here, but it helps. The chances are, even if you had no intention of performing a barrel roll in the River Ure when you arrive, you'll at least be dipping a big toe in before you leave. Plus, there are fishing rights for anglers.
The riverside campsite is conservation-friendly – you'll pass by bug hotels, swathes of wildflowers and bird boxes aplenty on your way to your pitch. This is a little slice of North Yorkshire heaven.
Best campsites in the Midlands:
Location: Buxton, Peak District
While walkers and climbers roam the rugged High Peak, Bank House Farm sits beautifully amid the lesser-known Staffordshire section of the Peak District. The landscape is soothingly gentle – you'll take a while to drink your tea while gawping at the views from the hilltop end of the campsite.
The diminutive River Manifold runs through the site, allowing alternative riverside pitches beyond wildflower-strewn banks. For safe cycling, the Manifold Way is an eight-mile cycle track that begins within a few yards of the campsite.
Location: Rowlestone, Herefordshire
In deepest, rural Herefordshire is Rowlestone Court. Here, blending in with the county's famous black and white houses is the monochrome herd of Friesian cows owned by the Williams family. Award-winning ice cream is made from the milk, and is sold by the scoop on site.
Camping on the farm is back to basics – essentially a field – but it's fabulous for kids. There's a large play area, a host of "secret dens" to escape parents, and a Woodland Adventure Trail.
Best campsites in East England:
Location: Houghton, Cambridgeshire
As agricultural architecture goes, Houghton Mill in Cambridgeshire is as pleasing to the eye as any – the soft brick and black weather-boarded structure straddles the glistening Great Ouse. The mill is owned by The National Trust, as is the neighbouring riverside campsite, where campers can even arrive by canoe.
There's a natural feel that fits the ethos of the NT, with wilderness areas and pleasant riverside strolls. Late-spring visitors have the added glory of cherry blossom to admire.
Best campsites in South England:
Location: Brockenhurst, New Forest
Don't be surprised to wake to the sound of grass-munching at Denny Wood, where New Forest ponies roam freely among campers. Denny Wood is one of several Camping in the Forest sites within the New Forest and is one of the prettiest.
There's an attractive mix of open, grassy glades and ancient, parkland-style woodland. And, without the trappings of 'mod-cons', such as electric hook-ups or sanitation facilities, guests – who must arrive in a self-contained unit, such as a campervan or caravan – can choose to pitch anywhere. Pick an ancient oak under which to slump with a good book.
Best campsites in South East England:
Location: Tonbridge, Kent
There's plenty of space from which to select a pitch at this campsite, which sits surrounded by arable farmland amid the Kent Weald. It's all rather Kentish, with attractive oast houses on site and apple orchards on the approach.
Within a couple of minutes' drive is the Hush Heath Estate, which makes notable sparkling wines. Tours of the vineyard and tastings coupled with lunch are excellent.
Best campsites in South West England:
Location: Polzeath, Cornwall
Never mind Surfin' USA – the good vibrations are in Cornwall. Polzeath is renowned as a surfer's paradise, including the HQ of one of the biggest surf schools: Surf's Up.
Within a longboard's length of the beach, in arguably the best position in the village, is Tristram. It may sound like the hip name of a surfer, but it's actually a campsite that overlooks Polzeath's wonderful beach. Only campervans and touring caravans are allowed here; tent campers stay at nearby sister site Southwinds.
Location: St Agnes, Cornwall
Camping at Beacon Cottage is rather like staying in someone's garden – Jane Sawle's garden, to be exact. The flowers are flawless, including the daffodils that sit atop a fine Cornish wall at the farmhouse entrance.
Equally flawless are the astonishing views of the St Agnes Heritage Coast and those of Wheal Coates, a former mine and a Unesco World Heritage Site. Stay in late summer and the colours of the coast, smothered in heather and wild broom, will drag you from your pitch for a respectably long stomp along the headland footpaths.
Caroline Mills is author of Cool Caravanning, The Camping Pocket Bible and, her latest book, Camping Road Trips France & Germany: 30 Adventures with your Campervan, Motorhome or Tent.
Prefer to ditch rather than pitch the tent? Read our UK hotel reviews:
Read more about UK travel:
Join our commenting forum
Join thought-provoking conversations, follow other Independent readers and see their replies