Action cameras are no great shakes when it comes to portrait, landscape or close-up photography. But for adrenalin-fuelled activities – cycling, canoeing, sky-diving, you name it – they're unbeatable. 
The latest models shoot video at the super-high 4K resolution (that's four times high definition). For decent video you need to shoot at 30 frames per second (fps). Some cameras restrict shooting speed at higher resolutions, making them most useful for timelapses, for instance. Some cameras shoot at 240 fps, which means you can create super-slow motion effects. Cameras that shoot at 60fps are good for high-quality, regular speed results.
Most are compatible with mounts and attachments to connect them to your bike, helmet, chest or even your dog (GoPro's Fetch is a real winner). Some include GPS which allows extra data to be recorded and sometimes overlaid on screen with the main footage. 
Not all have screens to show what you're filming, relying instead on smartphone screens with paired apps. Features to note are whether the camera is waterproof or needs a case for wetter activities, variety of shooting modes and extras such as voice control.
1. GoPro Hero5: £349, Amazon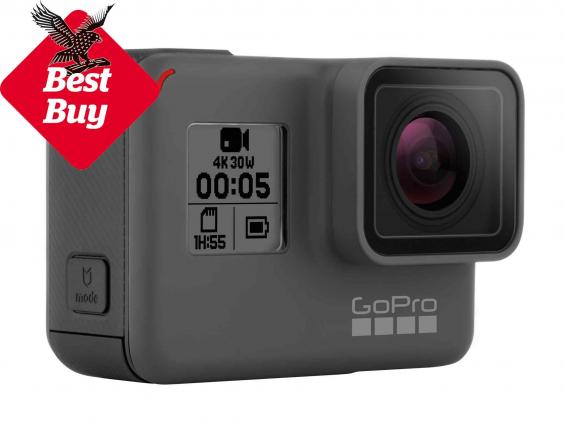 The latest GoPro flagship is the most advanced action camera on the market. This model is waterproof, so you no longer need to clamp it into a waterproof case if you fear it's going to get wet (unless you're taking it deeper than 10 metres). Like earlier top-of-the-range action cameras, it shoots video at 4K resolution (at 30fps) and has a simple to control two-inch touchscreen. There's also a one-touch button on the top to start filming or taking still shots. GoPro's operating system remains intuitive and simple and this camera stands out thanks to improved noise reduction even in wind (it can switch to one of the rear microphones), great video stabilisation that works to make jumpy footage smooth and voice control ("GoPro, take a photo"). It has GPS, too.
2. Panasonic HX A1ME: £89.99, Amazon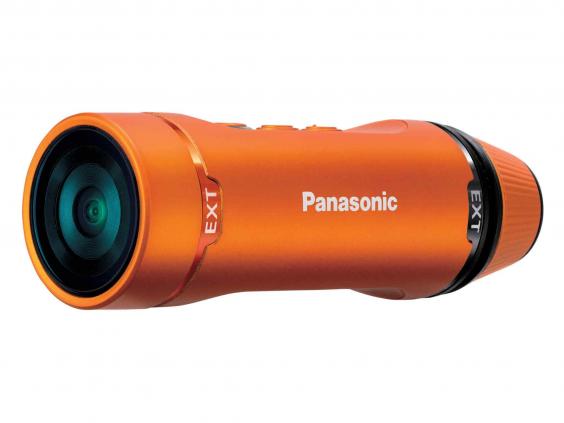 The lightweight, bullet-shaped Panasonic camera is good value and well-featured, though there's no 4K capability here, maxing out at 1080P at 30 fps (frames per second), which is still decent. As with others here, there's no screen to act as a viewfinder, so you need the Image app on your smartphone. Special features include an infrared torch (the torch is sold separately) so the camera can see in darkness, which is clever or spooky depending on your point of view.
3. TomTom Bandit: £199, Amazon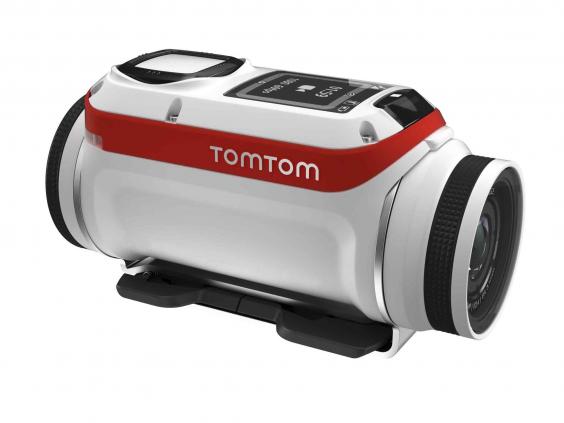 The chunky, cylindrical Bandit is bigger than some rivals so is noticeably heavier when you're in action. But it means it has a bigger battery, too, lasting a good three hours. It comes from TomTom so it's no surprise that there's built-in GPS. It also has clever algorithms in its software so that by just shaking your smartphone with the app, it creates a movie that it thinks highlights the best bits you've shot. It shoots at up to 4K resolution but note that 4K is just 15fps, unless you pick the timelapse mode. In this regard, it's no match for the GoPro Hero5. There's no viewfinder display – the smartphone
app supplies that.
4. GoPro Hero5 Session: £249, Jessops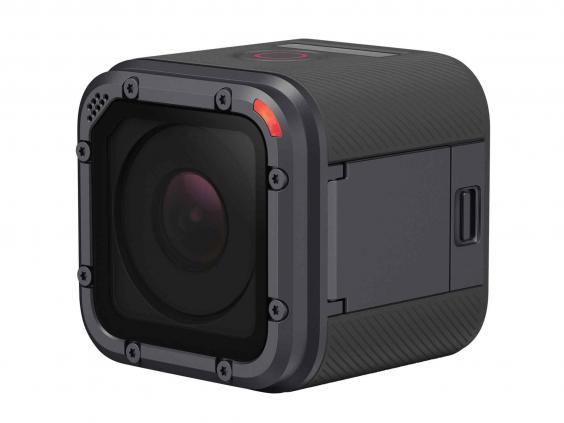 Another from GoPro, the Session is the tiniest GoPro because it doesn't have a display and fits in impressively small places. Most of the time you won't be seeing what you're shooting because it's attached to your helmet but you can also use a smartphone app as a viewfinder. Like the bigger Hero5, it's waterproof. Lightweight, powerful and highly effective. (It is worth noting that Jessops not only sells GoPro, it has a dedicated course to make the most of it, too).
5. Polaroid Cube+: £99.99, Argos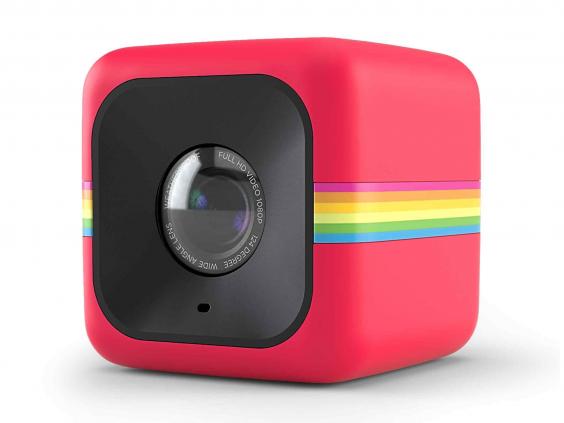 Unlike most rivals, the Cube+ uses wi-fi rather than Bluetooth to connect to your phone, which acts as a viewfinder. Its main feature is its small size and extremely simple operation. A magnet on the button lets you attach it easily to metal surfaces though there are plenty of cases and so on for more arduous situations. Video, which goes to 1080P resolution, is good though not outstanding in low light. As well as red, the Cube+ is available in black or bright blue.
6. DxO One with Outdoor Shell: £399.99, Selfridges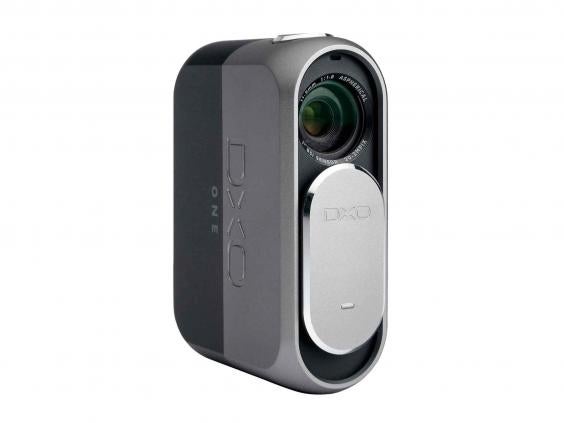 This is a clever way to shoot stuff. DxO claims it's the world's smallest camera with a one-inch sensor (that's big). A special connector attaches it to an iPhone Lightning dock, turning an iPhone into a 20.2MP camera, but it also works on its own thanks to a tiny black-and-white touchscreen. And now there's a protective waterproof shell for action work (this is an extra £49.99). The case comes with two back panels, one for deep submersion, the other that's touch-sensitive so you can still operate the panel. Shoots video at up to 1080P resolution.
7. Olympus TG-Tracker: £279, Jessops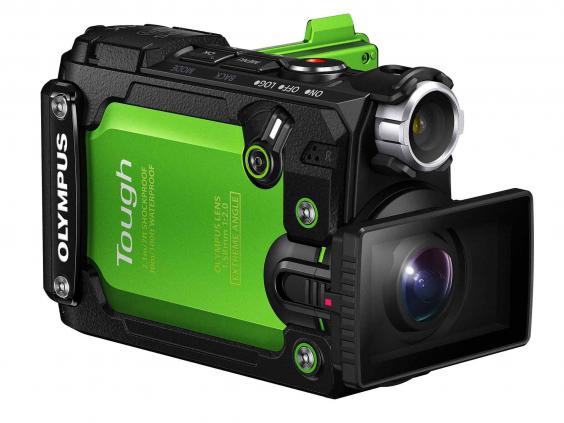 The Olympus action cam shoots stills and video (at up to 4K resolution). Image stabilisation across five axes means the footage is highly watchable. There's a flip-out display to help frame your shots. It's waterproof (to depths of 30 metres), shockproof, dust-proof, freeze-proof and crush-proof – it's tough, in other words. It knows when it's underwater and automatically adjusts settings to compensate and there's a spotlight for when things would otherwise be too dark. Footage quality is very good – image processing from high-end Olympus cameras helps. 
8. Kodak PixPro SP360 Action Camera Kit: £249.99, Argos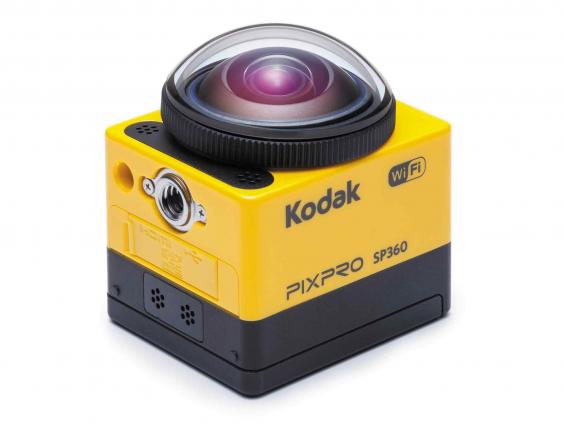 Why look in one direction when you can look everywhere? This camera shoots all around, viewable in the app or on computer screens in multiple ways. But the SP360 also shoots conventional wide-angle footage when you point the lens directly at your subject. It's pretty small, though not as diddy as the Polaroid. Waterproof housing, helmet mount and more are included. It shoots at up to 1080P resolution. Fun to use, though video is solid rather than exceptional.
9. Sony FDR-X3000R: £500, Amazon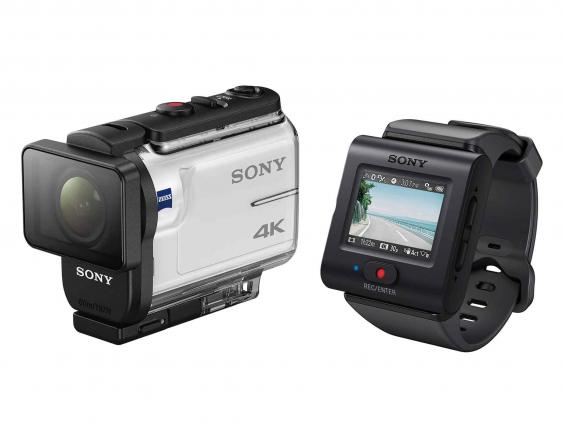 Out soon, this Sony action cam is very accomplished and comes with a useful live-view remote accessory that's lightweight, small and very efficient at showing you what you're shooting, worn with a finger loop. It shoots at 4K (30fps) and has brilliantly effective optical image stabilisation. Results are consequently impressive, as good as the GoPro for quality and ease of use. Mind you, the camera is only water-resistant and you'll need to add the supplied casing to make it properly waterproof.
10. Garmin Virb XE: £369.99, Garmin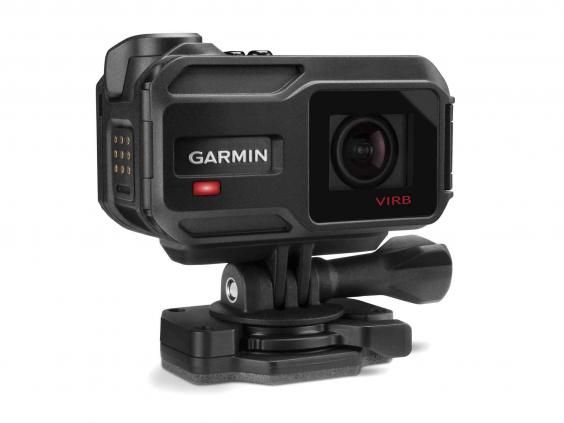 Like the TomTom and GoPro Hero5, Garmin's little gem has GPS built in. In fact, it looks pretty like a GoPro and has a viewfinder touchscreen on the back. It needs its case to be waterproof. Image stabilisation here is digital, not optical, so it works by cropping your video to the bit in the middle that's not juddery, which may not be ideal. Like the Hero5, this camera has voice control. In both cases, it does reduce battery life.
The Verdict: Action cameras
GoPro remains the brand to watch and its latest, the Hero5, is outstanding. It's light and extremely simple to use, and delivers strong results. TomTom's unique shake to edit feature makes sorting out the hours of footage very easy – though GoPro has something almost as good. Sony's pricey camera justifies the cost thanks to a really effective optical stabilisation feature, great hardware shape and handy remote viewfinder.
IndyBest product reviews are unbiased, independent advice you can trust. On some occasions, we earn revenue if you click the links and buy the products, but we never allow this to bias our coverage. The reviews are compiled through a mix of expert opinion and real-world testing
Reuse content