At a time when it feels like words and information are disappearing into the online world, it's comforting to have real books around the home. A strong single bookcase may be all you need to store your treasured tomes, but modern shelving can be more adaptable and help you create areas of real interest and character in your living space. 
If you want your shelving to span an entire wall and accommodate records, plants, art and objects as well as books, there are plenty of systems that you can start small with and add to over time. Alternatively, column-style bookcases and ladder shelves can put awkward, narrow or sloping spaces to good use. 
A good bookcase should be strong, with the best offering a variety of compartments for you to make the most of organising your books efficiently. A case with adjustable shelves will serve much better over time than a fixed design. 
1. Hay Woody Shelves: From £215, Utility Design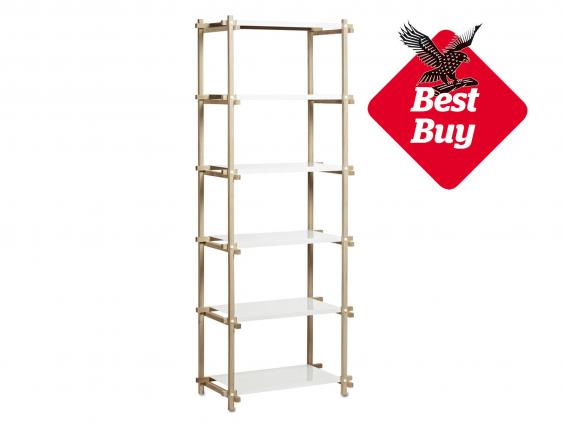 The beauty of Hay's system is that you can mix and match different shelf combinations depending on what you need. There are four versions: the smallest makes a good bookshelf for the bedside, while the largest is capable of filling a whole wall. The system is designed to be visually lightweight, with frames in slim solid oak, and shelves in white powder coated metal.
2. La Redoute Doll Lacquered MDF Bookcase: £225, La Redoute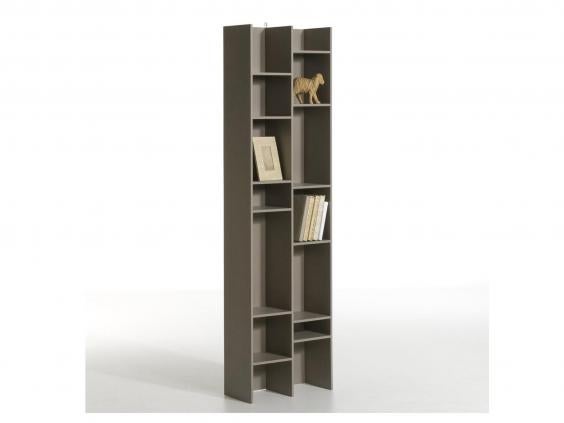 At 52cm-wide, this smart looking bookcase is good for utilising narrow spaces – next to a column or in the alcoves beside the chimney breast, perhaps. Placing several side by side also looks dramatic along longer runs of wall. The bookcase is wall-fixed and made of lacquered MDF with 12 fixed shelves. Random slots are useful for showcasing taller objects among your books.
3. Content by Terence Conran Balance shelving: £599, Clippings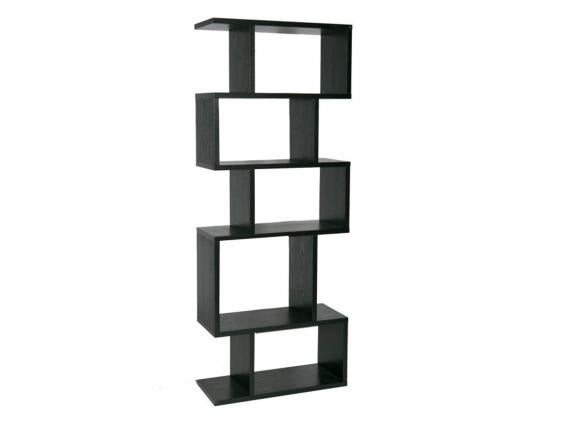 This asymmetrical oak bookcase by Terence Conran is a real attention-grabber. Its dynamic looks are down to the illusion of stacked boxes that have been shifted side to side. Placing books and decorative objects into this bookcase feels like creating a piece of art. It's also useful as a space divider; create a reading nook by using it to screen off part of a larger room. 
4. Oliver Bonas Grid Nine Shelf Storage Unit: £265, Oliver Bonas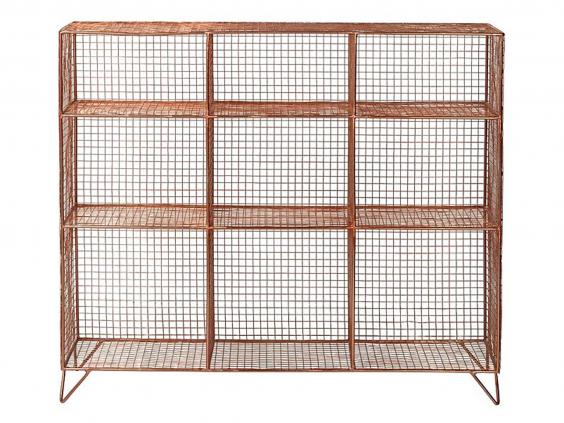 Made in copper wire mesh, this storage unit is a fresh take on the standard bookcase. The mesh, together with low and wide dimensions, gives it the industrial feel of a gym locker, but the copper finish provides a luxe edge. The nine shelves are divided into three different heights making this piece useful for storing a variety of books, records and other bits.
5. French Connection Married Bookshelf: £228, French Connection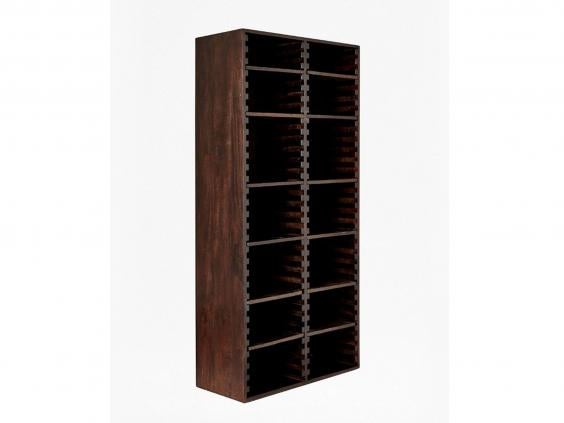 The dark mango wood of this bookshelf gives it a serious feel. The case is simple and rugged, providing ten adjustable and two fixed shelves in a pair of columns. There's a single version too (£156) and the two types can be combined together to make one striking wall of shelving. The bookcase also comes in a grey-stained version, which has an antique look.    
6. George Home Dermot Bookcase: £199, Asda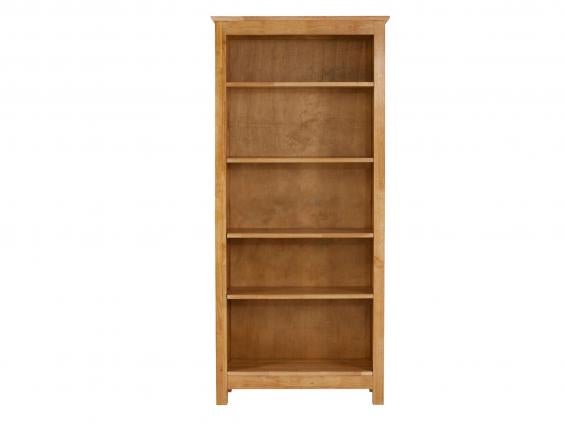 The no-fuss bookcase is strong and simple. Thanks to its construction in solid rubber wood, it has a surprisingly sturdy feel given the price, and makes a good value option if you're seeking out a traditional style. It's a generous size (80cm by 175cm) and has five fixed shelves at varying heights. The case has a plywood backing, and comes flat packed for self–assembly.
7. Marks and Spencer Sanford Parquet Bookcase: £499, Marks and Spencer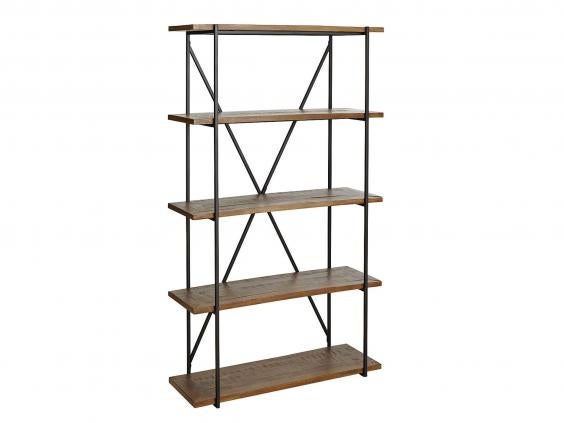 Marks and Spencer's Sanford bookcase has industrial style in spades, with a dark metal frame supporting five chunky pieces of mango wood as shelves. The real attraction here is the richness of the wood – given a distressed finish, the wood's knots, natural variations and weathering all add character. At 1m-wide, it's a substantial piece of storage for the living room or study.
8. Swoon Editions Aero Brass Shelving Unit: £299, Swoon Editions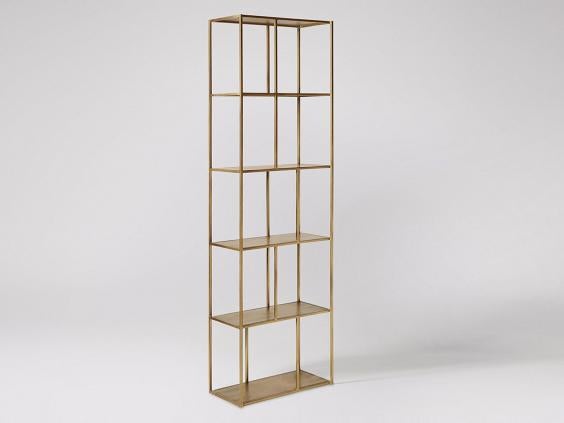 The Aero shelf is made to frame books in style, with a pleasing geometric design and a luxurious finish. The iron bookcase is finished top to bottom in brass, buffed for a slightly antique effect. Made by welders in Jodhpur, India, the unit has slim proportions (60cm x 195cm) but is strong – each of the five shelves supports up to 20kg. No assembly is required.
9. Garden Trading Aldsworth Shelf Ladder: £165, Garden Trading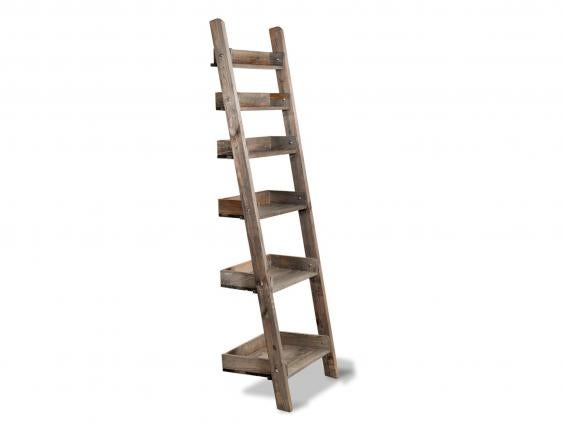 Ladder shelves have been appearing in blogs and interior magazines for a while now, proving popular as a less bulky way to display books than a full case. This version is made in spruce and has six shelves of varying depths. The Aldsworth shelf ladder is suitable for both indoors and out, but if rustic isn't your style, Garden Trading also does a more refined version in oak (£260). 
10. Made Marcell Bookcase: £299, Made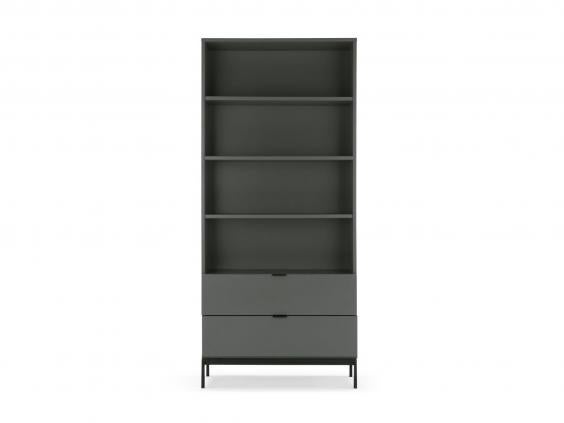 The Marcell bookcase provides a lot of storage for a decent price, although the MDF construction means it lacks the robust feeling of solid wood. Metal legs raise this large piece off the floor and prevent a basic design from appearing bulky. The two drawers are an extra bonus; great storage for the things you aren't so keen to put on display. Self-assembly is required.
The Verdict: Bookcases
Hay's Woody Shelves are versatile and contemporary, providing good all-round storage. The freestanding design means these units don't have to be fixed to a wall and can also work as a room divider. With four versions, you can start with a smaller unit, and add to it as your collection of books and objects grows. For a more traditional approach, George Home's Dermot bookcase is functional, strong and well-priced.
Reuse content