Whether you're heading off to the park for a weekend picnic or you want something to stop your lunch turning into a warm soggy mess before your lunchbreak at work, a decent food cooler is essential. 
When buying one, be sure to check it's big enough. It sounds obvious, but looks can be deceptive, especially when purchasing online. Consider how easy it is to carry too, especially if it's a big one that you intend to fill to the brim. While some have carry handles, others have shoulder straps – and some even have wheels. 
There are several types of coolers, the main ones are which are made from hard moulded plastic or strong synthetic fibre. The former are designed to be filled with food that's surrounded by ice packs or cubes, although some eradicate the need for this by plugging into a car cigarette socket – turning them into a kind of portable fridge. Make sure the one you choose has a tough insulated lid and think about whether you prefer plastic handles or wheels – or both.
Fabric coolers, on the other hand, are more lightweight and made from durable man-made insulating materials. While they're not as robust as the plastic ones and don't keep food cold for quite as long, they're a lot more practical, easily packing away when not in use. With these, remember thicker insulating linings generally work better and look out for fastenings such as strong zips to help keep the air out. And whichever type you go for, don't forget the finer detail – will it hold a bottle upright, for example, and how easy is it to keep clean?
To test which are the best food coolers, we filled each one up to its capacity, regardless of its size. This meant each bag had the same amount of free air space – and we then checked on the temperature of the food at various intervals throughout the day.
1. Emma Bridgewater Polka Dot Cool Bag: £40, Emma Bridgwater 
Stylish design, tick. Big enough for a family picnic, tick. Sturdy enough to see you through years of use, tick. Holds an upright bottle of wine or bubbly, tick. Plus, we found the food only started warming up after around seven hours and there's both a carry handle and adjustable shoulder strap that doesn't dig into your skin, like so many do. What's not to like? 
2. Halfords 14 Litre Electric Coolbox: £40, Halfords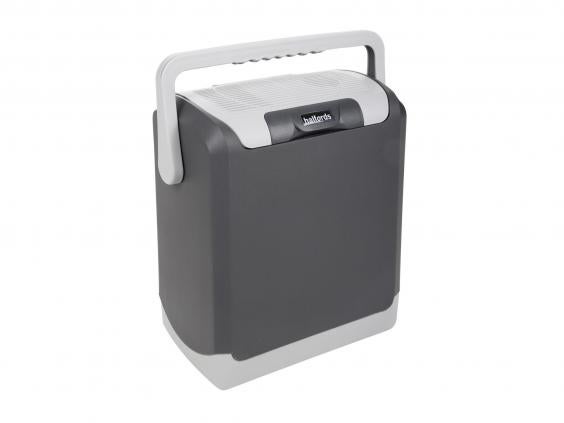 This heavy-duty cool box claims to keep contents up to 18 degrees below the air temperature with no need for cool blocks – and we found that's true, making it a great option for family camping or long car journeys. Indeed, because you can power it from your car's 12v accessory socket, you can keep it working as long as you need it to. The design is well thought out too as it comfortably holds tall soft drink bottles upright and the solid finish and curved edges mean it's easy to wipe clean.
3. Argos Blue Striped Picnic Cooler on Wheels: £17.99, Argos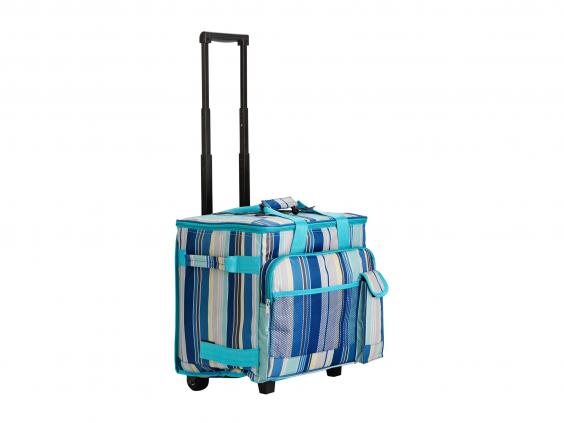 With a whopping 30-litre capacity, you're going to be glad of those wheels, not to mention the extendable handle. And while they're not the most robust wheels we've come across, they do the job nicely even when it's packed full, provided you don't drag it over rough terrain. Holding enough food for four to six people, it's got a couple of handy pockets at the front too.
4. Dibor Round Green Tweed Chiller Picnic Hamper: £55, Not On The High Street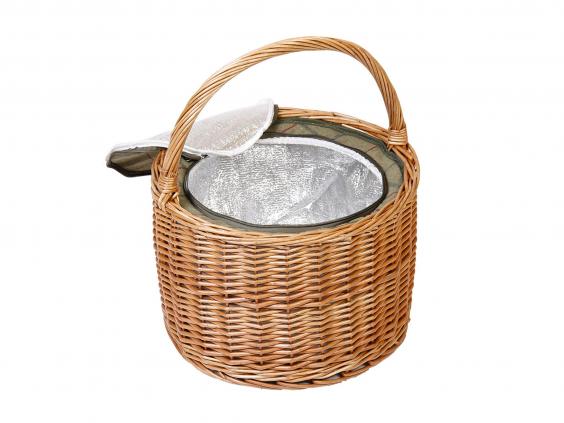 Let's face it, wicker hampers look a lot classier than your average cool bag. But the compromise tends to be winding up with warm, soggy sandwiches. Until now. With this traditional handwoven basket with posh tartan tweed lining, you get the good looks as well as the insulated cool bag – just the ticket for keeping your food and wine cool. Now all you need is the stately home gardens to take it to. It's big enough for two people, and we found the food stayed cool for around four or five hours.
5. Joules Printed Insulated Coolbag: £29.95, Joules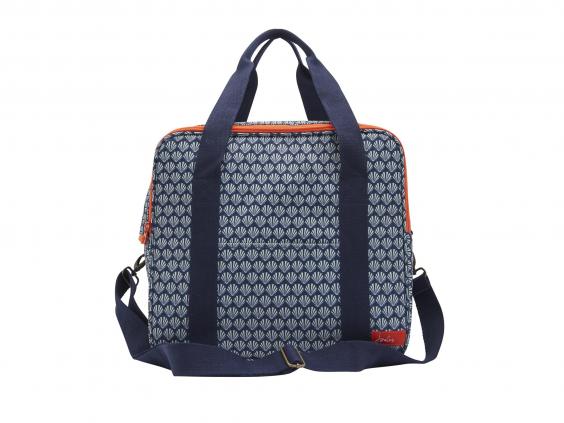 Available in two chic designs – grey floral or a navy shell – this family-picnic sized bag is well-made, with sturdy handles, plus an easily-adjustable shoulder strap for when you want to free up your hands. Currently available as part of Joules' three-for-two deal, there are a number of matching items in the same pattern including a picnic rug, a camping chair and flip-flops. The double zip design can make it slightly tricky to retrieve food, though.
6. Fortnum & Mason Canvas Cool Bag: £75, Fortnum & Mason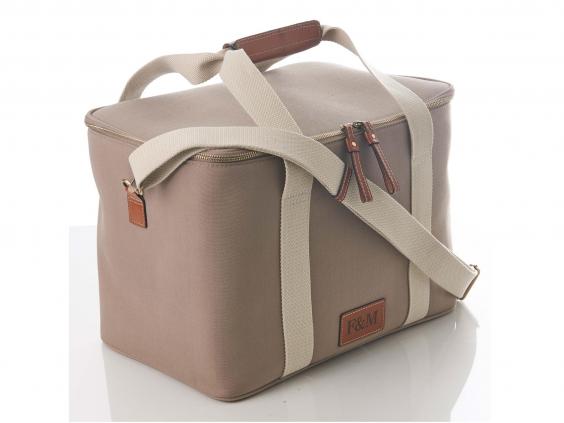 If you want a cool bag that wouldn't look out of place at the likes of Ascot, feast your eyes on this beauty. It's so beautifully made, using such robust canvas and thick insulation padding, that it keeps food cool for the entire day and is likely to last you many years (so worth the investment). Part of a wider range that includes everything from drinks pack to tote bag, it's big enough for a four-person picnic. But it's a shame the handles aren't real leather. 
7. Mobicool 26-Litre Cool Box: £26.99, Lakeland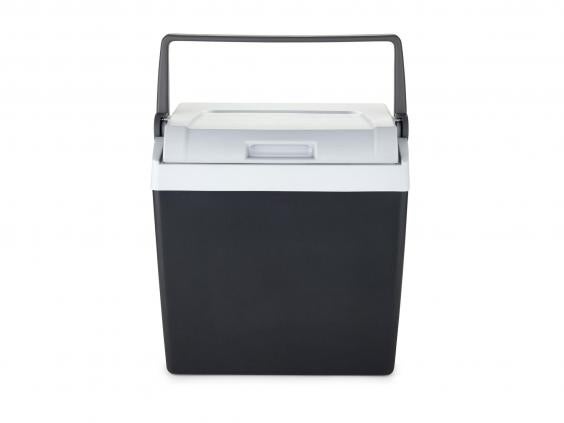 Of all the hard cool boxes we tested, this was our favourite. We found it kept contents at almost the same temperature for over nine hours and it's incredibly sturdy, yet surprisingly light and comfortable to carry. It holds tall bottles and there are no tricky corners to clean. There's enough room for food for the whole family and it comes in at a great price too.
8. Orla Kiely Coolbag: £12, Halfords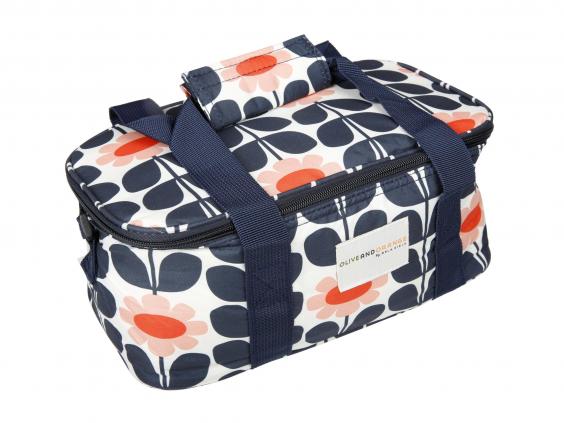 Sometimes it feels as though every high street product in the world has an edition available with this Irish designer's retro designs. In this case, it works a treat, making this six-litre cool bag look really stylish. Also featuring shoulder straps and carry handles, it holds enough for one hungry person or a small picnic for two. 
9. Tivoli Picnic Cooler Basket: £29.99, Lakeland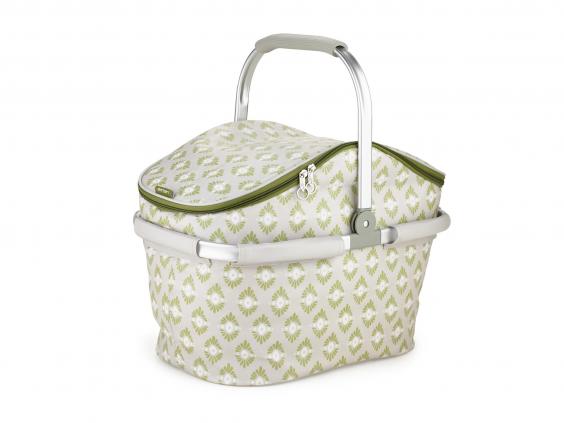 With a 22-litre capacity, this is a roomy bag with robust aluminium frame, yet it's a doddle to push down to practically nothing when not in use. The handle is particularly comfy to hold, even when the cooler is filled to the top and there are plenty of accessories you can buy in the same design – from salad servers to picnic containers. We found it kept contents cool for around seven hours. 
10. Zoom Washsafe 4.5 Litre Expandable Cool Bag: £12.49, Lakeland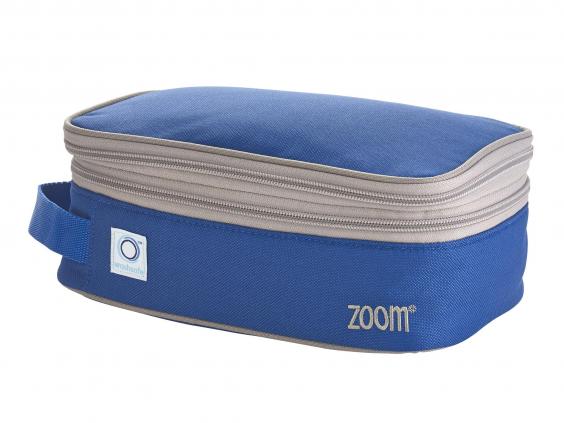 If there's only you to feed – or you just want to keep a few snacks cool for the kids – this particularly well insulated bag will do you proud. And if there's not quite enough room, you can simply undo the extra zip to expand it from three to four-and-a-half litres. Best of all, you can bung it in the washing machine as often as you like, which keeps it nice and hygienic. 
11. John Lewis Cricket Cooler Box: £75, John Lewis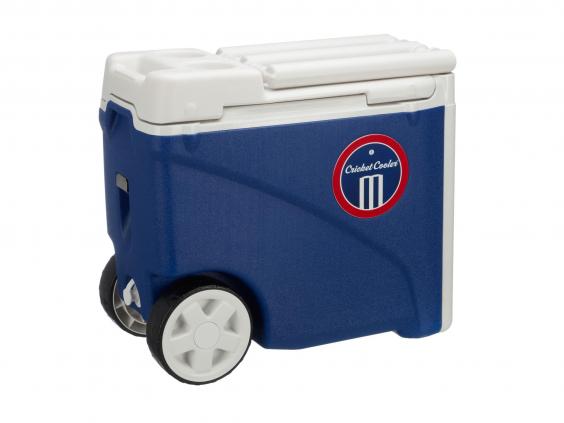 Gather your cricket-playing friends together for a great day out with this good-looking cooler that doubles up as cricket stumps. The wheels are sturdy enough to stand up to all manner of countryside scrambles and it has great attention to detail, including glass holders. And with a 33-litre capacity, it holds enough for all your players to have a hearty al fresco meal after the game. 
12. Thermos Dual Compartment Food Jar: £34, Tesco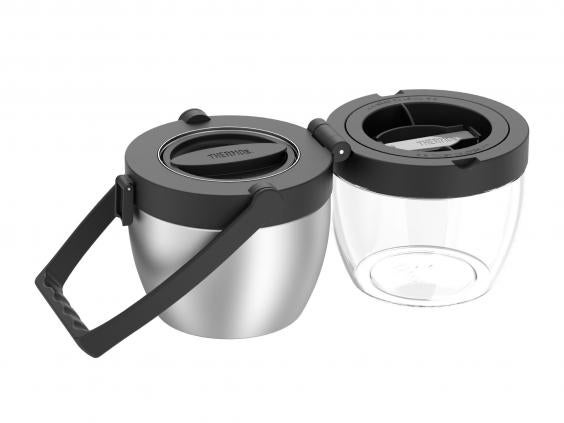 With two separate hinged compartments, this is a great (albeit small) portable food container to keep both hot and cold grub tasting fresh. Pop your hot food (such as hot chicken or pasta) one section, safe in the knowledge that it will stay warm for up to seven hours in one side, while your salad can go in the other, where it will stay cold for up to 22 hours (both of which we found to be true). It's all possible thanks to the patented vacuum technology – and it's dishwasher safe too, although we found it a bit fiddly to open and close.
The Verdict: Cool bags
Emma Bridgewater's Polka Dot Cool Bag is our favourite – it's a sophisticated, yet fun looking bag that holds enough for all the family. If you just want something for yourself, our vote goes to Zoom Washsafe 4.5 Litre Expandable Cool Bag. And for something completely different which is sure to impress your friends, check out the John Lewis Cricket Cooler Box.
IndyBest product reviews are unbiased, independent advice you can trust. On some occasions, we earn revenue if you click the links and buy the products, but we never allow this to bias our coverage. The reviews are compiled through a mix of expert opinion and real-world testing
Reuse content