The Independent's journalism is supported by our readers. When you purchase through links on our site, we may earn commission.
9 best picnic blankets to keep alfresco feasts comfy and dry
Serve a cracking spread with these retro, tartan and waterproof rugs – sarnie anyone?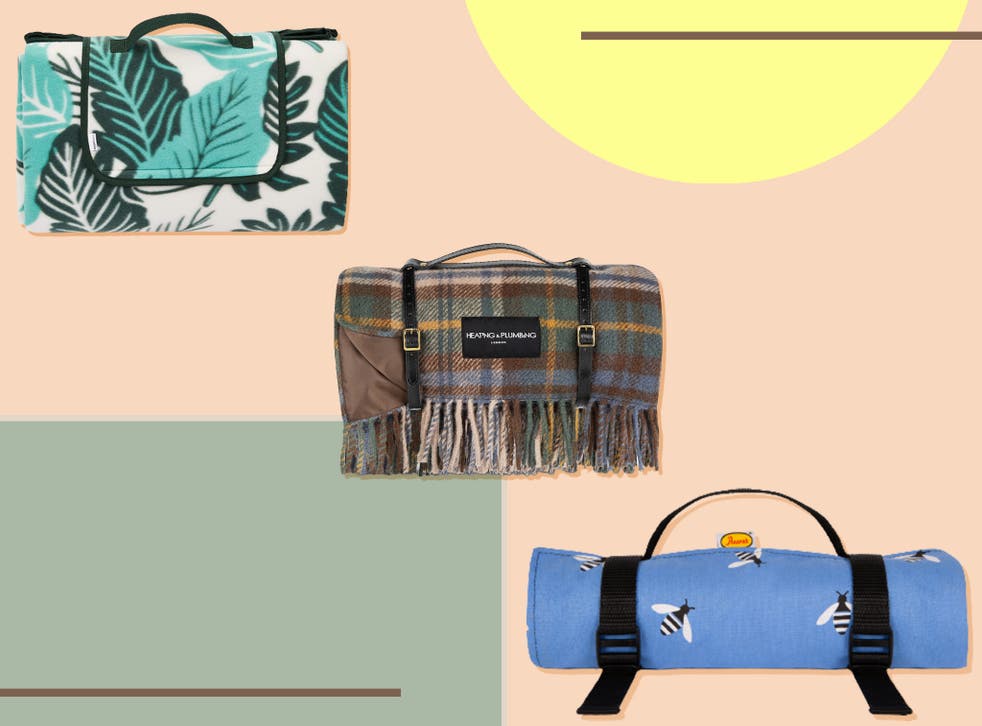 Whether you have an invitation to the grounds of Buckingham Palace or you're roughing it in the wilderness on a camping excursion, there's a picnic blanket to suit your style.
Traditionalists will love a striped or checked woollen blanket, which rolls up into smart leather carry straps. These are practical too, often boasting a durable waterproof underlay, which keeps the moisture out.
There are also plenty of camping-focused mats and blankets to choose from, some of which are lightweight enough to fold up into a tiny drawstring bag, yet smart enough to withstand all weathers, with corner loops that you can pin down with tent pegs – you may wish to hold onto your Tupperware, though.
Size is all-important when it comes to choosing a blanket for your alfresco feast, particularly if you're planning on a large family picnic or an after-school soirée in the park with friends. Some extend to a very generous 200cm x 200cm, which allows for eight or more picnickers to gather round, while other compact styles are ideal for cosy couples.
How we tested
We put our top 10 picnic blankets to the test in our local park, looking for standout style, quality of craftsmanship and materials, durability, and importantly, whether claims of waterproof properties would hold true on dewy grass.
Read more:
The best picnic blankets for 2022 are:
Atlantic Blankets seaside stripe wool picnic blanket
Best: Overall
Rating: 10/10
Even if you're picnicking in the back garden, this design will take you back to classic British seaside adventures, thanks to its deckchair-like bold stripes on a warm, cream background. Despite its delicate wool make-up, the coastal-inspired blanket is backed with a tough waterproof polyester, which, we found, works just as well on grass as it does on bumpy beach pebbles. We loved the luxurious details on this one: real leather carry straps, long tassels, intricate stitching and a fine, fluffy weave… we can almost hear the seagulls overhead.
Voited recycled ripstop outdoor camping blanket
Best: Camping blanket
Rating: 9/10
Voited's offering is positively made for outdoor activities, from casual family picnics to camping excursions in the wilderness. The beauty of this blanket is its versatility. It can morph into a pillow, sleeping sack, or even a handy waterproof cape in the event of the heavens opening. Its cool, retro design might come straight out of the Seventies but it's made with 21st-century high-tech fabric. We found it to be light and breathable yet water resistant and surprisingly warm. Another pleasant surprise is that it is crafted from recycled plastic bottles, scoring big points on sustainability.
Tweedmill tassel throw in pure wool, multi
Best: For an impromptu picnic
Rating: 8/10
With its cheerful candy stripes, this woollen blanket promises to bring a ray of sunshine to your picnic, even on the cloudiest of days. This is a versatile blanket that can be both thrown down onto dry grass and wrapped around shoulders when the sun goes down. We loved its summer-ready colour palette, its fine chevron detailing and its long tassels. It's also pleasingly large for a simple blanket, allowing for a few more picnickers to gather around. One for guaranteed dry days only, but a beautiful addition to any picnic basket.
Anorak bee picnic blanket
Best: Space saver
Rating: 8/10
If you're already laden with a basket full of picnicware and bottles of fizz, you'll appreciate a compact little number like Anorak's offering. With the help of its adjustable nylon carry straps the picnic blanket rolls up to just 35cm, yet spreads out into a sizable square. Despite its cuteness this bee-illustrated blanket is highly durable: the printed cotton front is backed with a water-resistant polyester, which we found to be no match for slightly damp grass and the odd muddy patch. Anorak also supports the Bumblebee Conservation Trust, a cause we can all get behind – so long as our buzzy friends keep away from our sandwiches.
The Stripes Company origami picnic mat with bag
Best: Blanket and bag set
Rating: 8/10
With its matching oilcloth-lined zipped carrier bag, this is a blanket for seasoned picnickers. At an impressive 200cm x 200cm it is the size of a double bedspread, making it ideal for larger families and friend groups. We loved its eye-popping irregular stripes in a colour clash of bright greens, pinks and oranges. Also impressive is its perfect weighting: light enough to easily carry but heavy enough to lie flat without having to rely on a thermos flask to pin the corners down. Backed with a damp-proof shell fabric, this one will happily withstand a little moisture in the grass.
Heating & Plumbing pure new wool picnic blanket, Glen Coe
Best: For traditionalists
Rating: 9/10
There's nothing like a traditional tartan check picnic blanket to go with your strawberries and cream. This one, from the brilliantly named Heating & Plumbing, hits all the right notes with its cosy new wool weave and its wonderfully homely colour palette. The blanket is backed with a reliably heavy-duty waterproof fabric, which not only keeps the moisture out but also adds to its substantial weight: this is as much an outdoor rug as it is a picnic blanket. We loved the luxurious details on this one: choose black or white leather carry straps with the option of an over-the-shoulder strap too. A classy countryside accessory.
Nobodinoz sunshine waterproof picnic blanket, melon vichy
Best: For sunny days
Rating: 8/10
While this is a brand for tots and babies, its picnic blanket is not the preserve of the under-threes. In fact, with its traditional gingham check in a summery peach, it's just the ticket for stylish grown-up outdoor soirées, too. (How about a refreshing Bellini to match?). The cotton blanket is lovely and soft yet it is backed with a waterproof layer, which ensures it keeps fresh as a daisy and is easy to clean. We loved the neat little pouch it comes in too, in a matching fabric.
Rubbastuff large OS Lake District family Pacmat picnic blanket
Best: For adventurers
Rating: 9/10
A novel idea for a picnic blanket, and one we're fully on board with, is this map design from Rubbastuff. The quirky design comes in a choice of destinations, from the New Forest to the Brecon Beacons, Snowdonia, Dartmoor and even London – pick your favourite beauty spot. Made from a technical polyester with a waterproof base, and with reinforced buttonholes to pin the lightweight blanket down, this is no mere gimmick, but an endlessly practical product: plan your route through the Peak District while you pour your tea.
Amazon Basics picnic blanket with waterproof backing
Best: Affordable blanket
Rating: 8/10
This is an impressive picnic blanket on many points – not least its purse-friendly price tag, allowing us to save our pennies for the food and drink. It boasts an eye-catching and contemporary leafy design and is made from polyester with sponge padding. It's backed with aluminium-coated film, which awards it water-resistant properties too. Unlike most, this blanket offers a soft, fuzzy texture and the bit of padding gives it a comfy sit. Cleverly designed with an integrated flap and handle, it also rolls up neatly into its own carry case.
Lifeventure picnic blanket
Best: Lightweight blanket
Rating: 9/10
This is another practical picnic blanket aimed at happy campers, which has been thoughtfully designed with corner loops to pin it down – and you'll need them on windy days because it is lightweight and compact. The flip side of that, of course, is that it folds up into a tiny drawstring pouch, which is handy if you're already weighed down with tent bags and camping mattresses. The cheery floral design is digitally printed onto a soft microfibre fabric and it also boasts a waterproof ripstop base.
The verdict: Picnic blankets
We fell in love with Atlantic Blankets' seaside stripe wool picnic blanket for its luxurious details. It manages to be traditional in style yet with its chic, candy-coloured stripes, it offers a contemporary twist. This is a beautifully made product that took centre stage at our picnic. We also loved Voited's versatile camping blanket in the harvest moon design. It is brilliantly retro, recalling fond childhood camping trips, while it boasts a high-tech fabric, making it both lightweight and warm.
More picnic recommendations:
Voucher codes
For discounts on garden furniture, try the links below:
No outdoor adventure is complete without the perfect picnic basket and we've found the best
Register for free to continue reading
Registration is a free and easy way to support our truly independent journalism
By registering, you will also enjoy limited access to Premium articles, exclusive newsletters, commenting, and virtual events with our leading journalists
Already have an account? sign in
Register for free to continue reading
Registration is a free and easy way to support our truly independent journalism
By registering, you will also enjoy limited access to Premium articles, exclusive newsletters, commenting, and virtual events with our leading journalists
Already have an account? sign in