Grass trimmers, otherwise known as strimmers, have two main roles – to reach parts of the garden that the lawnmower can't, and keeping the edges looking neat and tidy.
There are three main types, the most common of which is electric. These run off the mains, so there's no worry about power running out. They also tend to be cheaper. But there's no doubt cords can get in the way and in larger gardens, they might not reach to where you need them to, making cordless grass trimmers that run off a rechargeable battery an increasingly popular option (the battery can last as little as 20 minutes, however). Then there's petrol models, which are the most powerful. These can be a godsend for heavy duty jobs, but they do tend to be heavy and cumbersome. Our round-up includes a fourth type too – the only hybrid grass trimmer on the market, which can be used as either corded or cordless. 
Think about the size of your garden and what jobs you want it to do. If, for example, all you want to do is tidy up path edges, you'll probably require a very different machine (ideally with shorter shaft and rotating head) than one which is capable of cutting down areas of long grass and weeds that the mower can't cope with (for this, you'll need one with a long shaft and powerful engine). That said, we found some decent all-rounders.
1. Qualcast Cordless Grass Trimmer 36V: £90, Argos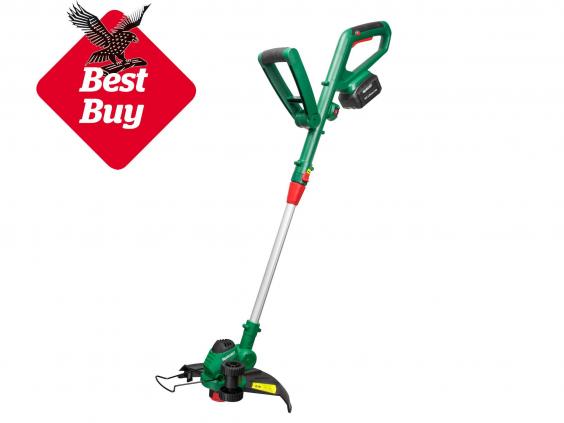 Cords can make it a faff to move your strimmer around the garden, which makes this cordless machine instantly appealing, particularly as the battery life is around 40 minutes (although it does take four hours to recharge). It edges lawns neatly and slices through long grass and weeds, just stopping short of some of the more powerful machines. A great all-rounder at a good price.
2. Bosch Art 35: £65, amazon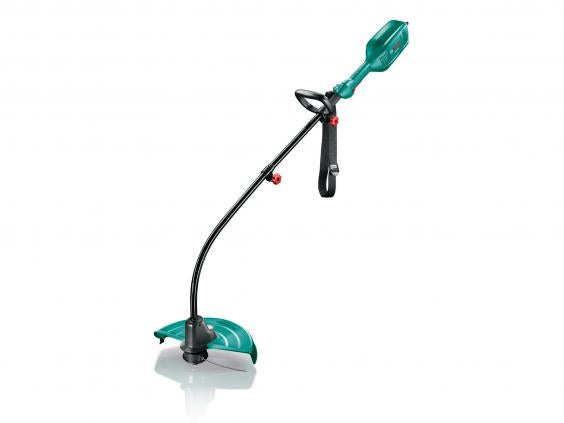 Launched in 2014, this is by no means Bosch's newest strimmer on the market, but it is utterly fabulous, particularly if you need a sturdy and durable electric strimmer to tackle long grass and tough weeds. It's comfortable to hold and just as powerful as a petrol strimmer, but without the noise and smell. But you can't adjust the head to help with edging.
3. Stihl FSA56: £199, Stihl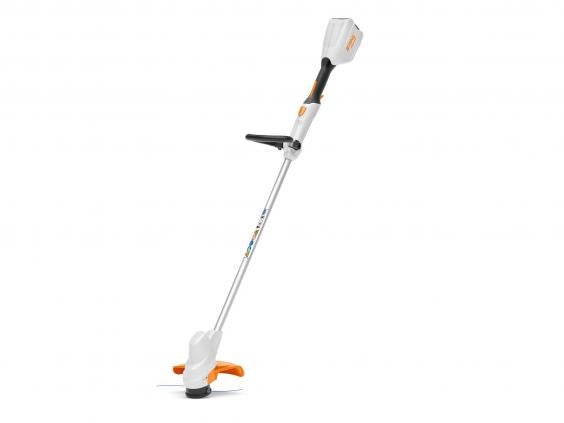 The lightweight FSA 56 from Stihl's compact cordless range is great for tackling trimming and edging tasks. The adjustable shaft and ergonomic design means it's easy to manoeuvre, and the efficient motor delivers impressive trimming performance without much noise, making this more peaceful than most. The battery only lasts 20 minutes, though, taking another two-and-a-half hours to charge up.
4. Black & Decker GL7033: £62, amazon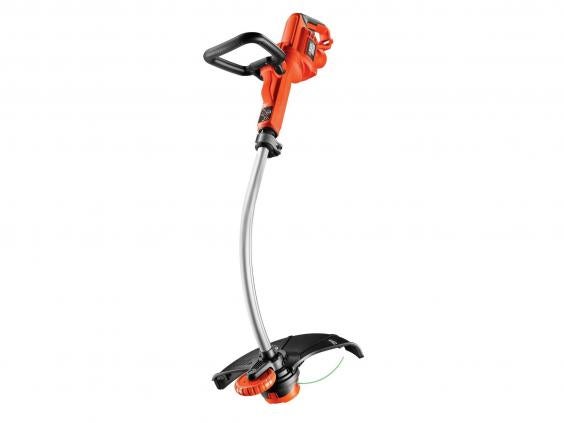 This heavy-duty corded strimmer has been engineered to be safer and more comfortable to use than most, thanks to the shaft being curved at the end, which means the head is further away from your feet and angled differently than most. It worked a treat on the area of thick vegetation we tested it on, although it isn't the best at edging the lawn because you can't quite see where you're cutting.
5. Flymo 500E: £47, amazon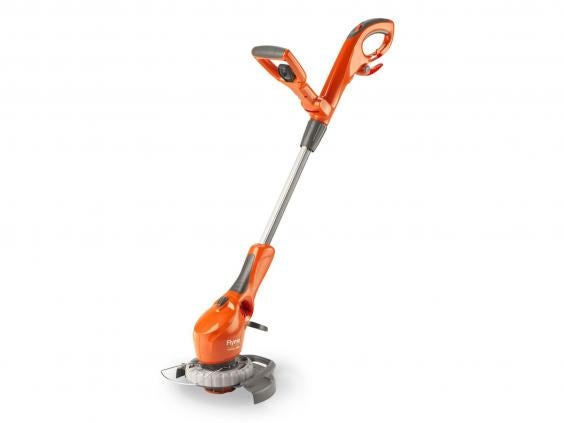 This budget corded model is a breeze to use and an excellent for edging, with a head that rotates easily and a guide-wheel that supports the machine as you run it along the edge of the lawn. Don't expect oodles of power, but it has enough for weeds, and leaves a lovely neat finish to your lawn. Not one for gardens with a lot of rough or long grass, though. 
6. Ryobi ONE+ Hybrid Grass Trimmer: £123, amazon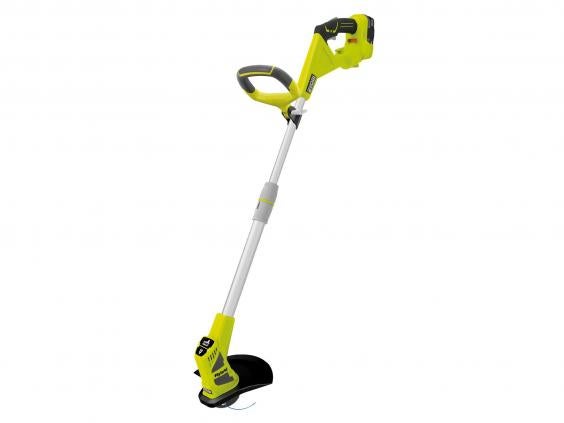 This is the only hybrid grass trimmer on the market, which you can use as a cordless machine with the 18V battery supplied or, if you run out of power, as a plugged-in corded strimmer. We found the battery lasted well and the machine gave a tidy finish to edging, gliding through light weeds and longer grass, and it's not bad at thicker unwanted plants too.
7. Mitox 240LX: £219, Mitox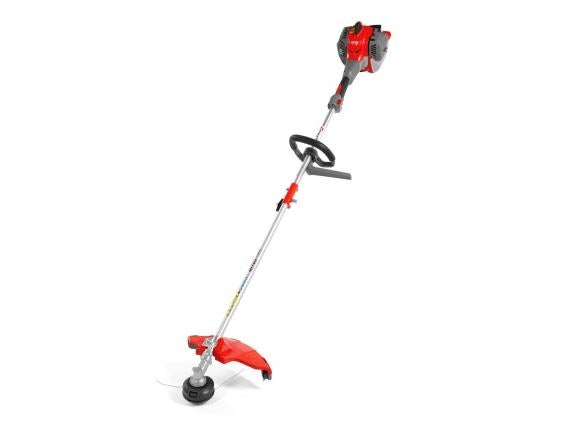 Many people struggle with petrol strimmers, on account of their weight and unwelcome vibrations. Not so with this easy-to-use model that's been specially engineered to feel well balanced, and there are lots of anti-vibration features too. Not one for edging, but it's fantastic for tackling long grass, rough vegetation and cutting alongside fences. The bump feed, which allows you to manually unspool the string by tapping it against the ground, works particularly well too.
8. Wolf-Garten GTE 850: £113, amazon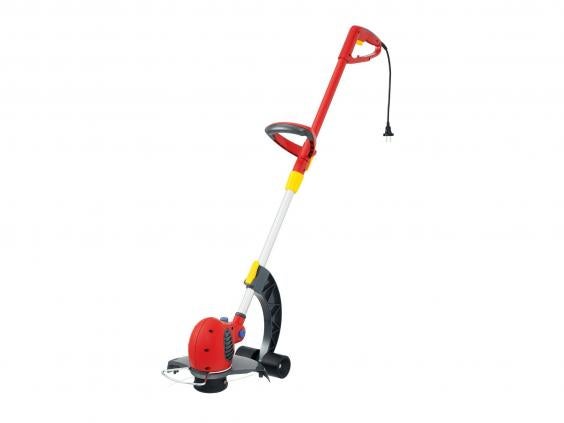 This sailed through every task we threw at it, including both edging and tackling more woody vegetation, so although it's pricier than most corded machines, we think this versatile machine is worth the extra pennies. It looks different to most machines, due to the wheels that are designed to help you cut grass to an even length – a genius invention that works a treat except on longer grass.
9. MacAllister 18V LI Electric Cordless Li-Ion Grass Trimmer: £61, B&Q
This cordless machine excels at straightforward tasks, like edging and tidying up, although we found the lack of power means it's not great for those who battle with longer grass and tougher undergrowth. It is comfortable to hold and easy to use, with the battery lasting a decent 30 minutes and charging again within one hour.
Verdict
Qualcast Cordless Grass Trimmer 36V is a brilliant all-rounder, at a great price. For long grass and tough weeds only, our recommendation is Bosch Art 35 and for edging only, we'd suggest MacAllister 18V LI Electric Cordless Li-Ion Grass Trimmer.
IndyBest product reviews are unbiased, independent advice you can trust. On some occasions, we earn revenue if you click the links and buy the products, but we never allow this to bias our coverage. The reviews are compiled through a mix of expert opinion and real-world testing