Easter morning can be such an exciting time for kids, but only if they've got a decent chocolate egg ready and waiting for them. From toddlers to teenagers, our round-up has something to suit your younger family members and friends.
1. Cocoapod Easter Eggs Decoration Kit: £19.90, Not On The High Street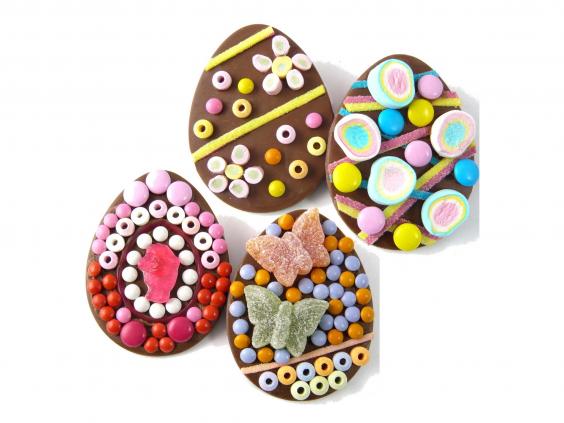 Who knew Easter eggs could bring out the artist in you? This box of goodies is packed to the brim with enough little sweets and chocolates to decorate four flat eggs. Also included is melting chocolate (for sticking), brushes, instructions, ideas and wrapping materials.
2. The Cocoabean Company All Over Sprinkle Easter Egg: £11, John Lewis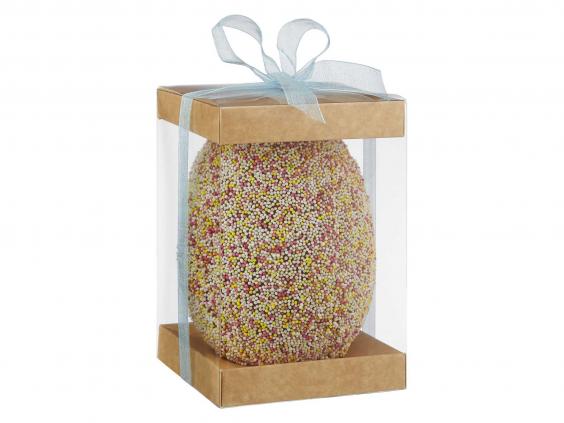 This sizeable egg is a real beauty and comes displayed in a smart clear case with ribbon tie. Thanks to the all-over sprinkles, it's great for anyone with a sweet tooth – so pretty much includes all children, then. The Belgian chocolate has just the right amount of creaminess.
3. Waitrose Woodland Friends Ollie the Owl: £5, Waitrose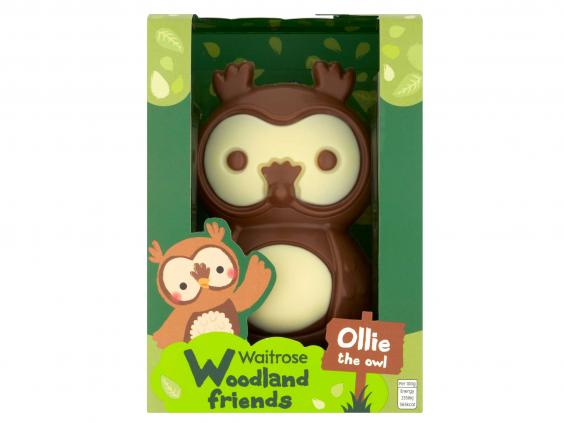 There's everything from frogs to hedgehogs available in this woodland range, but our young testers' firm favourite was Ollie the Owl – all agreed that this one looked the best and was tasty indeed.
4. Hotel Chocolat You Crack Me Up: £27, Hotel Chocolat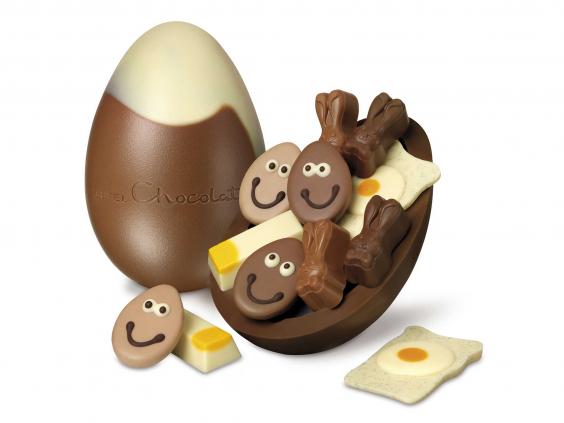 This is probably best for older children, not least because there's a serious amount of chocolate here. Inside the two half-shells – one made from silky smooth milk chocolate, the other a blend of white chocolate and caramel – there's a feast of 12 individual chocs.
5. Marks & Spencer The Orange Carrot: £7, Marks & Spencer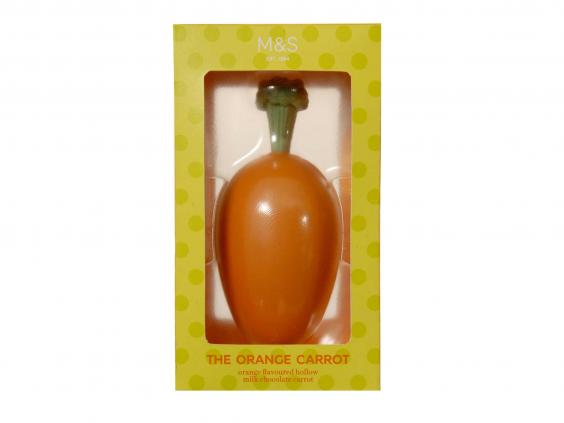 M&S rarely disappoints when it comes to kids' Easter eggs. Our favourite for this year is their orange carrot egg that stands out immediately for being different and quirky. The orange flavour isn't overpowering and adds a sweetness kids will love. 
6. Thorntons Football Fanatic Easter Egg: £4, Thorntons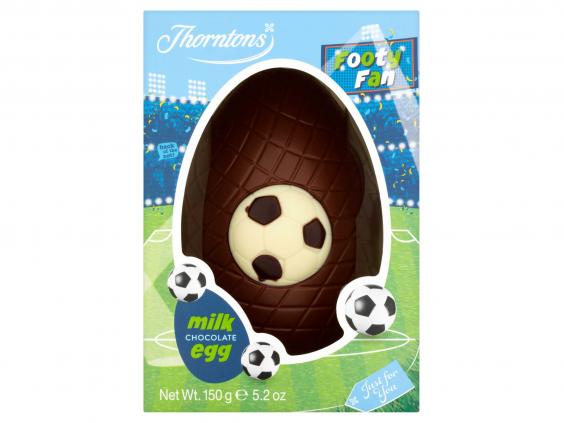 It's not the easiest egg to crack open as the chocolate is so thick, but kids will doubtless find the drive and strength to get there eventually. Football fans will appreciate the theme and the chocolate is on the sweet side – just what kids tend to like. You can personalise it with a name or message too.
7. Lakeland Milk Chocolate Mini Eggs: £7.99, Lakeland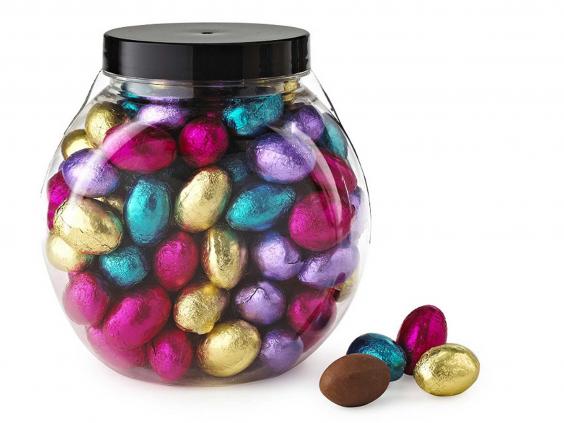 The best part of Easter for many kids is the egg hunt. And if you're in charge of setting one up, you can't go far wrong with this generous pack of multi-coloured, foil-wrapped solid chocolate eggs. You get almost half a kilo's worth, too.
8. Betty's White Chocolate Rabbit Egg: £9.95, Betty's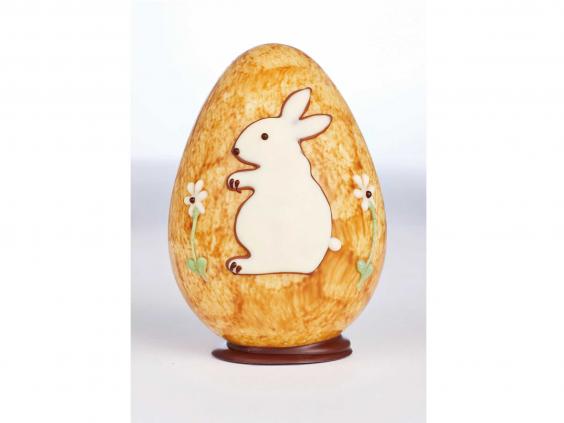 This is a delightful design for children of all ages. Hand-decorated, it almost looks too good to eat, although kids don't usually have that problem. The velvety white chocolate is absolutely delicious.
9. Lidl Fudge Feast: £2.99, Lidl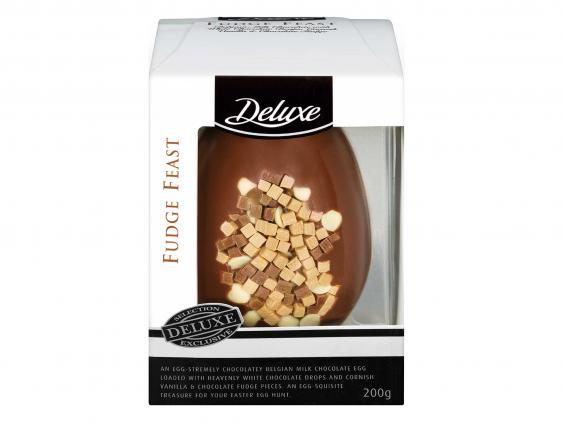 This looks luxurious in its posh white box and it's pretty large too, yet it'll cost you less than three quid. The chocolate is good for kids who like their chocolate at the sweeter end of the scale, and there's an Eton Mess alternative for youngsters who prefer white chocolate.
10. Fortnum & Mason Personalised Easter Chocolate Chicks Plaque: £12.50, Fortnum & Mason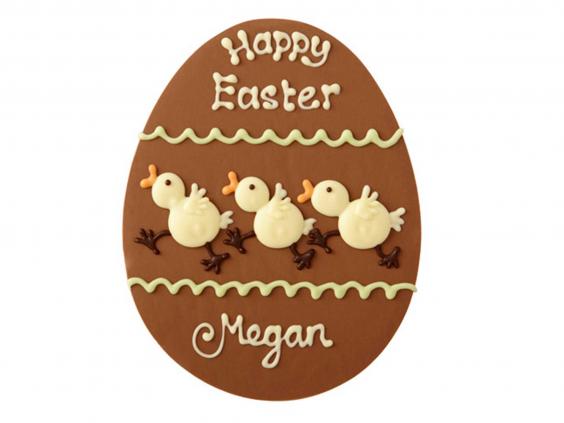 This egg may be flat, but it still contains enough creamy milk chocolate to please little ones. It features a cute design of three handmade Easter chicks and, best of all, you can get it personalised with the child's name at the bottom.
11. Chokablok King of Eggs Billionaires Dynamite Easter Egg: £10, Tesco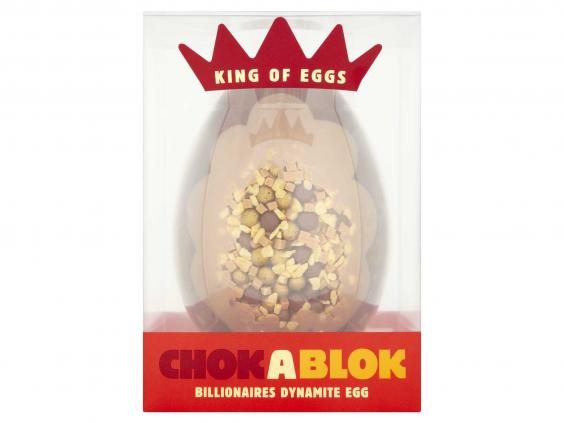 This 650g, 21cm-high egg is great for siblings or indeed the whole family to share. Made from Belgian chocolate, honeycomb, chocolate-coated shortbread biscuits and caramel fudge pieces, it looks impressive and tastes great.
12. Rococo The Enormous Crocodile Egg: £19.99, Selfridges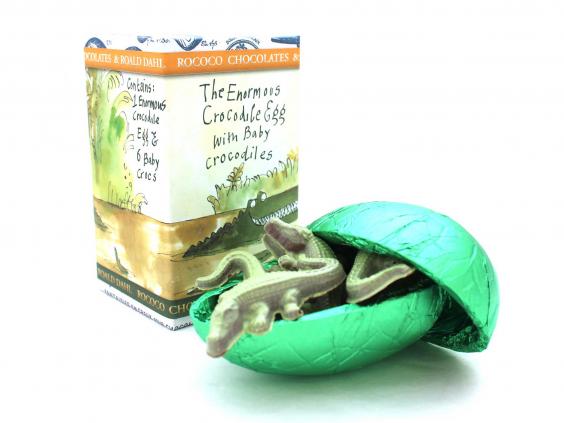 Based on the Roald Dahl story, this egg comes in a beautiful box complete with Quentin Blake illustrations, while the green, foil-wrapped chocolate egg contains intricately detailed milk chocolate baby crocodiles. And it's not just a feast for the eyes – it tastes fantastic too.
13. Stas Chocolatier Easter Egg Head: £9.50, Ocado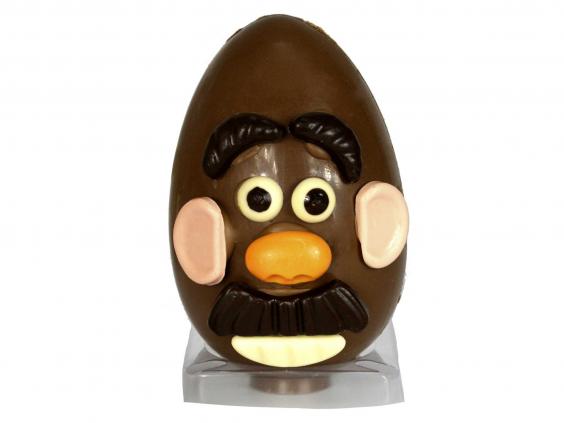 For something a bit different, opt for this DIY Easter egg. It comes with eyes, ears, a mouth and a nose which you get to stick to the egg yourself with a gooey, edible glue. The finished product looks fantastic and the egg has a strong but smooth flavour.
14. Moo Free Cheeky Orange Egg: £3.99, Holland and Barrett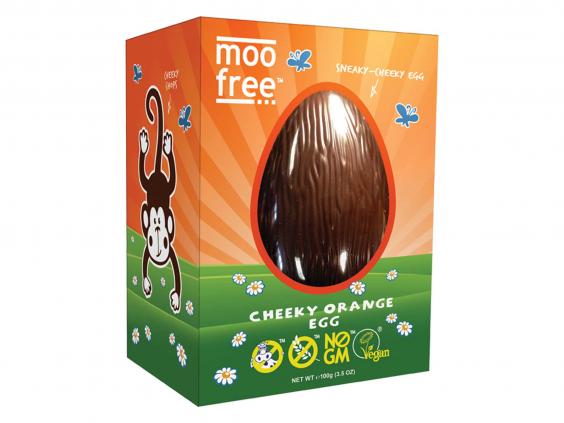 We think this award-winning egg is by far the best dairy-free chocolate option for this Easter. The hollow shell is made with rice milk and has a subtle orange flavour and child-friendly texture, thanks to the crunchy orange chips. Younger kids will love the monkey theme too.
15. Montezuma's Milk Chocolate Egg with Peanut Butter Mini Eggs: £19.99, Montezuma's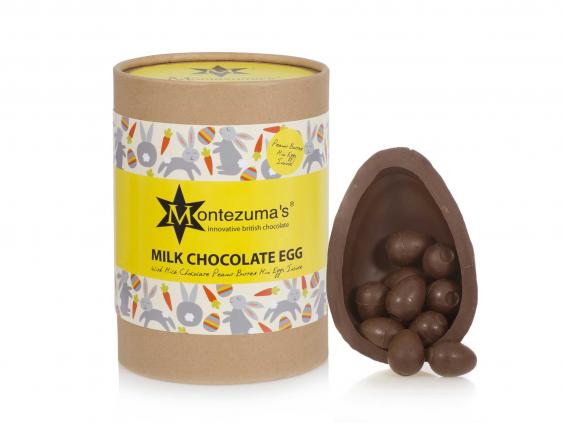 Probably one for teenagers, this is a thick-shelled egg, made from velvety milk chocolate and filled with dark chocolate mini eggs flavoured with peanut butter – an interesting combination, but one that tastes really good.
16. Lindt Gold Bunny: from £5 for 2, Lindt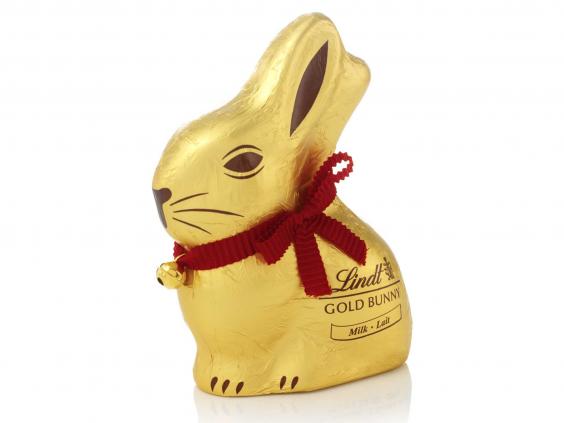 Rare is the child – or adult, for that matter – who doesn't instantly recognise the famous Lindt gold-foiled bunny. The sheer variation of sizes available, from tiny little things right up to a huge 1kg version, is hugely impressive. This one is presented in an elegant carrier case.
17. Carluccio's Easter Basket: £9.95, Carluccio's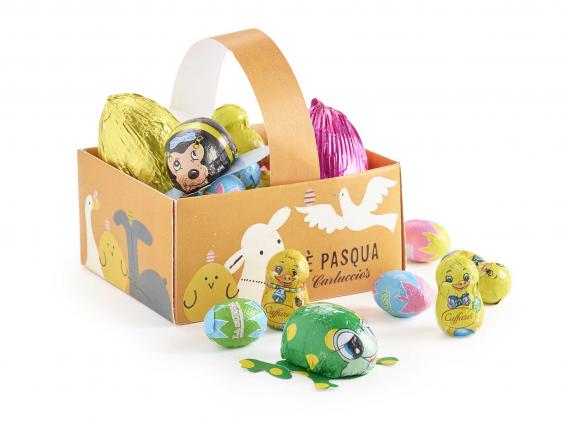 This cheery-looking Easter basket of goodies will brighten up Easter morning for children of any age. It bundles together hollow chocolate eggs, animals packed with gianduja and cereal-filled mini eggs. It should keep them going for days, if not weeks – although they may well be scoffed a lot sooner.
18. Artisan du Chocolat Geodes Rock: £19.95, Artisan du Chocolat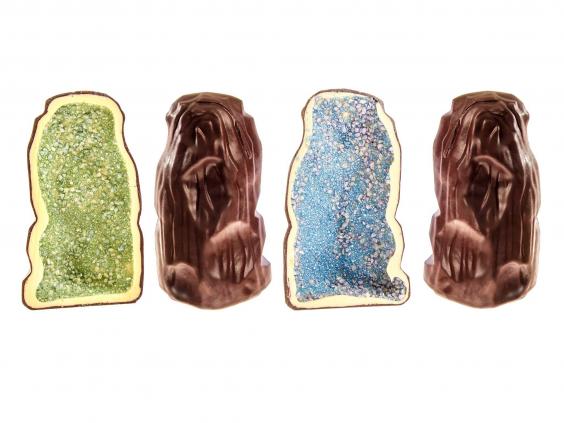 Kids love crystals and this really does look like the real deal at first glance. Plus, it tastes amazing, with the sweetness of the sugar crystals complementing the bitterness of the dark chocolate and creaminess of the white chocolate. We like the contrast in textures, too.
19. Harrods Bunny Easter Egg: £14.95, Harrods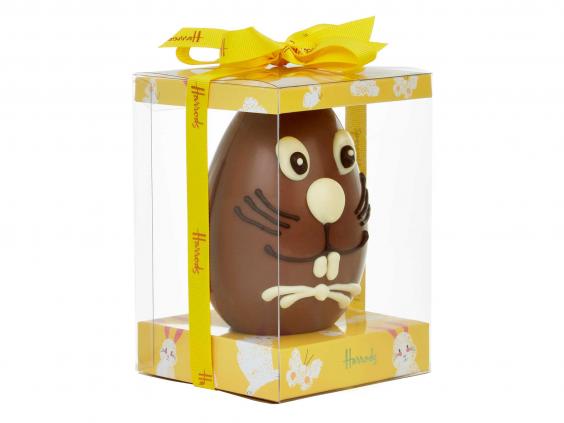 Faces on eggs are a popular theme this year and we love Harrods' version of a bunny face on a rich milk chocolate egg. A traditional whack of the egg on a tabletop will then reveal the yummy chocolate buttons inside.
Verdict 
For sheer innovation, we think the Cocoapod Easter Egg Decoration Kit is a winner. For more traditional eggs, Thorntons' Football Fanatic Easter Egg will be a great hit with little ones, while teenagers are bound to love Hotel Chocolat's You Crack Me Up.
IndyBest product reviews are unbiased, independent advice you can trust. On some occasions, we earn revenue if you click the links and buy the products, but we never allow this to bias our coverage. The reviews are compiled through a mix of expert opinion and real-world testing
Reuse content