The Independent's journalism is supported by our readers. When you purchase through links on our site, we may earn commission.
Christmas 2015: 10 best 3DS games
Our pick of the offerings for handheld gaming aficionados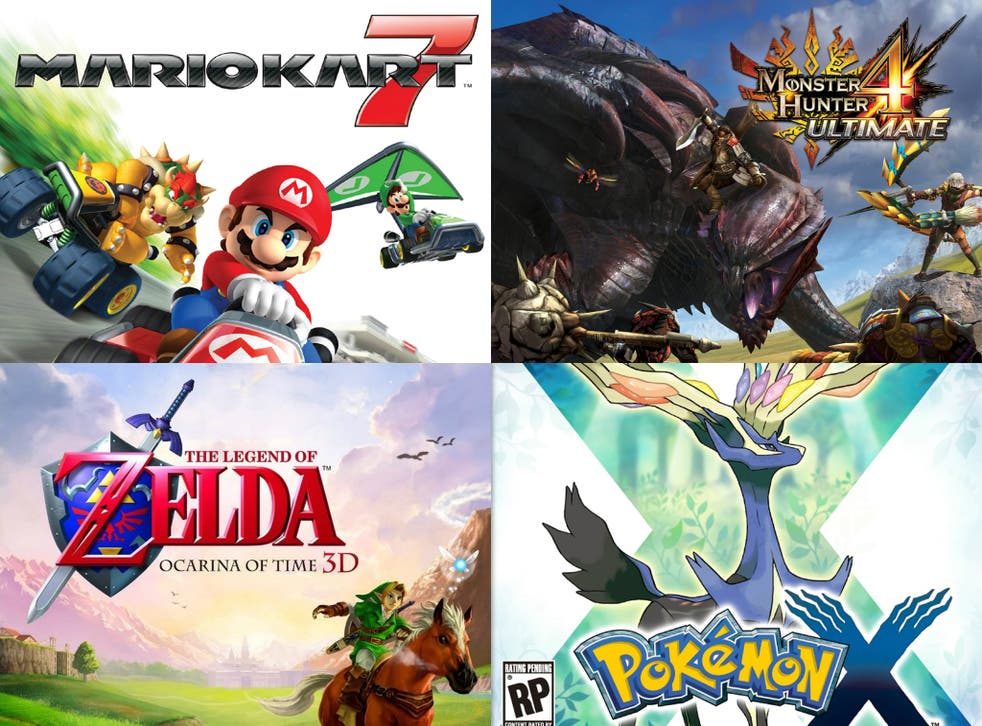 Even with the unimaginable rise of Candy Crush and Angry Birds, the Nintendo 3DS has managed to remain the best handheld device to game on.
The sequel to the multi-million selling DS has a brilliant roster of games, the best of which appeal to both children and adults in equal proportion, all playable in magical 3D without the need for glasses.
So if you are fed up with pay-as-you-play smartphone games - which you should be - here are ten reasons you should get on board with Nintendo's latest handheld console (in no particular order).
1. The Legend of Zelda: Ocarina of Time: £32, Nintendo
Ported over from the Nintendo 64, this is heralded as one of the greatest video games ever by many for its open gameplay and memorable characters. Whether you're playing for the first time or the hundredth, there's nothing quite like riding through the rolling fields of Hyrule, its magical world, defeating enemies with your bow and arrow, all while collecting rubies and hoping to save princess Zelda.
2. Mario Kart 7: £30, Nintendo
Racing round as Mario, Luigi, Peach and Bowser has never been so fun, especially with the addition of hang gliding karts and underwater driving. Just don't slip on the bananas.
3. Shovel Knight: £14, Yacht Club Games
Inspired by old-school arcade 2D platformers, Shovel Knight is a blast to play through. High speed, challenging action with both the style and music from NES games past, define this game. Yet there's enough personality here to differentiate it from what's come before.
4. Pokemon X/Y: £32, Pokemon Company
Collecting every Pokemon may be nearly impossible (there are 718) but that doesn't make the adventure any less fun. Both X and Y follow the same old formula - defeat eight gym leaders using the creatures you've caught along the way – the difference between them lies in which legendary Pokemon you get at the end.
5. Fire Emblem: Awakening: £33, Nintendo
This tactical, turn-based game offers gamers of all levels a challenge. Much like in a chess game, you select a warrior to move across a battlefield divided by squares, trying to defeat your opponents' troops. As with all Fire Emblem games, there's a story of good, evil and romance driving you forward, but good luck remembering everyone's names.
6. New Super Mario Bros. 2: £32, Nintendo
You know the drill: Princess Peach has been captured by bowser, the villainous turtle, and the Italian plumber Mario is the only one who can save her. This update almost perfects the classic side-scrolling gameplay that made the original games so fantastic: it is just a little too easy for veterans.
7. Monster Hunter 4 Ultimate: £35, Capcom
Does taking down huge beasts with an oversized sword? Then this is the game for you. This improves on the previous games in the series, offering thrills you wouldn't think possible on such a small screen, such as battling massive dragons on a massive scale.
8. Animal Crossing: New Leaf: £26, Nintendo
Animal Crossing is an adorable little simulator that sees you start a life of your own in a faraway village. Collect shells, fruit and fossils while making friends with the locals - all of whom are animals - while decorating your house, and filling the museum with new exhibits.
9. The Legend of Zelda: A Link Between Worlds: £15, Nintendo
Unlike Ocarina, this Zelda game is an all-new, top-down adventure that sees the hero, Link, travel between worlds in an attempt to save the princess. Both dimensions are the same yet completely different, adding an extra level of puzzle to an already challenging quest.
10. Super Smash Bros.: £36, Nintendo
Smash Bros. is entirely crazy. You choose from a roster of classic video-game characters - from Donkey Kong to Pac-Man - and pit them against each other on ridiculous stages, all while you try to knock your opponent off screen. Best played with friends.
Register for free to continue reading
Registration is a free and easy way to support our truly independent journalism
By registering, you will also enjoy limited access to Premium articles, exclusive newsletters, commenting, and virtual events with our leading journalists
Already have an account? sign in