11 best graphic novels
Cure Comic-Con envy with exciting new reads from publishers big and small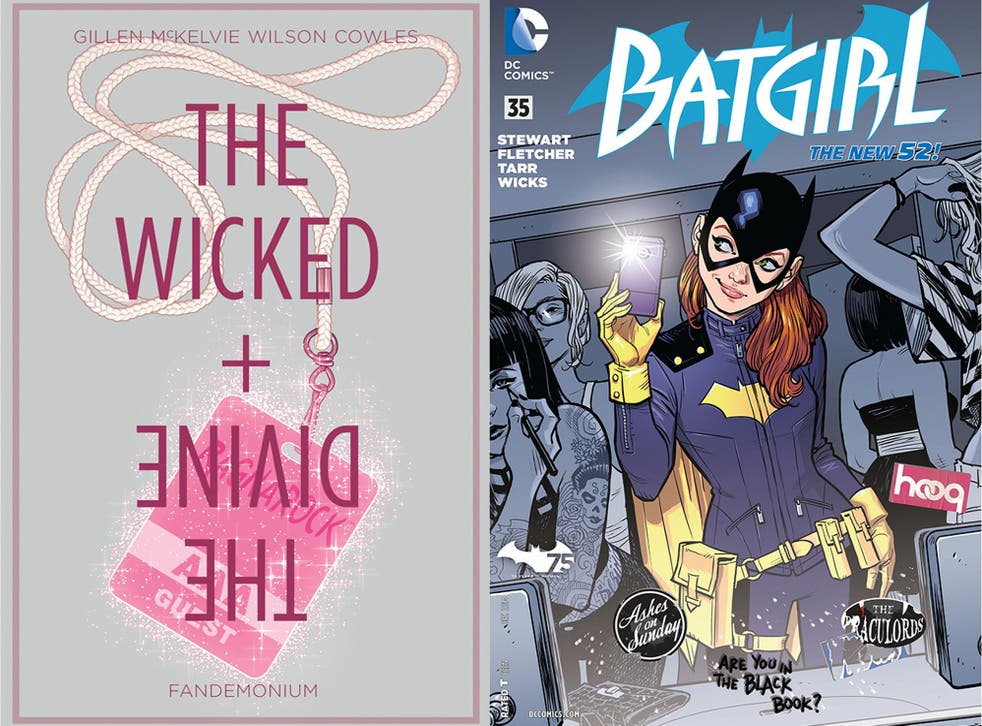 With Comic-Con International, the world's largest gathering of comic book fans, in full swing in San Diego, now is the perfect time to celebrate the graphic novel.
Created by clever teams of pencillers, inkers, colourists and writers and letterers (plus some seriously dedicated individuals doing the whole lot themselves), works are now just as popular with adults as they are with children and teens.
Here we present the best new releases. Our lists includes the latest offerings from Marvel and DC– the publishing houses that brought us the likes of The Fantastic Four, Spider-Man, X Men, Superman, Wonder Woman and Batman; multi-faceted superheroes with special powers whose fantastical worlds and adventures, vividly drawn, are often a way in to tackle the very real issues of the day –alongside works from other established operations and new writers.
Let us know what you think of our edit.
1. Ms Marvel, Vol 3: Crushed, Marvel: £8.39, amazon.co.uk
Kamala Khan, aka the latest Ms Marvel, made headlines when she was introduced in 2013 as the first Muslim superhero. In this volume she has to juggle her new shape-shifting powers and her status as an 'Inhuman' with more typically adolescent problems – like how to navigate the school dance and what to do about a love interest. Written by G. Willow Wilson and Takeshi Miyazawa, it's both funny and an acute portrayal of teenage life.
2. Thor, Vol 1: Goddess of Thunder, Marvel: £7.69, amazon.co.uk
You don't have to have read previous Thor comics to appreciate this tale about the Norse God of thunder with a feminist bent. The now 'unworthy' Thor is forced to pass his mantle to a mysterious woman. But who is she? And will everyone accept a female in his place. Add some frost giants into the mix and you get girl power in action – and Thor gets his answer.
3. Saga, Vol 4, Image: £7.69, Amazon.co.uk
Published by California-based Image, this comic follows little Hazel, the infant child of star-crossed lovers on opposite sides of a galactic war. Alana and Marko are fleeing authorities while working out what parenthood really means. Featuring murderous assassin robots, and a lie-detecting cat, this unusual, character-driven comic is our favourite on the list. Warning: it features nudity.
4. Batgirl, Vol. 1: The Batgirl of Burnside, DC: £10.99, amazon.co.uk
Batgirl, who has been around since 1967, has been given a make-under. Out's gone the overtly sexual spandex and body armour, replaced with Doc Martins and a costume that looks like it could actually be useful in her battles across the streets, She moves to Gotham's coolest neighbourhood: Burnside. There she faces new threats. First up: motorcycling twin sister assassins.
5. The Thrilling Adventures of Lovelace and Babbage: The (Mostly) True Story of the First Computer, Particular Books: £11.89, amazon.co.uk
This is a one-woman production as London-based Sydney Padua writes and illustrates an alternate-reality, steampunk tale featuring real characters from history: Ada Lovelace, the mathematician and daughter of the poet Byron, and eccentric genius Charles Babbage build a gigantic steam-powered computer and fight crime. In real life, Babbage was indeed working on a theoretical 'computer' but it was first made 153 years after it was designed. A beautifully illustrated and cleverly written 'what-if' tale.
6. Rat Queens, Vol 2: The Far Reaching Tentacles of N'Rygoth, Image: £7.69, amazon.co.uk
Rat Queens is an on-going American fantasy comic series about four booze-loving, rowdy adventurers - a hipster dwarf, an atheist cleric, a rockabilly elven magic user, and a hippy Halfling thief. The winner of the 2014 Eisner Award for Best New Series, it's to be adapted as an animated series. This second volume sees the motley crue attempting to stop a businessman from summoning a tentacled God.
7. Through the Woods, Faber: £8.29, amazon.co.uk
This is a collection of five spooky Gothic tales by Canadian writer and artist Emily Caroll. The words and images together evoke the worlds of Tim Burton, Edward Goring and Neil Gaiman as blood-filled skies overhang a girl who has been set up for marriage. Sample line: 'It came from the woods. Most strange things do.' Spine-tingling stuff.
8. Avengers: Time Runs Out, Vol 4, Marvel: £15.90, amazon.co.uk
Jonathan Hickman's much-anticipated Time Runs Out series sees Marvel universes collide. Superheroes who were once allies backstab each other and the end could be nigh. Featuring everyone from Captain America to Iron Man and the Hulk, this is set to become a classic. Pick up volumes 1-3, too, if you can, to appreciate this tightly-woven cataclysmic saga
9. Black River, Fantagraphics: £13.99, amazon.co.uk
Seattle-based Fantagraphics (the publishers of Charles M Schulz's Peanuts) has been called an American national treasure. Here, they publish the latest by acclaimed author-and-artist Josh Simmons. Black River charts a story of a group of women, one man and two dogs as they wander the wreckage of a post-apocalyptic world.
10. Nimona, HarperTeen: £7.99, amazon.co.uk
A print version of Noelle Stevenson's incredibly popular webcomic, Nimona features revised pages, conceptual sketches and an exclusive epilogue, it's interesting for those wanting to find out more about comic-book creation as well as anyone after a subversive tale. Nimona is a young shape-shifter and sidekick to the supervillain Lord Blackheart. Their mission? To prove the 'heroes' aren't really heroic at all.
11. The Wicked + the Divine Vol. 2, Fandemonium, Image: £7.69, amazon.co.uk
Image seems to be on a roll lately. UK-set The Wicked + the Divine has been picked up as a TV series, despite only being in its second volume. Every ninety years, twelve Gods are reincarnated as humans. Most of them, oddly, become pop stars. The sad part? They only have two years to live – so they must make the most of the time they have left (they party hard, in other words). This is a gritty, vividly-drawn tale from Kieron Gillen and Jamie McKelvie, the duo behind similarly pop music-obsessed comic, Phonogram.
Verdict:
For the sheer ingenuity, Saga has to be the best buy of the lot, though I'd recommend buying the previous three volumes too. For anyone wanting a standalone treat, grab The Thrilling Adventures of Lovelace and Babbage or Black River. For the teenagers? Through the Woods is an entertainingly gruesome gem.
IndyBest product reviews are unbiased, independent advice you can trust. On some occasions, we earn revenue if you click the links and buy the products, but we never allow this to bias our coverage. The reviews are compiled through a mix of expert opinion and real-world testing.