The Independent's journalism is supported by our readers. When you purchase through links on our site, we may earn commission.
12 best kids' books for dyslexic and reluctant readers
Foster a love of reading from an early age with an accessible, engaging and enjoyable read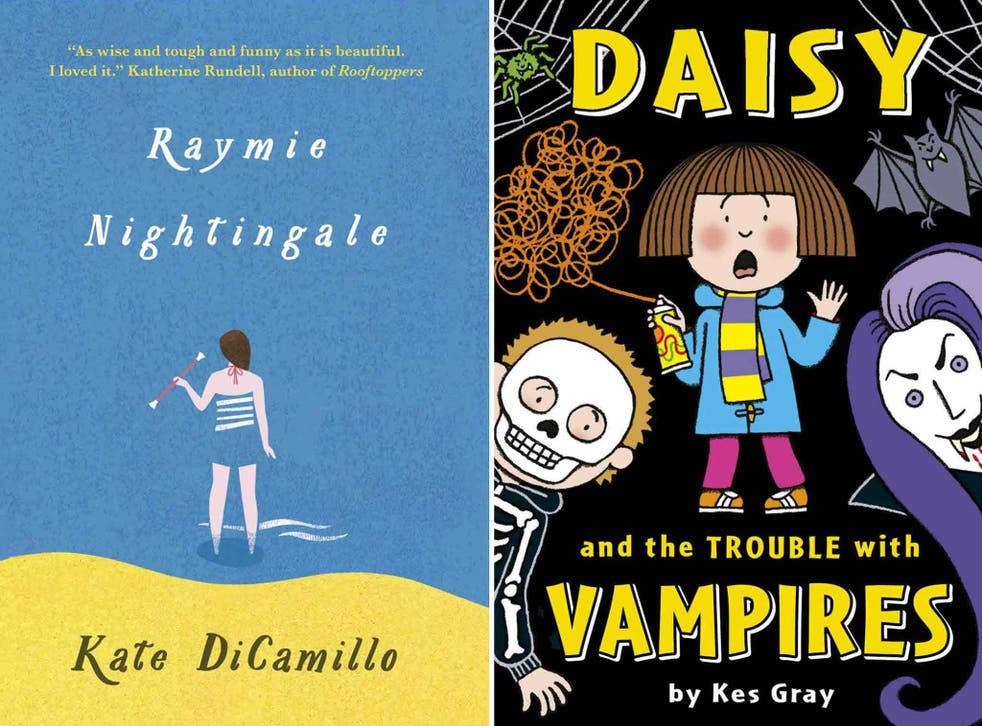 From Wimpy Kid to gritty teen fiction, our round-up brings you some of the best books for encouraging a lifelong love of reading among children who are dyslexic or reluctant readers.
While you'll probably know if your child isn't keen on reading, it's not always so easy to tell if they are dyslexic, acknowledges Sue Flohr, national helpline and policy manager at the British Dyslexia Association. "Some of the things to look out for are children losing their place, finding a white background too glary, and struggling to pronounce words," she says. Some dyslexic children, she adds, may transpose letters (moving their position within a word), struggle to break down and chunk words, find it difficult to pronounce words and struggle to understand what they've read or even remember it.
While our book suggestions can help, make sure the one you choose isn't too difficult for them, advises Flohr. "You could try the five finger test to help with this if you're not sure. Start by finding a page within the book that doesn't have pictures, then get them to start reading at the top and go on until they reach a word they don't know. Get them to put their little finger on it and continue reading, putting another finger on each word that they don't know. If they run out of fingers before they get to the bottom of the page, the book is probably too hard for independent reading." Conversely, be careful not to use "baby" books with older struggling readers, she adds.
Whatever the reason your child has struggled with reading in the past, choose a quiet environment to get them going with their new book, Flohr suggests – and have a drink a snack ready. "And keep the time short – 10 minutes of quality time is better than 30 minutes struggling."
If your child is really put off reading, perhaps start by reading to them or try an audio book – it will help bring stories to life. Or you could share the reading – taking the pages in turns. Get them to make pictures in their head as you or they read, and chat about those images. Choose books with care, thinking about what interests your child. Everyone tries harder when a book interests them, points out Flohr.
Above all, make it fun and remember that the more they read, the easier it becomes.
1. Tom Gates: DogZombies Rule (For Now) by Liz Pichon: £10.99, Scholastic
Author Liz Pichon is herself dyslexic and her hugely popular Tom Gates series features just the kind of books she says she wishes she'd been given as a child. They revolutionise storytelling for youngsters with their brightly coloured and creative illustrations, wide range of fonts and comical tales – most kids who get their hands on these books read them again and again. In this one, Tom Gates has big plans for his band DogZombies to be the best in the whole world. What could possibly go wrong?
2. The Front Room by Michelle Magorian: £6.99, Barrington Stoke
Another corker from Barrington Stoke, which has been publishing easy-to-read but excellent books for 20 years, this spooky, suspenseful tale will keep teenagers gripped to the last page. The setting is a holiday that was supposed to give Hannah's parents a break after the loss of their baby, but Hannah realises there's something very wrong with her room. From the author of Goodnight Mister Tom.
3. You're a Bad Man Mr Gum 10th Anniversary edition by Andy Stanton: £6.99, Egmont UK
Andy Stanton studied English at Oxford, but they kicked him out. He is best-known for the hilarious and award-winning Mr Gum books, which are published in 34 countries worldwide and which focus on a horrible man who hates children, animals, fun and corn-on-the-cob. This one, which is as loved by children today as it was when it was it was first published a decade ago, is the first in the series, and attracts readers with its side-splitting adventure and without overwhelming kids with too many words on the page.
4. Unboxed by Non Pratt: £6.99, Barrington Stoke
Barrington Stoke is an award-winning publisher that specialises in readable books for young people with dyslexia or reading reluctance, and it's come up trumps with this novella aimed at teens. Four friends meet up at their old school to open a memory box containing letters that their friend Millie, who died, left them – only to discover a new letter that leads to them revealing their deepest secrets.
5. The Twits by Roald Dahl: £7.99, Penguin
This is the much-loved tale of Mr and Mrs Twit, an obnoxious couple who spend their lives trying to outdo each other in nastiness. But the Muggle-Wump monkeys and the Roly-Poly bird hatch an ingenious plan to give them just the ghastly surprise they deserve. Many parents reading this will probably credit Roald Dahl as the author who started their love of reading, and this new edition is perfect for passing that onto younger generations.
6. Daisy and the Trouble with Vampires by Kes Gray: £5.99, Random House
This is the latest in the successful Daisy series and particularly timely, what with Halloween nearly upon us. Indeed, it's Halloween that gets Daisy into spooky trouble, when she goes trick-or-treating for the very first time. A great book for dipping in and out of or reading together out loud, and one that we think is a real confidence booster, not least because it's thick yet easy-to-read thanks to large font and imaginative use of black and white ink throughout. Plus, kids may well already be familiar with Daisy, from the famous pre-school Eat Your Peas story.
7. The World of Norm: May Be Recycled by Jonathan Meres: £6.99, Hachette Children's Group
Life is really unfair for 13-year-old Norm, whose parents drag him to IKEA, make him switch the lights off and force him to be host to his perfect cousins. The 11th in the bestselling series, it is highly illustrated and – not surprisingly, given that it's author is an award-winning ex-stand-up comedian – very funny. In this one, he wakes up home alone and has the fridge to himself. Particularly good for fans of Diary of a Wimpy Kid and David Walliams.
8. Raymie Nightingale by Kate Dicamillo: £9.99, Walker Books
The nice short chapters are the first thing that will make this touching book appear less daunting to struggling readers, and once kids get stuck in, it's a real page-turner about love and loss. Drawing on her own childhood memories from the mid-seventies when her own father left, this is the story is of 10-year-old Raymie Clarke who decides that if she can win the Little Miss Central Florida Tire competition, then her father might also come home. As the competition approaches, she is drawn into an unlikely friendship with two of her contestants.
9. Santa Claude by Alex T Smith: £8.99, Hachette Children's Group
Claude – a plump dog, with a red beret – has adventures that his owners, Mr and Mrs Shinyshoes, know nothing about. In this hardback book – the latest in the series that was first published six years ago – Claude and his sidekick Sir Bobblysock, accidentally kidnap Santa. The pace, plot and humour make it fantastic for getting kids to make that jump to independent reading and a delight for young readers.
10. Future Ratboy and the Invasion of the Nom Noms by Jim Smith: £6.99, Egmont UK
This rollicking rib-tickler is an unlikely superhero comedy adventure. From the Roald Dahl Funny Prize-winning author Barry Loser, it is the second adventure of Colin Lamppost – the ordinary boy who was zapped by lightning and blasted millions of years in to the future, and blended with an old television and a rat in the process. The sheer humour will get kids interested from the off – along with the child-friendly font that's dotted with amusing illustrations.
11. Diary of a Wimpy Kid: Double Down by Jeff Kinney: £12.99, Penguin
The pressure is piling up on Greg Heffley, whose star attributes lie in playing video games, but whose parents want him to do something (anything) else instead. When he finds an old video camera in his basement, he decides to make a scary movie with his friend. Written in a broken-up diary style, with illustrations that kids almost feel they could draw themselves, Kinney's witty and modern-day books are well known for breaking down the barriers that have traditionally put children off reading.
12. The World's Worst Children by David Walliams: £14.99, HarperCollins
Often described as the modern-day Roald Dahl, Walliams is a big author with big ideas and plenty of illustrations, all combining to make for real page-turners, even for kids who would normally look at you as if you're mad to suggest reading for pleasure. As any expert will tell you, descriptive writing often isn't right for dyslexic and reluctant readers – who prefer fun, wit and light-heartedness and, most of all, a great plot, all of which this book has.
The Verdict: Kids' books for dyslexic and reluctant readers
Liz Pichon's Tom Gates series is a British publishing sensation – and for dyslexic and struggling readers, the collection is sent from heaven, leaving us in no doubt that her latest book DogZombies Rule (For Now) should be our top recommendation from our list. Meanwhile, Unboxed by Non Pratt is a fantastic page-turner for older readers and comes from a publisher that specialises in dyslexic and struggling readers.
All prices listed are RRP
IndyBest product reviews are unbiased, independent advice you can trust. On some occasions, we earn revenue if you click the links and buy the products, but we never allow this to bias our coverage. The reviews are compiled through a mix of expert opinion and real-world testing.