The Independent's journalism is supported by our readers. When you purchase through links on our site, we may earn commission. Why trust us?
10 best interior design books
In need of some inspiration? Take a look through these beautifully designed tomes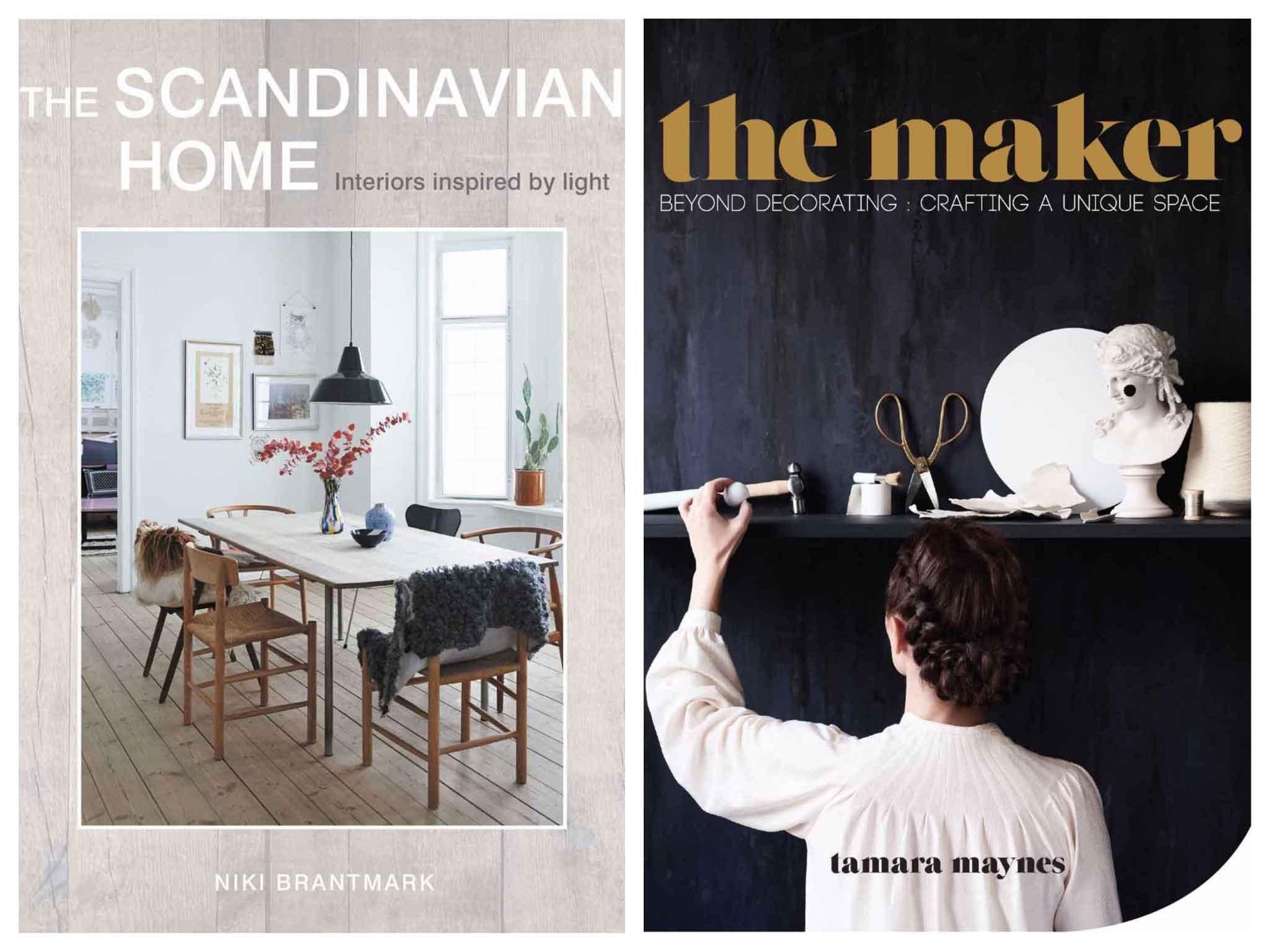 Whether you've just bought your first house, are looking to refurbish your home or just want to add some spark to your study, there are countless reasons why you may be in need of some interior design inspiration.
We've compiled a selection of inspiring and useful books here, all recently published, taking care to cover a range of styles, cultures and budgets. They're written by some of the brightest minds in interior designs, from creative professionals to hugely popular bloggers.
1. Dream Décor: Styling a Cool, Creative and Comfortable Home, Wherever You Live: £25, Jacqui Small
This dreamy volume will take you on a trip around the world, allowing you to discover the décor of 15 distinct destinations, which range as far as Normandy, Scandinavia, Brooklyn, Italy, Hollywood, Paris and Miami. Wildly popular lifestyle blogger Will Taylor, of the site Bright Bazaar, aims to help readers understand what type of decorating style is best for them through the use of evocative travel photographs and snapshots of characterful homes around the world.
2. Farrow & Ball: How to Decorate by Joa Studholme & Charlotte Cosby: £30, Octopus
This is a beautiful volume by paint and wallpaper specialist Farrow & Ball, written by in-house colour guru Joa Studholme and head of creative Charlotte Cosby. The book features inspiring shots of beautiful houses around the world, encompassing a wide range of different decorating styles. We thought it was particularly useful how it offers an in-depth look at all the different shades of the colour wheel and their effect on interiors, alongside helpful tips for how to work with paint, primers and undercoats, and suggested colour combinations. It also provides interesting insight into how painting floors and stairs can really transform a home.
3. The Perfect Bath by Barbara Sallick: £35, Rizzoli International Publications
You may not think of your bathroom as the most glamorous room in your house, but this escapist volume by Barbara Sallick will make you start dreaming of all the design potential of your own lavatory. The exhaustive book showcases many different styles, from gilded sinks to marble showers, and covers everything from bathroom accessories to materials and furnishings. It also includes information about the different types of bathtubs, showerheads, washstands, sinks and toilets. Barbara Sallick is co-founder of Waterworks, a luxury brand of bath fittings, fixtures, furniture, and accessories.
4. New York Living: Re-Inventing Home by Paul Gunther: £42.50, Rizzoli International Publications
We may think we know a lot about New York thanks to all those binge-worthy TV shows, but have you ever wondered what it's like inside a real home? Now you can find out, thanks to this interesting volume by Paul Gunther, director of the Gracie Mansion Conservancy. This book takes a look at all the different types of homes in New York, including everything from cosy bedrooms and glamorous kitchens to antique-filled dining rooms, sumptuous hallways, ultra-modern bathrooms and book-rammed libraries, and even gardens and terraces. Gunther provides great insight into all the different areas, such as Manhattan, Brooklyn, Queens, Staten Island and the Bronx, giving the reader a thorough knowledge of the wide variety of homes in the Big Apple.
5. The Scandinavian Home: Interiors Inspired by Light by Niki Brantmark: £19.99, Ryland, Peters & Small
Flicking through this book is as soothing as a trip to Scandinavia. Niki Brantmark, founder of popular interior design blog My Scandinavian Home, has curated gorgeous photographs of homes across Denmark, Norway, Sweden and Finland. This book focuses on how Scandinavian interiors are naturally inspired by light: given the abundance of light in the summer and its scarcity in winter, houses are designed to maximise the amount of natural light in the winter, and to allow the inhabitants to enjoy being outdoors during the summer. The book covers a wide range of different types of homes, from minimalist urban spaces to country homes, mountain cabins, beach houses and summer cottages, offering a wealth of Scandi inspiration.
6. Home Décor Cheat Sheets: Need-To-Know Stuff For Stylish Living by Jessica Probus & Alice Mongkongllite: £11.99, Ulysses Press
We love this colourful little book, which features over 300 user-friendly illustrations for DIY interior design ideas. The comprehensive guide includes a glossary on different types of sofas, coffee tables, beds, tile patterns, doors and cabinet knobs. Writer, editor and designer Jessica Probus and graphic designer and illustrator Alice Mongkongllite will guide you through the various aspects of arranging a well-coordinated space in your home, covering everything from matching furniture styles, arranging wall art and fitting a rug, to how you can make use of throw pillows to add elegance.
7. The Maker: Beyond Decorating: Crafting A Unique Space: £18.99, Murdoch Books
If you're going to deck out your new home, you'll most likely want to add some personal touches. We love this book by popular designer Tamara Maynes, which will inspire you to get to work crafting your own decorative pieces for your house. Maynes encourages readers to be creative and to think about creating their own projects such as wall art, textiles, ceramics, lighting and furniture. There's also a helpful section that gives a thorough run-down on a variety of materials, featuring useful tips for preparing cane for weaving and explanations of different types of clay.
8. Decorate for a Party: Creative Styling Ideas for Gatherings: £20, Jacqui Small
We love this innovative book by Holly Becker and Leslie Shewring of blogs decor8 and A Creative Mint. If you've got a nice, newly furnished home, you'll want to throw a party to show it off! And what better way to decide how to decorate by for the occasion by flicking through this playful and practical book, which features 100 ideas with easy, step-by-step instructions. It's divided into sections that cover a range of different colour palettes, moods styles such as "festive + fun", "warm + cosy", "playful + sweet" or "new + romantic". We reckon there are enough themes to cover all types of gatherings, including children's birthday parties, sophisticated dinner parties and summery picnics. And all the ideas are budget-friendly too, as Becker and Shewring show you how you can make clever use of materials you'll most likely already have on hand to transform your home for a special celebration.
9. Terrariums & Kokedama: Stylish ideas for low-maintenance indoor planting by Alyson Mowat: £12.99, Kyle Books
Terrariums, aeriums and kokedama (which is the Japanese for "moss ball") may not sound terribly exciting, but this book will really make you see them in a different light. Alyson Mowat, who hosts popular indoor gardening workshops in London, shows how you can use greenery to create atmosphere in your home or workspace. The book features 20 projects (with quirky names such as "It's A Concrete Jungle Out There" and "Plant-O-Saurus"), to help you plant and take care of your own botanical creations, and includes helpful gardening tips, as well as advice about how to choose the best plants for the space and for your abilities. All projects include step-by-step instructions and helpful illustrations.
10. Simple Decorating: 50 Ways to Inspire Your Home by Melissa Michaels: £11.56, Harvest House Publishers
Melissa Michaels, from the popular decorating blog The Inspired Room, urges readers of Simple Decorating to "forget the renovation – just add inspiration". This wonderful book features wallet-friendly ideas for how you can spruce up your home without needing to spend too much time or effort. We especially love Michaels' friendly and empathetic tone: "Do you ever find yourself in a decorating slump or just plain ol' STUCK?" she asks. If this is you, you can look forward to discovering the 50 different ways in which you can transform your home. Michaels will help you add personality through the use of different patterns and completely transform a space with simple furniture choices, among many other tips.
The Verdict: Interior design books
We really like How to Decorate and Home Décor Cheat Sheets for their exhaustive nature, while Decorate for a Party and Simple Decorating get a thumbs-up for their focus on budget-friendly ideas. However, our absolute favourite for the beautiful inspiration and wide scope of many different cultures and styles, is Dream Décor.
All listed prices are RRP