The Independent's journalism is supported by our readers. When you purchase through links on our site, we may earn commission. Why trust us?
10 best millennial memoirs by women: Must-reads covering mental health, dating and running
From dating woes to moving stories of grief and dealing with mental health issues, today's millennials know a thing or two about writing up their life stories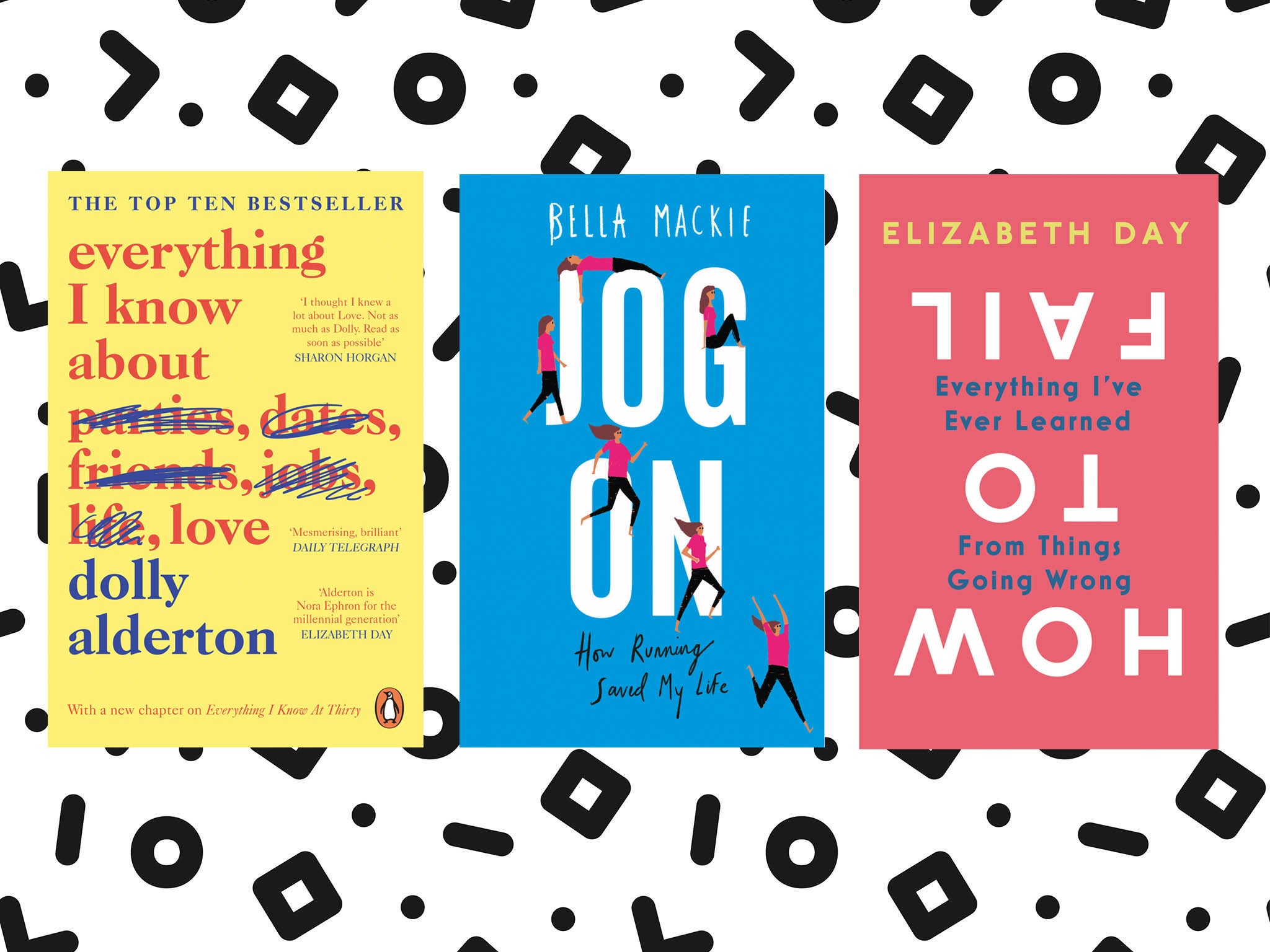 If these authors are anything to go by, you're never too young to write a memoir.
Millennial memoirs are a firm trend in the publishing world, and contrary to what critics might expect, they're not all about avocados and Instagram.
Readers can laugh at Generation Y's dating failures, empathise with their first experiences of grief and loss, and take comfort from knowing there are others who suffer from bad bosses, dodgy flatmates and hangovers.
Of all the memoirs published in the last 18 months as well as those which are available to pre-order now, here's our roundup of the best reads this year.
You can trust our independent reviews. We may earn commission from some of the retailers, but we never allow this to influence selections, which are formed from real-world testing and expert advice. This revenue helps to fund journalism across The Independent.
'Everything I Know About Love' by Dolly Alderton, published by Penguin Random House: £6.99, Waterstones
The Sunday Times columnist's memoir has received a lot of hype, yet it has not disappointed. Alderton said in a recent podcast that other people sometimes complained this is the kind of book they could have written, but they didn't. And they probably wouldn't have done it as well. This book appears deceptively simple – covering dating, flatmates and work troubles – but has an amazing ability to take the most mundane scenario, like making friends with the man at the corner shop, and spinning it into a funny and moving story. A true comfort read with LOL moments. It has a firm finger on the millennial pulse.
'How To Fail: Everything I've Ever Learned From Things Going Wrong' by Elizabeth Day, published by Harper Collins: £8.44, WHSmith
Elizabeth Day was eating too much hummus after a break-up when she decided to launch her hugely successful podcast, How To Fail, with that hummus company becoming the first official sponsor. Within eight episodes she had a book deal to write her memoir. The end result is funny and insightful. In particular, the chapter about her journey with IVF and miscarriage stands out for being so moving and harrowing – a topic that isn't spoken about so openly in general, yet is surprisingly common.
'Vagina: A Re-education' by Lynn Enright, published by Allen & Unwin: £10.49, WHSmith
Sex education, for many of us, was rolling condoms onto bananas. This book, part memoir and part vagina manual, will open our eyes and expand our brains with all the knowledge we should have absorbed when we were younger. But it's not all about sex. The author relates her personal experiences such as being diagnosed with a tilted uterus and her quest to have children, with detailed research regarding everything from FGM to pelvic pain and masturbation. A must read, if we want to know our bodies better.
'Don't Hold My Head Down' by Lucy Anne-Holmes, published by Unbound: £10.33, Amazon
Do you know what a lingam massage is? (You probably will if you've watched Sex and the City.) How about a yoni massage, then? This book introduces you to tantric sex, self-pleasure and naked festivals in the woods in a funny and refreshing way. It's almost like Bridget Jones had written over 300 pages on discovering her sensuality and learning how to ask men for what she wanted. Something more of us should have learnt to do in the Nineties. If two words could sum this up: cor blimey.
'Trick Mirror: Reflections on Self-Delusion' by Jia Tolentino, published by Fourth Estate: £8.49, Harper Collins
There is one guarantee with this New Yorker writer's book of essays: it will make you stop and think. Whether it's an essay about how the internet changed from a friendly blogosphere in the 1990s to the hate-fuelled merry-go-round it has become today, or how capitalism teaches us to scam everyone else to stay on top, Tolentino's writing will leave you feeling a bit more humble, and a bit more intelligent. Her personal stories and narratives feel natural in these essays, as if they should always have been there, and bring new life to old subjects. Zadie Smith and Rebecca Solnit are big fans.
'Jog On: How Running Saved My Life' by Bella Mackie, published by William Collins: £8.50, Book Depository
The former Guardian features writer was once so crippled with anxiety that she could barely leave the house. After getting divorced, Mackie decided to try and make her world larger by putting on running shoes and exploring London. This memoir builds up from a rocky start to 10ks – without pushing readers to aspire to run fast, or to run marathons. This book is more about battling mental health issues and conquering life. She is also refreshingly honest about the fact that not all her demons have been banished, but she has found a good way to keep them at bay.
'The Sisterhood: A Love Letter to the Women Who Have Shaped Me' by Daisy Buchanan, published by Headline: £9.46, Wordery
Daisy Buchanan, the oldest of six girls, is not afraid to admit her sisters can drive her nuts, and they often did throughout her childhood. Her memoir is an open love letter to her family about how they have encouraged her, challenged her, laughed with – and sometimes at – her as she has grown up. It offers advice about how to manage the trickier aspects of life, such as battling body anxiety and making a mark in your career, and bad first boyfriends. It's refreshing to read an honest portrayal about the not-so-perfect sisterhood.
'Eat, Drink, Run: How I Got Fit Without Going Too Mad' by Bryony Gordon, published by Headline: £9.99, Foyles
Another memoir about running, but about so much more besides. Within a year, Bryony Gordon goes from binge drinking, vomiting and suffering depression to running the London Marathon and interviewing Prince Harry about mental health – the closest a mere mortal can get to a fairytale book ending. The stories of the highs and lows, family life and the continual battles with Gordon's imaginary foe – Jareth the Goblin King – are genuinely inspiring and heartwarming. (Eat, Drink, Run will also tempt you to run a marathon yourself, for about 10 minutes at least.)
'All You Can Ever Know' by Nicole Chung, published by Catapult: £13.29, Amazon
Nicole Chung, the editor of US literary website Catapult, grew up knowing she was adopted, but not much else. As a small girl of colour in a white family, in a white town in rural Oregon, she started asking questions. All You Can Ever Know is a fascinating insight into the complexities behind trans-racial adoption, and what happens when a child grows up feeling "other" and wanting to connect with their Korean birth family.
'The To-Do List and Another Debacles' by Amy Jones, published by Penguin: £13.19, Amazon
Amy Jones, a former columnist for The Pool, sure knows how to mentally sabotage every success she's ever had. Her memoir does a good job at describing the devastating and exhausting effects of living with high anxiety and depression, despite having a lively Instagram profile, a solid job, marriage and friendships. But through things like therapy and battling the "emotional crutch" of her to-do lists, Jones finds a better path. The book is also searingly honest about some of the realities of a long-term relationship as well as what it's like to be restless at work – something a lot of the other memoirs frustratingly left out.
The Verdict: Millennial memoirs by women 2019
There's a reason why Dolly Alderton's Everything I Know About Love won the 2018 National Book Awards Autobiography of the Year. It reads fluently, and is consistently funny and moving. Many memoirs have stronger chapters than others. Alderton's book doesn't suffer from the same fate. It's just a bloody good read.