The Independent's journalism is supported by our readers. When you purchase through links on our site, we may earn commission. Why trust us?
10 best books on the Donald Trump presidency
From searing satire to explosive exposés, these are the reads you need to make sense of the man in the White House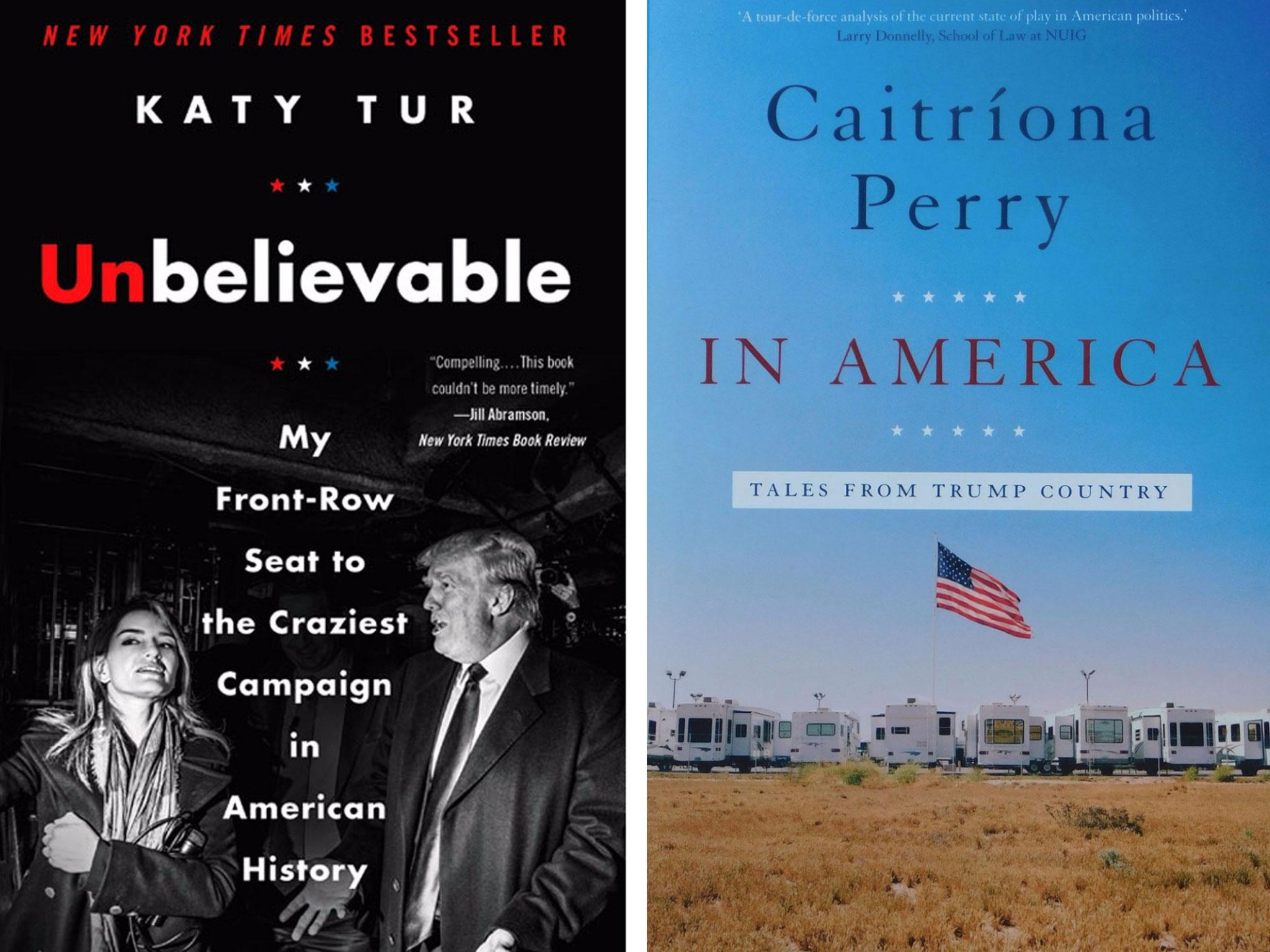 Fascinating and horrifying in equal measure, the implications of the election of Donald Trump to the US presidency cannot be underestimated. From satire to scholarship, from polemic to protest, much ink has been spilled in the last year in an attempt to comprehend the incomprehensible – and as much as we tried to find a balance of opinions on the Trump presidency, the reactions to it, and the present state of democracy, have been generally negative. The books surveyed here explore the Trump phenomenon, its possible causes and probable consequences, and the likely long-term effects on us all, throughout America and the rest of the world.
Collusion: How Russia Helped Trump Win the White House by Luke Harding: £14.99, Guardian Books/Faber
Collusion – robustly denied by Trump but convincingly demonstrated in this exposé by former Guardian Moscow correspondent Luke Harding – is the subject of the on-going and highly contentious Mueller investigation. Harding adheres to the maxim "follow the money", and despite Trump's refusal to release his tax returns, his detailed research reveals the tortuous and shadowy links between the Trump empire and Russian cash, going back decades. The explosive dossier written by former MI6 officer Christopher Steele is corroborated through interviews with the man himself, as well as others in the intelligence community. A solid piece of investigative reporting this certainly is, but it's also an enthralling page turner with twists and turns worthy of a Le Carre spy thriller.
Devil's Bargain: Steve Bannon, Donald Trump, and the Storming of the Presidency by Joshua Green: £14.99, Scribe
Out in paperback and with a new preface, Devil's Bargain takes us to the heart of the alt-right in the US and its links with the Trump presidency. Steve Bannon, almost unknown before Trump was elected, quickly hit the headlines when he was enthroned as chief strategist and became a ubiquitous and controversial presence in the White House. The alliance with Trumpism was always fragile however, and since this book was written he has been banished from the White House, airbrushed from Trump's version of history, and faces an uncertain future in the political wilderness. Joshua Green is one of the US's best-known journalists, and has been covering the development of right-wing politics closely for the last few years. He published an in-depth profile of Bannon, who he got to know well, in 2015. This book, closely based on interviews with Bannon and other right-wing figures in politics and media, is a fascinating insight into the underbelly of politics in the US, and a pacy, entertaining read.
Creeping Fascism: Brexit, Trump and the Rise of the Far Right by Neil Faulkner: £12, Public Reading Rooms
This is an important and timely book, which makes a persuasive case for the rise of fascistic tendencies among our ruling elite, tendencies which are insinuating themselves into the body politic by hiding in plain sight. Trump's election was a manifestation of the lurch to the anti-democratic far right, echoed in other countries around the world. Faulkner argues that we are living in a "second wave" of fascism and that we ignore its creeping threat at our peril. Far from being a spontaneous backlash by the poor against the system, he sees the rise of the neo-fascist right as a deliberate power grab, engineered by bullies in suits rather than paramilitary thugs in uniform. Powerfully argued and clearly written, this is a call to arms against complacency.
Unbelievable: My Front Row Seat to the Craziest Campaign in American History by Katy Tur: £20, Dey St. Books
Katy Tur is a journalist on MSNBC and as Trump announced his run for president back in 2015, she was assigned to the campaign. Nearly two years later she had travelled thousands of miles and attended dozens of rallies, filing reports from the front line. This is her story, and as much about what it's like to be a news reporter at the heart of a media whirlwind as about the campaign itself. The highs and lows, the exhaustion and exhilaration, the fears for her safety as Trump whipped up hatred against the media, and above all the mystery of the man himself, singling her out by name at his rallies as if in some perverse parody of a love/hate relationship – Tur's personal odyssey is also a disturbing chronicle of political madness unfolding.
If Only They Didn't Speak English by Jon Sopel: £20, BBC Books
The United States is a foreign country– yes they speak English, but that doesn't mean they're like us. The BBC's North American editor, Jon Sopel, takes us on a tour of the cultural differences, focussing on Americans' love affair with guns and religion, their distrust of big government, tradition of individualism, struggles over race, and more. These themes are reflected in politics and Sopel shows how they translated into support for Trump and his uncompromising agenda. In a chummy style, complete with puns and jokes, he expertly probes the contradictions and quirks of history which led to the shock of the Trump victory. From the perspective of an outsider who is very much on the inside and in the know, Sopel makes an entertaining and perceptive attempt to understand modern America.
Trump's First Year by Michael Nelson: £19.95, University of Virginia Press
Measured, scholarly, and always accessible, this is a cogent analysis of the first year of the Trump presidency from a respected academic. It refutes any accusation of partisanship by presenting indisputable – rather than alternative – facts, and the result is a damning litany of failure, incompetence, and cronyism. Trump's insistence during the campaign that his much-vaunted business acumen would translate into efficiency and effectiveness in government is shown to be wide of the mark. Everything in the book is already in the public domain, but is gathered here into a narrative timeline which makes an objective (and fully annotated) assessment of an extraordinary year.
In America: Tales from Trump Country by Caitriona Perry: £19.99, Gill Books
Award-winning Irish journalist Catriona Perry explored the Trump heartlands, from Florida to Michigan, Texas to New York, recording conversations with Trump supporters from all walks of life, and the result is an illuminating travelogue which helps to shed some light on the multifarious reasons why ordinary voters backed the reality TV star. And why most of them continue to do so, despite – and sometimes because of – the scandal and controversy that has surrounded this presidency from the start. The picture which emerges is one of a deeply divided nation, where pivotal issues such as abortion and gun control, along with the perception of a corrupt and uncaring government, combined to swing votes towards the unlikeliest of candidates and plunged the US into an identity crisis.
Fire and Fury by Michael Wolff: £20, Little, Brown
Gossipy, shocking, contentious, intimate and titillating, this is a fly-on-the-wall account of goings-on in the Trump White House as observed by journalist Michael Wolff from his position on a West Wing sofa. The culture of leaks, feuds, and backstabbing played into his hands. Arch-leaker and senior strategist Steve Bannon did not survive the putsch that followed, but the book became a controversial bestseller and required reading for Trump-watchers everywhere. Legal attempts to ban its publication backfired, as did Trump's supposed plan to use his bid for the presidency solely to boost his commercial brand – according to Wolff, he never thought he would win. Then he did. The shambles that ensued is the subject of this addictive chronicle of chaos.
Fake News: Strange Historical Facts Reimagined in the World of Donald Trump by David Hutter: £4.99, independently published
The Trump presidency has been a gift for satirists – everything, from his speech patterns to his egotism to his hairstyle, has proved irresistible targets for mockery. In Fake News, David Hutter cleverly counterpoints imaginary events in Trumpworld with some historical oddities to show that we have indeed "been here before". A killer rabbit, a lost nuclear missile, and a madcap scheme to change the number of days in a week all feature in an outrageous and sharply targeted send-up of Trump and his hapless administration. Funny and cutting, this is the perfect antidote to despair.
Trumpocracy: The Corruption of the American Republic by David Frum: £20, HarperCollins
Many Republicans are, of course, deeply hostile to the Trump project, and as a conservative commentator and former speechwriter for George W Bush, David Frum provides a right-of-centre perspective on the direction of America since Trump came to power. In fact he argues that Trump is actually opposed to fundamental conservative principles, and is an opportunist who has allied himself to a political party which, to its shame, has sold its soul for short-term gain. Frum's analysis of what he terms this "repressive plutocracy" now in charge makes cogent and compelling reading and should concern anyone who cares about the future of democracy.
The Verdict: Books on the Donald Trump presidency
"Collusion" is the word on everyone's lips right now, not least Donald Trump's. His oft-repeated assertion that there never was any collusion between the Trump campaign and Russia requires serious scrutiny, as the implications of any kind of covert meddling in the democratic process are potentially explosive. Luke Harding's Collusion is thoroughly researched, expertly written, highly entertaining, and an invaluable aid for any reader who wants hard facts to counter the spin and propaganda.
All listed prices are RRP