8 best books on South-east Asia
From Cambodia to Vietnam, get lost in some of the region's best literature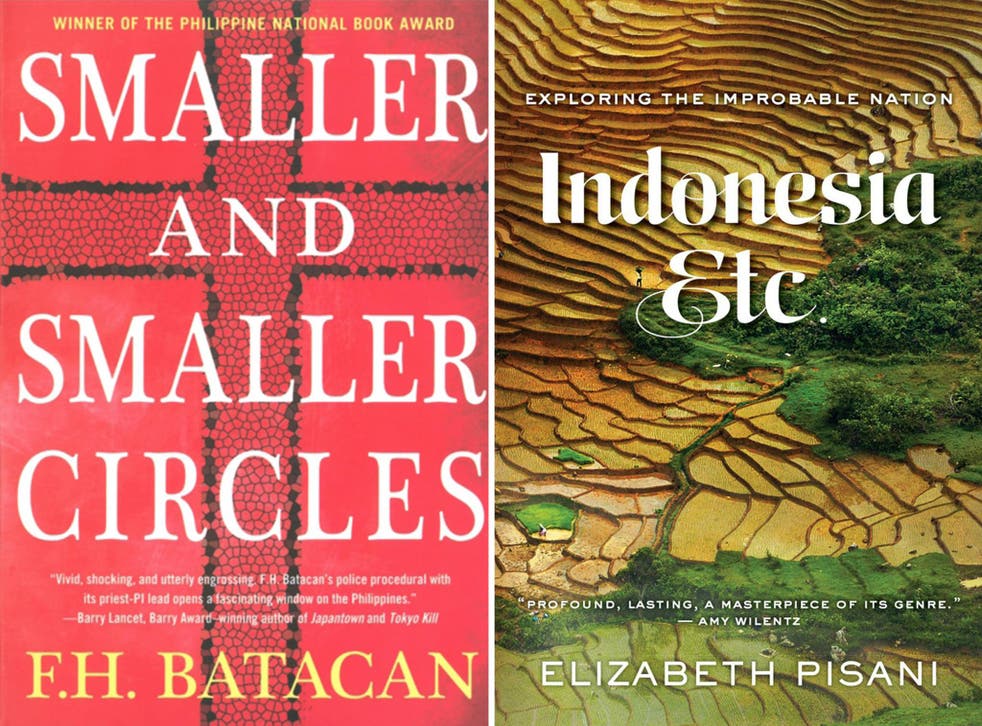 South-east Asia has undeniably had its fair share of war and torment through the centuries, from colonisation in Malaysia to communist rule in Cambodia and civil war in Vietnam.
But in the 21st century, the countries are recovering from their pasts and are instead known by nicknames such as Cambodia's The Land of Smiles and the Philippines' moniker, The Pearl of the Orient Seas.
There are beautiful beaches, incredible mountains and welcoming people. You have super-modern cities and ancient temples, which combined form the fascinating area we call South-east Asia.
And if you can't get there to see it for yourself, read about it. We selected eight books covering the region. This list includes a mix of new releases and some older titles that have become classics of their genre.
1. First They Killed my Father by Loung Ung: £7.99, Mainstream Publishing
Loung Ung's story caught the attention of Angelina Jolie, who is currently directing a film for Netflix of her harrowing early life. Ung was forced to leave the Cambodian capital Phnom Penh to become a child soldier at just five years old when Pol Pot's Khmer Rouge army captured the city. This non-fiction book graphically retells the story of a family – and nation – torn apart. She vividly describes the sight and smell of rotting corpses and being forced to eat whatever scraps they could get their hands on, and the terror and loss suffered by so many. It's a story of survival that will grip you and not let go, even after you've turned the final page.
2. Smaller and Smaller Circles by FH Batacan: £7.99, Soho Press
First published in 2002 and released as a film last year, this engrossing, fast-paced tale is considered by many as the first Filipino crime novel. It's set in Payatas, a vast 50-acre dump north-east of the capital Manila where communities scavenge to survive, and there's little police protection. When disembowelled bodies of young boys begin to appear among the rubbish, two Catholic priests take up the cause to attempt to bring justice to this corrupt and poor neighbourhood. The cleverly written book won the Philippine National Book Award when it was first published.
3. Evening is the Whole Day by Preeta Samarasan: £9.99, Harper Collins
Samarasan's first novel immerses the reader in 1980s Malaysia. At its heart is the Rajasekrharan family, who live in the big blue house on Kingfisher Lane. Heading the family is Raju, a rich lawyer and his unhappy wife Vasanthi. Their daughter, Uma, flees to America for university, while Suresh, 11, and six-year-old Aasha are left behind. Using flashbacks, the narrative delves into the family's secrets – the mysterious dismissal of the family's servant girl and the death of Aasha's grandmother who died shortly before the start of the novel. As the years leading up to the suspicious events unravel, each character is pulled apart and relationships between parents and children, and employers and employees, rich and poor are laid bare.
4. Indonesia, Etc: Exploring the Improbable Nation by Elizabeth Pisani: £9.99, WW Norton & Company
Elizabth Pisani's compelling and humorous travelogue uncovers what the "etc" in Indonesia's declaration of independence really meant. (The first president, Sutan Sjahrir said in a proclamation: "The details of the transfer of power etc. will be worked out as soon as possible." That was in 1945.) Covering a year-long journey and almost 26,000 miles via boat, bus and bike, Pisani finds 80 million people still without electricity and a country which has not shaken its cloak of corruption. The little matter of "etc" still looms as the country struggles to find its independent identity. This book gives the reader a clear window into Indonesian society and politics.
5. The Things They Carried by Tim O'Brien: £8.99, HarperCollins
Tim O'Brien's third novel, The Things They Carried, is based on his own experiences of the Vietnam War, and the men in his own troop, Alpha Company, 23 Infantry Division. It is brought together by interlinking short stories, but the narrative does much more than just depict the brutalities of the war. Instead, it also looks at how soldiers were affected by the terrible loss of their fellow men, and the lasting physical and emotional impact the fighting had on them.
6. The Sympathizer by Viet Thanh Nguyen: £8.99, Grove Press
The debut novel from Nguyen – an American Vietnamese professor – won the Pulitzer Prize for Fiction in 2016. The protagonist is a communist double agent, only ever known to the reader as the Captain. He's the illegitimate child – of a young Vietnamese woman from a village, and a French catholic priest – who struggles with a sense of a double identity from a young age. But his character gives a voice to the Vietnam War from a non-American perspective. After being educated in America in the 1960s, he returns to Vietnam, but the fall of Saigon forces everyone out, and he later seeks refuge in California. This thriller of a novel draws on immigration, war and politics, but at its heart, it explores the idea of a dual identity.
7. Catfish and Mandala by Andrew Pham: £11.99, Flamingo
Andrew Pham sold his life possessions and embarked on the journey of a lifetime – a solo year-long bike trip around the Pacific Rim around the US, through Japan and ending in his native Vietnam. After settling in California at the age of 10, he was foreigner. But as a hybrid, he faces racial discrimination in Vietnam too, where he is instantly labelled an outsider by the immigration officer who calls him "viet-kieru" – foreign Vietnamese. His soul-searching return powers him through his family history – seen through his childhood eyes – from the fall of Saigon to his father's imprisonment by the Viet Cong.
8. The Silk Merchant's Daughter by Dinah Jefferies: £12.99, Penguin
Following on from her best-selling novel The Tea Planter's Wife, this anti-colonial rule novel is Malaysian-born Dinah Jefferies' third book. It tells the story of Nicole, a young half-French and half-Vietnamese woman in 1947's Indo-China, who has spent her life living in the shadows of her elder sister. After meeting a young rebel, she is opened up to the corruption of colonial rule and leaves her family behind her, only to find she's made a mistake. Jefferies portrays the time period beautifully through evocative descriptions and creates a strong heroine readers can relate to.
The Verdict: Books on South-east Asia
For a first-person historical insight into one of the world's least-known mass murders, First They Killed My Father is a harrowing but compulsive read. If it's engrossing and thought-provoking fiction you're after, The Silk Merchant's Daughter paints a picture of how opposing colonial rule opens news doors for suppressed women.
IndyBest product reviews are unbiased, independent advice you can trust. On some occasions, we earn revenue if you click the links and buy the products, but we never allow this to bias our coverage. The reviews are compiled through a mix of expert opinion and real-world testing.