8 best Burma books
Get the most out of Southeast Asia's final frontier with some well-chosen literature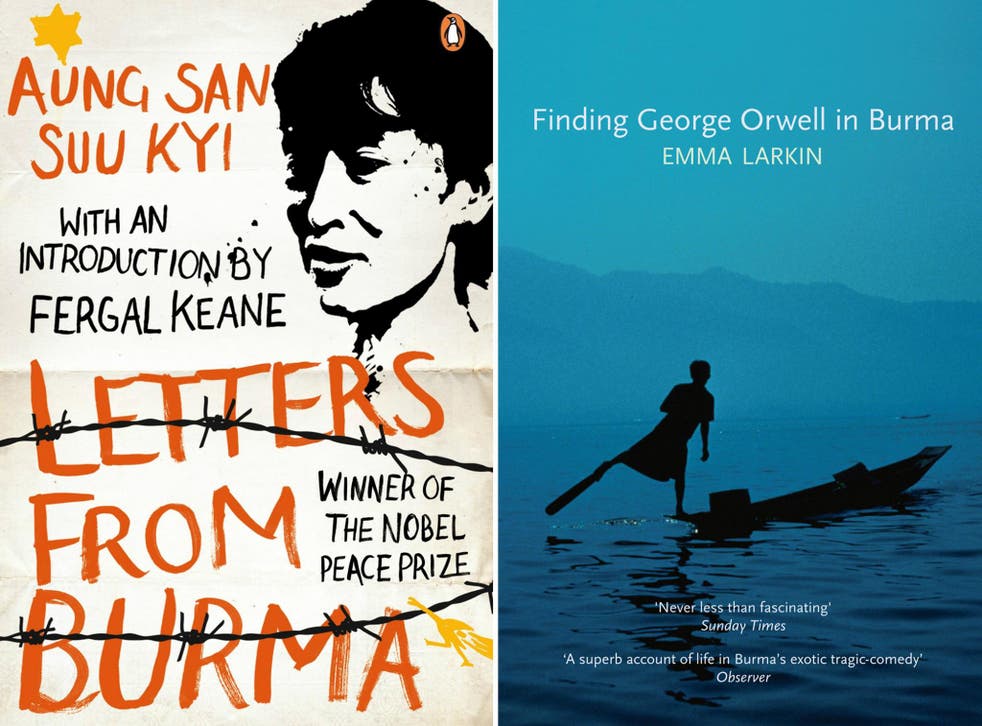 Sitting in the west of South East Asia, sharing borders with Bangladesh, China, Thailand, Laos and India, Burma has spent much of its history cut off from the rest of the world. However in the 1930s, when George Orwell wrote about a country suppressed, ruled by colonial Britain which exiled its royal family, interest was sparked and continues to flourish. But all of it is permeated with the suffering of its people under one of the world's most repressive regimes.
2013 saw a lift of Western sanctions on the country against its political rule, and it has since welcomed an influx of tourists looking to explore its lost temples and colourful history, where the 21st century has barely left a footprint. We have selected some of the best books for both intrepid and armchair travellers. From former political prisoner and now prominent politician Aung San Suu Kyi's Letters from Burma to Guy Delisle's comic book Burma Chronicles, these all help to tell the story of one of the world's most traumatised but beautiful nations.
1. The Glass Palace by Amitav Ghosh: £8.99, HarperCollins
Bringing the secluded Burma of the 1880s to life is Indian writer and master storyteller Amitav Ghosh. The Glass Palace recounts the true story of the country's royal family, which was overthrown and forced into exile in India after the arrival of the British. Told through the eyes of Rajkumar, a poor boy, the story begins with the fall of the Konbaung Dynsasty in the capital of Mandalay and pans through to the Second World War. It sees his life journey follow the social and economic booms of the 20th century across Asia, as the country fights to find its own identity as a nation.
2. Letters from Burma by Aung San Suu Kyi: £9.99, Penguin Books
Winner of the Nobel Peace Prize, a former prisoner of conscience and now prominent politician, Aung San Suu Kyi paints a picture of her native land through a series of 52 letters that were originally written for a Japanese newspaper, in an attempt to restore democracy in her country. She evokes the beautiful customs, celebrations and traditions that she loves, including how to serve tea and Thingyan, the country's New Year celebrations. But she also celebrates the people who have fought against repression, and support her political party, the National League for Democracy. It gives a sharp insight into what Suu Kyi and others like her are really fighting for in Burma.
3. The Piano Tuner by Daniel Mason: £8.99, Pan Macmillan
As a medical student studying malaria on the Thai-Burmese border, Daniel Mason wrote in-between lessons, and gained inspiration after passing a remote village on the river, where he heard the notes of a piano being played. His tale of fiction has now been published in 27 countries and is set in the British-dominated era of 1880s Burma. It focuses on a piano tuner, Edgar Drake, torn from his mundane life in London and commissioned by the army to repair a rare grand piano in the middle of the jungle for an eccentric English army surgeon. Mason presents the compelling idea that music can foster a form of solace during war.
4. Finding George Orwell in Burma by Emma Larkin: £8.99, Granta Books
Emma Larkin recounts the year she spent in Burma following in the footsteps of George Orwell, using his life and work as her only guide. The American journalist was born and raised in Asia and studied the Burmese language at the School of Oriental and African Studies in London. Her unusual travelogue, which mixes biography, history and politics, visits the places Orwell worked and lived, connecting it with the present-day situation. It allows her to highlight how the marks of colonial rule over Burma are still visible today, long after the country gained independence. She also makes the case that Orwell's 1984 and Animal Farm, along with Burmese Days, form a trilogy commenting on Burma's situation.
5. Burma Chronicles by Guy Delisle: £12.99, Jonathan Cape
Stepping away from novels, we have Canadian cartoonist Guy Delisle's comic book. He is known for his graphic novels telling tales of his travels, and this one is based on the year he spent in the Burma with his wife and son. It depicts the struggles of survivors of repression and human rights abuse under General Ne Win's military regime, which ran from 1962 to 2011, through simple but effective black and white illustrations. It's insightful and is able to carry the weight of Burma's troublesome history, enabling the reader to learn about the real lives of Burmese people, through a mix of current affairs and, surprisingly considering the subject, humour. Split into chapters, each focuses on just one issue, from government censorship to the elected leader of the country being under house arrest.
6. Burma: A Nation at The Crossroads – Revised Edition by Benedict Rogers: £8.99, Rider
Offering a brief overview of the country on the brink of change, based on first-hand experience, Benedict Rogers shows modern Burma has shaken off its military regime ruling, and for the first time since independence from the British in 1948, is actually able to make decisions for itself. The author concentrates on telling the true stories of the daily struggles faced by its inhabitants – from the fight for justice to facing extreme poverty across the country. In this updated version coming three years after it was originally published in 2012, Rogers pays tribute to Aung San Suu Kyi, whose party won a majority in the landmark elections in 2015.
7. Under the Dragon: A Journey Through Burma by Rory MacLean: £11.99, I.B. Tauris
In 1998, author Rory MacLean travelled into the heart of the Burmese golden triangle – where the borders of Burma meet with Laos and Thailand. It was a decade after the 1988 uprising against General Ne Win's military rule. From Rangoon to Mandalay and on to Pagan, he gives an insight into Burma as a land or paradoxes, where people love their country but are surrounded by hate and fear. But there is also a sense of hope for people who are struggling to survive. MacLean's narrative illuminates the nation in a heart-breaking and historical portrayal, meeting ordinary local people, including child labourers, who have suffered under their country's metaphorical dragon – the repressive regime.
8. The River of Lost Footsteps by Thant Myint-U: £10.99, Faber & Faber
One of the best books on understanding how Burma is emerging as a country today, The River of Lost Footsteps attempts to unravel the Burmese story. Its colourful history, aside from hosting one of the world's longest civil wars, is often forgotten. To tell it, Thant Myint-U weaves together the stories of his ancestors, who served the royal family of Burma, to give a voice to the people of Burma including his grandfather who began his career as a small town school teacher and later became the UN's secretary-general. It's part history, part memoir, and part travelogue.
The Verdict: Burma books
The Glass Palace is a literary work of art and uses historical facts to fuel its central love narrative which is captivating and fascinating, with an insight into one of Burma's most poignant moments in time. Elsewhere, Burma: A Nation at The Crossroads gives the most up-to-date offering on the country's history and political past and it is the best choice for an introduction on the country.
IndyBest product reviews are unbiased, independent advice you can trust. On some occasions, we earn revenue if you click the links and buy the products, but we never allow this to bias our coverage. The reviews are compiled through a mix of expert opinion and real-world testing.