The Independent's journalism is supported by our readers. When you purchase through links on our site, we may earn commission.
Christmas 2015: 12 best Fairtrade and ethical gifts
Find the perfect gift - and know its creators have got a fair deal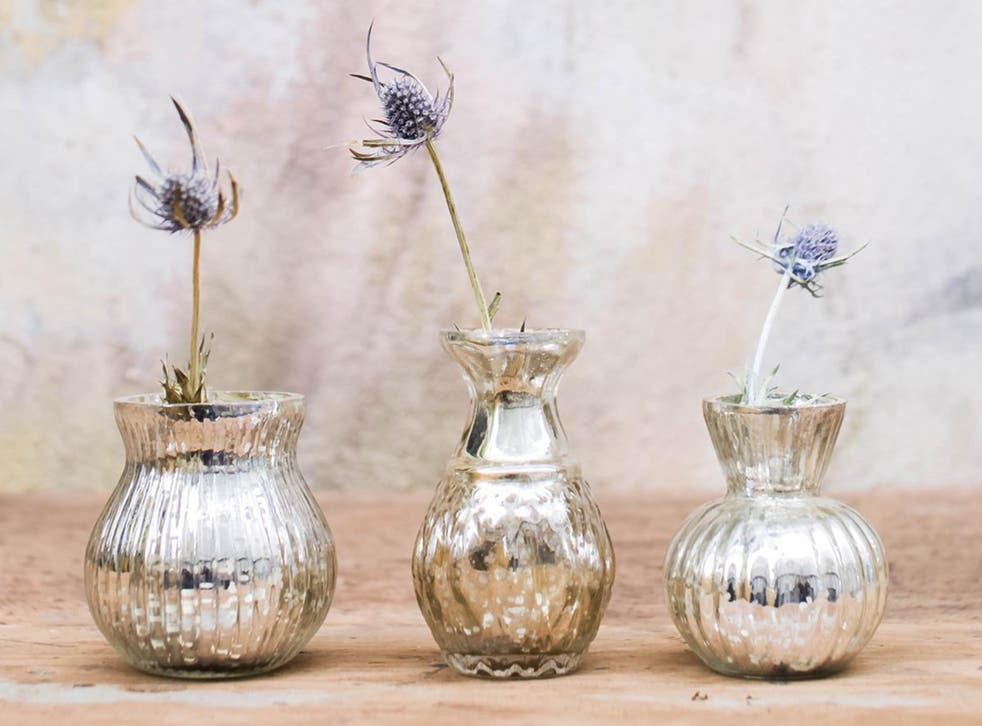 Fair trade items don't have to be expensive. When you're shopping for the perfect gifts for your loved ones, think of the people who create them and make sure that they too have enough to sustain themselves and their families at Christmas. Buying fair trade gifts will ensure that producers in developing countries are getting a fair price for their products and can build a better life for themselves. Many of the products we have chosen are approved either by the Fairtrade Foundation or the World Fair Trade Foundation, while some of the items come from craft companies that aren't certified, but strictly adhere to fair trade principles.
From homeware with ethnic prints to the latest fashion fads, the Indy Best has put together a list of affordable fair trade presents for all the family.
1. Hand-painted spice jars: £27.95, Natural Collection
You can now bring the colours of India into your home with this striking set of spice jars, which have been hand-painted and traditionally-fired. With their flamboyant patterns-a blend of indigo, oranges and reds, they will delight the culinary master in your family and bring a rustic feel to their kitchen.
2. Andrea Dress, £110: People Tree
Treat a lady in your life to this hand-woven, dark grey shift dress from sustainable fashion label People Tree's latest collection. It's one hundred per cent cotton and has elbow-length sleeves and metallic cross stitch detail. The dress, which is certified by the World Fair Trade Organisation, is crafted by Swallows, a women's textiles project based in a rural Bangladeshi village. If the recipient wants to know more, they can watch videos on People Tree's website about the operation.
3. Organic Chocolate Hamper: £37.95, Chocolate Trading Co
Christmas is for indulging so this neatly-presented hamper should keep chocoholics stocked up long into the new year. The selection includes fair trade chocolate like the Valrona Andoa Noir bar, dark chocolate truffles from Booja Booja and quality chocolate bars from premium brands like Pralus and Grenada.
4. Fish Hoek Shiraz: £7.99, Waitrose
Fish Hoek is Accolade's first Fairtrade certified wine. Made in the Western Cape region of South Africa, this rich and fruity blend is made from ripe blackberries and plums and has a smooth finish with a hint of vanilla and pepper. With a subtle, spicy overtone, it will really complement Christmas dinner.
5. Ulu Glass Vases (set of 3): £14.95, Nkuku
The founders of Nkuku have travelled the world to cherry-pick some of the best artisans around, from Rajasthan to Devon. This set of beautiful silver vases comes in assorted shapes with an uncommon, flecked finish, and has a vintage charm to it. All of Nkuku's glassware is made from recycled materials, and these vases have been made from glass waste – after removing impurities from the recycled glass, artisans have crushed and melted it down before hand blowing it or placing it in moulds to create new vases.
6. Big Red Bus: £54, One World Shop
Gospel House specialises in educational, wooden toys while providing employment opportunities to artisans in Sri Lanka from deprived backgrounds. The Big Red Bus is a doubledecker (22 x 11 x 37 cm) that has been made from Albesia wood, found on the tea farms in Sri Lanka. It features a sliding roof for easy access and comes with carefully-painted passengers and a driver for hours of imaginative fun.
7. Wild Rose earrings with crystal drops: £175, Cred Jewellery
Carefully made by artisans in Lima and beautifully-presented in a luxurious, jewellery-drawer box, these earrings can be worn as studs or with delicate, detachable amethyst drops. Available in 24ct rose or yellow vermeil gold and sterling silver, it also comes in a leaf drop version and if you're in two minds over which one to buy, you can even buy the whole set. Measures 10 x 10 x 3 mm. Certified by the Fairtrade Foundation.
8. Pipal Filigree ring: £50, Cred Jewellery
This dome-shaped filigree ring matches the Christmas mood and has a vintage elegance. It is part of the Saphara collection by Annabel Panes and has been made by hand in Nepal from 100 per cent recycled silver. It's available coated in 18ct Fairtrade gold. It has an ornate, leafy pattern and has a 10.5mm dome. Available in sizes l-m, enter the required ring size at checkout.
9. Rainforest Ayurvedic soap: £3.50, Holy Lama
We're fans of these cute Holy Lama soaps that would make great stocking fillers. Sitting like a pearl inside an oyster, this natural Ayurvedic soap comes in sustainable and eco-friendly packaging that has been hand-made from an areca palm leaf. The soap itself is made from coconut oil which will keep the skin nourished in the harsh winter and contains a blend of essential oils for an irresistible smell.
10. Boozik iPhone/iPad Amplifier: £18, Traidcraft
Turn up the music wherever you go this Christmas with this portable speaker that requires no cords or batteries. Hand-crafted using oven-dried bamboo for enhanced sound quality, it is durable and can outlive any electrical speaker. It will sit inconspicuously on the mantlepiece without taking as much room as a stereo. Compatible with a range of phones, including all iPhones and also available for iPads.
Buy for iPhone, or iPad now
11. Red Christmas Sparkle flowers: £39.99, Interflora
Everything is red, gold and sparkly in December so what better way to say Merry Christmas than with glittered roses? Fairtrade certified farms provide safe working conditions for their workers who are mostly women. For every stem you buy, farmers get a bonus of 10 per cent and your contribution also goes towards healthcare, education and other social funds. We love this festive bouquet by Interflora with roses covered in gold glitter, red alstroemeria and typically-Christmassy eucalyptus.
12. Spike Mbili Bangle: £28, Hiro + Wolf
We're fans of Hiro and Wolf's good-value, African-made jewellery (from the Hiro side of the company. Wolf relates to its dog accessories). This bangle is one of our picks of its World Fairtrade certified collection. "Mbili" means two in Swahili and this pair of brass bangles are linked together with a duo of spikes – one wooden and one brass one. The whole thing is made in Kenya in a collaboration between small-scale artisan producers in Nairobi and fair trade workshops in Mombasa. Each comes in a pretty, handcrafted pouch.
Verdict
A practical gift that doubles as a work of art, the hand-painted Indian spice jars are great for people who love to spend time in the kitchen. For those wishing to follow seasonal trends with a clear conscience, the People Tree collection will have the perfect present to keep your loved ones looking smart. If you are after something rare, the charming Ulu glass vases are not something you'll find on the high street and the eye-catching, glittery roses would bring a sparkle to anyone's Christmas.
Register for free to continue reading
Registration is a free and easy way to support our truly independent journalism
By registering, you will also enjoy limited access to Premium articles, exclusive newsletters, commenting, and virtual events with our leading journalists
Already have an account? sign in
Register for free to continue reading
Registration is a free and easy way to support our truly independent journalism
By registering, you will also enjoy limited access to Premium articles, exclusive newsletters, commenting, and virtual events with our leading journalists
Already have an account? sign in